Apparently annoyed at Sanders supporters having managed to take advantage of Clinton delegate candidate no-shows to obtain more spots, the Nevada state party put through rule changes weeks before the state convention that gave the meeting chair complete and arbitrary control of the final step in the delegate certification process. That in turn produced a convention that was entirely undemocratic in the small d sense, with some Sanders delegates who had won their positions via the then-existing rules being stripped of their standing. In addition, the meeting was run on authoritarian lines, with party members offering pro-Sanders motions having the microphones cut off and the meeting being terminated with motions still on the floor. Don't buy Twitterverse claims that the meeting was run in accordance with Robert's Rules of Order; accepting a motion to adjourn without a second was one of many dubious procedures.
As Lambert remarked, "This is Clinton's idea of a party unity strategy."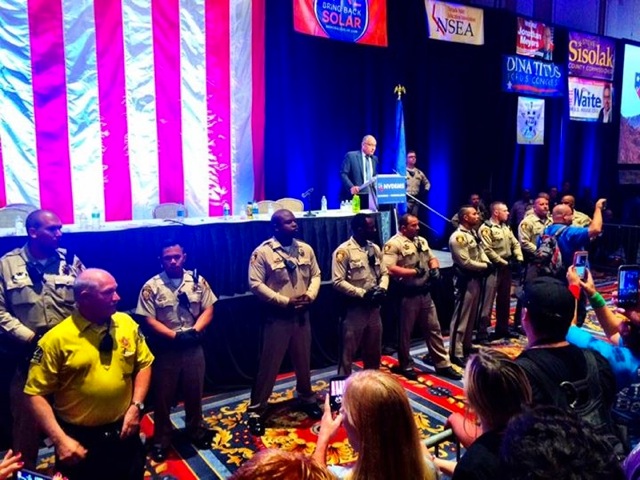 I suggest you read this post by John Laurits in full (hat tip martha r), but the opening section makes clear what was at stake (emphasis original):
Greetings, my friends! As many of you have probably heard, "tensions were high" at the state convention in Nevada yesterday. Now, because CNN, MSNBC, and the rest of the usual "news" outlets seem to have forgotten to mention it, I've decided (as usual) to step in to inform you all and clean up the mess of misinformation.

You see, all of this happened because there has been a bit of a misunderstanding between the "Democratic" Party and ourselves — they've been laboring under the impression that we — you know, the people — are supposed to subserviently accept what the democratic party officials have decreed but — meanwhile — we (having been misled by the word "democratic" being in their name) thought that we would get to have a say in choosing our nominee for president. As you can guess, this embarrassing miscommunication has led to a lot of confusion — but worry not! I believe that we can clear all of that up in this article by taking a look at a few numbers. First up, let's talk about…

1,693 and 1,662

Those were the numbers of both Clinton and Sanders delegates that were at the state "democratic" convention in Nevada on Saturday — well, actually, those are the numbers of delegates that were allowed to participate in the convention on Saturday — and, as you can see:

1,693 – 1,662 = 31

Clinton had 31 more delegates inside of the convention — which wasn't very good news for the Sanders supporters yesterday. But wait! There's another number that you should probably know about and that is…

64

64† is the number of Bernie Sanders delegates that were not allowed to participate — this is because they were de-certified and denied entry into the convention. I'll only point out the obvious — that 64 delegates would have been immensely useful for the Sanders-supporters, who were 31 short of Clinton's suddenly higher delegate count.

Now, at this point, many of you may find yourselves wondering, "what do you mean 'de-certified?' How does that work?" Well, it's really quite fascinating — let me tell you!

First, I'll need to quickly explain that the Nevada caucuses are a three-tiered process — the first tier was made up of the caucuses that were held on Feb. 20th, which Clinton narrowly won with 52.6% to Sanders' 47.3%. The second tier was made up of county conventions, which Bernie Sanders' delegates ended up winning because a large portion of Clinton delegates simply couldn't be bothered to show up and, therefore, didn't vote. The third, and final, tier was the state convention, where the delegate counts in Nevada were to be finalized — which is what happened yesterday.

Now, what happened at the convention!?

Yesterday morning, around 9:30AM (while many delegates were still in line to get in ), the leadership at the convention, led by Roberta Lange, decided to hold a quick "voice vote" (essentially, a shouting match between the two sides) about whether to change the rules of the convention. Now, I must warn you — prepare to get angry. The rule change that they voted about was, in a nutshell, to disregard the results of the second-tier county conventions — where Sanders' had won — and only to count the results of the first-tier caucus that Clinton had won. I'd like to remind you that this "voice vote" was held before all of the delegates were present and — as is fairly clear in this video — was, at the very least, inconclusive.
This report by Nevada Congressional candidate Dan Rolle (hat tip martha r) gives a good account of what transpired at the convention:
This is the short version, again from the YouTube page:
I made a quick video explaining the backstory behind the convention. It's too important to simply watch the videos and look away. You need to understand why it happened:

Basically, NDems enacted some rules that were designed to give convention authority to the state chair. You can read about that here:

https://www.change.org/p/nevada-state-democratic-party-tell-nvdems-to-not-steal-our-democracy-at-the-state-convention

That group challenged these rules in court. That challenge was denied, essentially because the court didn't feel it should intervene in party politics.

Fast forward – The same group gets the requisite number of signatures to change these rules. Robert[a] ignores this, and enacts her rules:

You can see where she does this here:

https://youtu.be/Ka6SnkbuUPI?t=74

Fast forward. Clinton wins by a few delegates, but over 64 delegates were rejected. By the board she chose. The argument is that with these votes, Sanders wins. Also worth noting, many were turned away because they simply could not find parking.

At the end of the convention, we motioned the party platform. I called for Roberta's removal here. My mic was cut:

https://www.youtube.com/watch?v=KGdcfeiwZw4

Fast forward: The delegates are counted. Roberta denies a recount, closes the convention at her discretion. She then bolts off stage. This, while being flanked by police.

Most of the videos are here:

Chaos At Nevada Democratic Convention; State Party Chair Flees Building As Sanders Supporters Demand Recount
Rolle concludes (9:13):
It didn't have to happen. There's no reason for that. All that board had to do was take a minute and listen, and bring those people into the discusssion. But I think we're not talking about Hillary versus Bernie anymore. We're way beyond that. Because the fact of the matter is that if Hillary legitimately had more people there, Hillary legitimately wins. OK. I get that, I think most most people understand that. That is not what we're talking about. We are talking about a state party, and a national party, that are willing to usurp fairness in order to have their way. And that's too bad.
Lambert, who followed events on Twitter last night, says the Washington Post and CNN reports were at best incomplete. He also pointed out that the Sanders supporters did an impressive job of organizing; seemingly taking lessons from both Occupy and Black Lives Matter, they streamed everything live. As a result, they were able to put events on the public record and get their story out.
After credible allegations of election tampering and vote suppression, this all-too-heavy-handed move to block Sanders voters is guaranteed to alienate Sanders voters. Don't expect to find much brotherly love in Philadelphia.