Yves here. CUNY really was once a vehicle for allowing smart and disciplined people from low income backgrounds to move up in economic and social terms. I know a CUNY graduate who won an important physics medal, became the chief information officer for a major Wall Street firm, and also has several important inventions in his name (he loves tinkering with electronics). This is the sort of talent being wasted by the degradation of our education system.
By Louis Proyect, who has written for Sozialismus (Germany), Science and Society, New Politics, Journal of the History of Economic Thought, Organization and Environment, Cultural Logic, Dark Night Field Notes, Revolutionary History (Great Britain), New Interventions (Great Britain), Canadian Dimension, Revolution Magazine (New Zealand), Swans and Green Left Weekly (Australia). Originally published at Louis Proyect: The Unrepentant Marxist
Since my wife is a faculty member at Lehman College, the picture of its library in yesterday's NY Times captured my attention: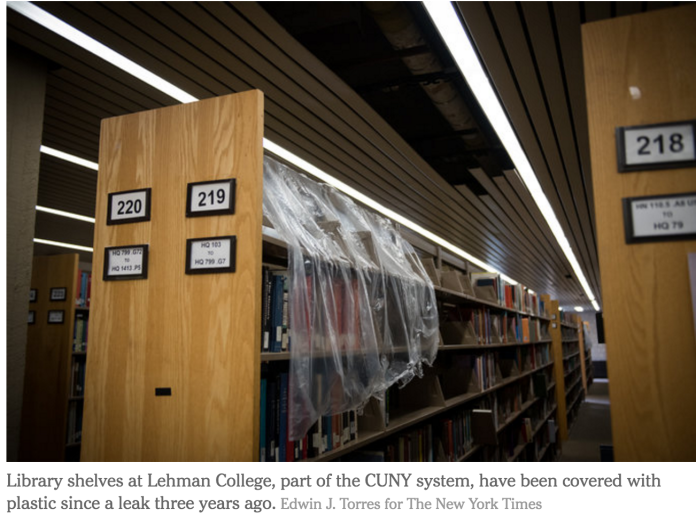 Lehman and other City University of New York colleges were profiled in an article titled "Dreams Stall as CUNY, New York City's Engine of Mobility, Sputters" that like so many in the newspaper recently depicts an American in deep if not irreversible decline. Lehman's library was a case in point:
At Lehman College in the Bronx, Robert Farrell, an associate professor in the library department, said the library's entire book budget this academic year was $13,000, down from about $60,000 a decade ago. Because the roof has been chronically leaky, about 200 books were damaged during a rainstorm three years ago; a tarp still covers some volumes.
Mr. Farrell also said that the library has had to reduce its spending on academic journals and database subscriptions. "We can't be a serious institution of higher learning without providing our faculty and students with access to these kinds of things," he said.
It was just one more reminder that the ruling class of the USA has no intention of funding the public good. With respect to private enterprise, unless the same kinds of profits can be generated on American soil that can be made overseas in an epoch when capital takes wings and flies around the globe in search of higher profits, you will wait in vain for the post-WWII prosperity that both the Trump and Sanders campaign evoke. After all, capitalism does not exist to create middle-class jobs. It exists to allow men and some women to be able to buy $15 million condominiums in New York and vacation in St. Bart's just like Gaddafi's sons did.
The article mentions that the City University of New York was founded by Townsend Harris in 1847 as the Free Academy of New York to educate "the children of the whole people." What a benign figure. But if you take five minutes digging into his past, you will learn that he was named the first Consul General to Japan in July, 1856 just after Commodore Perry made the Japanese an offer they couldn't refuse. Perry commanded a fleet of four warships that arrived in Edo Bay on July 8, 1853. After the Japanese instructed him to go to Nagasaki, the designated port for foreign contact, he threatened to burn Edo to the ground unless they kowtowed to American demands to "open" up their country for trade. As it happens, the American Manifest Destiny that led to this gunboat diplomacy and the creation of a school for "the children of the whole people" went hand in hand. Slavery, colonial expansion abroad and internal expansion through the grab of Mexican and Indian land were essential to the consolidation of a modern capitalist powerhouse that needed an educated workforce to maintain its ledger books and sell its commodities.
It is questionable whether the same imperative exists today, even as neocolonialism and the oppression of Mexicans and Indians continue.
It is probably not news to people who have been following higher education issues as I have ever since I began working at Columbia University in 1991, but essentially the powers that be are "starving the beast" as Grover Norquist urged. The Times reports:
Since the 2008 recession, states have reduced spending on public higher education by 17 percent per student, while tuition has risen by 33 percent, according to a recent report by the nonpartisan Center on Budget and Policy Priorities. Arizona is spending 56 percent less, while students are paying 88 percent more. In Louisiana, students are spending 80 percent more on tuition, while state funding has been cut by 39 percent.
The article places emphasis on feuding between NYC mayor Bill De Blasio, hailed by the liberal left like Obama was in 2008, and Governor Cuomo about whom there are no illusions. Cuomo has foisted much of the funding for CUNY on the city, a burden it can ill afford. Some say that this is his way of paying back the PSC, my wife's union, for backing his rival Zephyr Teachout in the DP primaries in the last gubernatorial election.
As a frequent visitor to the Nicaragua Network meetings in 1989, De Blasio struck me as a smooth operator but I hardly figured him as a future mayor. Despite dark reminders about his visit to Cuba and Sandinista sympathies, De Blasio has been a reliable friend of real estate interests. In yesterday's Times, there's an op-ed piece on the gentrification of Harlem that nails him for his failure to take them on:
Still Harlem endures as a community with high hopes, and in 2013, we felt sure we had found a champion. Bill de Blasio ran as the mayor for everyone, which we figured had to include Harlem. Black voters were crucial to his victory, and we thought we were covered and cared for. He even has a likable son, as liable to get stopped by the police as ours might.
We were wrong. The man we saw as "our mayor" may talk about housing affordability, but his vision is far from the rent control and public housing that President Franklin D. Roosevelt and Mayor Fiorello H. LaGuardia once supported, and that made New York affordable for generations. Instead, he has pushed for private development and identified unprotected, landmark-quality buildings as targets. He and the City Council have effectively swept aside contextual zoning limits, which curb development that might change the very essence of a neighborhood, in Harlem and Inwood, farther north. At best, his plan seems to be to develop at all speed and costs, optimistic that the tax revenues and good graces of the real estate barons allow for a few affordable apartments to be stuffed in later.
Corey Robin, who teaches at Brooklyn College, one of the more prestigious campuses in the CUNY system, blogged about the article:
The piece makes a brief nod to my campus, Brooklyn College, whose "rapidly deteriorating campus" has earned it the moniker "Brokelyn College."
I can personally attest to that. On Thursday, as I left campus, I stopped in the men's room of our wing of James Hall. One of the two urinals was out of business, covered by a plastic sheet. I sighed, and thought back to the time, about a year ago, that that urinal was so covered for about six months. The clock in my office has been stopped for over a year. Our department administrator tried to get it fixed: it worked for two days, and broke again.
He includes a picture of the desks in a classroom: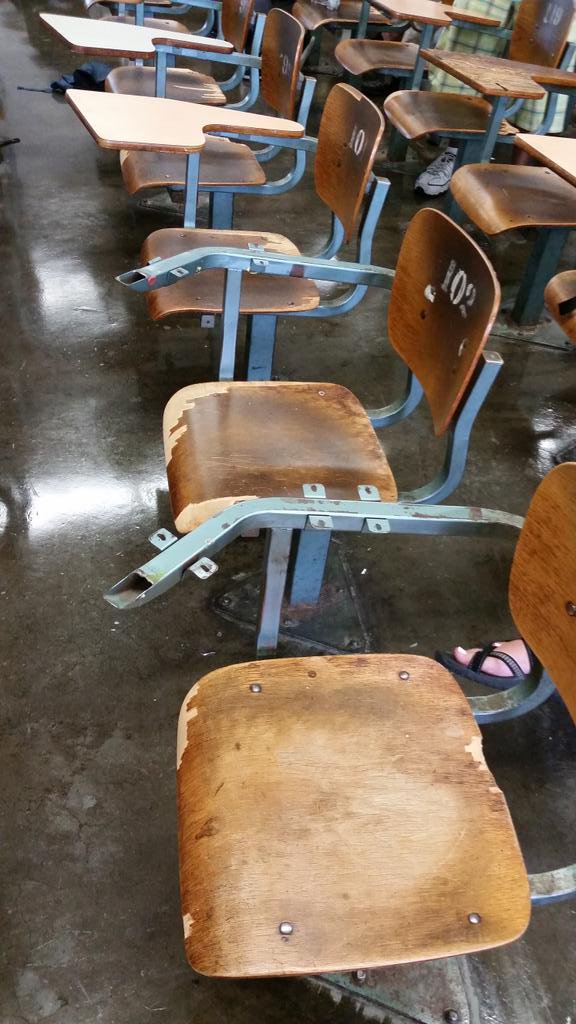 You can bet that there are no desks like that at NYU or Columbia where the students are being prepped for jobs in the financial services or those sectors of the economy that look after big business's far-flung empire. I imagine that an MBA from either of these two schools and a minor in computer science might open doors at an accounting firm or investment bank. Art history or sociology? Forgettaboutit.
You have to understand the decline of CUNY in the context of public higher education's nationwide crisis. Everywhere you look, schools are being denied funding adequate to their needs. This almost certainly means that it will be more and more difficult for American corporations to staff the middle-tier managerial positions for which these schools are expected to furnish. The Times article points to the difficulties a young woman is facing trying to become qualified as a public school teacher:
At City College, Anais McAllister, 22, a senior from Yonkers, said she had planned to major in English with a concentration in education, which would have allowed her to become a teacher after graduation. When some of her required education classes were canceled, she realized she would need another year — and another $6,000, at least — to graduate with the education credential.
With her scholarship expiring at the end of this academic year, and a younger brother entering trade school in the fall to obtain his plumber certification, she dropped the education concentration.
"The fact that this can happen, where your department can be cut financially where you have to think about dropping it, is ridiculous," she said.
With her problems probably being repeated across the system, it will be difficult for public schools to operate effectively, which obviously will be of little importance to someone like Cuomo who is a major backer of charter schools.
When Corey Robin posted a link to the Times article yesterday morning on FB, the first comment to appear was this: "We're committing slow-motion suicide as a country." I responded as follows:
This is obviously related to the state of American capitalism that in its current phase has little interest in the kind of national development that led to all sorts of public investments such as expressways, railway systems, higher education on one hand and on the other private investment in nationally-based manufacturing (auto, steel, etc.) Bernie Sanders advocates investment in the former but really has no idea how to get the capitalist class to invest in American manufacturing when you can get Mexican auto workers to accept much lower wages. The writing is on the wall but it is not suicide–it is homicide. Andrew Cuomo, the Koch brothers, Donald Trump, Hillary Clinton, Michael Bloomberg, Barack Obama–all of them could care less if Lehman College, where my wife works, has a leaking ceiling. They are only interested in serving their own class interests. The USA needs a socialist revolution and the longer we place hopes in capitalist reform, the longer we delay confronting the tasks that are staring us in the face.
Of course in FB, you are loath to post longer comments but I'd like to now expand upon what I wrote.
On May 15th Barack Obama gave the commencement speech at Rutgers University that contained this Panglossian statement:
Point number one:  When you hear someone longing for the "good old days," take it with a grain of salt.  (Laughter and applause.)  Take it with a grain of salt.  We live in a great nation and we are rightly proud of our history.  We are beneficiaries of the labor and the grit and the courage of generations who came before.  But I guess it's part of human nature, especially in times of change and uncertainty, to want to look backwards and long for some imaginary past when everything worked, and the economy hummed, and all politicians were wise, and every kid was well-mannered, and America pretty much did whatever it wanted around the world.
Guess what.  It ain't so.  (Laughter.)  The "good old days" weren't that great.  Yes, there have been some stretches in our history where the economy grew much faster, or when government ran more smoothly.  There were moments when, immediately after World War II, for example, or the end of the Cold War, when the world bent more easily to our will.  But those are sporadic, those moments, those episodes.  In fact, by almost every measure, America is better, and the world is better, than it was 50 years ago, or 30 years ago, or even eight years ago.  (Applause.)
Although the students were likely to appreciate the president's visit, they might have questioned his take on the "good old days" considering that the school's tuition is now $13,000 per year, one of the most expensive public university in the country. Of course, the school has tried to generate revenue through its athletic program but it keeps running into scandals on an almost yearly basis, the latest one connected to the football coach trying to get the administration to overlook a star player's failing grades.
The problem for Obama is that many Americans do remember "the good old days", which were not that long ago. When I was a student at the New School in 1967 and had completed most of the credits I needed for a PhD in Philosophy, I needed a job to keep me going as I worked on my dissertation. That led to jobs as a welfare worker and 5th grade teacher in Harlem that went begging back then when AFDC and funding for public education were in ample supplies as part of the Great Society—funded to some extent by feverish war spending a la Military Keynesianism.
When those jobs became too much of a psychological toll, I began looking at the classified ads in the Sunday Times business section, which usually ran for 5 pages or so. They were in alphabetical order and I turned directly to those that started "college graduates". There were usually about three hundred listed that read something like this: "Major insurance company seeks programmer trainees, starting salary $6000. No experience necessary." That's how I got my first job at Met Life in 1968. The $6000 was adequate to pay for a modest one-bedroom or studio apartment. For me that was "the good old days" even though it was inextricably linked to a brutal imperialist war that would cost the lives of millions of Vietnamese.
For most working people in the area, jobs could be landed at places like Ford Motors in Mahwah, New Jersey or the oil refineries just across the river along the New Jersey Turnpike. Those were good union jobs that paid the kind of money that would allow you to live in a suburban tract housing and send your kids to college. Those who remember those "good old days" are being wooed by both Trump and Sanders who have about as much of an idea to bring them back as I do about the origins of the universe.
None of this matters to Barack Obama or the rich bastards who are funding both the Democrats and Republicans an on equal opportunity for profit basis. Their newspapers like the NY Times and even Rupert Murdoch's Wall Street Journal can publish hand-wringing items like the one on CUNY but in the final analysis, they have no idea how to make America "great" again.
We are living in a period that can both be described as capitalist decline and capitalist expansion. Places like Detroit go down the tubes but for the capitalist investor, it could not be any better. All you need to do is stroll around the Chelsea neighborhood in NYC and gaze at the new condominiums that are the preferred homes for Wall Street hedge fund operators or plutocrats from Brazil, Russia, India or China, the bloc of nations that are supposed to be rescuing us from neoliberalism according to imbeciles like Mike Whitney.
The truth is that we are in a new kind of "The Other America", the 1962 book that SP leader Michael Harrington wrote about the pockets of poverty in a nation in which everybody else was prospering. The coal fields of West Virginia and California's Central Valley came under the spotlight. Nowadays, it is getting to the point where there will be pockets of extreme wealth surrounded by oceans of poverty or near-poverty only relieved by those middle-class families that can tread water sufficiently to keep from drowning.
This is not a nation "committing suicide". It is one in which the superrich are killing the rest of us through a slow process of attrition. There is absolutely nothing in Bernie Sanders's economic program that can reverse this. The idea that the USA can adopt a Nordic socialist model when Northern Europe itself has been cutting back on social programs and making life hell for immigrants is—in a word—utopian. The sooner we revive the radical movement of the sixties in which Sanders was committed to genuine socialism, the better.