Richard Pevear and Larissa Volokhonsky, The Art of Translation No. 4 Paris Review (guurst)
Biologists Discover Billions Of Missing Bees Living Anonymously In Sacramento Onion (David L)
Behind The Leather: PETA Surprises Shoppers With Fake Leather Accessories Bored Panda. Furzy gives gore warning.
Hollow installation by Zeller & Moye uses 10,000 tree species Dezeen (David L)
These beautiful cardboard electronics are touch-activated SpringWise. I had Frank Gehry cardboard furniture a long time ago…got it super discounted on sale.
20-year review shows 90% of disasters are weather-related; US, China, India, Philippines and Indonesia record the most UNISDR
Pentagon Turns to Silicon Valley for Edge in Artificial Intelligence New York Times
Mossack Fonseca
Dark money: London's dirty secret Financial Times. As Richard Smith says, "a nice deep dive," but this is still relatively small fry: average account size only $800,000.

Panama Papers: Malcolm Turnbull named Sydney Morning Herald (EM)

Corruption: Cameron points finger at Nigeria, Nigeria points back at UK The Canary. Chris g: "Smoothie Cameron is ignoring Panama Papers etc, other countries aren't!"
China?
Chinese state entities argue they have 'sovereign immunity' in U.S. courts Reuters. EM: "Imagine the toxicity such legal stratagems could cause if coupled with the TPP's ISDS provision. 'We can devastate your environment and abuse your workers, enjoy sovereign legal immunity for doing so, and sue you for lost profits if you try to say otherwise'."

The Queen has expressed the uncomfortable truth about power Financial Times. Shorter: "The Chinese were rude."
Obama to Make History With Hiroshima Visit as U.S. Quietly Upgrades Nuclear Arsenal (Video) Democracy Now!
Japanese hail Hiroshima visit, say apology not needed Japan Times. Calling Clive for calibration re what he sees in the Japanese language press. Japanese are very respectful of authority and some might be loath to be seen criticizing a US president to a reporter (as in the in-personl poll method may have biased the results). This may indeed be a valid sample, but Japan Times' role is cheery reporting on Japan to gaijin. YY points out:
NHK 7:00 O'clock News, which I regularly watch, is actually a good barometer of median point of Japanese reactions. What is notable is that there is more coverage of the coverage of the issue of apology than whether or not such sentiment is actually sought. What was more interesting is the reporting of the immediate reactions of the Chinese and Korean governments, just to check how they would react. The Chinese spokesbody did take the opportunity to snipe at the Japanese re-militarization concerns. The Korean reaction was a bit more bland.

As long as the Enola Gay is enshrined at the air and space museum, and with a shine that it never possessed as an active aircraft, apologies are pretty useless anyway. Besides the conventional fire bombings were just as horrific and more lethal.
Malaysian Leader's Stepson Allegedly Funded U.S. Property Deals With 1MDB Money Wall Street Street
Brazil Senate Votes in Favor of Rousseff Impeachment Trial Wall Street Journal
Impeachment trial for Brazil's Rousseff BBC
Brexit? How can you Brits take all the scaremongering? It's enough to make someone vote for Brexit out of contrariness.
Economists say no to Brexit Mainly Macro

Could A "Brexit" Enhance British Energy Security? OilPrice

George Osborne says Treasury is planning for Brexit Guardian
Left – moral collapse in Greece, strategic confusion in Europe Defend Democracy
Latvian Activist Arrested Over Petition to Join Russia Appeals Verdict Sputnik News (Wat)`
Imperial Collapse Watch
US foreign policy Voltaire.net (Wat)
Edward Snowden: The Media Isn't Doing Its Job Columbia Journalism Review (furzy). Important.
Clinton E-mail Hairball
FBI head challenges Clinton's description of email probe The Hill (furzy)
2016
Why Sanders won in West Virginia WSWS (Judy B)

Washington Post Squeezes Four Anti-Sanders Stories Out of One Tax Study Over Seven Hours FAIR (Lee Fang)

Democratic Convention Hosted by Republican Donors, Anti-Obamacare Lobbyists Intercept (resilc)

Clinton strikes distrust in coal country Financial Times

Clinton attacking Trump on taxes, economy as polls tighten. Slate

Trump's Miss Universe Foreign Policy New York Times

With Donald Trump as nominee, delegate spots lose appeal CNN (furzy)

Trump won't release tax returns before election The Hill (furzy). He can't carry on about "Crooked Clinton" (effectively) and not release his returns.

Romney to Trump: Not releasing tax returns is 'disqualifying' The Hill

Trump softens stance on Muslim ban BBC

Donald Trump Is Considering Newt Gingrich for Vice Presidential Role Bloomberg. This reads like a bad joke but it isn't. Trump's mopping-up operation in the Republican party seems to be working against what would make him viable with the general electorate.

Donald Trump asks Stephen Moore and Larry Kudlow to rewrite his tax plan. Slate

Trump Says He Would Appoint Anti-Choice Justice to Supreme Court (Video) Alternet. Ugh. Looks like he's decided that he's alienated so many women he might as well double down and go for evangelicals. This may cost him the election. He could get away with positioning himself a mere lout, particularly if he got a woman VP, if he held to at least OK positions on women's issues. But this will drive a lot of women who might have stayed home out of ambivalence over Hillary to the polls.

Trump needs cash, but GOP donors not opening their wallets CNN (furzy)
Gay Marriage Won, But Other Liberal Causes Will Probably Struggle To Copy Its Success FiveThirtyEight (resilc). Wrong conclusion. Gays has $ (making them a desired voter group), were good at messaging, and were willing to withhold their support from the Dems. They also shifted prevailing views enough to make the change seem less radical. Other "liberal causes" lack the guts. And ignores that the generational trend heavily favors "liberal causes".
Suite of 18 bills to combat opioid scourge set to sail through House Christian Science Monitor
Texas Republicans Inch Closer to Secession Mother Jones Resilc: "Please go, vote yes. The other 49 would support it.
Anti-Trans discrimination is Sex Discrimination Atlantic (Selva T)
Maker of painkiller OxyContin loses legal battle to keep lawsuit records secret Los Angeles Times
Harvard's clueless illiberalism Washington Post (furzy). FWIW, Harvard had not allowed sororities or fraternities until pretty recently, a fact this article omits.
OPEC Is Dead, What's Next? OilPrice
Oil markets 'heading towards balance': IEA CNBC
Ambac sues Puerto Rico highway agency over toll road deal Reuters (EM)
11 Signs That The U.S. Economy Is Rapidly Deteriorating Even As The Stock Market Soars Economics Collapse (RR). Needless to say, this is a perma-bear blog, but the list does have some not-well-known factoids.
Jobs: How Good are the Jobs the Economy is Creating? Michael Shedlock
Macy's joins American retail descent Financial Times. How about, per Class Warfare below, "Macy's joins American middle class descent"?
Google bans payday lender advertising Financial Times
Are Newspapers Captured by Banks? Evidence from Italy ProMarket
Guillotine Watch
Chelsea Clinton's Husband Closing Hedge Fund After Losing 90 Percent Of Its Money Daily Caller. You have to work to lose 90%. And have long lockups so the investors can't run away. But he bet that austerity would work!
Class Warfare
Pew study sees a shrinking middle class in major US cities Associated Press (allan). The FT has this study as its lead story.

The middle class is shrinking just about everywhere in America Washington Post (resilc)

Portland gave its minimum wage workers a raise. Here's what happened next. Christian Science Monitor

Top Shell investor vents anger at boss pay Telegraph

Billionaire Ken Griffin: 'We are more and more in a winner-take-all world' Business Insider (David L)

Corporate Branding of National Parks: The Disturbing Link between Philanthropy and Privatization NonProfit News

Unnecessariat More Crows than Eagles (martha r). Today's must read
Antidote du jour (Christian Science Monitor via Furzy): "WikiLeaks founder Julian Assange holds up his new kitten at the Ecuadorian Embassy in central London, Britain, in this undated photograph released on Monday. The kitten is a gift from Assange's young children to keep him company." Sporting of the embassy to let him have a pet.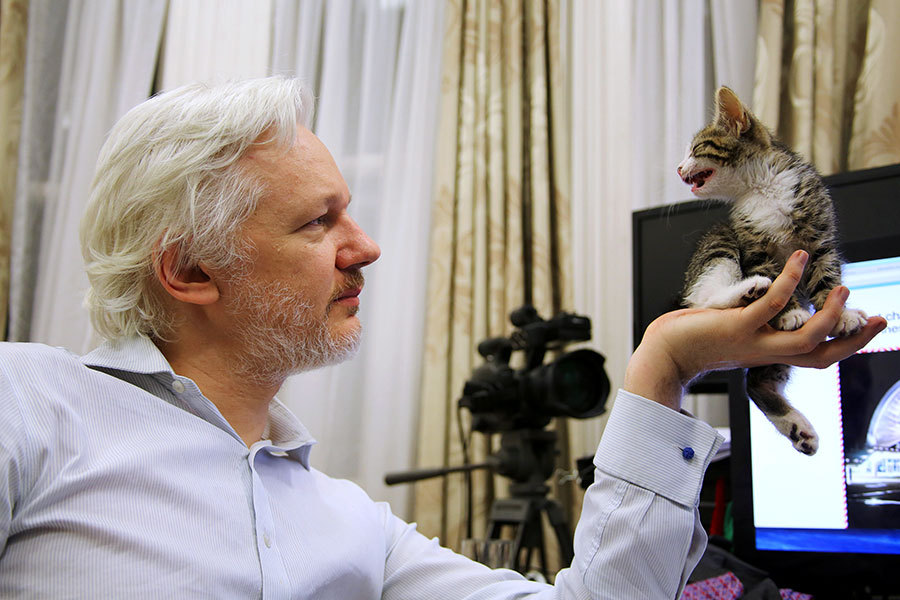 See yesterday's Links and Antidote du Jour here.