Politico reported in early May, when Trump became the presumptive Republican nominee, that the Clinton campaign started calling major Republican donors almost immediately, pitching her as the natural candidate for them. Many of the recipients were cool to the appear, reasoning that Clinton would probably prevail regardless. But that was before the polls showed that Trump becoming the virtually official Republican nominee meant he quickly moved in national polls to score a mere few points behind Clinton, when the widespread assumption had been that he would top out at a much lower level.
And it's not as if Clinton didn't already have real pull among big Republican givers. This chart from Time Magazine shows as of late 2015 where 2012 Romney donors were sending their Presidential bucks in this cycle. You can see that Clinton was virtually on a par with John Kasich: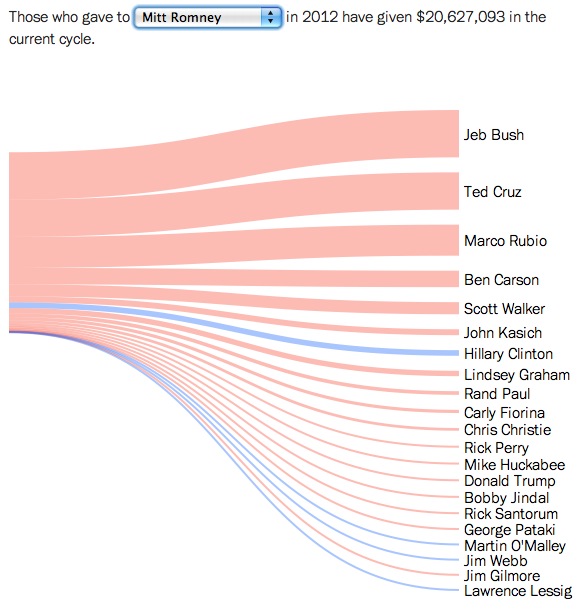 The Financial Times surveyed major US business groups and found they greatly prefer Clinton. Mind you, "greatly prefer" translates as "loathes Trump, deems her to be less obviously terrible." Clinton is a status quo candidate, and as much as she would probably shake her finger at businessmen more than they'd like, she won't break any big rice bowls. From the Financial Times:
In the most comprehensive survey to date of business views on the US election, half of the trade groups who responded to the FT said they would break from the traditional party of business to back Mrs Clinton — despite reservations about the Democratic front-runner's candidacy.

Only a quarter of respondents preferred Mr Trump, who has run a caustic campaign marked by populist attacks on business. But support for Mrs Clinton was often lukewarm, sparked more by alarm over the presumptive Republican nominee than enthusiasm for her..

The FT polled 53 Washington-based trade associations and received responses from 16 of them that lobby for nearly 100,000 businesses with combined annual revenues of more than $3.5tn. A quarter of respondents said they could not decide which candidate would be best for business because it was too early to judge their policy platforms, or replied "none of the above".

Several trade groups expressed dismay that for the first time in living memory they faced a presidential race without a clear pro-business candidate, dashing their hopes of a new dawn after nearly eight years of what they see as over-regulation by the Obama administration.

Mr [Bill] Reinsch, speaking shortly before retiring from his trade group [companies ranging from Cisco to General Electric to Procter & Gamble ] this month, added: "The other thing [companies] want is predictability, which is the antithesis of Trump, who brags about being unpredictable."…

The business groups that said they would prefer Mrs Clinton tended to represent more internationally-minded members in fast-moving or technology-dependent sectors. The smaller core of Trump support came from more domestic-oriented sectors and those hurt by the Democratic causes of environmentalism and trade unions.
While this would seem to be a big negative for Trump, the antipathy of big businesses may not be quite the obstacle that it seems to be. First is that the media gives him massive coverage, reducing his need to spend on advertising, which is the big money pit in presidential bids. The second is "lesser-evilism" is not a great basis for raising money. So while these major companies and their execs will presumably give more to Clinton than to Trump (one can anticipate they'll make some donation to his campaign to keep the possibility of some level of access), it's not likely they'll be generous donors.
In addition, Trump continues to be a media darling. The attentiveness of the press to his every utterance means he'll have to spend less on TV advertising than Clinton will, which is the big money pit in a presidential bid.
And there is the open question of whether the heretofore skeletal Trump campaign organization can tap into Trump's base. Despite stereotypes to the contrary, some surveys show that his fans are on average markedly higher income than Clinton or Sanders voters. In particular, Trump has a strong position with small business owners. Helaine Olen reported that surveys done months before Trump became the Republican winner showed him as their clear favorite.
In other words, despite regular elite warnings that Trump will usher in an era of horrors, he continues to defy the odds. And Clinton, despite having what would seem to be an eminently beatable opponent, is so deeply ensconced in her elite echo chamber that her and her allies anti-Trump messaging seems only to reach the already converted. We'll see soon enough how well Trump contends with this apparent fundraising obstacle.