By Lambert Strether of Corrente.
I added a few updates… There's too much happening! –Lambert
TPP/TTIP/TISA
"It's no secret that the agriculture community is one of the biggest supporters of the languishing Trans-Pacific Partnership agreement, and today it gets a high-profile opportunity to try to build some momentum for the pact — courtesy of a hearing set by House Ways and Means Trade Subcommittee Chairman Dave Reichert" [Politico].
"Cracks are finally emerging in the grossly imbalanced, plurilateral talks on a Trade in Services Agreement (TiSA) being pursued by 23 countries, after the European Union and several other members voiced concern about the overall quality of the latest revised offers and the exclusion of Mode 4, maritime transport, and sub-federal categories among other sectors, [according to] several trade envoys [Bilaterals.org].
2016
Policy
"Gun Debate on Hill Unchanged by Orlando Killings" [RealClearPolitics]. Until Democrats stop taking money from private equity firms that own gun manufacturers (Cerberus owns Remington) and stop using the State Department to make arms deals for them, all this is mere virtue signalling. Shouting on the House floor? Dear Lord.

CLINTON: "And I will make sure have all the resources they need to get the job done" [Hillary Clinton on Orlando (transcript), Time]. There speaks the candidate of the credentialed 10%, eh? Because, over the last fifteen years, the cars on the gravy train for these "our professionals" haven't been full to the brim. And because they have such a great track record.

"Clinton breaks from Obama, calls Orlando attack 'radical Islamism'" [Politco]. "Radical Islam" is a shibboleth that conservatives have been demanding that liberals pronounce. And Clinton did. So, apparently, conservatives can pull her right. And yet, we're also constantly told that Sanders pulled her left. Hmm.

UPDATE "The near-certain Democratic candidate, former Secretary of State Hillary Clinton, has reacted more soundly. Her comments on the Orlando shooting have been strong but temperate. She decried the attacks, but did so without making America look more hateful or without stirring up more hate as Trump did" [David Rothkopf, Foreign Policy]. But as we have seen, Clinton, not Trump, advocates airstrikes on Syria, and "accelerated" ground force. How is that "temperate," given the known reality of blowback?

UPDATE "Donald Trump and Hillary Clinton Call for Bombing ISIS After Orlando Shooting That ISIS Didn't Direct" [The Intercept]. Based on current evidence, the Intercept is wrong. First, in his major policy speech, Trump didn't call for airstrikes or "accelerated" ground forces in Syria. In hers, Clinton did. Second, here's the quote the Intercept uses to support it's headline: "We're going to have to start thinking about something." Granted, Trump's rhetoric is bellicose. But Clinton's rhetoric is both bellicose and, as is her wont, complete with concrete plans for action. I prefer jaw jaw to war war, thank you very much.
Orlando Mass Shooting
"What if Donald Trump is exactly what people want after the Orlando shooting?" [Chris Cilizza, WaPo]. "Just as his campaign appeared to have lost momentum in late 2015, the terrorist attacks in Paris and San Bernardino, Calif., happened in rapid succession. Most pols' reactions were to offer sympathy and support for the dead and wounded while insisting that good will always be stronger than evil in our world. Trump? He proposed a temporary ban on Muslims entering the United States. That plan was greeted by the political world with reactions ranging from eye-rolling to outrage. Politically speaking, however, it worked. Trump experienced a surge in the polls that he never relinquished." Cilizza then goes on to question whether people really want "empathy" from their political leaders. It's a good question, and one that was only answered by FDR with his "fireside chats", but only partly. The other part? The concrete material benefits delivered to the suffering by the New Deal. I don't see either today's chats or concrete material benefits on offer from either presumptive Presidential candidate, but absent that, Trump's "Our nation stands together in solidarity with the members of Orlando's LGBT Community" will have to do; Cilizza seems not to have read Trump's speech.
Corruption
"Cigna-Anthem Deal: Connecticut Gov. Malloy Signs Secrecy Bill That Could Shield Insurance Information From Public Release" [International Business Times]. Malloy is co-chair of the Democrat platform committee. And Medicare for All isn't on the table. Coincidence? You be the judge.
Senate and House
"Democrats' surprising strategy to win the Senate: Be boring" [Politico]. Let me translate: DSCC prepares to throw another election. Politico goes on: "[Democrats are] intentionally playing it safe and boring, figuring their elections will mostly be a referendum on Trump and that animosity toward the real estate magnate will put them over the top in key swing states… Most Democratic candidates are hewing to their talking points this year with almost robotic discipline. Questions about their party's own struggles are answered with platitudes about their problem-solving acumen and their opponents' affinity for Trump, the Koch brothers or GOP leaders." Politico relies on Napoleon's maxim: "Never interrupt your enemy when he is making a mistake." If the Democrats had a Napoleon, that might make sense. I'd proffer a domestic alternative: "You can't beat something with nothing."
The Voters
UPDATE "Most Americans don't view Hillary Clinton's presidential nomination as "historic" [Vox]. "Overall, far fewer people appear to think it's a big deal that a woman was nominated for president than you might expect. … After Clinton became the presumptive nominee last week, the media widely referred to her nomination as 'historic.' Even Clinton's harshest critics in the press seemed to buy that shared premise. (A good example via Fox News: 'Hillary's historic nomination isn't a victory for women, it's a betrayal.')." So the political class is out of touch. Film at 11.

But for whatever reason — perhaps a long and drawn-out primary fight, hyperpolarization in American life, or general dislike of Hillary Clinton — Americans just aren't feeling the historic nature of the #ImWithHer movement.
The Trail
"One key backer says Bernie won't give [the Sanders mailing] list to Clinton. 'He doesn't want to hand it over to Wall Street,' said RoseAnn DeMoro, executive director of National Nurses United" [BuzzFeed]. That speaks well of Sanders.

"Bernie has run a populist campaign and the campaign is not over," RoseAnn DeMoro, the executive director of National Nurses United, told BuzzFeed News. "The campaign's in its nascent stages, really. He's sitting on the greatest populist list in the history of this country. And he wants to use it for populist reasons."

Knowing how the Democratic nomenklatura works — Hi, Neera! [waves] — they'd probably cross-reference the list with their employees, and… Well, they wouldn't fire them. They'd have "conversation." About "opportunities." Elsewhere. Hey, kidding! (Though I couldn't help but notice that this Shadowproof link was at the top of Bing search results, but buried in Google results, which were full of dupes.

UPDATE "Sanders To Address Supporters Via Video Live Stream Thursday" [Talking Points Memo]. "'He will speak directly to supporters about how the revolution continues,' campaign spokesman Michael Briggs said in an email to TPM."

UPDATE "What's next for Bernie Sanders?" [The Hill]. All the sourcing is Beltway pundits and Clinton supporters, but nothing at all from the Sanders campaign, not even a leak.

UPDATE "The campaign's top brass says that Sanders wants reassurances from Clinton [at their meeting later today] that she will not inch back to the center-right during the general election" [ABC]. Irony is not dead.

UPDATE "And [Sanders is] convinced that if she ever released the transcripts of her speeches to the financial industry, she would put herself in the same big league as Joe DiMaggio when he was fronting for the Bowery Savings Bank. On camera the Yankee Clipper as pitchman asked: 'Is there anyone who couldn't use a bundle of cash?'" [Counterpunch]. No duh!

UPDATE This is a thing: "Bernie Sanders Dank Meme Stash" [Facebook].

"Clinton, Warren, and the Vice Presidency" [Robert Kuttner, HuffPo]. "Warren will get the nod if and only if Clinton decides that Warren will make a major difference in November. Would Warren take the job? Yes." Kuttner doesn't give a source for that. But he's plugged into the Democrat nomenklatura. Trial balloon?

"The Obama administration starts work to save Clinton" [Ed Rogers, WaPo]. Rogers is a member of the Republican nomenklatur, so this is foreshadowing on both Clinton's privatized server and the Clinton Foundation: "There is certainly more to come. It will be interesting to see just how bold the actions of the Clintons and their agents in the administration become as we get closer and closer to November and whether the media will eventually sit up and take notice."

UPDATE Volatility voters theory makes the mainstream [Yahoo Finance]. "As [James] Surowiecki sees it, 'the danger is, for those people who really support Trump, when they hear 'he's risky, you don't know what he's going to d' they say 'well that's better than what we've been living through for the past eight years.'" Exhibit A: Case-Deaton mortality figures. From there, go to labor force participation. Then go outside and look at your crumbling infrastructure.
Clinton Email Hairball
UPDATE "Russian government hackers broke into DNC servers, stole Trump oppo" [Politico]. But hackers didn't break into Clinton's privatized, homebrew server, the one in the basement of her home. Alrighty then.
Stats Watch
NFIB Small Business Optimism Index, May 2016: "The small business optimism index rose 0.2 points in May to 93.8, slightly extending April's 1 point bounce back from 2-year lows but remaining well below the 42-year average of 98" [Econoday]. And: "The Index of Small Business Optimism rose two tenths of a point in May to 93.8, a negligible increase showing no real enthusiasm for making capital outlays, increasing inventories, or expanding" [Econintersect].
Retail Sales, May 2016: "Consumer spending proved to be the biggest surprise of April and is at least a pleasant surprise in May. Retail sales rose a very solid and better-than-expected 0.5 percent with strength evident, though to a less degree than in April, through the balance of the report" [Econoday]. "Consumer spending proved to be the biggest surprise of April and is at least a pleasant surprise in May. Retail sales rose a very solid and better-than-expected 0.5 percent with strength evident, though to a less degree than in April, through the balance of the report…. The strength in the report is centered once again in nonstore retailers where sales, reflecting big gains for ecommerce, rose 1.3 percent on top of the prior month's 2.5 percent surge. Year-on-year, nonstore retailers lead the way with at 12.2 percent pace. Restaurants, a key discretionary category, continue to show strength with an 8 tenths gain on the month and a year-on-year rate of 6.5 percent…. Strength is definitely the theme of this report, one that ultimately reflects strength in the labor market and which is pointing squarely to another strong month for total consumer spending in May." However: "Retail sales improved according to US Census headline data. Our view of this month's data is significantly more negative, There was a decline in the rolling averages" [Econintersect].
Business Inventories, April 2016: "The strength of April now includes business inventories where strong sales limited the build to only 0.1 percent" [Econoday].
Shipping: "Although more than half of those surveyed have never used same-day shipping, a growing number say offers of free shipping "greatly" impact their ordering decisions. Over half of shoppers said they browse products online based on the available shipping methods, the survey said" [Wall Street Journal, "Online Shoppers Want Delivery Faster, Cheaper, Survey Shows"]. "The survey results underscore the big and growing role that shipping holds in the competition for e-commerce, a factor that is pressuring margins for retailers as they cope with the high cost of delivering goods to homes in a timely manner."
Shipping: "The Federal Aviation Administration proposed a $350,000 fine on the e-commerce giant for allegedly shipping prohibited hazardous goods by air," [Wall Street Journal]. "[T]he FAA also says it was one of two dozen incidents in recent years involving Amazon, suggesting 'a history of violating' hazardous materials regulations. With Amazon investing in air operations and its delivery networks likely to get more complicated, the company will be under greater pressure to get its fulfillment workers trained in handling dangerous goods." I can think of other ways for Amazon to seek that goal than treating its workers better.
Shipping: "In its website posting, the FAA alleges that on October 15, 2014, Amazon offered to United Parcel Service (UPS) a package containing a one-gallon container of 'Amazing! LIQUID FIRE,' which the US aviation regulator describes as "a corrosive drain cleaner" for transportation by air from Louisville, Kentucky, to Boulder, Colorado" [Air Cargo News]. "In its statement the FAA said: 'While being transported, some of the Liquid Fire leaked through the fiberboard box. Nine UPS employees who came into contact with the box reported feeling a burning sensation and were treated with a chemical wash'… In its statement, the FAA said that Amazon "has a history of violating the Hazardous Materials Regulations. From February 2013 to September 2015 alone, Amazon was found to have violated the Hazardous Materials Regulations 24 other times"." As Amazon builds up its own freighter fleet, leaking Amazing! LIQUID FIRE isn't a good look…
Shipping: "Third annual National Forklift Safety Day slated for June 14." That's today! [DC Velocity]. "Washington-based ITA represents manufacturers of lift trucks, tow tractors, rough-terrain vehicles, hand-pallet trucks, and automated guided vehicles in the U.S., Canada, and Mexico. The organization promotes international standards development, advances engineering and safety practices, disseminates statistical information, and holds industry forums." So when is National Forklift Driver Day? In the U.S., Canada, and Mexico….
Shipping: "Baltic beckons back break-away brokers" [Splash247]. "The Baltic Exchange says it will engage with the newly formed panellist group Competitive Ship Brokers Limited (CSBL), comprised of some panellists opposed to the Baltic's proposed acquisition by the Singapore Exchange."
ETFs: Handy chart of changes in ETF gold holdings, 2005–2016 [ETF.com].
Honey for the Bears: "Fear has once again gripped markets with peripheral spreads melting down. As I noted at this hour yesterday I follow Italy and Spain in the 10 year sector versus US to gauge sentiment. By that metric markets are less than festive this morning. Last Thursday morning I had clocked 10 year Spain versus US at 29 basis points (Spain rich to US). That traded at 15 basis points at this time yesterday and rests at 5 basis points today. There has been a similar move in Italy. Last Thursday that spread as 40 basis points and yesterday it sat at 28 basis points. This morning that spread is 16 basis points." [Across the Curve].
Today's Fear & Greed Index: 48, Neutral (previous close: 55, Neutral) [CNN]. One week ago: 81 (Extreme Greed). (0 is Extreme Fear; 100 is Extreme Greed). Last updated Jun 14 at 12:17pm. Another big drop, and a transition to neutral territory from greed.
Class Warfare
"The typical American couple has only $5,000 saved for retirement" [MarketWatch]. In other words, the typical American is one high medical deductible away from total reliance on Social Security. And if you don't think a Grand Bargain to cut Social Security isn't still on the table in the Beltway, then you don't understand the power of the FIRE sector.
News of the Wired
UPDATE "A panel of federal judges upheld the government's net-neutrality rules Tuesday, handing a major victory to the Obama administration in its efforts to step up oversight of cable and telephone companies that provide broadband service." [Wall Street Journal, FCC's Net-Neutrality Rules Upheld by Appeals Court"]. Here's the text of the decision.
UPDATE This 2015 classic from Matt Stoller: So here's what I think the net neutrality fight means. First, it is the reemergence of populist politics into the industrial sector" [Naked Capitalism]. "Second, the entities who emerged in this populist movement included a whole host of small businesses, internet businesses that have become attuned to power and the need for democratic processes to place checks on authoritarian threats that come from private monopolies." Right on both counts, and applicable to the insurgent campaigns on left and right.
"Behold the new name of OS X: macOS. And because this is a new version of OS X/macOS, too — and Apple decided to stick with its California names — this new version's full name is macOS Sierra" [TechCrunch]. I've used Macs for hours a day for many years. And every upgrade of OS X since iOS UI idioms started creeping into it has been slightly worse; making my workflow slightly less efficient, making my machine slightly less stable, violating stable Human Interface Guidelines in favor of random cuteness, and in general treating my desktop, dedicated to productivity, as if it were a swipe-friendly consumption device like my (two, thank you very much) iPads. So this name change fills me with fear.
* * *
Readers, feel free to contact me with (a) links, and even better (b) sources I should curate regularly, and (c) to find out how to send me images of plants. Vegetables are fine! Fungi are deemed to be honorary plants! See the previous Water Cooler (with plant) here. And here's today's plant (AEW):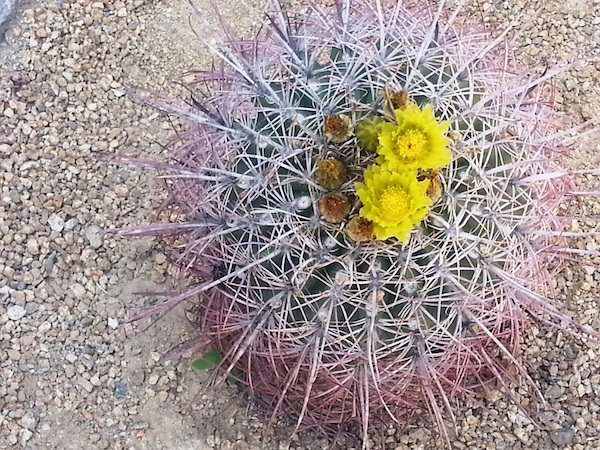 The sun came out today! It's 60°F!
Readers, I got a ton of pictures from you all! Thank you so much.
* * *
Readers, Water Cooler will not exist without your regular support. Your tip will be welcome today, and indeed any day. If you enjoy what you're reading, please use the dropdown to choose your contribution, and then click the hat!