By Lambert Strether of Corrente.
Will the would-be Water Cooler Mini-Fundraiser contributor who gave the address "thesimiandukd@gmail.com" please contact me again? That address bounces. Thank you (and thank you all)!
I got distracted by a visitor just as this was starting, so 2016 links a bit light. I'll add a few.
TPP/TTIP/TISA
"U.S. business leaders emerged from meetings with Lew, Trade Representative Michael Froman and other top administration officials on Thursday with a new determination to push for a vote this year on the Trans-Pacific Partnership, a top lobbyist told Morning Trade" [Politico]. "We had a great meeting," said Bill Miller, a senior vice president for the Business Roundtable. "We're more committed than ever to pressing for a TPP vote and passage this year. The CEO group includes financial services firms such as Bank of America, Citigroup and JPMorgan Chase, which have been unhappy they were excluded from a breakthrough provision of the TPP that would ban governments from requiring companies to store data within their borders. Such 'data localization' requirements are a new-generation trade barrier that businesses say reduces efficiency and increases costs." Somebody should ask Clinton whether she agrees with Obama on TPP, or Sanders, given that so many of her owners contributors are for TPP.
"Stop the government ban on new public bus companies" [We Own It]. "The government wants to ban councils in England from setting up bus companies to run their own services. 12 local authorities already provide excellent bus services across the UK. If we want better buses everywhere, new local authority not-for-dividend bus companies must be allowed as an alternative to private providers." Same thing happened in this country with public WiFi, and as a result our broadband is Third World-quality outside the Acela Corridor and some California bright spots. And now TPP's "lost profits" doctrine would enshrine this nonsense.
"For example, Van Harten quotes some recent work showing that 90% of ISDS fines against countries went to corporations with over $1 billion in annual revenue or to individuals with over $100 million in net wealth. Similarly, the success rate among the largest multinationals — those with turnovers of at least $10 billion — was 71% in the 48 cases they initiated, compared with a success rate for everyone else of 42%. So any claim that ISDS is equally useful to all companies, including small and medium-sized businesses, is not borne out by the facts" [Tech Dirt]. Important study from the Canadian Center for Policy Alternatives.
Tim Canova on trade and Debbie Wasserman Schultz (interview) [Daily Dot].
2016
Policy
UPDATE "Fracking and the environment are set to be one of the most contentious battlegrounds for allies of Hillary Clinton and Bernie Sanders as they seek to craft the Democratic Party's platform for 2016. Members of the platform committee will meet on Friday in Phoenix to hear testimony from several environmental organizations and activists" [The Hill]. "Clinton and Sanders clashed bitterly over hydraulic fracturing and fossil fuel production during the campaign, and both have appointed officials to the platform committee who share their views. With Clinton now the Democratic Party's presumptive nominee for president, the Sanders camp is determined to win as many concessions in the platform is possible. 'I think it could be a , but I think it's a good tension point,' said Friends of the Earth President Erich Pica, who will testify before the committee this week. "Fracking is going to be one of those areas where there's going to be a . … It's a complex issue. But I think having that discussed in an manner is good.'" I've helpfully underlined the Beltway-ese, but I think a "robust" "conversation" is the equivalent of "a full and frank exchange of views" in diplospeak. (I like "tension point." See this picture of what you get — in both social and policy terms — when the sycophantic preference for lack of tension wins out in the Clintonite faction of the political class.)

UPDATE "Over 50 U.S. diplomats have signed an internal State Department memo sharply critical of the Obama administration's Syria policy, in which they call for airstrikes against the regime of Syrian President Bashar al-Assad [Foreign Policy]. Looks like Clinton put her stamp on State. Don't we have the Pentagon for this, or did the diplomacy portfolio move over there when I wasn't watching?
Corruption
UPDATE "Hillary Clinton will hold a fundraiser with the entire House and Senate Democratic leadership next week, the first event of its kind for the presumptive Democratic nominee" [Politico]. Tickets cost $00, but $27,000 gets you named as a host, and a photo with Clinton." Since Clinton is famously detail-oriented, $2,700 and $27,000 can only be regard as a ginormous upraised middle finger to the oft-quoted $27 average donation of the Sanders campaign, to the Sanders funding model, and to those $27 Sanders donors as well. Message: "I don't care."
The Voters
"Clinton supporters' newest delusion about Bernie Sanders" [The Week]. This is a very important takedown of the Achen-Bartels, which (to put this tendentiously) gives academic cover for smearing Sanders supporters as racists and sexists; the Clinton campaign's successful propagation of #BernieBros, directed to the same end, preceded this study, interestingly enough.

A number of liberals, perhaps unaccustomed to being on the conservative side of an argument, have been busily convincing themselves that the Sanders insurgency is little more than a coincidence, and does not represent any meaningful advance for the American left. Foremost among them are two political scientists, Christopher Achen and Larry Bartels, who used survey data and their theoretical work to argue that Sanders' ample support resulted from "social identities, symbolic commitments, and partisan loyalties," not actual left-wing ideology.

Read for the methodological problems with the study. The conclusion:

But on a more fundamental level, it's important to recognize how profoundly elitist the Achens/Bartels theoretical framework is. In their book, they argue that ordinary voters have basically zero control over government policy, because they have no idea what's going on, politically speaking. They don't understand government, they don't understand policy, and they don't have a good grasp on what politicians believe. They vote based on identity and partisanship, and, when given the chance in plebiscites, regularly make ignorant and self-damaging choices.

Obviously, those pesky voters need to be guided by credentialed experts, using squillionaire-friendly values (and interests) as a touchstone.

"Clinton and the Democrats want Pennsylvania; Trump and the GOP need it" [Real Clear Politics]. Interesting! Contrast between "socially liberally and fiscally conservative" Philly suburbs (Democrat) and "rust belt" (Pittsburgh). Worth noting that Obama's supercilious comment on "bitter people" who "cling to their guns and religion" came during the 2008 Pennsylania primary, at a fundraiser, foreshadowing the Democrat Party's vile and 10%-optimized strategy of forcing a Sophie's choice on working people: Feed your children by voting your economic interests (say, on TPP) and teach your children by voting for the justice component of identity politics (say, on racial justice as distinct from the business interests of the Black Misleadership Class). Thanks, Obama!

"Why Young Americans Are Giving Up on Capitalism" [Foreign Policy]. From the clogged arteries at the heart of the establishment:

Capitalism, in other words, holds less appeal in an era when the invisible hand feels like a death grip. Americans under 20 have had little to no adult experience in a pre-Great Recession economy. Things older generations took for granted — promotions, wages that grow over time, a 40-hour work week, unions, benefits, pensions, mutual loyalty between employers and employees — are increasingly rare.

As a consequence, these basic tenets of American work life, won by labor movements in the early half of the twentieth century, are now deemed "radical." In this context, Bernie Sanders, whose policies echo those of New Deal Democrats, can be deemed a "socialist" leading a "revolution". His platform seems revolutionary only because American work life has become so corrupt, and the pursuit of basic stability so insurmountable, that modest ambitions — a salary that covers your bills, the ability to own a home or go to college without enormous debt — are now fantasies or luxuries.

Hence the total necessity of Clintonian excrementalism.
Sanders Speech
"In Non-Concession Speech, Sanders Vows to Keep Fighting" [Seven Days]. " In a 23-minute speech, broadcast live from a television studio in Burlington's Old North End, Sanders did not say he would continue challenging former secretary of state Hillary Clinton for the Democratic nomination. But neither did he say the words 'concede,' 'suspend' or 'endorse.' Rather, he seemed to be holding out for specific concessions."

This fallacy is pathetic in more ways than one:

.@BernieSanders stood at a podium in a small, chilly TV studio insisting he was fighting on. https://t.co/jR8VzWICIt pic.twitter.com/qqZAA9bzHo

— Yamiche Alcindor (@Yamiche) June 17, 2016

Yeah, it's actually still cold up here; as readers know, my boiler was going in June!

"Get involved in your area" [Bernie Sanders]. "Fill out this form and we will follow up with more information about how you can get involved in carrying this movement forward in your area."] I very rarely link directly to candidate sites, but since this is about getting people involved — quelle horreur — at the local level, I'm making an exception.

UPDATE "Sanders' Long Refusal to Endorse Clinton Hurts His Leverage" [Bloomberg]. Concern trolling. It seems literally impossible for the political class, or the Clinton campaign, to get their heads around the idea that to Sanders, and to his supporters, there is more to life than a (rigged and corrupt) process that ends on November 7. Or that Sanders might not be able to "deliver" the people who voted for him (or even think of his supporters as addressable packages to be tossed in the back of some truck).

UPDATE The transcript [Time].

UPDATE "One sentence from Bernie Sanders's speech last night that really enrages Democratic leaders" [Matthew Yglesias, Vox]. Awesome clickbait headline, even more awesome text:

The aspect of Sanders's speech that really set them off last night was something entirely different. Not the fact that Sanders said he wanted his supporters to continue to influence the direction of the party but the specific way he characterized this direction:

I also look forward to working with Secretary Clinton to transform the Democratic Party so that it becomes a party of working people and young people, and not just wealthy campaign contributors: a party that has the courage to take on Wall Street, the pharmaceutical industry, the fossil fuel industry and the other powerful special interests that dominate our political and economic life.

It's incredibly frustrating for people who've been working in mainstream Democratic Party politics to hear their party described as something other than a party for "working people."

C'mon, Matt. You're better than that.

Maybe worry about outcomes more, and the amour propre of Democrat wonks less?
The Trail
UPDATE "Trump's campaign hits a wall" [The Hill]. Everybody who missed Trump's rise now busily engineering his fall. Life's little ironies!

UPDATE "Speaker Paul Ryan (R-Wis.) said on Thursday that he has no plan to rescind his endorsement of Donald Trump despite repeatedly disavowing some of the presumptive presidential nominee's controversial comments" [The Hill]. But somehow I think Ryan doesn't want to run for Vice President twice…

UPDATE "Among those to signal in recent days that they won't sponsor the convention this year are Wells Fargo & Co., United Parcel Service Inc., Motorola Solutions Inc., JPMorgan Chase & Co., Ford Motor Co., and Walgreens Boots Alliance Inc. All of those companies sponsored the previous Republican conclave, in Tampa, Florida, in 2012" [Bloomberg] Virtue signaling by good corporate citizens…

Contrasting the Brexit Vote to the 2016 election: "Unfortunately, this vote is a choice between bad and worse — and the question is which is which" [Paul Krugman, New York Times]. "This vote." Paulie Peanuts is so droll.

UPDATE "Elizabeth Warren visits Hillary Clinton's Brooklyn headquarters" [WaPo].
Voter Suppression and Election Fraud
Board of Elections Returns Purged Brooklyn Voters to Rolls [WNBC]. And two clerks get a nice salary bump. Our work here is done.
Stats Watch
Consumer Price Index: "Rent and Gas Raises CPI" [Economic Populist]. And groceries, kinda, but not restaurant food."The shelter index is comprised of rent, the equivalent cost of owning a home, hotels and motels. Shelter increased 0.4% and is up 3.4% for the year, which is a lot. Rent of a primary residence just keeps increasing and this month by 0.4% and is up 3.8% for the year." I wonder how much of that goes to private equity. I wonder if there's even a chart for that… And: "Continues well below the Fed's target" [Mosler Economics].
Housing Starts, May 2016: "Housing starts are solid but not permits" [Econoday]. "Key strengths in the report are in the central category of single-family homes where starts rose 0.3 percent to a 764,000 rate for a year-on-year gain of 10.1 percent. But here too permits are soft, down 2.0 percent in the month though the year-on-year rate is still positive, at 4.8 percent…. The housing and constructions sectors are showing bursts of strength and in general are trending higher, providing a highlight for what is mostly a modest outlook for the economy."
Atlanta Fed Business Inflation Expectations, June 2016: "Inflation expectations couldn't hold the prior month's gain, falling back 1 tenth to 1.8 percent for the 1-year outlook" [Econoday]. " The headline dip isn't welcome news for policy makers, especially given similar weakness in inflation expectations on the consumer side."
Shipping: "Mutiny attempt leads to mass brawl and grounding of bulker off Mauritius" [Splash247]. "Local media in Mauritius is reporting an attempted mutiny, followed by a huge fight among the all Filipino crew of the bulk carrier Benita led to its grounding in the Indian Ocean early this morning…. [E]fforts by the police to survey the ship via helicopter have been hampered by a number of drones flying in the area. Police have asked that all drones be moved from the area." Hmm.
Shipping: " May 2016 Import Sea Container Count Trends Are Improving" [Econintersect]. "Only the rolling averages for exports and imports remain in negative territory after two months of soft data. Month-over-month, year-over-year, and year-to-date data are now is in expansion…." "This pulse point [at Ports of LA and Long Beach] is an early indicator of the health of the economy…. As the data is very noisy – the best way to look at this data is the 3 month rolling averages. There is a direct linkage between imports and USA economic activity – and the change in growth in imports foretells real change in economic growth. Export growth is an indicator of competitiveness and global economic growth."
Shipping: " Rail Week Ending 11 June 2016: Rail Contraction Continues" [Econintersect]. Still down, even backing out coal and grain.
Shipping: "The big three US carriers' cargo performance continued to diverge in May, with United and American recording demand increases while Delta saw demand slide" [Air Cargo News]. "'Until now, Delta Cargo has operated on very transactional lines – fill the bellies of the planes we're flying, move the product from A to B on time and on target. But there is a consumer component that we need to bring to the business,' said cargo president Gareth Joyce."
Supply Chain: "New reports show that fast-fashion giant Inditex SA 's nimble, low-inventory strategy is helping the company sidestep the headwinds from e-commerce that retailers are facing… [Wall Street Journal]. "The Spanish owner of brands including Zara and Massimo Dutti posted strong first-quarter profit and revenue growth across all its major regions, building on a model in which the company keeps inventories low, supply chains short and products produced quickly on demand." And keeps lots of Cambodians working for pennies a day! (See Fashion Law on "fast fashion." Personally, I'd settle for slow clothing that's not ill-fitting and poorly stitched, and lasts more than one season. Unfortunately, these days one must go to a thrift shop for that. And what to do about the crapification of shoes?) Note the favored elite airplane metaphor: "Headwinds."
Supply Chain: "Coordinating transport procurement activities, inventory placement, and unpredictable omnichannel fulfillment is a tricky proposition. As fulfilling 'eaches' becomes more commonplace, parcel shipping has become the e-commerce mode of choice. But parcel is expensive compared with less-than-truckload (LTL) service, making it more important than ever to consolidate shipments into the more cost-efficient LTL loads where possible but hard to do without aligning procurement and inventory control processes" [DC Velocity]. The article argues for "a single, integrated shipping platform," that is, for monopoly rents to a single software provider (ka-ching). The minimum requirement is a standard for data interchange, but that's a public good (no ka-ching) so it's not even on the table. And so it goes.
Capex: "The Census Bureau measures capex investment in the Durable Goods report in the measure of 'non-defense capital goods excluding aircraft', where we see a different pattern emerge. Businesses are investing notably less in their operations, often choosing instead to borrow at low rates to finance share repurchases and dividends, according to numerous anecdotal reports" [Econintersect]. "In fact, new investment in capital projects has dropped sharply year-over-year in each of the past five quarters, something not often seen outside of recessions." One reason government should not be run like a business is that there are no share buybacks in government, unless you count looting and corruption.
Brexit: "Shares, crude oil and bond yields rose today after a tumultuous week and as campaigning for Britain's European Union membership referendum next week was suspended after the killing of a pro-"Remain" politician" [Futures]. "'There was this incredible melt down in risk sentiment (yesterday) where everything seemed to be aligning and then this terrible incident in England seemed to be the root of everything reversing,' said Saxo Bank's head of FX strategy John Hardy. 'I think everyone is still in a state of shock as to what this means. Does it tilt the odds on a vote next week? It's hard to know but it certainly disrupted what the market was doing.'"
"An attack has been found and exploited in the DAO, and the attacker is currently in the process of draining the ether contained in the DAO into a child DAO. The attack is a recursive calling vulnerability, where an attacker called the 'split' function, and then calls the split function recursively inside of the split, thereby collecting ether many times over in a single transaction" [Ethereum]. Prosecution futures…
"Time to revisit how we calculate expectations?" [Fresh Ecnomic Thinking]. "For someone who is only going to experience a single path through a non-ergodic process, basing your behaviour on an expectation using the ensemble mean probably won't be an effective way to navigate economic variations." Can somebody translate that into English?
Today's Fear & Greed Index: 51, Neutral (previous close: 50, Neutral) [CNN]. One week ago: 63 (Greed). (0 is Extreme Fear; 100 is Extreme Greed). Last updated Jun 17 at 11:44am. Decline from angst into fear arrested. Let's see what Mr. Market does after he stumbles home from the 19th hole on Sunday afternoon.
Big Brother Is Watching You Watch
"FBI says utility pole surveillance cam locations must be kept secret" [Ars Technica].
Gunz
"We must not let the Orlando nightclub terror further strangle our civil liberties" [Chelsea E Manning, Guardian]. "However, an attack like this is carefully planned and executed to maximize attention by inflaming the passions of a helpless public. Because of this, the response can be more dangerous than the attack. The refrains of "safety and security" have, for many years, been used as a tool by the powerful to justify curtailing civil liberties and emboldening backlash against immigrants, Muslim people and others." As it turns out, the heroic Democrat filibuster — and I know this will surprise you — was more about enshrining even more lists of bad data as tools of "law enforcement" than gun control.
"Why I Need an AR-15" [Medium]. Gotta admit, the geeky nature of this article sucked me in. As it turns out — and I know this will surprise you, too — the technical nature of the "assault weapons" debate now being carried on by the political class is completely vacuous; the AR-15 is a platform!
Corruption
"Senator Charles E. Grassley of the Senate Judiciary and Finance Committees issued a letter on Thursday essentially declaring that the American Red Cross (ARC) is stonewalling his investigation on questions of accountability where its activities and spending in Haiti are concerned. The ARC received approximately $487 million dollars to provide food and shelter in the aftermath of the 2010 earthquake" [Nonprofit Quarterly].
Most of the work the ARC did in Haiti under the Haiti Assistance Project (HAP) was in fact subcontracted to other organizations. Still, the Red Cross retained around 25 percent of that money, or $124 million, for its own operations and program costs. The rest, around $367 million, went to contracts with partner agencies, but the whole picture is obscured by a 'complex yet inaccurate process to track…spending.' Consequently, the organization has been unable to answer questions about, for instance, how much went to oversight and evaluation activities—an important accountability measure, as far as Grassley is concerned. He writes that the ARC blames its lack of precision on its reliance on 'nonprofit accounting standards which allow for the use of estimates rather than actual numbers.'
I can't find any direct connection between the American Red Cross and the Clinton Foundation, which is why I'm filing this under "Corruption" and not "The Trail." Their mutual presence in Haiti is not enough. Readers?
The Unsettlement
"Full transcript of Lam Wing-kee's opening statement at his Hong Kong press conference" [South China Morning Post].
"HK learns more about China" [Big Lychee (MsExpat)]. "Many will take Lam Wing-kee's warnings to heart, and perhaps be inspired by his example. This guy has guts. The top-level Mainland security forces that abducted him are expecting him back with a hard drive full of names. Instead, he has turned the tables and exposed beyond any doubts or uncertainty the thuggishness and lawlessness of the CCP."
"We were surprised to find that 40% of [online ISIS] followers declared themselves to be female. Women hold an unexpected position in the pro-ISIS networks — they tend to be centres of information-flow between followers, and to increase the lifespan of the communities. They typically do not have similarly prominent roles in comparable networks from the everyday world, such as innovation networks for patents in industry and academia" [Nature]. Interesting if true.
"It's true that gays and lesbians fought against death with a handful of allies while Ronald Reagan failed, for the first six years of the epidemic, to utter the word AIDS in public. It is also true that the more recent past has brought a level of acceptance of same-sex couples that would have been unthinkable even twenty years ago. But these eras are not sequential chapters of the same story, and treating them as such obscures the fact that the fight against AIDS and the fight for LGBT rights haven't been the same fight for a long time" [N+1].
Guillotine Watch
"Imagine if you owned a 2,400-square-foot luxury home with the ability to fly you and 39 of your closest friends to anywhere you want in less than 17 hours" [Business Insider]. No. Imagine public transportation that took me to and from the hardware story in less than three hours.
"Congresswoman Gwen Moore (WI-04) introduced the Top 1% Accountability Act of 2016, requiring drug testing for all tax filers claiming itemized deductions in any year over $150,000" [Congressoman Gwen Moore].
"Machine Intelligence Will Let Us All Work Like CEOs" [Harvard Business Review]. At last! My life-long dream, fulfilled!
Class Warfare
"How the Gig Economy Could Save Capitalism" [Time]. "It's crucial that the next iteration of capitalism increase the labor share of the pie, which has been shrinking since the 1950s, in order to provide more stable economic growth (flat wages in a 70% consumer economy eventually means zero growth). What's interesting is that, as both Sundararajan and Rushkoff point out, platform capitalism isn't really new. It's just a high-tech version of the pre-industrial marketplaces of old, in which individual merchants sold their wares directly to buyers in a public square."
"FedEx Corp. said Thursday it has agreed to pay $240 million to settle lawsuits in 20 states with drivers, possibly ending a yearslong legal dispute over whether they were employees or independent contractors" [Wall Street Journal, "FedEx Agrees to $240 Million Settlement With Drivers in 20 States"]. The judge in the case must approve. "'We are pleased to put this matter behind us as it relates to a contract that has not been in use for a number of years,' FedEx said in its statement." Yeah, because people fought that contract tooth and nail for years.
"Many developed country members of the group of 20 largest economies are cutting back infrastructure spending after boosting it in the aftermath of the recession. All this comes despite frequent and urgent calls from international gatherings of finance officials for more infrastructure spending to jolt economic growth and invigorate productivity" [Wall Street Journal, "The World Needs to Boost Infrastructure Spending, but Many Countries Are Cutting Back"]. Pervasive neoliberal propaganda for (let me break out my calculator: 2016 – 1975) ~40 year against "big government" and systematic weakening of the provision of public goods of all kinds turns out not only to be corrupt, but delusional even in its own terms. And so the political class responds to the incentives that our misrulers created, and still does. And so now the misrulership class wants a Mulligan on the ideology and the system they constructed. "Sorry guys. My bad." Not.
And then there's this:
Just when you thought Richard Florida could not possibly get worse, he started writing about startup neighborhoods pic.twitter.com/MaLUY6eMbP

— Evgeny Morozov (@evgenymorozov) June 15, 2016
Some you may remember Florida as the coiner of 2008's meme-of-the-moment "creative class," the first indications of the 10% power surge that's coming to such rancid fruition in today's Democrat Party.
News of the Wired
"ZFS: Apple's New Filesystem That Wasn't" [Adam Leventhal's blog]. How the software sausage is made…
"Alphachat: McDonald's as community center, the two Americas, and the reputation of Wall Street workers" [Cardiff Garcia, FT Alphaville]. Interesting read, interesting people.
"Introducing the new font, apple-sans-adjectives" (also, posters) [appleadjectiv.es]. From the poster, the stoplist isn't nearly ruthless enough.
* * *
Readers, feel free to contact me with (a) links, and even better (b) sources I should curate regularly, and (c) to find out how to send me images of plants. Vegetables are fine! Fungi are deemed to be honorary plants! See the previous Water Cooler (with plant) here. And here's today's plant (AW):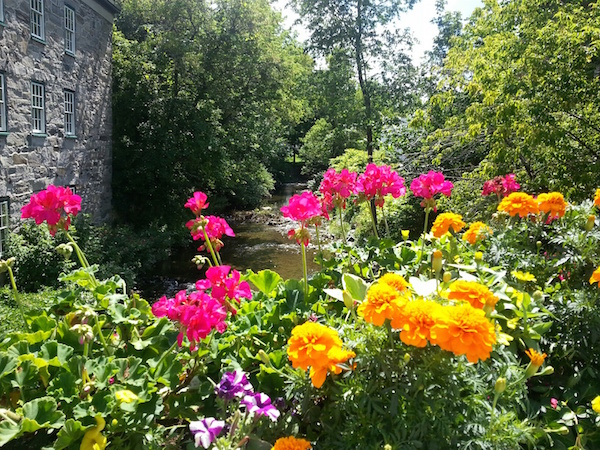 Woodstock, Vermont.
* * *
Readers, if you enjoyed what you read today, please use the dropdown to choose your contribution, and then click the hat! Your tip will be welcome today, and indeed any day. Water Cooler will not exist without your regular support.