One of the big downsides of this hotly contested Presidential race is that it's diverted attention from legislation, allowing noxious bills to move forward. One is HR 5424, which would allow the hedge fund and private equity industry, which are rich enough to pay for the few parking-ticket-level fines the SEC hands out, to escape from virtually all enforcement efforts. Worse, it would considerably weaken protections meant to stop Madoff-type frauds, and leave retail investors exposed.
This bill was nevertheless approved by the House Financial Services Committee last week, with 12 Democrats voting in favor.
As readers know, Dodd Frank stipulated that private equity and hedge funds beyond a modest size be regulated as investment advisers. That subjected them to SEC examinations. The initial round exposed widespread misconduct in private equity, including what would normally be called embezzlement.
Yet the agency has fined remarkably few sanctions, and the fines have been light relative to the extent of the misconduct alleged by the SEC and unearthed by the press.
To make a bad situation worse, the SEC retreated from its tough enforcement talk within months, and more recently, has been trying to fool the chump public into believing that its weak enforcement actions are having an impact when private equity form ADV filings with the SEC reveal the reverse, that many firms are continuing to engage in precisely the same conduct that the SEC has deemed to be a securities law violation.
But even this cronyistic enforcement charade is an offense to these Masters of the Universe. HR 5424 would gut Dodd Frank oversight. I've attached a letter from Americans for Financial Reform at the end of the post, which sets forth how this bill makes a mockery of the idea of investor protection. Let me highlight some of the elements of the bill that I found particularly troubling. From its text: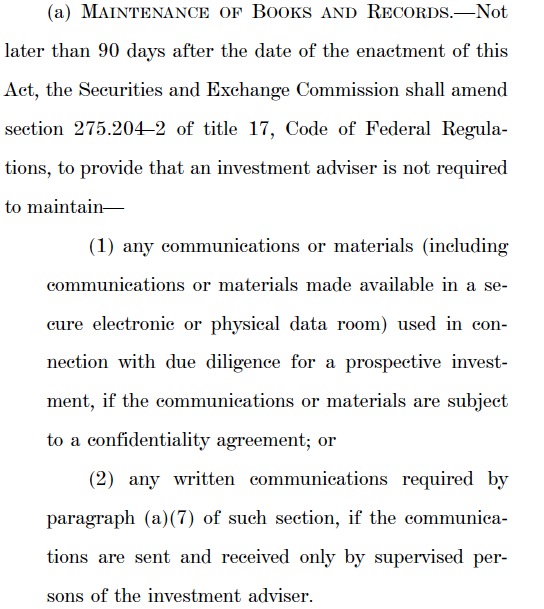 The reason this section eviscerates enforcement is that one of the very few things the SEC has been willing to do is (sometimes) punish private equity firms who have made misrepresentations when marketing their funds to investors. This provision would allow private equity firms and hedge funds to purge all their electronic files of any and all records of what they said or wrote when peddling their wares. This would make it well-nigh impossible to prove misrepresentations.
This provision may also seem reasonable but isn't: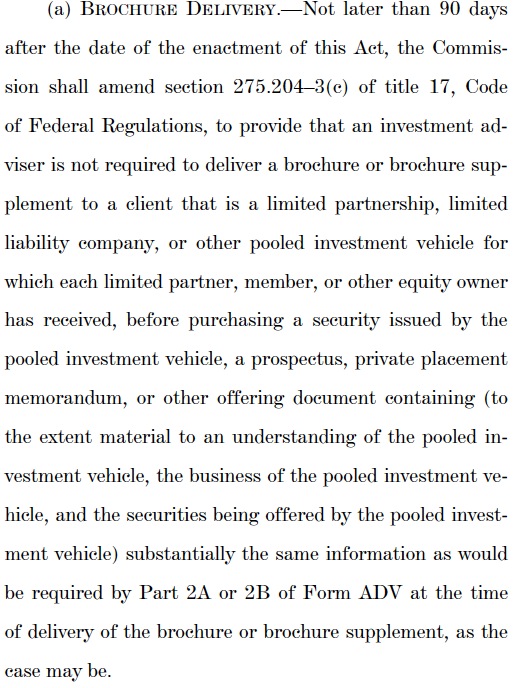 This provision says, "If the information is in our Form ADV, it's effectively in our marketing materials." But as we've seen, even investors with large, dedicated private equity teams, like CalPERS and CalSTRS, do not read their Form ADVs. So this is a way to evade disclosure by removing it from fund prospectuses, which historically have been the required medium for making disclosures, and relegating it to documents that investors seldom if ever consult.
Fund managers will be allowed to make misleading advertisements to accredited investors. The bar for being an accredited investor is not very high. It includes individuals who make more than $200,000 a year. In high cost cities like New York and San Francisco, where salaries are also correspondingly elevated, that includes quite a few people. In addition, certain groups of wealthy individuals who are routinely targeted by fraudsters because they are unsophisticated, such as professional athletes, top entertainers, and widows and former wives of rich men.
Finally, the bill creates exemptions to the requirement that investment advisers have their holdings independently audited at least annually. The exemptions on the surface appear to apply to closely-held funds. It carves out ones whose investors are "officers, directors, and employees" of not just the fund manger, but also of "affiliated persons," their "officers, directors, and employees," current and former family members, and "officers, directors, and employees," who provide or have entered into contracts to provide services….and not just to the investment vehicle itself, but to any of its clients!
It's easy to see how this provision could be abused by, say, having someone enter into a sham or trivial service agreement to get access to a supposedly hot manager. You can even hear the patter: "The only people who can invest are friends and employees, and OMG have they made boatloads, but the SEC will allow you to invest if we are your client. And that's really easy to do. Just sign this contract…"
As professor Jennifer Taub stated in her testimony on the bill last month:
Just when private equity funds are in the sunlight thanks to Dodd-Frank and many have been exposed in SEC examinations as in violation of the law, you are now proposing that they be able to hide their tracks. Instead of encouraging a culture of compliance, this bill would provide a loophole for investment adviser recordkeeping requirements. Subjecting communications to confidentiality agreements or keeping them in-house would allow advisers to destroy critical investment records…

The Investment Advisers Modernization Act of 2016 is misnamed. Instead of ushering in modernity, it would send the SEC and investors back to the Dark Ages. Like the other bills today, it is misaligned with the hearing's title, "Legislative Proposals to Enhance Capital Formation, Transparency, and Regulatory Accountability." This bill would not enhance capital formation. Instead it would undermine investor protection and trust, which could inhibit or drive up the cost of capital. It would not promote transparency, but allow certain private equity advisers and other private fund advisers
that have been exposed as lacking in recent SEC examinations to hide their tracks. It would not encourage regulatory accountability. Instead it would punish regulatory success, depriving the SEC of the information and tools it has been using to monitor system-wide risks, identify firm-specific risk, investigate fraud, and enforce the law.
These Democrats supported HR 5424:
Brad Sherman, California

Gregory W. Meeks, New York

David Scott, Georgia

Ed Perlmutter, Colorado

James A. Himes, Connecticut

John C. Carney, Jr., Delaware

Terri A. Sewell, Alabama

Bill Foster, Illinois

Patrick Murphy, Florida

John K. Delaney, Maryland

Kyrsten Sinema, Arizona

Joyce Beatty, Ohio

Juan Vargas, California
If any of them are your Representative, I strongly urge you to call or e-mail them and tell them that this vote establishes that they are captured by the financial services industry and you will be voting against them in November as a result. You can find their contact information here. Thanks for your help!
AFR-Investment-Advisors-Letter-5.17.16
AFR-Investment-Advisors-Letter-5.17.16