By Lambert Strether of Corrente.
TPP/TTIP/TISA
"BREXIT MADNESS:…. After an unusually trade-focused presidential primary season in the U.S., with candidates on both sides of the aisle taking shots at TPP, it is now starkly clear that the anti-globalization fervor is, well, a global force" [Politico]. Globalization is a bloodless abstraction. The people who engineered and benefit from it, by contrast, are not.
2016
Brexit
"Distrust with political establishments cannot be overstated, on either side of the Atlantic." [Dan Balz, WaPo]. "Distrust" doesn't even begin to describe it.

"In the end those who placed their faith in the "experts" were always going to be disappointed. The pollsters were wrong; the currency traders were wrong; the pundits were confounded. People who did not feel they had been heard have not just spoken. Given a one-off chance to tell the world what they think of how they are governed they have screamed a piercing cry of alienation and desperation" [Gary Younge, Guardian].

Trump: "The people of the United Kingdom have exercised the sacred right of all free peoples. They have declared their independence from the European Union and have voted to reassert control over their own politics, borders and economy" [MarketWatch]. And Clinton: "We respect the choice the people of the United Kingdom have made… Our first task has to be to make sure that the economic uncertainty created by these events does not hurt working families here."
The Voters
So far this election cycle, vociferous pledges warning against a vote for either Clinton or Trump have been found in 119 obituaries [WaPo].

"Uprising in the Rust Belt" [Politico]. Another genre piece where a Beltway reporter goes out among the working class (this has been Chris Arnade's beat for a long time). This form is an improvement on talking to the cab driver (hat tip, The Moustache of Understanding), is long form, has many anecdotes, and does allow our remaining reporters to stretch out a little and do some writing and reporting. This quote caught my eye: "'In the past, people here have turned to the Democrats,' said Chris Borick, director of the Muhlenberg College Institute of Public Opinion in Allentown, Pa., 200 miles to the east. 'They were the ones who looked after working-class interests, in their minds. But there is a belief that that isn't the case anymore—and now they're shopping around for an alternative.'"

"To say that Democrats have become a party of the wealthy is simply stating a matter of fact. Democrats have made steady gains with the wealthiest income brackets over the past 25 years. Political contributions from CEOs of major corporations, once dominated by Republicans, have steadily moved towards the Democrats. Political observers like Thomas Edsall and Thomas Frank have been documenting the party's transformation into the party of an economic and social elite for decades. These changes are epitomized by the Hillary Clinton candidacy, as Clinton — herself a fabulously wealthy woman — has been dogged by questions about her coziness with Wall Street" [WaPo]. "All that makes the party's traditional self-definition of economic populism harder and harder to maintain, given this capture by the wealthy. Could you call Democrats an anti-austerity party? A pro-labor party? A social democratic party? It's hard to say yes to any of those." This pudding has no theme.

"'Latinas for Trump' is a 'coming out' party" [McClatchy]. McClatchy is the pick of the litter, so it's possible the Trump campaign didn't plant this. If they did, it's sign that the Trump campaign is starting to right itself.
Our Famously Free Press
"Nevada Reporter Who Falsely Claimed Sanders Supporters Threw Chairs Just Got What He Deserves" [US Uncut]. "[T]he cancellation of Ralston's show could be an indicator that PBS felt enough pressure from aggrieved Sanders supporters that the network needed to take action. His example may also serve as a deterrent to other journalists contemplating riding on their brand and credibility to spread misinformation." Instant karma!

"Former Donald Trump campaign manager Corey Lewandowski is joining CNN as a political commentator, according to a source familiar with the arrangement" [Politico]. $500K. Ka-ching.
The Trail
"Sanders' idea, it appears, is to help nurture down-ballot candidates for 'school board, city council,' state and national seats and recruit progressive candidates, a role that progressives in the Democratic Party such as Massachusetts Sen. Elizabeth Warren [sic] have sought to play as well" [Time]. "'We're going to go all over this country because that is what the political revolution is about!" Sanders said." If the operational definition of endorsing Clinton and fighting Trump is a poisoned chalice for the Democrat Establishment, I'll be a happy camper.

"Sen. Bernie Sanders of Vermont said Friday morning on MSNBC that he will cast his vote for presumptive Democratic nominee Hillary Clinton in November, his strongest comments to date that he is explicitly supporting his primary rival" [McClatchy].

" Bernie On The Campaign Trail Today– For Eric Kingson In Syracuse" [Down with Tyranny]. Zephyr Teachout?

"Look, Mr. Trump is not Ronald Reagan, I said. Reagan served two full terms as the governor of a state so vast that if it were a country it would have been one of the important economies in the world. He was a union president who served seven terms during the most fraught time in Hollywood's history and emerged respected by all sides. He was no novice" [Peggy Noonan, Wall Street Journal]. "He was the leader of an entire political movement (however nascent) for more than a decade before taking the White House. Yes he had been an entertainer, an actor, and had loved it and seen himself as an artist. And it is true that he was looked down on by liberal elites. But it is not true that nobody respected him. The people elected him in landslides. … Trump supporters, please stop this. The man you back has never held office and has not proved himself as a leader of men. You have to include that in your arguments."
Clinton Email Hairball
"'Let's get separate address or device but I don't want any risk of the personal being accessible,' Mrs. Clinton wrote in response to Ms. Abedin's suggestion that she obtain a government email account" [Wall Street Journal, "Hillary Clinton Failed to Hand Over Key Email to State Department"]. Gee, that's odd.

"Clinton Email Discussing Her Personal Email Address Omitted From Thousands Given to State Department" [Slate]. "'Secretary Clinton had some emails with Huma that Huma did not have, and Huma had some emails with Secretary Clinton that Secretary Clinton did not have,' Clinton campaign spokesman Brian Fallon said." Love "Secretary Clinton" vs. "Huma."
The Hill
"This is not the first sit-in in the House in recent memory; an action by House Republicans in August 2008 to push for a vote on offshore drilling elicited an adjournment from Pelosi, and a handful of House GOP members remained as the lights and microphones and cameras were switched off" [Nonprofit Quarterly]. So the so-called House "sit-in" — love the picture with the comfy carpet, although the cops, armored vehicles, LRADs, and tear gas clouds seem to have been cropped out — isn't "historic" after all. I'm shocked. Political theatre then, as now.
"Congressional Democrats didn't get the gun-control votes they demanded. But during a 25-hour sit-in on the floor of the U.S. House, they got something else: eyeballs" [Seven Days]. So, it was a stunt? "'We focused attention on the obligation of Congress to act,' said U.S. Rep. Peter Welch (D-Vt.), who joined his colleagues for much of the protest [sic]. 'The response I got on social media from Vermonters — the calls to our office — has been greater on this event than anything else since I've served in Congress. And it's been overwhelmingly positive.'" And that social media response was totes organic [***cough*** David Brock ***cough***]. One might consider that an additional stacked function: A dry run for further manipulation of our famously free press through social media during the election (and, I suppose, after).
"Thursday's reviews of the Democrats' unorthodox street-style protest in the House of Representatives seemed to suggest it was a hit. The longer it went, the more the social media world cheered them on." [McClatchy]. "People even came to the Capitol grounds to show support. The ravenous 24-7 news cycle couldn't get enough." Like I said, totes organic; the Democrat Establishment has successfully appropiated "street style." So awesome.
"Democrats have decided to take a stand so tough, they're staging a sit-in on the literal floor of the House in protest — not over the expansion of war; not over accepting refugees or deporting immigrants; not over increased domestic surveillance, which recently and yet again proved worthless to prevent a mass shooting; nor over anything productive or effective in any significant way" '[Anti-Media]. "No, Democrats are taking a stand because they want to strip those listed on the ubiquitous and utterly flawed terror watch list of the right to purchase legal firearms." Ironically, John Lewis — now running on brand fumes — was placed on the same watch list he know wants to place other innocents on. For some definition of "innocent," that is.
Stats Watch
Durable Goods, May 2016: "May proved to be a generally weak month for the factory sector. Minus signs spread across the durable goods report with total new orders down a very sizable 2.2 percent and ex-transportation orders, which exclude aircraft and vehicles, down 0.3 percent" [Econoday]. "The decline in capital goods is certain to pull back second-quarter GDP estimates which, in the 2 percent range, aren't that strong to begin with." But: "The headlines say the durable goods new orders declined. The unadjusted three month rolling average improved this month and remains in expansion. Our view of this data is mixed but better than the headline view" [Econintersect].
Consumer Sentiment, June 2016: "Consumer sentiment was solid going into Brexit, at 93.5 for final June vs 94.3 in the mid-month flash and against 94.7 in May" [Econoday]. (These people really think Brexit is going to affect consumer sentiment? In the middle of the summe?) "The current conditions index, at 110.8, is higher than May's 109.9 for a positive on June's spending outlook. The expectations component is down 2.5 points in the month to an 82.4 level that, outside of May, is the best since January. Strength in expectations points to confidence in the jobs outlook." And: "[T]he latest sentiment number puts us 24.2 points above the average recession mindset and 5.9 points above the non-recession average" [Econintersect]. "This is a survey, a quantification of opinion rather than facts and data. The question – does sentiment lead or truly correlate to any economic activity? Since 1990, there seems to be a loose general correlation to real household income growth."
Brexit: "Brexit: U.K. Votes to Leave EU —Live Coverage" [Wall Street Journal]. Hillz, Barry: Nice work on the blowback from those Middle East war refugees! And Macrodigest has a link aggregation.
Brexit: 'Opinion: 7 reasons not to panic about markets' reaction to Brexit" [MarketWatch]. "This too will pass. Markets are panicking? Markets often panic. They've panicked a lot worse than this many other times. And each time in the past they recovered and then some. Anyone who bought stocks after Lehman Brothers has made a mint." On the other hand, if panic weren't an adaptive behavior, nature wouldn't have selected for it.
Brexit: "For Treasuries traders, it's as if the Federal Reserve's December interest-rate increase never happened" [Bloomberg]. "The yield on two-year Treasury notes, the coupon maturity most sensitive to Fed policy expectations, plunged as much as 0.28 percentage point, the most since 2008, over the span of eight hours as Britons voted to leave the European Union."
Brexit: "Shipping industry figures react to Brexit" [Splash247]. "Dr Martin Stopford, the president of Clarkson Research, called the news 'an exciting prospect because, as every Greek shipowner knows, change creates opportunity.'"
Brexit: " The British are frantically Googling what the E.U. is, hours after voting to leave it" [WaPo]. Translation: Credentialed professional lays groundwork for reversing a democratic outcome. "They didn't really know what they were doing."
Brexit: "The question then is whether current arrangements are allowed to remain pending negotiations, or if trade itself is halted pending negotiations. Seems the former is in the best interest of both sides, which is not to say that's what they will do, of course" [Mosler Economics]. "As for other EU members leaving, it's a whole lot more problematic as it would entail creating new currencies, which has not had the support of the majority of the voters in any euro area member nation. Wouldn't surprise me if the whole thing falls out of the news cycle over the next week or so."
Shipping: "In fact, the Baltic Dry's numbers are telling a critically important story… The drop reflects a portentous shift that not only has been overlooked by most economists but would seem unimaginable to anyone casually following the election-season narrative about free-trade agreements and job loss. The story is this: growth in global trade is stalled, and is slipping to levels unseen since the end of the Second World War. 'I stopped following the Baltic Dry Index in 2012 because of its [vessel over-]supply issues," [Howard Simons, the president of the economic consultancy Rosewood Trading] told me. "But its numbers for some time have been clearly indicating a weakness in trade that is alarming and that many economists, and virtually all politicians, act like doesn't exist" [The New Yorker].
Shipping: "Cross-border trade between the North American Free Trade Agreement nations has been slowing as ocean and pipeline shipments of crude oil have plummeted, but the trucking business is holding its ground" [Wall Street Journal].
Shipping: "Union Pacific Railroad's failure to maintain track and track equipment resulted in the derailment of a crude-oil train in Oregon earlier this month, the Federal Railroad Administration (FRA) announced in a report released yesterday" [Progressive Railroading].
Shipping: Moody's downgraded the shipping sector from stable to negative in its latest assessment, … and said combined industry earnings could dive as much as 10% this year. The cloud is hovering over both container shipping and dry-bulk carriers, which have seen their balance fray under the commodities downturn" [Wall Street Journal]. "Moody's writes that the one sector riding high on the seas is the tanker business."
Supply Chain: "Seeking ways to boost productivity in its distribution centers, the express and logistics firm DHL Corp. is testing a fleet of collaborative robots from Rethink Robotics Inc. in an unspecified number of its warehouses" [DC Velocity]. "DHL said its goal is to free up human employees for "higher-value work." Uh huh.
"[F.Y. Eric Lam, Shujing Wang and K.C. John Wei} concluded that their results [paper here] suggest misvaluation—as well as its subsequent correction—plays an important role in determining the profitability premium…. The fact that we now know pricing errors—more than rational risk-based explanations—contribute to the profitability premium does not mean it's doomed to disappear. Anomalies can persist because of limits to arbitrage, which prevent mispricings from being corrected. A good example of this is that the momentum premium has persisted for more than 20 years since the publication of the first paper exploring it" [ETF.com].
Political Risk: "Organizations are not unitary decision and action bodies; instead, they are networks of people linked in a variety of forms of dependency and cooperation. Various sub-entities consider tasks, gather information, and arrive at decisions for action, and each of these steps is vulnerable to errors and shortfalls. The activities of individuals and sub-groups are stimulated and conveyed through these networks of association; and, like any network of control or communication, there is always the possibility of a broken link or a faulty action step within the extended set of relationships that exist" [Understanding Society]. "Then, as his planet killed him, it occurred to Kynes that his father and all the other scientists were wrong, that the most persistent principles of the universe were accident and error." –Frank Herbert, Dune. An excellent read.
Honey for the Bears: "Investors who've come to depend on steady income checks from leveraged municipal-bond funds are starting to feel the pinch from the narrowing in the difference between short- and long-term borrowing rates" [Bloomberg].
The Fed: "The Yield Curve as a Leading Indicator: Some Practical Issues" [Federal Reserve Bank of New York (2006)].
Today's Fear & Greed Index: 50, Greed (previous close: 75, Greed) [CNN]. One week ago: 53 (Neutral). (0 is Extreme Fear; 100 is Extreme Greed). Last updated Jun 24 at 11:45am. Mr. Market is having a mood swing.
Class Warfare
"The Chicago accent was most widespread during the city's industrial heyday. Blue-collar work and strong regional speech are closely connected: if you graduated high school in the 1960s, you didn't need to go to college or even leave your neighborhood to get a good job, and once you got that job, you didn't have to talk to anyone outside your house, your factory, or your tavern. A regular-Joe accent was a sign of masculinity and local cred, bonding forces important for the teamwork of industrial labor" [Chicago Reader (Butch in Waukegan)]. "A 1970s study of East Side steelworker families found that housewives were less likely than their husbands to say 'dese, dem, and dose' because they dealt with doctors, teachers, and other professionals. After the mills closed, kids went to college, where they learned not to say 'dat,' and took office jobs requiring interaction with people outside the neighborhood."
"In September 2015, James P. Hoffa, general president at the International Brotherhood of Teamsters, wrote to CSPF's executive director to urge the fund not to file its rescue-plan petition. 'I can appreciate the need to help the Central States [Pension] Fund avoid insolvency,' he wrote. 'But it is nothing short of outrageous that to do so, the Fund may propose draconian benefit cuts that will impose significant hardships on the very people the Fund is supposed to serve.' Hoffa said he instead supports the proposed Keep Our Pension Promises Act, spearheaded by Sen. Bernie Sanders, which would nullify the provisions of the MPRA that allow benefit reductions for troubled funds. But under that legislation, the deficits would be funded by the closing of tax loopholes used by wealthy taxpayers, so that solution seems to be somewhat of a stretch" [DC Velocity]. The Teamsters, says the Google, have not yet endorsed a Presidential candidate.
"[W]orkers who appeared mostly identical in 2007 — and, by virtue of having the same jobs, probably had similar levels of education — ended up in very different situations seven years later, depending on where they started the recession. The data suggest that it was the fortune, or misfortune, of where people lived in 2007 that had a large effect on whether they were employed in 2014. Hard-hit areas may have ended up depressing the employment prospects of people who lived there" [WaPo]. Just like ObamaCare: Some go to HappyVille, some to Pain City: Randomly.
"Dead military working dogs piled up like trash after contract terminated in Kuwait" [SOFREP]. Neoliberalism at work. And workers are different how, exactly?
"Social Network Analysis in the Study of Terrorism and Insurgency: From Organization to Politics" [International Studies Review]. "Few studies investigate how differences in network structure lead to divergent outcomes with respect to political processes such as militant group infighting, their strategic use of violence, or how politically salient variables affect the evolution of militant cooperative networks. Consequently, we propose a research agenda aimed at using network analysis to investigate the political interactions of militant groups within a single conflict and provide illustrations on how to pursue this agenda" [
News of the Wired
""We need to accept 'they', and we need to do it now," came the linguist's cry, and at that moment an otherwise apolitical event took on an unexpected edge" [BBC]. I support "they." It's not hard.
"Queen's 'Green Screen' Dress Starts A Hilarious Photoshop Battle" [Demilked].
"Ron Cobb's Semiotic Standards for Alien…" [Joe Blogs]. Signage on the Nostromo…
Algorithm visualizer [Jason Park].
"In Japan, it's called 'techo (planner) culture.' Happily oblivious to the decline of yuppie filofaxes in the West, paper brands like Midori, Hobonichi, Kokuyo and other modern shrines to stationery nurture a steady demand for beautiful agenda books" [Quartz].
Music to watch the tape by:
* * *
Readers, feel free to contact me with (a) links, and even better (b) sources I should curate regularly, and (c) to find out how to send me images of plants. Vegetables are fine! Fungi are deemed to be honorary plants! See the previous Water Cooler (with plant) here. And here's today's plant (KB):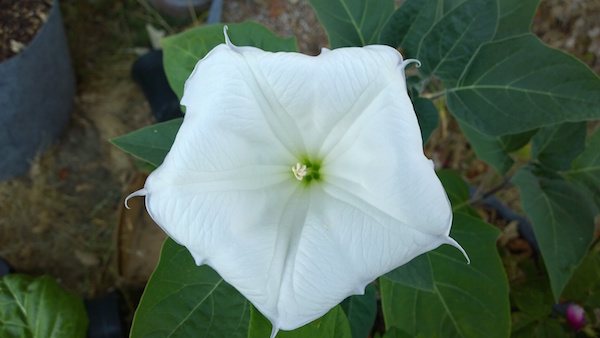 I'm trying to improve my photo chops with flowers in my garden as a subject, and wow, are flowers exquisitely adapted to catch the slightest breeze!
Readers, if you want to send me some videos of plants in whole systems (bees and blossoms, for example, or running streams) — I can use them to practice with FFmpeg and hopefully post them. Because of download times, they'll have to be measured in seconds, rather than minutes. Thank you!
Adding, thank you readers for last week's rapid and successful Water Cooler Mini-Fundraiser. I'm still writing thank you notes! Yours will arrive!
* * *
Readers, if you enjoyed what you read today, please use the dropdown to choose your contribution, and then click the hat! Your tip will be welcome today, and indeed any day. Water Cooler will not exist without your regular support.