By Lambert Strether of Corrente.
Readers, my piece of **** browser loses its mind with 30 or so tabs open, so I'll have more 2016 material shortly.
TPP/TTIP/TISA
"[Jeremy Corbyn] has promised to stop the adoption of the deal if he is elected prime minister before it is completed. And he will also attempt to lead a rebellion in parliament, alongside dissident Tories and the Scottish nationalists" [Independent].
"The USITC report joins reports from think tanks, the European Commission, an economic institute at Tufts University and the World Bank in predicting that TPP will deliver either no benefit, very little benefit, or real costs to the economies of the nations involved" [Boing Boing]. "But the agreement will deliver power to a few influential multinational corporations — the same ones who were allowed to participate in the TPP negotiations even as elected members of the US Congress and European Parliament were frozen out of any information on the proceedings, and even threatened with jail time if they pierced TPP's iron curtain of secrecy."
2016
Policy
"Sanders movement will go on as 'People's summit' is planned" June 17 to 19 in Chicago [McClatchy]. "The event is a 'declaration of independence from establishment politics' that'll address the current 'repture [sic] in the political fabric of this country,' said RoseAnn DeMoro, National Nurses United Executive Director. The group has endorsed Sanders and is a lead summit sponsor." NNU doesn't crap around, so it will be interesting to see how this feeds into the Philly convention. And beyond.

"You may have heard about Hillary Clinton's "major national security speech" the other day. She said nothing new. In fact, a main motivation for her speech actually concerned two words she declined to utter: Bernie Sanders" [McClatchy]. (On "nothing new," recall we flagged hawkish Foreign Policy publisher David Rothkopf, a Clinton supporters, saying the same.) And then: Then came a Clinton dagger for the Democrat president and whomever was his secretary of state for those first four long years: "We need a real plan for confronting terrorists." Apparently drone strikes aren't enough, then? And then there's this:

Sanders has tapped into the same anti-establishment anger and anxieties as Trump, feeding off the constipated economic recovery and failed foreign policies of Obama's reign of error.

Sanders has redefined winning. Nomination is not victory. Voicing populist anger is. Shaping the political debate. And the party platform. And for this, Sanders has already crossed the finish line.

(On redefining victory, see here. To me, victory is a standalone, policy-focused, self-funding organization that owns the Sanders list and platform. Someplace for the 99% to go.)

"Even [after California], Sanders' crusade won't be completely over [not dead, dead, dead!] – because his campaign was never solely about winning the nomination" [Doyle McManus, Los Angeles Times]. "[Sanders] top priority all along has been laying the foundation for what he calls a 'political revolution' by rallying progressives and pushing the Democratic Party to the left. He has a wish list for the party platform: a $15 minimum wage (Clinton supports $12), opposition to a proposed trade pact with Asia (Clinton initially supported it, but now says she wants changes), a strong plank on campaign finance reform…. And he wants to use next month's convention in Philadelphia as a vehicle for changing the face of the party – even though that may mean some noisy floor fights…. 'We're going to have 2,000 Sanders people inside that room,' the [Sanders] advisor added. 'These people have been in fights with the political establishment for a long time. There's a natural inclination on our side to go to battle.'" As I keep saying, the Sanders base is organized and self-organizing. Let' see how much.
Corruption
UPDATE Sanders on CNN: "Do I have a problem when a sitting secretary of State and a foundation run by her husband collects many, many dollars from foreign governments — governments which are dictatorships?" [The Hill]. "Yeah, I do have a problem with that. Yeah, I do."
The Voters
"According to the Tufts analysis, in 2008 Obama defeated Clinton among under-30 voters by a 60-35 margin. So far Sanders is beating Clinton by a 71-28 margin" [New York Magazine]. Of course, the online Obama campaign wasn't actively seeking to drive them away.

"In November, Maine voters will decide whether they want to become the first state in the U.S. to implement ranked-choice voting. If a ballot initiative is approved, future Maine voters in primaries and general elections will be allowed to rank their choices for governor, Congress and statehouse races instead of voting for just one" [Time].

UPDATE "Bernie Sanders and Rigged Elections: Sometimes You Just Lose" [New York Times]. A compilation. I'd be interested to know what readers think.

UPDATE A takedown of Nate Silver's tendentious "They voted together 93% of the time" talking point [Counterpunch].
California
"Was California The Last Weekend At Bernie's House Of Hope?" [NPR]. The Sanders campaign is dead, dead, dead!

Clinton's many appearances included one at West Los Angeles College, a two-year community college not far from the LA airport.

At this event, she was introduced by no fewer than 17 preliminary speakers, all of them women. They included several members of Congress and an array of Hollywood actors such as Sally Fields, Elizabeth Banks and Mary Steenburgen. The crowd lasted throughout the preliminaries to cheer lustily for Clinton herself. One of those cheering and waiting for a handshake was Sarah Griebe, an events planner who lives in Los Angeles.

"I understand where Sanders supporters come from," said Griebe, who supported Clinton in 2008. "It's hard when you invest so much time and energy in a candidate and they don't win. But Sanders and Clinton are pretty much on the same side. It's most important for us to continue movement forward and for the progress we've made in the last eight years to continue."

For some definition of "us."

"Among [California] voters who are supporting Sanders in the primary, only 65% said they would support Clinton in November" [KMBC].

UPDATE "The Daily 202: Bernie Sanders bets a Latino generational divide can win him California" [WaPo]. Oddly, or not, no mention of California's strange balloting procedures, which have the effect of suppressing the votes of new, independent registrants.
The Trail
"Hubris syndrome: An acquired personality disorder? A study of US Presidents and UK Prime Ministers over the last 100 years" [Brain].

Clinton: "After Tuesday I'm going to do everything I can to reach out to try to unify the Democratic Party, and I expect Sen. Sanders to do the same. And we will come together and be prepared to go to the convention in a unified way, to make our case, to leave the convention to go into the general election to defeat Donald Trump" [RealClearPolitics].

"As the Democratic primary approaches its final contests, aides to President Barack Obama say the party's top surrogate is eager to quickly step into what he sees as his chief role heading into the July convention: uniting the supporters of Hillary Clinton and Bernie Sanders" [Wall Street Journal, "Barack Obama's Chief Campaign Mission: Uniting the Democratic Party"]. Putting Medicare for All back on the table would do it…

"Iowa Poll: Clinton-Sanders brawl still splits Iowa" [Des Moines Register]. ""What's interesting is that after an entire Democratic race, it hasn't shifted one way or the other,' said Democratic strategist David Axelrod, a former adviser to President Barack Obama. 'You've got two candidates who basically are evenly matched and evenly regarded.'"

"When party leaders, even President Obama, talk about "pragmatism" and "incremental change," they're using code words; ones that rationalize the revolving door between corporate America, Wall Street, K Street, and Washington, D.C.—the one they've been complicit in swinging wide open" [CNBC]. "But that sales pitch has been rejected by the voters the party needs to survive into the future—millennials, young African Americans and Latinos, and the working class. And from the hundreds I've met and interviewed on the campaign trail, they are for Sanders and don't give a damn about Democratic Party unity."

"So as Trump's team begins to ready the candidate for the fall debates and drafts a series of speeches, including one on the U.S. economy, the New York businessman with no elected experience is cramming to get up to speed, consulting experts, asking questions and refining his ideas in anticipation of certain assault by Democrats" [Los Angeles Times]. "The crash courses in foreign and domestic policy are a rite of passage for virtually every presidential candidate. But they carry even greater importance for Trump, who has mocked the Washington establishment as overcomplicating problems and won over many voters with simple ideas that often lack details: build a wall to stop illegal immigration, defeat Islamic State, bring back jobs, make America great again." Adopting the Clinton "details" frame…

Gingrich: "If a liberal were to attack Justice Clarence Thomas on the grounds that he's black, we would all go crazy'" [WaPo]. Newtie, consummate grifter and opportunist, hopping off the Trump campaign bus as nimbly as he hopped on it? (And establishment Republicans rebuke Trump on Hispanics.)

"Mr. Trump is not running a campaign in the modern sense — or what was the modern sense until about yesterday. Rather, he oversees a prolific content production studio that has accomplished what every major media conglomerate is trying to pull off with mixed success" [New York Times].

Niall Ferguson: "Trump has a pretty close to 50/50 chance of winning this election, especially since Hillary Clinton is, let's face it, not a very strong and attractive candidate" [Bloomberg].

"Trump will likely keep insulting Hillary. He will likely keep raising issues of ethnicity, race and gender. He will lash out at opponents and shrug off specific plans. Hillary, having found her voice, will pound on the Commander-In-Chief issue, and the economy. Her own unpopularity will recede. Undecideds will break toward Hillary. Republicans will stay home in droves. Trump will win the Old Confederacy and a few Rocky Mountain states, but not by a lot. Hillary will win comfortably elsewhere. And the Senate and the House? Gone" [HuffPo]. "This inevitability of this outcome is dawning on Republicans everywhere. What you are smelling is primal fear. They can see it coming, an inevitable tidal wave sweeping them from power. The Senate: Gone. The House: Gone." Senior Fellow at Demos.

"[Psychological reactance is] the feeling you get when people try to stop you from doing something you've been doing, and you perceive that they have no right or justification for stopping you. So you redouble your efforts and do it even more, just to show that you don't accept their domination. Men in particular are concerned to show that they do not accept domination" [New York Magazine].
Clinton Email Hairball
UPDATE "The Clinton Email Scandal Timeline" [Thompson Timeline]. An excellent resource.

"Oh dear. After being in the public sphere for decades and running for president since 2006, what we all know is that nothing escapes thought in Hillaryland. Not one thing. Aides may not have objected to her reckless idea of a rogue server, but surely every little thing they do is thought through. And through" [The Hill]. "Why are Democrats squirming, why are Clinton and Podesta lying and why is Mills playing dumb? Perhaps because the OIG report reveals there truly is no good answer for what Clinton did." From an Associate Editor of The Hill. What's remarkable is that Clinton's (at the very least) procedural violations don't resonate with Clinton's core base of support among professional women. Can they not imagine what their CEOs, or boards, would do, faced with a similar situation?
Stats Watch
Gallup US Consumer Spending Measure, May 2016: "[C]onsumer spending remained elevated after an uptick in April but did not increase further" [Econoday]. "The May results reflect two larger trends: generally higher spending in the spring months than in the winter months, and higher spending in recent years than from 2009 through early 2012…. Gallup has yet to see an increase in average spending from May to June in any of the prior eight years that it has tracked consumer spending. Thus, if history is a guide, one would expect June spending this year to be at or below May's level."
Labor Market Conditions Index, May 2016: "Last week's employment report was very weak and is reflected in May's labor market conditions index which came in at minus 4.8 for the fifth straight negative reading and the lowest of the economic cycle, since May 2009" [Econoday]. "These readings point to a fundamental shift lower for the labor market and are not consistent with a rate hike anytime soon. The index, experimental in nature, is a broad composite of 19 separate indicators and, as yet at least, is rarely cited by policy makers."
Honey for the Bears: "Something looks wrong. Just as consumer spending picks up, business investment is headed in the opposite direction: It's down now for two straight quarters, which typically has happened only in a recession" (charts) [Wall Street Journal, "Post-Recession Rethink: Growth Potential Dimmed Before Downturn"].
Shipping: "[W]arehousing and storage companies… added 3,000 jobs last month. Warehouse operators have added 15,600 jobs this year, remaining resilient as retailers get more inventories in position for e-commerce deliveries. The overall transportation and warehouse sector has added 52,000 jobs in the last 12 months, with just about all of that coming in warehouses: railroads have slashed 30,000 jobs and trucking is up less than 5,000 from a year ago" [Wall Street Journal]. "Perhaps more significant is the cloud coming from the supply side, with goods-producing companies cutting 36,000 jobs last month.
Real Estate: "Far Fewer Low Credit Score Applicants Than Before Housing Crisis " [Econintersect]. "[T]he observed decline in originations could be a result of potential applicants being either too cautious or discouraged from applying, more so than tight underwriting as the culprit in lower mortgage activity. Consumers are cautious more than they have been in the past and thus self-sidelining of cautious/discouraged consumers makes it appear as if credit is tightening. The policy prescriptions are quite different if the drop in originations is attributable to a lack of demand more than to tight underwriting."
Real Estate: " It is hard to believe that based on a couple of commercial real estate trackers, commercial real estate is even more inflated than residential housing. In a widely tracked index, according to the Moody's/REAL CPPI index commercial real estate values are up by close to 100 percent only since 2010″ [Dr. Housing Bubble]. "[T]his is a bubble especially in commercial real estate. It is a bubble because the Fed needs to manipulate rates as much as possible to keep prices where they are (in other words, you need artificial support to keep this game going). Just because no-income/no-doc loans are not used in mass, doesn't mean that 3% down mortgages are any less dangerous. "
The Bezzle: "The Decentralized Autonomous Organization [DAO] is a venture capital firm, like Andreessen Horowitz or Kleiner Perkins. It chooses new ideas and businesses to invest in. But the DAO isn't run by rich white Silicon Valley dudes. It's run by a network of machines that operate according to the same basic principles that drive the bitcoin digital currency" [Wired]. By the time the deadline for investing in the DAO arrived late last month, about 10,000 people had anonymously poured more than $168 million into this new online creation. That makes it the largest crowdfunded project ever. Now, it's time for the DAO to start accepting pitches for all those anonymous people to vote on, bringing a new kind of democracy to the iconic flavor of capitalism that delivers so much modern technology. Just one problem: So far, all the pitches are suggestions for changing the DAO." So meta! And read the whole thing for how the voting works, and the pitch rules/
The Bezzle: "[James Nord, co-founder of Fohr Card] says founders in companies backed by traditional venture capital are like politicians who spend much of their time fundraising. "I probably wasted six months of my life trying to raise money," he says.r. Roberts thinks traditional venture capital may have hit a "natural limit" and wants to explore other funding schemes" [Wall Street Journal, "Venture Capital and Its Discontents"]. Taking the "founders" buzzword for granted, of course.
ETF: "Analysts' Disappearing Edge" [ETF.com].
"Banks known as primary dealers, which trade directly with the Federal Reserve and bid at U.S. debt auctions, have bought just 30 percent of the new securities this year, the smallest share on record, data compiled by Bloomberg show" [Bloomberg].
"Lurking in the bond market is a $1 trillion reason for the Federal Reserve to go slow on interest-rate increases" [Bloomberg]. "That's how much bondholders stand to lose if Treasury yields rise unexpectedly by 1 percentage point, according to a Goldman Sachs Group Inc. estimate. A hit of that magnitude would exceed the realized losses since the financial crisis on mortgage bonds without government backing."
The Fed: "Bond traders are looking for certainty in an uncertain world, so it's comforting for them to think the Federal Reserve has some secret trove of economic data or corner on wisdom that it uses to make Important Decisions, like the timing of interest rate increases" [Bloomberg]. It would be simpler, faster, and cheaper to return to haruspication. (Not that, in regulating the economy by throwing people out of work, we don't practice a form of haruspication already.)
"Global protein demand is exceeding all but the most optimistic projections for this year" [Futures].
"Both Airbus and Boeing Co. are trying to boost production to meet higher airline demand. But speeding up the supply chain for complicated aircraft components has been challenging, and similar questions are looming for Airbus over its A350 long-range jet-liner" [Wall Street Journal]. No word on quality….
"How Mark Zuckerberg Led Facebook's War to Crush Google Plus" [Vanity Fair]. Hagiography/industrial romance, but the anecdote about Facebook programmers sleeping at their desks while the Google parking lot was empty at 5:00 is interesting.
Today's Fear & Greed Index: 79, Extreme Greed (previous close: 77, Extreme Greed) [CNN]. One week ago: 77 (Extreme Greed). (0 is Extreme Fear; 100 is Extreme Greed). Last updated Jun 6 at 11:35am. Knocking at the 80 psychological barrier again…
Imperial Collapse Watch
"5 factors that could turn America into another collapsed empire" [MarketWatch]. "Millions have decided they just don't care much for the idea of showing up for work in the morning and staying on the job until the end of the day. To prod the unemployed back to work, I propose they receive a signing bonus if they accept a new job before their unemployment compensation payments run out." From a hedgie.
Class Warfare
"Imagine a world without sex and disease, and where all of our brains are networked. It sounds wonderful, but it will bring a new set of moral questions" [The New Scientists]. "Researchers at the University of Washington in Seattle have already demonstrated a human brain-to-brain interface. Rajesh Rao wore a sensor-studded cap to measure his brain's electrical activity, while Andrea Stocco sported a device that stimulates brain regions using targeted magnetic fields. By imagining moving his hand, Rao was able to send a signal to Stocco's brain, causing him to move his finger." Just imagine a future where you can do that to your Uber driver! Or your maid… ("Your" in ironic quotes, of course.)
"Safely Interruptible Agents" (PDF) [Intelligence.org].
Reinforcement learning agents interacting with a complex environment like the real world are unlikely to behave optimally all the time. If such an agent is operating in real-time under human supervision, now and then it may be necessary for a human operator to press the big red button to prevent the agent from continuing a harmful sequence of actions—harmful either for the agent or for the environment—and lead the agent into a safer situation. However, if the learning agent expects to receive rewards from this sequence, it may learn in the long run to avoid such interruptions, for example by disabling the red button—which is an undesirable outcome.
William Gibson, Neuromancer:
See, those things, they can work real hard, buy themselves time to write cookbooks or whatever, but the minute, I mean the nanosecond, that one starts figuring out ways to make itself smarter, Turing'll wipe it. Nobody trusts those f*ckers, you know that. Every AI ever built has an electromagnetic shotgun wired to its forehead.
So AIs are really slaves, aren't they?
"A recent White House report outlined the discriminatory potential of big data. To make sense of data, someone must categorize and profile it. Technologists and designers could be feeding existing prejudices and structural inequities into how the AI thinks" [Wired]. " Google's ad-delivery algorithm sent more ads for higher-paying jobs to men than to women. And ProPublica recently reported that judges who made sentencing and parole decisions relied upon AI systems shown to be racially biased in making risk assessments." Those aren't bugs. They're features.
"An unclassified 2016 Department of Defense (DoD) document, the Human Systems Roadmap Review, reveals that the US military plans to create artificially intelligent (AI) autonomous weapon systems, which will use predictive social media analytics to make decisions on lethal force with minimal human involvement" [Medium]. "[T]he documents show that the DoD believes that within just fifteen years, it will be feasible for mission planning, target selection and the deployment of lethal force to be delegated entirely to autonomous weapon systems in air, land and sea."
"Silicon Valley entrepreneurs, recognizing the future of job displacement in the artificial intelligences they are creating, are eager to maintain the basic engines of capitalism and keep the pitchforks and torches at bay. Conservatives want to reduce wasteful and overlapping bureaucracies. And many progressives would like to see a universal expansion of the safety net, and a gradual move away from they see today as late stage capitalism: a doomed economic model based on consumption and asset bubbles in the face of structurally declining wages" [Washington Monthly]. Meanwhile, capital accumulation and allocation are carefully spirited away from the table. Liberals are happy with that; the left is not; and so the weasel word "progressive," which conflates the two, is deployed.
"Chicago is MacArthur Foundation's home. Chicago is also ground zero for violence and murder in the United States. As one of the wealthiest foundations in the world, MacArthur ought to be at the forefront of reducing Chicago's violence and murders. Yet it is not even at the table. In Chicago, over 70 percent of its 2015 grantees were arts, culture and research organizations" [Crain's Chicago Business].
News of the Wired
"Mark Zuckerberg's Twitter and Pinterest password was 'dadada'" [The Register]. Surreal.
"Facebook adds new ad options as people complain that they have been signed up by default" [The Independent]. They opted you in. Of course.
"Safe VSP" (in the Commodore 64) [Linus Akesson]. The post ends: "The latter is assigned randomly at power-on, by the way, which could be the reason why a power-cycle sometimes helps." Of course, that could never happen nowadays.
"Two-hundred-terabyte maths proof is largest ever" [Nature]. "Three computer scientists have announced the largest-ever mathematics proof: a file that comes in at a whopping 200 terabytes1, roughly equivalent to all the digitized text held by the US Library of Congress."
"Why Society Needs Historians" [The Social Historian]. "Historians are essential. And I reckon we'll be here long after university managers have joined the ranks of astrologers, alchemists and pardoners as relics of a distant age." But not Oxford comma advocates!
* * *
Readers, feel free to contact me with (a) links, and even better (b) sources I should curate regularly, and (c) to find out how to send me images of plants. Vegetables are fine! Fungi are deemed to be honorary plants! See the previous Water Cooler (with plant) here. And here's today's plant (Rainbow Girl):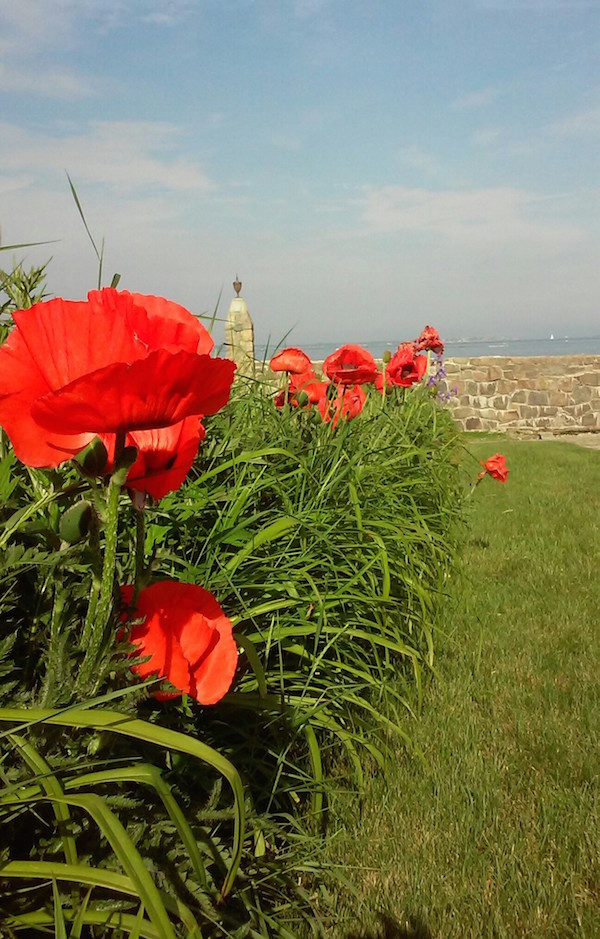 I love poppies!
* * *
Readers, Water Cooler will not exist without your regular support. Your tip will be welcome today, and indeed any day. If you enjoy what you're reading, please click the hat!