Many pundits were caught as flat-footed as the traders and politicians who'd assumed Remain had a safe margin of victory. As reader Clive observed:
I've been watching the TV coverage to get my fill of MSM reaction. And what you say of [Gillian] Tett [of the Financial Times is typical of what Lambert rightly labels the credentialed class — that 5% (some would put it higher at 10 or even 20% but I think the real paid-up members of the credentialed class are in that bracket) who explain to the proletariat what the elites are doing and Why It Really Is In Your Best Interests — they are simply struck dumb. There's something you don't see every day.
For instance, the normally insightful Martin Wolf of the Financial Times was reduced to ringing the changes on the "uncertainty" theme when asked what is in store for the economy.
And we are now in what Lambert calls an "overly dynamic situation," in which various national leaders, their staffs, and key technocrats are still scrambling to figure out how to respond and what to do next. One example: the foreign ministers of the founding members (not the full complement) have convened in Berlin.
One surprise in the extensive news coverage thus far (and readers correct me if I missed it, and in this case, we mean reporting based on leaks or public comments from insiders, not speculation), is I have yet to se any mention of the idea of a second referendum to try to put the Brexit genie back in the bottle.
As we mentioned earlier, there's ample precedent for another vote, but these "do-overs" have always involved the ruling coalition winning some concessions before putting the question to citizens again. I've had two people who have a good reading on these matters weigh in (one was in London yesterday in meetings all day on Brexit with well-connnected players). Both were surprisingly emphatic that there would not be a second vote. And one of them is particularly cautious about making prognostications. Obviously, they may not be talking to the right people, but I've seen nothing that contradicts their views. For instance, a Financial Times story that went live as I was working on this post, Brexiters' very different visions of post-EU Britain, has nary a hint of rolling the decision back. But many of the early reactions do reveal that many commentators, and presumably the principals, are grappling with how to satisfy the mandate while keeping the doors open as much as possible with the EU>
Ambrose Evans-Pritchard has a fine, high-level discussion of "what comes next". A key section:
The pro-Remain group TheCityUK already has a plan to limit the damage, insisting that the City can prosper outside the EU, provided the post-Brexit government launches a bonfire of red-tape, keeps the door open to foreign talent, and takes the lead in the G20, the IMF, the global Financial Stability Board and the Basel Committee.

They want unfettered access to the EU single market and passporting rights for the City, and this means either pushing for the Norway option of the European Economic Area (EEA), or a hybrid variant.

This safe-exit is a compromise, and an olive-branch to the EU since we would continue paying into the EU budget and accepting the EU Acquis. It would last until we have negotiated our bilateral trade deals with the rest of the world. It also means accepting the free flow of EU migrants for a while. This is incendiary, of course.

If Parliament imposes such an option, the UKIP base will erupt in fury. But UKIP has only one seat in Westminster and cannot dictate the outcome. Nor is it beyond the wit of man to come up with a formula to manage the scale of migration into the EEA. If EU leaders have any sense they will seek to find a way out of this imbroglio.

Precisely because the political mood is so tense, my preference is for a national unity government of all parties, especially the Scots and the Ulster Catholics, to come up with a negotiating plan. Since David Cameron has honourably offered to stay on as a care-taker, he should lead this emergency administration.
The complexity of the domestic politics, particularly given the real possibility of a dissolution of the UK, implies that understanding what produced this outcome will have some influence on how Cameron navigates his last ninety days. Lord Ashcroft Pools made an unusually large and detailed post mortem (over 12,000 participants). I encourage you to read it in full. Some of its important findings:
The top reason for a Leave vote was a desire for greater national sovereignity: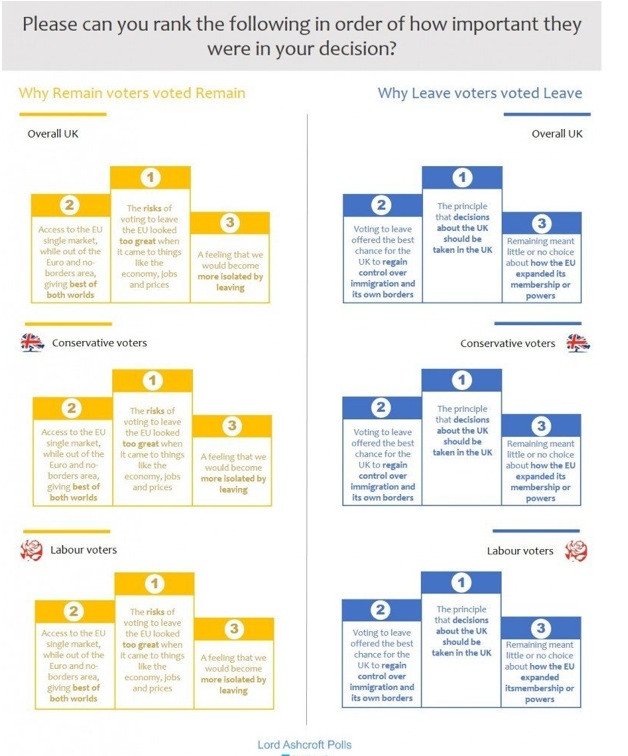 Those who decided after Jo Cox was murdered favored Remain, which suggests that event did move votes in that direction but not enough to change the outcome (note that some of the mail-in votes may have been before the shooting):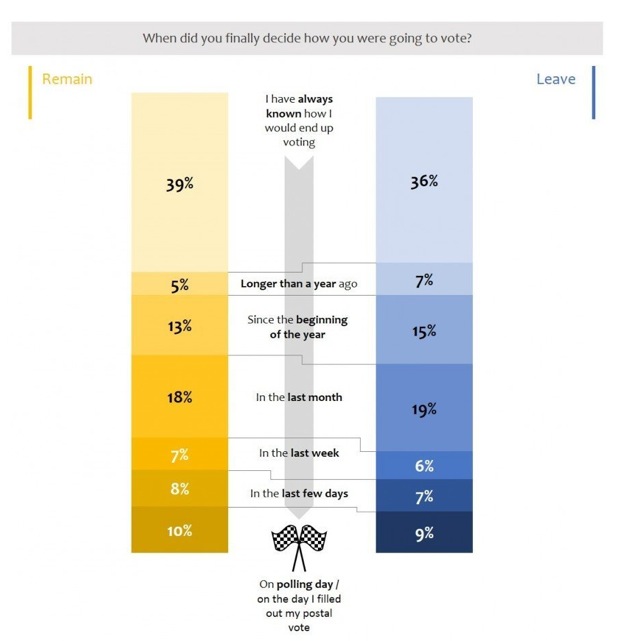 Less politically engaged voters were more pro-Leave….but even the junkies split 50/50: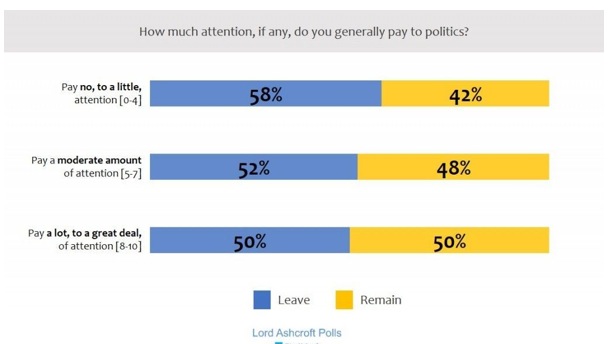 One of the most best stories so far, both from the perspective of the granularity of the reporting and the caliber of the writing, is the Guardian's 'If you've got money, you vote in … if you haven't got money, you vote out' (hat tip PlutoniumKun). It gives a vivid, painful picture of the England that has been left behind with the march of Thatcherism and neoliberalism. From the article:
And now here we are, with that terrifying decision to leave. Most things in the political foreground are finished, aren't they? Cameron and Osborne. The Labour party as we know it, now revealed once again as a walking ghost, whose writ no longer reaches its supposed heartlands. Scotland – which at the time of writing had voted to stay in the EU by 62% to 38% – is already independent in most essential political and cultural terms, and will presumably soon be decisively on its way…

Because, of course, this is about so much more than the European Union. It is about class, and inequality, and a politics now so professionalised that it has left most people staring at the rituals of Westminster with a mixture of anger and bafflement. Tangled up in the moment are howling political failures that only compounded that problem: Iraq, the MPs' expenses scandal, the way that Cameron's flip from big society niceness to hard-faced austerity compounded all the cliches about people you cannot trust, answerable only to themselves (something that applied equally to the first victims of our new politics, the Liberal Democrats).

Most of all, Brexit is the consequence of the economic bargain struck in the early 1980s, whereby we waved goodbye to the security and certainties of the postwar settlement, and were given instead an economic model that has just about served the most populous parts of the country, while leaving too much of the rest to anxiously decline. Look at the map of those results, and that huge island of "in" voting in London and the south-east; or those jaw-dropping vote-shares for remain in the centre of the capital: 69% in Tory Kensington and Chelsea; 75% in Camden; 78% in Hackney, contrasted with comparable shares for leave in such places as Great Yarmouth (71%), Castle Point in Essex (73%), and Redcar and Cleveland (66%). Here is a country so imbalanced it has effectively fallen over….

What defines these furies is often clear enough: a terrible shortage of homes, an impossibly precarious job market, a too-often overlooked sense that men (and men are particularly relevant here) who would once have been certain in their identity as miners, or steelworkers, now feel demeaned and ignored. The attempts of mainstream politics to still the anger have probably only made it worse: oily tributes to "hardworking families", or the the fingers-down-a-blackboard trope of "social mobility", with its suggestion that the only thing Westminster can offer working-class people is a specious chance of not being working class anymore.
This much-watch segment with Mark Blyth (hat tip Gabriel U) also focuses on the class warfare as a driver of the Brexit vote and how that plays into the broader EU political and economic context:
Our Richard Smith echoed these themes from his own observations:
In (for instance) North Lincolnshire, manufacturing is most likely to be the biggest EU export. That might get nuked a bit if the terms of trade with EU countries get stiffer.

http://www.cer.org.uk/insights/brexiting-yourself-foot-why-britains-eurosceptic-regions-have-most-lose-eu-withdrawal

So it does sound like a crazy vote.

But the locals upcountry clearly feel they have been ignored, and now have nothing to lose. M and I bumbled through Wisbech and Boston a few years ago, expecting cute East Anglian port towns, and found instead murderously tense run-down ghettoes. You get this kind of story:

http://www.independent.co.uk/news/uk/home-news/boston-how-a-lincolnshire-town-became-the-most-divided-place-in-england-a6838041.html

https://www.theguardian.com/society/2014/jun/16/fear-anger-wisbech-cambridgeshire-insecurity-immigration

These are extreme examples but there's clearly enough of the same thing going on elsewhere to swing the vote. These areas are sitting ducks for UKIP.

At a more apocryphal level, stories of clueless Leavers suddenly saying they didn't mean it and asking to change their votes are doing the rounds.

http://www.mirror.co.uk/news/uk-news/leave-voters-changed-minds-voting-8275841

Unless, improbably, around 700,000 such stories turn up, which would imply they swung the vote, this is another portrayal of the "Leave" voters as idiots.
And the message is beginning to get through to the chattering classes. From Edward Luce in the Financial Times:
Brexit's lesson for the US — and other democracies — is that fear mongering is not enough. Western elites must build a positive case for reforming a system that is no longer perceived to be fair. The British may well repent at leisure for a vote they took in haste. Others can learn from its blunder.
But even this is weak tea. Luce isn't advocating a Sanders-style economic regime change. Indeed, his call for action is making a case for reform, implying that the more realistic members of the elites need to take on the reactionary forces. As we've said, the Clintons are modern day Bourbons: they've learned nothing and forgotten nothing. Luce's warning to Hillary Clinton, firmly ensconced in her bubble of self-regard, deeply loyal to powerful, monied interests and technocrats, is destined to fall on deaf ears.