George Soros appears to have timed his return to trading and his bearish bets perfectly.
The Financial Times reports on the panic in the global bond markets today as investors came to terms with the rash of bad news over the last week. Not only did revisions make the cheer about improving labor market conditions look like one big headfake, but as Wolf Richter pointed out, hiring of temps also declined. This is particularly worrisome since trends in those short-term positions are often a harbinger of future hiring plans.
Earlier this week, the Wall Street Journal flagged another major negative indictor: a decline in birth rates to the lowest level recorded in the US.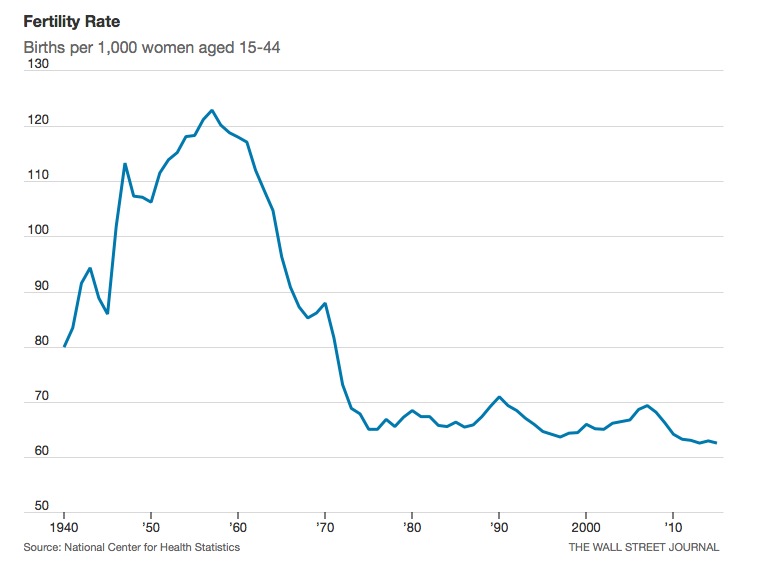 The drivers of economic growth are increases in population and productivity. US population was forecast to fall in the 1990s, and demographers were surprised at the end of the decade to have been proven wrong. The culprits were immigration and higher than expected birth rates, mainly among Hispanic households. The story tried to put a positive spin on the news, and there were indeed some good elements (teen births are down), but was also optimistic about fertility rates picking up again in the not-too-distant future. Given the propensity of advanced economies to have birth rates at less than replacement rates, combined with low household formation among the young due to high student debt levels, high unemployment among the young, and short job tenures, it's hard to see why one should expect to see a reversal absent a big improvement in the state of the economy, when there's no reason to expect that to occur. And that's before getting to the fact that some young people are choosing not to have children, not out of economic concerns, but environmental ones. They foresee disruption due to climate change and escalating fights for resources between nations and potentially within nations, and they don't think they should bring children into a world like that.
Michael Shedlock highlighted yet another worrisome sign mid-week: both personal tax receipts and the Evercore ISI Tax Receipts Survey have dropped sharply. When that's happened previously, a recession has already started.
But a very big jolt to investors came yesterday, via an online survey in the UK's Independent showing that votes for Leave were a full 10 points higher than Remain. Online polls are notoriously subject to gaming and sample bias, but one would think the Remain backers would have made a point of weighing in. The ugly truth is that the proponents of Remain have alienated a lot of citizens by screeching how terrible a Brexit would be, and by having banks like Goldman and JPMorgan, who arne't well liked, be in the forefront of the campaign. In addition, the expert commentary has also likely backfired, since many voter recognize that those same experts failed to see the financial crisis coming and are employed by the people at the top of the food chain, who don't represent their interests.
A final source of worry is the continued spectacle of negative interests rates and QE. The Fed and ECB have hoovered up safe assets and entered into a reckless experiments they have no idea how to exit. The faith that central banks would watch investors' backs has now turned into revulsion as the monetary authorities are hurting banks, pension funds, insurers, and other long-term investors, and that pain has done nothing to help the real economy. Indeed, as Ed Kane pointed out years ago, super low rates hurt economic activity by reducing the income of savers, like retirees.
Key points from the Financial Times:
The global rally in government bonds broke records on Friday while equities buckled as a combination of anxiety over the world economy and Britain's referendum on EU membership sent investors racing to safety.

Bears took charge of financial markets already grappling with the effects of negative interest rates in the eurozone and Japan as European equities suffered their worst day since the market meltdown at the start of the year.

"To see the 10-year Bund [yield] so close to zero is shocking," said Philip Brown, head of sovereign capital markets at Citigroup. "Equities are falling and fixed income is rallying in a flight to quality — there are real fears in markets about global growth."…

The succession of record lows across European and Japanese government bond markets this week is stirring concern over the long-term effects on savers and pension plans, as well as the wider threat of financial instability should the rally unwind sharply.

Insurers and asset managers, including Larry Fink, BlackRock chief executive, have warned of the potential damage from the central banks' monetary policies. Bill Gross, founder of Pimco and now at Janus Capital, dubbed the trend in negative rates a "supernova that will explode one day".

Jens Weidmann, Bundesbank president, said on Friday that asset managers "might become increasingly nervous" over the record low level of yields and that "policymakers have to take this into account in order to avoid unintended consequences"….

Ten-year Treasuries were among the biggest beneficiaries from deteriorating sentiment, with the yield on the global benchmark tumbling 5 basis points to 1.64 per cent — a level not touched since February's acute market stress. Gold rose 0.4 per cent to $1,274.2 an ounce in the rush to safe havens. Japanese 10-year bonds touched a new low of a negative yield of 0.17 per cent.
The considerable financial market and political disruption that a Leave vote would usher in would have knock-on effects in the US. Recall that Sanders started surging against Clinton when the US financial markets were roiled in January and February. Upset markets and a weakening economy work against the Clinton presidential campaign. And if Trump looks like a strong contender come the fall, you can expect Mr. Market's tizzy to only get worse.