By Lambert Strether of Corrente.
Back to the present…
TPP/TTIP/TISA
"Senate Majority Leader Mitch McConnell doused the Trans-Pacific Partnership in another bucket of cold water when he said on Tuesday that the deal's chances for coming up this year are 'pretty slim'" [Politico]. "'With both the Democratic and Republican presidential candidates opposed to the agreement, it's probably not the best time to be considering the agreement,' he said at a press conference, adding that he hasn't made a decision on whether to bring the TPP up for a vote in 2016." But: ""We believe as we get closer to the end of the year, and the risks of walking away from TPP become more evident … that the sense of urgency that comes with that choice will provide the opening to get it done," [White House National Security Adviser Ben Rhodes] said." So an October surprise in the China Sea could benefit multiple players! Not that I'm foily…
UPDATE "Headed into Tuesday, the big question on trade will be how far GOP Platform Committee delegates flip-flop on free trade. In 2012, the party formally called for enacting the Trans-Pacific Partnership trade deal. On Monday, delegates in a subcommittee stripped from the party platform draft language opposing passage of the TPP in the congressional lame-duck session this winter" [Wall Street Journal].
UPDATE "What is most surprising is that President Obama is making TPP the legacy of his last term in office when [via ISDS and "lost profits"] it so obviously risks the signature achievement from his first term: bringing down the cost of and expanding access to health care" [Joseph Sitglitz, Medium]. "Surprising."
2016
Policy
"When I am President Clinton's Chief of Staff, all of my underlings will be required to have Keep It Simple, Stupid tattooed visibly. I don't mean the rhetoric and politics. I mean the policies. Stop the tremendous burden required to qualify for measly help that should just be universal anyway. No plans to set up tax incentives to encourage behavior to nudge blah blah. Pre-K? Make it happen. Free public universities? Make it happen. Health care? If we can't get rid of our stupid insurance system, at least reduce it to push a button, pay your bill, go see a doctor" [Eschaton]. In other words, if the Democrat base wasn't the credentialed 10% who need a jobs program sorting the worthy from the unworthy, everything would be jake.

If you can bear it, this is an hour-long speech from Clinton on foreign policy at the Council on Foreign Relations from 2015:

I'm just thinking that the only plausible narrative on Benghazi I've ever heard is that we botched an arms smuggling operation for Syria we were running of our Libyan consulate. Truly the Peter Principle in action…
Corruption
UPDATE "[Sanders, the] underdog progressive [sic] ran on the idea that corporate money was hurting American politics and refused a super PAC. According to his campaign and filing disclosures he raised almost $225 million and received more than 8 million contributions, most of them small, averaging around $27 apiece" [ABC]. Odd that's not part of the narrative, either from our political class or from Sanders detractors.
Conventions
"Philly airport workers threaten strike during DNC" [Crains Business Review]. SEIU, therefore wired into the Democrats, to the extent labor can be. Worth a shot!

"Wall Street shuns Trump's Cleveland convention" [Politico]. Not so Clinton's Philly convention. Odd.

UPDATE "Donald Trump's Republican opponents aim to clear the path for a different nominee by rewriting the rules of the national convention." With excellent infographic [Wall Street Journal, "How Trump's Nomination Could Still Be Stopped"]. Sounds like fun!
The Voters
Jesse Ventura: "When I look at the two-party system, you have corporate Republican and corporate Democrat. If you want a good explanation, talk to Tom Morello, the guitar player of Rage Against the Machine. He did a great job on Bill Maher a couple of weeks ago, explained that when Hillary gets elected, all you're going to do is get the corporate Democrat; nothing changes. The revolution dies with her. And I agree with that. That's why people are going with Trump, because he's not an insider. Now, is he going to sell out and become an insider? Probably" [Esquire].
Our Famously Free Press
"I hope Hillary Clinton wins all 50 states and the Democrats take the presidency, the House, the Senate and, effectively, the Supreme Court" [Thomas Friedman, NYT]. For those who came in late, Matt Taibbi has what I consider the must-read article on Freidman, but Eschaton has very high quality material as well. And here is the essential video:

They don't call this man The Moustache of Understanding for nothing!

UPDATE Ezra Klein's "Understanding Hillary," annotated [Genius].
Sanders and Clinton
"Now, the 13 million Democrats and independents who voted for Sanders in the primaries join forces with Clinton's backers in service of a larger and more essential goal. For all the differences between Sanders and Clinton, they have so much more in common with each other than with the presumptive Republican candidate, Donald Trump, who is intemperate and intolerant and a danger to the United States" [Editorial Board, WaPo]. "Trump's continuing efforts to divide and to bully, his cynical racial politics, his crude taunts, his know-nothing approach to the issues and his repeated reliance on untruths have shown him unfit to serve as president of the United States." Smearing 45% of voters in the Democratic primaries as racist and sexist Bernie Bros was totally not bullying. And do I hate that fingerwagging "need to."

"Awkwardness is the hallmark of these two candidates, who deliver their applause lines with all the subtlety of tanks shelling their own supporters. Sanders said he was proud to stand with Clinton, but if that was his happy face, you'd hate to see him angry. Clinton thanked her introducers as if she were denouncing them for all to see" [Richard Wolfe, Guardian].
The Trail
"New swing-state polls released Wednesday by Quinnipiac University show Trump leading Clinton in Florida and Pennsylvania — and tied in the critical battleground state of Ohio. In three of the states that matter most in November, the surveys point to a race much closer than the national polls, which have Clinton pegged to a significant, mid-single-digit advantage over Trump, suggest" [Politico]. Survey of the various polls, and strengths and weaknesses of each. Bottom line: They call them battleground states because that's what they are. Of course they're close.

"Elections come down to a handful of key states, and many marquee senate races are being fought in states where the top of the ticket is close. Secretary Clinton's vulnerabilities among Rust Belt voters are a major liability in Ohio and Pennsylvania, and in must-win New Hampshire, a recent Franklin Pierce University/Boston Herald poll had Clinton and Trump tied in the state where she lost to an avowed socialist by 22 points" [RealClearPolitics]. Same as above in different words. Seems to me that if Clinton isn't pulling away, then voters haven't heard something from her that they really need to hear, and it's not Clinton reintroducing herself to the voters for the umpteenth time. My guess is that political risk will be on through Labor Day, after Labor Day, until November 7, after November 7, through the lame duck, and after the inaugural, when, if Clinton wins, the House Republicans (assuming they retain control) will probably impeach her, for which they have a solid case. Even factoring in "Events, dear boy, events," it's hard to see, even before factoring in the effect of emergent parties, how even a significant plurality of citizens will regard the outcome as legitimate. Dear Lord, we've got Supreme Court justices hitting the campaign trail!

"Hillary Clinton's lead over Donald Trump has withered to 3 percentage points, signaling their battle for the White House has become too close to call heading into the two major-party national conventions, according to a new McClatchy-Marist poll" [McClatchy]. Swing state polls are far more important than national polls. So how does the vote stay this close? I can just hear the Democrat nomenklatura saying that's because voters are stupid, but that clever appeal amour propre hasn't worked real well for them, has it?

Senator Jeff Flake (R-AZ): "Well, I just don't think he can get there. I don't think that there's much worry of a Trump presidency if he doesn't change. I want a Republican in the White House, but he can't get there, in my view, saying the things that he's saying. And we wouldn't want him to get there if he continues to say the things that he's saying. So I hope that he changes, I do. It's not impossible for people to change their views and change their tone. But some of these views have to change. I mean, he's got to turn some 13.5 million votes to 65 million votes, and you can't get there just with Republicans—even if every Republican got behind him and had a unified conference" [Vanity Fair].

Mike Pence, auditioning for Veep: "Trump understands the frustrations and the hopes of the American people like no other American leader in my lifetime since Ronald Reagan" [WaPo].

"Nearly half of voters in a recent survey said they had seen TV ads supporting Donald Trump in the last week [Wall Street Journal, "Many Voters Think They've Seen Trump Ads On TV — But He Hasn't Run Any"]. "There's just one problem: His campaign hasn't aired any, and his friendly super PACs have run very few." It's GENIUS! Trump spends no money on TV, and it's as if he spent as much as Clinton!

Excuse me while I throw up a little in my mouth and grab for the brain bleach:

Many Berning hearts are breaking right now. ?

— Dr. Jill Stein (@DrJillStein) July 12, 2016

First, this implies that Sanders supporters are not driven by policy; that they cheered the applause lines in 45-minute "white paper with elbows" because Sanders was a charismatic figure. Second, it implies Sanders voters are authoritarian followers seeking a leader; that they'll switch to the Greens because they want a different leader. Third, the faux sympathy — ? — is infantilizing and nauseating. If I want sympathy, I can vote Democrat:
Stats Watch
Import and Export Prices, June 2016: "Outside of an upward price surge for petroleum and a gain for foods, there's not much pressure to be seen in the June import & export price report." [Econoday]. "There are some signs of life in this report, but none that point to a breakout into consumer prices which remain stubbornly weak and a major risk for policy makers. A new challenge for prices is the post-Brexit jump in the dollar which will pull on import prices in the July report." But: "Trade prices continue to deflate year-over-year – although the rate of deflation again declined this month" [Econintersect].
Atlanta Fed Business Inflation Expectations, July 2016: "Increases underway in fuel prices aren't giving inflation expectations much of a boost, neither at the consumer level nor, as indicated by the Atlanta Fed, at the business level where year-ahead expectations, at only 1.7 percent, are down" [Econoday]. "Lack of inflation, held down in part by low wage growth, remains a central risk for the economic outlook and a chief concern for policy makers."
MBA Mortgage Applications, week of July 8: "prospective home buyers remained complacent" with comparisons distorted by holiday week [Econoday].
Tax Revenues, June 2016: "Not a good sign when tax revenue growth decelerates like this" [Mosler Economics].
Shipping: "Retailers are leasing warehouse space at a record-setting clip, as e-commerce drives companies to locate closer to population centers and keep more products on hand to meet customers' speedy delivery expectation" [Wall Street Journal, "Retailers Lease Warehouse Space at Record Pace"]. "Firms leased 70.1 million square feet of industrial space in the second quarter of 2016, the most in over 30 years of data and up 6% from the same quarter last year, real-estate brokerage Cushman & Wakefield Inc. said in a report Monday. In a separate report, brokerage CBRE Inc. said warehouse availability declined for a 25th consecutive quarter to 8.8%. Retailers have been renting warehouses faster than developers can build them, as they race to build infrastructure to fulfill surging online orders." Ordering picture hooks the other day would have taken me a three-hour bus ride because my local hardware store closed. So I ordered them online and my picture hooks will arrive, packed in a cardboard box, on a UPS truck. And none of the money from the transaction will stay in my town. None of it. How does any of this make sense? Am I missing something?
Shipping: "Less-than-truckload (LTL) carriers, struggling with weak demand for industrial traffic and perhaps facing another round of price wars, have turned to the so-called final mile of delivery services, a competitive and specialized discipline, in an effort to build a sustainable revenue channel" [Wall Street Journal]. "It will likely take LTL carriers out of their comfort zone. Working the "final mile," defined in today's marketplace as deliveries to a consumer's residence from a manufacturer, distributor, or retailer, means serving a segment largely unfamiliar to LTL carriers. It means dealing with more hyper-connected and demanding end customers than LTL carriers, in their relatively limited forays into residential deliveries, are accustomed to encounter." Uber for LTL!
Shipping: "The airline industry debate over the limits of economies of scale appears to be done, and smaller won. Airbus Group SE says it is slashing production of A380 superjumbos, as the European plane maker copes with a persistent failure to get significant orders for its double-decker flagship" [Wall Street Journal].
Shipping: "UPS has formed a partnership with medical alliance Gavi and robotics firm Zipline to explore the use of unmanned aircraft to deliver vaccines to remote locations in Rwanda" [Air Cargo News].
Retail: "Vermont has 31 Dollar General stores, twice as many as it contained three years ago, and more than any other New England state. Colorado, which has a population eight times that of Vermont, also has 31 Dollar General stores" [Seven Days]. " Roughly 70 percent of the 12,400 Dollar General stores nationwide are located in communities with fewer than 20,000 residents. Their primary customers, according to statements from the publicly traded company, are low- and fixed-income Americans desperate to keep their spending in check."
Brexit: "'The concern is this," [Foreign Seretary Jeremy Hammond] said. "If a future treaty between the UK and the EU 27 is deemed to be a mixed competence, it will have to be ratified by 27 national parliaments. I think I am right in saying the shortest time in which that has been done in any EU treaty is just under four years, and that is after taking into account the time it has taken to negotiate" [Guardian].
Brexit: "Barclays have release their latest economic forecasts and the standout figures can be found in their slashing of the UK's expected quarterly growth figures" [PoundSterlingLive]. "A recession is defined by two consecutive quarters of negative growth, a criteria that will be met if analysts at the UK bank are correct." But is "talking your book" performative speech in the vuigate?
Chexit: "[A] nascent efficiency drive in China has taken a back seat to short-term concerns about growth and employment. The problem is likely to drag on for years, and the concerns are spreading beyond basic commodity markets. China is sitting on the world's largest pile of corporate debt as a share of GDP, with some $1.3 trillion coming due in the second half of this year. Some $24.7 billion of that is among the most toxic, owed by rust-belt producers that have less cash than short-term debt, and analysts warn that shocks from a large wave of defaults in China could ripple through global markets" [Wall Street Journal]. But where does China exit to, you ask? Exactly.
Honey for the Bears: "investment in equipment and software across the entire equipment leasing and finance industry would grow a "sluggish" 0.9 percent in 2016. The latest forecast is down from the 2.7 percent growth that [the Equipment Leasing and Finance Foundation] announced in the Outlook report's second-quarter update released in April" [Progressive Railroading]. "The slow growth in business investment is due to a combination of slow growth in the global economy, a contraction in trade, heightened political uncertainty and low commodity prices, they said."
The Bezzle: "For >95% of startups, however, technical diligence is a waste of time for a more fundamental reason: in today's world of SaaS tools, APIs, and cloud infrastructure, most startup ideas don't have significant technical risk. That means technical resources are rarely the cause of success or the reason for failure" [CodingVC].
"'[Treasury] Secretary [Jack] Lew noted that the U.S. economy continues to perform in a stable, steady way in the face of headwinds from the global economy,' a U.S. Treasury spokesperson said in an emailed statement after Lew met bank and financial services executives in London. 'The Secretary added that looking forward, it is important that leaders work together to promote shared economic growth using all tools available – monetary, structural, and fiscal'" [Futures]. First, note the elite aircraft metaphor: Headwinds. Second, at this point I'm highly allergic to the generic word "leaders." It's airport bookstore business section-level jargon. "Leaders" conflates persons in authority with fundamentally different responsibilities and forms of accountability! A CEO (not elected) and a President (elected), for example.
Today's Fear & Greed Index: 85, Extreme Greed (previous close: 87, Extreme Greed) [CNN]. One week ago: 69 (Greed). (0 is Extreme Fear; 100 is Extreme Greed). Last updated Jul 13 at 11:41am. Pulling back from the psychological barrier of 90….
Dear Old Blighty
"Whatever happens now, one thing is certain. The Labour coup has suffered a shattering defeat – but the party has survived. The question now is: will they retreat with dignity and reach harmony with the members they have so let down, or drag the party one step nearer the edge of oblivion?" [Defend Democracy]. The latter, obviously. The Iron Law of Institutions is in play.
UPDATE Or not. A UK reader throws his email over the transom:
Dear Members,

Labour's National Executive Committee (NEC) have ruled that all Constituency Labour Party (CLP) meetings are to be cancelled until after the leadership election. The only meeting that may be held are nomination meetings once the leadership contenders have been announced.

Unfortunately my hands are tied and I am cancelling this evenings CLP meeting. However I and a few others will still be at Andover Central Club at 7:30 for a drink and a chat. There will be NO agenda, Chair or voting – this will be a social event.

Thank you to those who have responded with either confirmation or apologies, it is good to have people wanting to be involved in the local party. Once we have a date for the Nomination meeting, I will let you know.

Kind Regards,

Cllr Andy Fitchet
Chair, Andover and North West Hants CLP
Has the Parliamentary Labour Party brought over some Democrat strategists!?
Gaia
"Detailed analysis of human waste from city sewers theoretically can be used not only as an early-detection system for infectious-disease outbreaks, like the flu, but also as a way to discover antibiotic-resistant bacteria, a pressing concern for public-health specialists. Doctors recently discovered a germ with a gene resistant to colistin, an antibiotic often used as a last defense against infections, in a urine sample from a woman in Pennsylvania" [MarketWatch].
Guillotine Watch
"In 2015, CEOs in America's largest firms made an average of $15.5 million in compensation, which is 276 times the annual average pay of the typical worker. While the CEO-to-worker compensation ratio is down from 302-to-1 in 2014, it is still light years beyond the 20-to-1 ratio in 1965" [MarketWatch].
Class Warfare
"In today's labor market, the unemployment rate drastically understates the weakness of job opportunities. This is due to the existence of a large pool of "missing workers"–potential workers who, because of weak job opportunities, are neither employed nor actively seeking a job" (lots of charts) [Economic Policy Institute]. Both Eric Garner (loosies) and Alton Sterling (CDs) were "missing workers"; that is, they were working, just in System D (the second-largest economy in the world. I mean the Third World. Oh, wait…
"A new study finds that roughly 26 million Americans remain "too poor to shop". The study, performed by America's Research Group, found that about 26 million Americans work on average two or three jobs at a time which, when added together, nets just shy of $30,000 in annual income. All while supporting anywhere from two to four children" [Defend Democracy]. Sorta makes you wonder who all this innovation in shipping and warehousing is really serving.
"Vast quantities of fresh produce grown in the US are left in the field to rot, fed to livestock or hauled directly from the field to landfill, because of unrealistic and unyielding cosmetic standards, according to official data and interviews with dozens of farmers, packers, truckers, researchers, campaigners and government officials" [Guardian]. We'll haul it away rather than give it away….
"Southern Slaveholders and the U.S. Military in the 1850s" [Matthew Karp].
News of the Wired
"NASA's Juno Spacecraft Sends First In-orbit View" [NASA]. "This color view from NASA's Juno spacecraft is made from some of the first images taken by JunoCam after the spacecraft entered orbit around Jupiter on July 5th (UTC). The view shows that JunoCam survived its first pass through Jupiter's extreme radiation environment, and is ready to collect images of the giant planet as Juno begins its mission"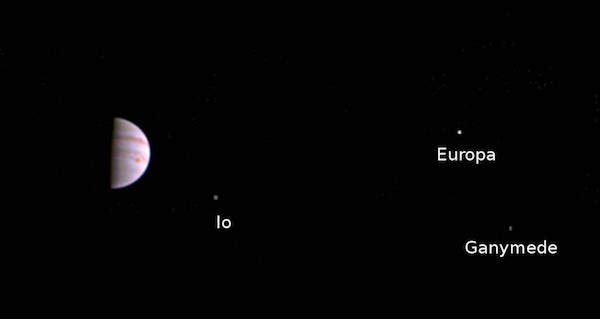 "We show that in many data sequences – from texts in different languages to melodies and genomes – the mutual information between two symbols decays roughly like a power law with the number of symbols in between the two. In contrast, we prove that Markov/hidden Markov processes generically exhibit exponential decay in their mutual information, which explains why natural languages are poorly approximated by Markov processes. We present a broad class of models that naturally reproduce this critical behavior. They all involve deep dynamics of a recursive nature, as can be approximately implemented by tree-like or recurrent deep neural networks" [Arxiv.org]. This sounds like it would be interesting in the context of the propagation of narratives, now, and for good reason, prominent in the zeitgeist. If only I could translate it into English!
* * *
Readers, feel free to contact me with (a) links, and even better (b) sources I should curate regularly, and (c) to find out how to send me images of plants. Vegetables are fine! Fungi are deemed to be honorary plants! See the previous Water Cooler (with plant) here. And here's today's plant (CG):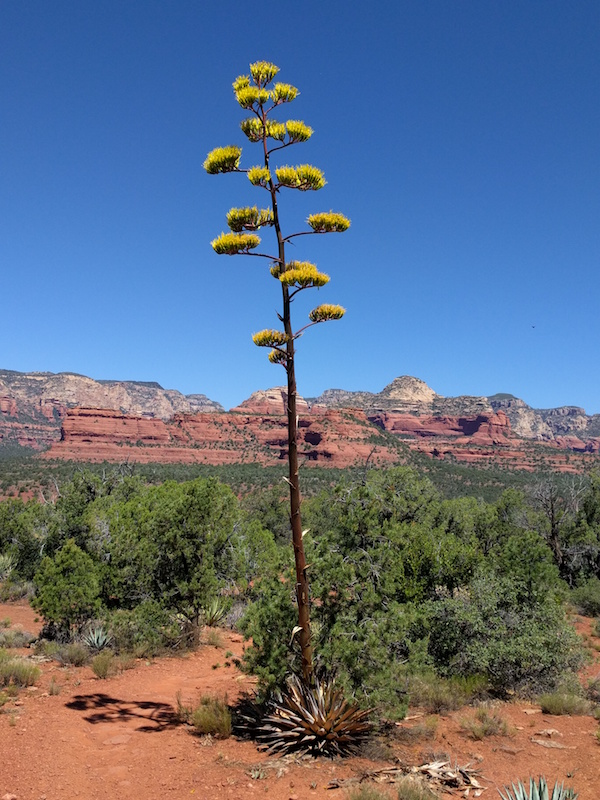 GG writes: "I'm not sure what plant is shown in the attached photo but I suspect it's an aloe variety. Taken today in the back country of Sedona, AZ. That speck to the right of the flower and above the rounded rock formation is a honey bee."
I only see bumblebees now…. Still, everything's getting pollinated!
Readers, if you want to send me some videos of plants in whole systems (bees and blossoms, for example, or running streams) — I can use them to practice with FFmpeg and hopefully post them. Because of download times, they'll have to be measured in seconds, rather than minutes. Thank you! Adding, I got another one today! Please keep sending them; they will ultimately appear!
Adding, thank you for your contributions during the rapid and successful Water Cooler Mini-Fundraiser. It remains only for me individually thank those who sent contributions via physical mail! Now, let me if I can find a physical pen; I don't think I have any, anymore….
* * *
Readers, if you enjoyed what you read today, please use the dropdown to choose your contribution, and then click the hat! Your tip will be welcome today, and indeed any day. Water Cooler will not exist without your regular support.