Yves here. The title of this piece is likely to annoy readers, but the article makes an important point: that the widespread perception that the increase in obesity and overweight in the world is due to eating more appears to be wrong, at least in aggregate. It has much more to do with increasingly sedentary lifestyles. (And yes, preventable overweight is a public health issue which in turn increases health care costs which we all ultimately bear).
One indirect proof is the fact that in New York City, where the natives walk more than most places, you see fewer overweight people, even when you adjust for the fact that being trim has become a status marker, so middle and upper middle income people will expend time and money on weight control. I find that when I am out of town and using cars to get around, it is very difficult for me to get my regular level of overall exercise in, which includes running errands on foot (in theory I could easily compensate by doing intense and very time efficient interval sprints, but I have lax joints and alignment issues, so that is a fast track to injury for me. And do not discuss swimming. Showering before and after and hair washing and drying make it super time inefficient. Plus I hate swimming).
Contrast our modern lifestyle with that of people who were largely self-sufficient 150 years ago. The men would chop wood, haul heavy things around, often walk long distances (for errands, while hunting). Men and women would either pump water in a house if they were so lucky, or haul it from a well. Women would beat rugs by hand, churn butter by hand, scrub clothes on a washboard and wring them dry by hand. My parents told the story of my bantam rooster sized great grandmother (who nevertheless had everyone in the family terrorized). She was given a wringer washer in her old age but never trusted it, and continued to wring out clothes with her arthritic hands.
The article points to a decline in how active people have become since the early 1980s, and the degree of change surprises me. Far and away the biggest factor is the decline in the number of people in physically active jobs.
While that is no doubt a big overall driver, when I think of the men (back in those days it was men) that I'd encounter in corporate and professional jobs (peers and much more senior positions), they were vastly more trim on average then than now, both here and when I was in the UK (it is also noteworthy that when I was in the UK in the 1984, and going to gyms in London, even the people there, who were very committed to exercise, were markedly heaver than fitness enthusiasts in the US. The next time I had an extended stay in London, in 1997, it had reversed: the British gym rats were less hefty than the Americans I typically encountered. I don't have time to check if the overall obesity levels conform to my limited data set). I wonder how much the decline in smoking contributed, since people who stop smoking often gain weight. Similarly, in the US, the widespread use of antidepressants, as in SSRIs which typically produce a 10-15 pound weight gain in patients, are no doubt another contributor.
I'd be curious as to what readers think might have contributed. One could be the decline in social activities generally, due to the fracturing of communities (more frequent moving, longer hours demanded by many employers, more two income couples, meaning spouses were spending what little time free they had on child care or relationship maintenance). For instance, my impression is that back then, far more people were able to do sports as a leisure activity (tennis, volleyball, pickup basketball, or softball games) than they do now. And for golf, was far more "physical" in the 1970s thank now. People would walk the course rather than ride in a cart, and often even haul their clubs (indeed, since I never understood golf, the point to me seemed to be more about walking in a nice, quiet, overly manicured setting with trees, with hitting a ball as an excuse for getting friends to join you. The cart thing seemed to me very destructive). The article contends change in sports are not a meaningful factor in the UK, but I wonder, since this is presumably self-repored, if the data is accurate (as in people exaggerate their activity level because they know it is good to exercise) or if the US is different than the UK. Similarly, the new style of insanely protective parenting means kids don't walk too and from school. Put it another way: how many people have the time and self-discipline to exercise regularly and intensely enough to make up for our unnatural lifestyles?
Having said that, yes, American restaurant portion sizes are oversized relative to the rest of the world, and yes, too many people eat highly concentrated, highly processed carbohydrates (high fructose corn syrup! refined sugars and flour!) that produce blood sugar spikes and contribute to insulin insensitivity.
By Rachel Griffith, Research Director, IFS; Professor of Economics, University of Manchester and Melanie Lührmann,Senior Lecturer, Royal Holloway, University of London; Research Associate, IFS. Originally published at VoxEU
The rise in obesity has largely been attributed to an increase in calorie consumption. This column investigates this claim by examining the evolving consumption and lifestyles of English households between 1980 and 2013. While there has been an increase in calories from restaurants, fast food, soft drinks, and confectionery, there has been an overall decrease in total calories purchased. This decline in calories can be partially rationalised with weight gain by the decline in the strenuousness of work and daily life, and increasingly sedentary lifestyles.
The World Health Organisation (WHO) estimates that worldwide obesity has more than doubled since 1980, and that most of the world's population now live in countries where obesity and being overweight are responsible for more deaths than being underweight (WHO 2015). Estimates by McKinsey Global Institute suggest that almost one third of the global population is overweight, and that obesity accounts for about 5% of deaths in the world (Dobbs et al 2014).
Watch Rachel Griffith discuss her research in the video below
The media, policymakers and the economic and medical research literature have largely emphasised an increase in food consumption as the main cause of rising obesity; highly cited papers making this argument include Cutler et al. (2003), Brunello et al. (2009), Swinburn and Hall (2012), and Swinburn et al. (2011). There are four pieces of evidence that seem to support this view:
Food prices have fallen substantially over the past 30 years;
Real food expenditure (the amount we spend on food, accounting for inflation) has increased;
Expenditure on some types of calorie dense foods, such as fast food, eating out, ready meals, confectionery, and soft drinks has increased; and
There has been a sizeable increase in calories available, according to aggregate data on food available for human consumption (the total amount of food produced, including imports and excluding exports, minus food used for animal feed, agriculture, industrial uses, and waste) (see Bleich et al. 2008 and FAO 2005).
While all four observations are true, the full picture is more complex. In a new study, we used data from the official UK government household survey over 30 years (from 1980 to 2013) on the food spending of a representative sample of households, along with nutritional information, to provide a more comprehensive overview of how the calorie content of the foods that households purchase has changed over time (Griffith et al. 2016).
Surprisingly, we find that total calories purchased have declined substantially over the last three decades. We distinguish two periods: 1980-2007, when food prices were falling; and after the Great Recession (2008-2013), when food prices increased worldwide and real incomes fell for many people. Table 1 shows the continuous decline in mean calorie levels regardless of food price changes. In the paper we show that this decline is not just occurring at the mean, but also across the distribution.
Table 1. Calories per adult per day, by food type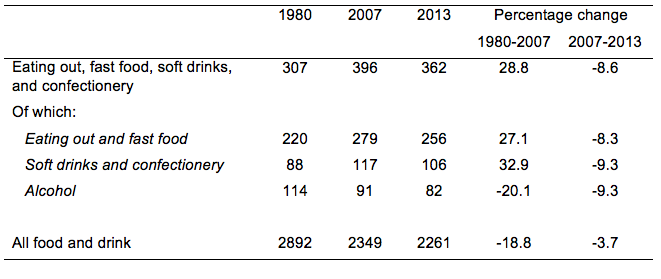 Source: Table 4 in Griffith et al. (2016).
One important reason for this decline in calories, contemporaneous with a rise in real expenditure, is that households have shifted away from homemade food, and toward market-produced food (for example by shifting from food at home towards eating out), which is more expensive. The other reason is that there has been a decline in the purchase of some high calorie foods for consumption at home, such as red meat, full fat milk, butter, and jams, and this more than compensates for the increase in calories from foods and drinks outside the home.
The Calorie Puzzle
This leads to a puzzle: if people are buying fewer calories, and so presumably consuming fewer calories, how do we explain the rise in obesity? Weight gain arises from a caloric imbalance; that is, when more energy is consumed than expended. If there has been a decline in total calories purchased over the past 30 years, could an even greater decrease in levels of physical activity explain the rise in obesity?
Sloth at Work
We compile new data on the strenuousness of paid work in order to investigate that question. Data from the Labour Force Survey, a nationally representative survey of individual work patterns, shows that there have been significant changes to the nature of work. England has seen a marked shift over the last thirty years towards less strenuous and more sedentary occupations. This change is observable in many countries, but it has been particularly pronounced in England (Schettkat and Yocarini 2006, Bleich et al 2008), due largely to the substantial shift towards service sector jobs.
Table 2 summarises these changes. The fraction of men working in strenuous occupations has declined by 8% from 1981-2009, and those working in sedentary jobs has increased by over 11%. For females the decline in strenuous occupations is over 13%, with an increase in both moderately strenuous and sedentary jobs.
Table 2. Percentage of work force, by strenuousness of occupation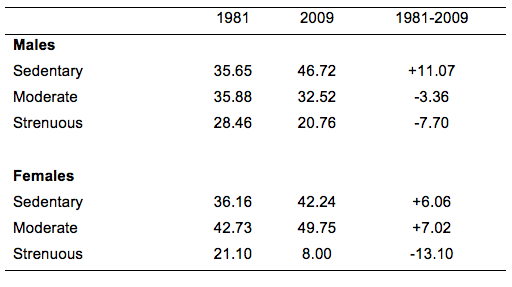 Source: Table 7 in Griffith et al. (2016).
Change in the strenuousness of work and daily life has been studied by other researchers (and for other countries). Lakdawalla and Philipson (2009), Lakdawalla and Philipson (2007) and Lakdawalla et al. (2005) suggest that reductions in job-related exercise play an important role in increased weight, and that perhaps up to 60% of weight gain in the US is due to declining physical activity. Two other recent studies also suggest that declining activity levels in the US play an important role (Ladabaum et al 2014 and Sturm and An 2008). Finkelstein and Zuckerman (2008) relate the rise in obesity in the US to a combination of declining food costs, particularly of processed high-calorie foods, and an increase in the use of technology that makes the economy more productive but the population more sedentary. However, these studies that have emphasised the role of physical activity and technological change have received less attention – in the research community and in the media – than those that emphasise an increase in calories.
The change in work patterns has had a big impact, because work accounts for a large share of people's time. In addition, labour supply behaviour has also changed, with different trends for males and females. Female labour force participation amongst 25-64 years olds has increased from 55% to 69% between 1980 and 2009, with particularly strong increases among younger women (aged 25-39). Hours of work (conditional on working) have remained constant around 26-27 hours per week on average, but have increased over time among women aged 45-49. During the same period, men have reduced their hours worked by 9.3%.
For men, both changes in the amount of time spent at work and increasingly sedentary occupations have led to reduced activity at work. Women, in contrast, have increased the amount of time they spend in market work, but the strenuousness of work has declined parallel to that of men.
In order to understand the implications this has for weight gain we need to know what sorts of activities females have substituted away from (were these activities more or less strenuous than work?) and what activities males are substituting towards. We also need to know what has happened to other activities of daily life.
Sloth at Home
Over time, working women have increased time in market work, and so have reduced the time they spend on other activities from 60% to 54%. They have also reduced the amount of time in strenuous domestic work by 4 percentage points (see Table 3). On average, house work is more strenuous than the kind of market work that women were doing in the labour market, so this led to an overall reduction in the strenuousness of life.
Men have reduced the time they spend at market work over the last 30 years. While they increased the time they spend doing housework by a small amount, they switched from strenuous housework activities like maintenance and DIY to less strenuous ones like child care and shopping.
Overall, changes in the nature and time spent on housework contribute towards a decline in the physical activity among both men and women. In addition there are other changes to the way people used their free time, for example, more time watching TV; and while females now spend more time doing sports and exercise, this accounts for a small amount of time use, and so has a negligible effect on overall strenuousness.
Table 3. Percentage of time spending doing activity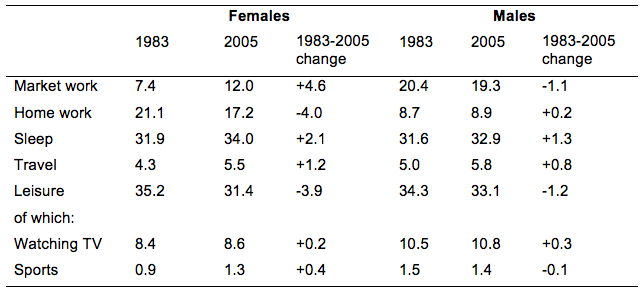 Source: Table 6 in Griffith et al. (2016).
Rationalising Weight Gain
Overall, we see that declines in physical activity at market work and in other activities has largely counteracted the reduction in calories. As well as going some way toward explaining the rise in obesity, our research indicates that market work might also influence the types of foods we eat. Households that spend more time in market work buy more market-produced foods. They eat more often in restaurants and fast food outlets, and eat more takeaway. Market-produced foods are on the whole more expensive than home-produced foods, and this means that trends in expenditure do not necessarily mirror trends in calories.
What implications does this research have for policy? It does not mean that we should abandon policies that target food spending or calories, such as the recent introduction of a tax on sugary drinks in the UK (for a discussion, see Griffith et al 2016a). People are eating too much given their low (and declining) level of physical activity at work and at home. It does mean that physical activity and calories are linked in potentially complex ways, and it is important to better understand this and the implications it has on people's behaviour in order to inform policy.
See original post for references