By Lambert Strether of Corrente.
Readers, Trump, as Trump will do, consumed an inordinate amount of time. Updates to come.
TPP/TTIP/TISA
"US eyes quick post-Brexit trade deal with UK to get stalled TTIP moving" [Ars Technica]. "However, the UK could now sign up to a US investment treaty with significantly fewer protections than those offered by TTIP's ICS system, which is what the EU is still pushing for. Instead of Brexit helping to protect the NHS, it may end up bringing in a system that protects it less than if the UK had stayed in the EU." Out of the neoliberal frying pan into the neoliberal fire.
2016
Policy
"Social Security: If It Ain't Broke … and It Ain't, and It Never Will Be" [Mike Norman]. Sort of amazing to see an MMT-inflected post appear on the Yahoo front page.

"Since Pence took office in January 2013, Indiana taxpayers have provided $818.5 million in subsidies to companies.That is only about a tenth of the largesse that state and local taxpayers have given to corporations since 1991" [David Cay Johnston, The Daily Beast]. "The welfare collecting companies only had to invest $397.7 million. Indiana under Pence has been exceptionally generous with its better than $2-to-$1 match of taxpayer money to private investment. Just about anybody with the skill to run a business should get very rich if—for each buck of their money that they put up—they get two bucks, plus a nickel from the taxpayers." And: "Before Pence took office, when Republican Mitch Daniels was Indiana's governor, reporter Bob Segall of WTHR Channel 13 in Indianapolis took a film crew to locations where the state had handed out money either in grants, loans or tax abatements to create jobs. He found one taxpayer-subsidized job center was nothing but an empty field. And that was just one of many nonexistent job locations for which his investigative reporting won 13 awards." If Pence's program provides the precedent for Trump's employment policies, that would be bad. Of course, there was no focus on this during Trump's acceptance speech, because the political class hates working people.

"For much of modern American political history, there has been a dispute about how seriously to take the party platforms approved by Democrats and Republicans during presidential election years" [Market News]. "Should they be viewed as serious statements of intention, casual afterthoughts, or symbolic gestures that are offered to the party faithful and to key interest groups? There is no single answer to this question because platforms have been used for all of these purposes in the past.  For many in Washington, the question of the day is how seriously to take the Republican platform's call to reinstate Glass-Steagall, the Depression-era law the divided commercial and investment banking."
Conventions
Headlines on the newspaper rack when I went to get coffee this morning, both above the fold and spanning the page: "'I am your voice.' — Trump" (USA Today) and "'I will fight for you' — Trump" (Bangor Daily News). Smart speechwriting; 15 and 20 characters respectively, so the quotes are made for huuuge headline type. And call me crazy — I'll get to the details below — but is it possible that there are voters who feel they have no voice, and that nobody's fighting for them? I can't think why, but the morning paper dropped outside every hotel room door in America seems to think so. As does my local paper.

Transcript of Trump's acceptance speech as delivered [Vox]. I watched for deviations; there were few, and generally they improved the text. For example, Clinton's legacy of (a) "death, destruction and weakness" in the written speech became (b) "death, destruction, terrorism, and weakness" as delivered. (Modulo "weakness," since Clinton can't really be held accountable for a process of imperial collapse, I hate it when Trump's right). It's funny to watch the quotes propagate through the press, since anybody using variant (a) is writing off the written transcript, and anybody using variant (b) is reporting in something closer to real time. Perhaps the variants are introduced for that purpose?

Transcript of Trump's acceptance speech as written [Donald J. Trump]. Cheekily, there are 282 footnotes. This is actually both clever by the Trump campaign, and important as a yardstick for the allegiances of the political class. Why? Fact-checking. Here's Vox: "Trump says: 'Decades of progress made in bringing down crime are now being reversed by this administration's rollback of criminal enforcement.' In fact:… Ruling: Baseless" [Vox staff, Vox]. The wee problem here is that Trump backs up that claim with material at footnotes 19, 20, 21 and 22, and Vox doesn't engage with the footnotes. So, despite the faux judiciousness of "Ruling," the article doesn't engage with Trump's material at all. As one might expect, given this useful post by Corey Robin, the wonks at Vox are ritually enacting the forms of scholarship, whiile emptying them of content. (Troll prophylactic: I'm not saying Trump's claim is correct; I'm saying that Vox makes its tendentiousness really obvious when it fails to engage with it.) I don't have time to look at all the other fact checking out there — and I don't expect anything either presumptive candidate says to survive a fact-checking process anyhow — but I would bet they, too, fail to engage with Trump's footnotes.

"Word cloud analysis of Donald Trump's acceptance speech" [Constitution Center]. 

"Trump's speech was a significant moment for an impulsive entertainer and savvy media manipulator now striving to look presidential to a wide audience. He cleared the bar handily Thursday, showing the political force he could become when he reins in his most bombastic rhetoric and sticks to his populist-infused message" [US News]. 

Anyhow, I watched the speech. Key omissions: No assault on big banks, nothing on the minumum wage, nothing on Social Security. In other words, Trump is appealing the local oligarchs in his off-Beltway coalition, and not appealing to the (white) working class on economic grounds; neoliberalism wins with the Republicans, as with Democrats. (That is, liberals are correct to point to the dogwhistles, but evil to airbrush the policies they pursued, together with the Republicans, which present the working class with a Sophie's Choice between rejecting "law and order" dogwhistles while also rejecting some minimal gestures toward their economic interests.) Here are some random — really random — screen shots, with commentary under this:

This is the stage, all Trumped up. Cult of personality in full swing, along with Gilded Age decor complete with digital gilding (I don't think that's physical signage). Sure, the burnished logo looks like something you'd see on the Las Vegas strip, but then an America run by the FIRE sector is a casino. And so the 2016 election brings another moment of bracing clarity.

This is the balloon drop, which was excellent — lots and lots of balloons, like bubbles in a really frothy glass of champers — proof that the Trump staff can actual deliver competent advance work, though whether the campaign can scale up to the full campaign trail is an open question. There were also fireworks outside. I would like to know who chose the closing music: "All Right Now" (Free Bad Company) followed by "You Can't Always Get What You Want" (Rolling Stones). But you get what you need?

And this is a shot of Barron Trump not, apparently, getting what he needs. I'm including it because there wasn't a moment he was on the stage when he didn't look downcast, even when looking up at the balloons. A rarely human moment, contrasted with Melania Trump's weaponized graciousness. Sad.

"In his most important speech ever, Trump echoes Richard Nixon" [Dan Balz, WaPo]. "In Nixon's time, it was a call for the 'Silent Majority' to rise up and take back the country. Trump spoke to the "forgotten men and women" who he said no longer have a voice in a rigged political system run by 'censors' and 'cynics."

* * *

UPDATE Lambert here: I rarely mention the F-word, if only because I don't want to start a trash fire. That said — [throwing a flag at my own Godwin's Law violation] — I'm going to go there. Here's why I'm suspicious of liberal goodthinker claims that Trump is a fascist: I'm old enough to remember the Bush administration, when many of today's young liberal wonks were just coming up, and the blogosphere developed a very detailed critique of the Bush administration's fascist tendencies, based on his expansion of executive power under the doctrine of the unitary executive, and his destruction of the Fourth Amendment and the rule of law generally through his program of warrantless surveillance ("sovereign is he who decides on the state of exception").

Well… As soon as Obama was elected, those same liberal wonks dropped the critique of fascist powers in the executive like the hot potato it was, even as Obama proceeded to rationalize and consolidate everything Bush did (and had signaled his intent to do so, in July 2008, by voting to give corporations retroactive immunity for Bush's program of warrantless surveillance). These same wonks might also be usefully asked what sort of State adopts a "disposition matrix" and uses it to assassinate its own citizens, and what sort of State orchestrates a 17-city paramilitary crackdown on non-violent direct actions. Or what sort of State sets up Homan Center (for example).

Now, I know this reasoning exhibits the genetic fallacy, and the grim moral of "The Boy Who Cried Wolf" is that sometimes the wolf is a wolf, but if there's any serious analysis on this topic, I'd love to see it, because I trust the young and youngish wonks in the political class about as far as I can throw a piano. A concert grand piano.

Take for example youngish James Fallows (from April), on the unsavory history of "America First":

But the term "America First" has a specific and nasty history, mainly because of the America First movement that essentially advocated accommodating Nazi interests on the eve of World War II. There's a list of terms you're wiser to avoid, no matter how deserving the underlying idea might be. "Separate but equal," in the United States. "Cultural Revolution" or "Great Leap Forward" if you're in China. "Final solution," anywhere. In the realm of foreign policy, America First is one of these. You can make the point without using the phrase.

To begin with, never mind that Democrat Dick Gephardt — thanks for destroying Howard Dean in Iowa 2004, Dick! — ran for office in the 1980s using the same phrase; apparently, in Fallows mind, that's not inoculation enough. The real issue — as once again Corey Robin points out — that Fallows is rather like a cargo cult historian: Invoking the form, while lacking the substance. That's because — follow me closely here — this is not the 1940s. If fascism is "the merger of state and corporate power", have not both Democrats and Repblicans already arrived at that point? Further, on what grounds are we to make the Sophie's Choice between the merger of state and corporation at the national level, a la Trump ("Make great again) and the surrender of national sovereignty to corporations at the international level, a la Clinton and Tim Kaine's "gold standard" TPP and its ISDS system? This is 2016, not 1940.

I'd welcome reader thoughts and meditations on this topic. But I'm gonna be ruthless on drive-bys and me-toos.

* * *

"What To Expect From Protests Outside And Inside The DNC In Philadelphia" [ShadowProof].

"Why you should converge on Philadelphia" [Socialist Worker]. Philly's a wonderful city, even if humid in the summer, and I'm all for people visiting there. However, absent some cooperation between the 1900 Sanders delegates in the hall, and the protesters — please, no giant puppets — outside the hall, I think the sound and fury will signify nothing. Who knows, maybe Sanders will come out and somebody will hit him with a tomato! That would be a famous victory, spoken of round the campfire for generations… 
The Trail
Clinton Veep to be Kaine? [Yahoo News]. Cue "mark of" jokes… Or "mark of Kaine process" jokes…

"Jill Harth, woman who sued Trump over alleged sexual assault, breaks silence" [Guardian]. Thing is, I trust the Guardian on Trump about as much as I trust the Guardian on Corbyn. And the game of planting stories in the British press so that "it's out there" and becomes a story in the U.S. press is very old. Regardless of the merits, the tactic worked for the Republicans with Paula Jones, so why wouldn't it work again?
Stats Watch
PMI Manufacturing Index Flash, July 2016: "New orders were the strength of yesterday's Philly Fed report and are also the strength of the manufacturing PMI where the July flash is 1 point over expectations" [Econoday]. "The rise in orders is also the strongest in 9 months and came despite only marginal strength in export orders. Gains in output and employment are also positives this month for the PMI. But inventory management remains defensive with stocks of both inputs and finished goods both falling."
Architectural Billings Index: "Design contracts index: 49.7" [Mosler Economics]. "Going nowhere." You don't need Rem Koolhaas to build a giant warehouse in New Jersey….
Employment Situation: "Explains some of the recent volatility in employment numbers?" [Mosler Economics].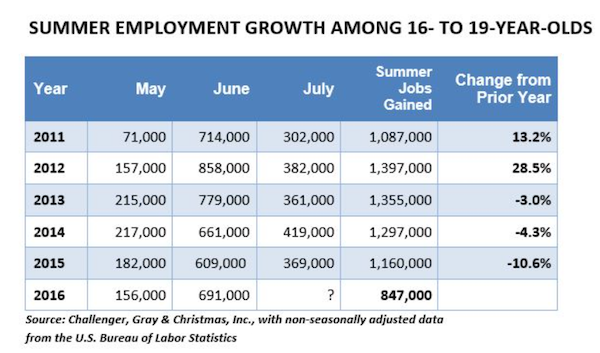 Hospitality: "In year-over-year comparisons, the industry's occupancy decreased 1.4% to 77.5%. However, ADR was up 3.4% to $128.12, and RevPAR increased 1.9% to $99.33" [Hotel News].
Shipping: "Rail Week Ending 16 July 2016: Still In Contraction But Short Term Trends Continue to Improve " [Econintersect] ."The contraction began over one year ago, and now rail movements are being compared against weaker 2015 data – and this is the cause of the acceleration. Still, rail is weak to very week compared to previous years." A new normal?
Shipping: "Truck shipments were reported down in June – even the BLS employment data was very weak" [Econintersect]. 
Crapification: "The surprising reason more cars broke down in 2015 than ever before" [Yahoo News]. Clickbait fail: There's nothing surprising about crapification. More: "According to the American Automobile Association (AAA), more cars broke down on the side of the road in 2015 than in any other year. In fact, AAA says dead batteries, flat tires and key problems contributed to 32 million drivers needing to pull over and call for assistance.  You might think your high-tech car is better than that old-school Honda sitting in your neighbor's driveway, but a new AAA study reveals technology in newer cars is one of the main reasons why so many people are left stranded." Who knew that simple, rugged, and proven technology would be more reliable than complex, fragile, and unproven technology? Remember when you could actually fix your car yourself, without some intellectual property owner's proxy getting in the way? It's not science fiction!
Crapification: "Verizon Communications Inc. is nearing a deal to buy Yahoo! Inc., beating out rival bidders for the iconic web pioneer, people familiar with the matter said" [Bloomberg]. Filing this under crapification for reasons I assume are obvious.
Political Risk: "What is becoming increasingly evident is that we need globally recognised and enforceable space legislation that ensures safe and responsible operations in space – specifically around the Earth. But Space Law is still in its infancy, as exemplified by the Outer Space and Moon Treaty. This was created in the 1960s but has still not been recognised by all states" [Econintersect]. Occasioned by the news that a Chinese space station might fall out of orbit (as have other, larger stations before). 
Political Risk: "For me, global trade and free markets long ago slipped into the category of 'fact.'  That 'fact' inevitably led to an expectation that over time trade would continue to become more integrated" [DC Velocity]. "Then the earth moved. Well, it hasn't moved yet, but before an earthquake there are always tremors…. Brexit looms. Trump is promising tariffs, trade barriers, and a wall. Clinton turned against the transpacific partnership, after being for it. … ne blip is an aberration, two are a concern, and three make a trend. Trends have been disrupted. We all operate and trade internationally. It is inevitable that global movement and global trade will face increased friction. If you are a logistics leader, it's time to create contingency plans."
The Bezzle: On Musk's now not-Secret Plan: "The most troubling thing about Musk's new plan is that it ignores the most consistent criticisms of Tesla: that the company overpromises, underdelivers, lacks focus, and over-relies on Musk's vision" [Bloomberg]. Oddly, or not, I searched that article for the word "subsidy," and couldn't find it. Grifters gotta grift… 
The Bezzle: "The natural rate of interest is a guide for monetary navigators. By keying off the natural rate, 'a central bank is essentially trying to mimic the ideal conditions of an economy,' Jeffery Amato, an economist at the Bank for International Settlements in Switzerland, wrote in a working paper in 2005. If it could be located with certainty, monetary policy would be simple. The problem: The rate is . Unlike the indexes for adjustable-rate mortgages, there is no Bloomberg function that describes the natural rate of interest, and there are no derivatives based on its value" [Bloomberg]. So, the "natural rate of interest" has the same conceptual status as Marx's labor theory of value?
Today's Fear & Greed Index: 82, Extreme Greed (previous close: 86, Extreme Greed) [CNN]. One week ago: 89 (Extreme Greed). (0 is Extreme Fear; 100 is Extreme Greed). Last updated Jul 22 at 12:00pm. Oh, man. What the heck is wrong with you guys?
Black Injustice Tipping Point
"Activists Chained Themselves Together To Block CPD's Notorious Homan Square" [Chicagoist]. "Activists used chains, tubes, bike locks and ladders to bind themselves together, blocking the entrance path. Other nearby protesters set up tents and a "Free Store" that offered provisions." Creative tactics. A good sign! "Similar demonstrations—together dubbed #FreedomNow—took place in other parts of the country, including Detroit, New York City, Oakland and Washington DC."
"About 50 protesters with Black Lives Matter DC and Black Youth Project 100 are protesting outside the legislative office of the National Fraternal Order of Police in Northeast, blocking traffic on Massachusetts Ave" [DCist]. We'll see if that smokes out anything explicit from Trump.
Gaia
"Never before have vocalizations used as contact calls been observed in fish. While contact calls have been observed in many other animals, finding it in fish highlights that this is the oldest evolutionary group to employ this method of cohesion. This study shows a new way in which fish can utilize sounds cues, rather than finding a mate or defending territory: fish use sound to make sure their group stays together" [Ocean Bites].
Class Warfare
"How a Guy From a Montana Trailer Park Overturned 150 Years of Biology" [The Atlantic]. Love the smugly classist clickbait headline! A jobs guarantee should and would fund such research. I believe with all my heart (and with Thorstein Veblen) that a  surgical removal of business facehuggers from the American body politic would unleash enormous industry, as here. There are a lot of "guys" in "trailer parks." "Gals," too. Dolts.
"This data sculpture depicts a map of housing prices in San Francisco. It's a map of the city, torn at the seams" [Doug McCune]. 
News of the Wired
"One individual speculated that the reemergence of the company's drinking culture was to blame for the uncomfortable environment. Under [deposed CEO Ellen] Pao's reign, Reddit tried to eradicate the bro-like amount of alcohol consumption at the office, but that went right out the window following Pao's departure in July 2015" [Reddit]. Not good. Nor is this: "As employees walked away from Reddit over the past six months, the company removed its team page that listed current and former employees. The page was removed from Reddit on March 2 and replaced with a generic "about" page that does not display profiles or Reddit usernames of any employees. Huffman, Reddit's CEO, sent an email to the staff about the removal of the page, sources say, claiming that the page needed to be taken down to shield employees from the site's users."
"Pokemon Go's insane success throws that reality into stark relief: A free-to-play mobile game based on a franchise synonymous with Nintendo is by far the biggest Nintendo-related product of the decade" [Wired].  "Still, the game proves that the potential, untapped audience for Nintendo's games is far bigger than anyone imagined. Pokemon Go isn't a Nintendo game, but everyone playing it is a sleeper agent ready to buy Nintendo products. But where are the Nintendo products that fit into their lives?"
"National Security Agency whistleblower Edward Snowden has been working with prominent hardware hacker Andrew "Bunnie" Huang to solve this problem. The pair are developing a way for potentially imperiled smartphone users to monitor whether their devices are making any potentially compromising radio transmissions" [The Intercept]. That's good work from Snowden. It doesn't qualify him for a cabinet position, though.
* * *
Readers, feel free to contact me with (a) links, and even better (b) sources I should curate regularly, and (c) to find out how to send me images of plants. Vegetables are fine! Fungi are deemed to be honorary plants! See the previous Water Cooler (with plant) here. And here's today's plant (AM):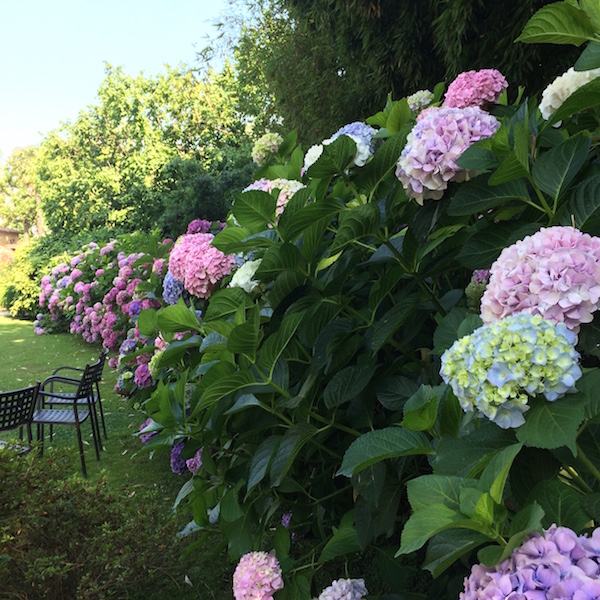 AM writes: "From the Palazzo Pfanner in Lucca, Italy." Lovely hydrangeas! But the chairs in the shade catch my eye. This looks like a lovely nook to sit down and just … sit.
Readers, if you want to send me some videos of plants in whole systems (bees and blossoms, for example, or running streams) — I can use them to practice with FFmpeg and hopefully post them. Because of download times, they'll have to be measured in seconds, rather than minutes. Thank you! Adding, I got another one today! Please keep sending them; they will ultimately appear!
I have finally finished sending thank you notes to the people who helped out during the quick and successful Water Cooler Mini-Fundraiser by sending in checks. Thank you, readers! So, to my knowledge, all should have been thanked, and for those of you who used PayPal, if you have not been, and you have checked your spam folder, don't hesitate to complain using my contact form.
* * *
Readers, if you enjoyed what you read today, please use the dropdown to choose your contribution, and then click the hat! Your tip will be welcome today, and indeed any day. Water Cooler will not exist without your random acts of kindness.