By Lambert Strether of Corrente.
TPP/TTIP/TISA
"But when protesters interrupted [Sanders] with chants of "No TPP!", Sanders responded to them: 'We have got to make sure that TPP does not get to the floor of the Congress in the lame-duck session,' he said, adding a line that had not been included in his initial transcript" [Politico]. Whoever organized those protesters — chants and printed signage — did a good job, with the exception of shouting down Rep. Elijah Cummings, not received kindly on black twitter.
"Clinton will put the maligned Asia-Pacific trade deal and other new trade initiatives in the rear-view mirror if elected, focusing instead on 'things that are clear job creators,' a top economic adviser to the former secretary of State said on Monday. Gene Sperling, a former White House adviser to Presidents Bill Clinton and Barack Obama, told Pro Trade's Adam Behsudi in Philadelphia that the priorities will be things like infrastructure, immigration reform, higher education relief and family medical leave" [Politico]. Says nothing about the lame duck (and notice Clinton's priorities list getting more and more incremental by the day).
2016
Policy
"What a Hillary Clinton economy might look like" [Mark Thoma, CBS News]. "If we want to maintain support for a dynamic, innovative and open economy, we must do a better job of sharing the gains from international trade and technological change and insulating workers from the costs." Who's "we"? Lots of weak tea proposals, and I would imagine what Clinton really comes up with will be weaker still.
The Voters
"[H]owever, overwhelming shares of all Democratic and Democratic-leaning registered voters – including 90% who consistently supported Sanders for the nomination – back Clinton in the general election against Donald Trump" [Pew Research Center]. More importantly: "The age divide seen throughout the primaries is reflected here in differences in loyal support for Clinton and Sanders: While 39% of Democratic voters 65 and older consistently backed Clinton, just 11% of those under 30 did so. Conversely, 35% of those under 30 were consistent Sanders supporters compared with smaller shares of those in other age groups."

"Democrats always prove the commies right" [Frederick DeBoer]. "It's essential to understand: the purpose of the scorched-earth campaign waged against Sanders and his supporters by the Democratic establishment and its mouthpieces at Vox, the Daily Beast, the Washington Post, etc., is not merely to prevent a Sanders nomination. The point is to so tar Sanders supporters with slurs and empty accusations of bigotry as to ensure that they gain no appreciable influence within the party in the future."

"We have worked from the 2012 elction results to create a hypothetical electoral college win for Hillary Clinton with an equally hypothetical popular vote win for Donald Trump. First, here are the final totals for the 2012 election" [Econintersect]. "In the preceding post on presidential elections, we pointed out the futility of national opinion polls unless the popular vote difference is more than 4%. This hypothetical has a popular vote difference well below 2%. No polling result would have been able to predict this result with any certainty. If almost all polls indicated very similar results (say Trump winning the popular vote with a margin between 1% and 2%) then the uncertainty would be greatly reduced and the aggregate results would be quite accurate. However, such close agreement between polls is not that likely."
Money
"Leaked emails show the Democratic National Committee scrambled this spring to conceal the details of a joint fundraising arrangement with Hillary Clinton that funneled money through state Democratic parties" [Politico]. This is the Clinton Victory fund debacle, where the Clinton campaign laundered its money through the state parties. "During the three-month period when the DNC was working to spin the situation, state parties kept less than one half of one percent of the $82 million raised through the arrangement — validating concerns raised by campaign finance watchdogs, state party allies and Bernie Sanders supporters. … The fund is a bad deal for state parties, said one operative who works with state party committees. State party officials have been buzzing about the WikiLeak emails, said the operative, arguing they show that '.'" (Remember that we showed yesterday that when Donna Brazile replaced DWS as DNC head, her first concern was not ethics but secrecy or, more politely, public relations: "Stop emailing. Pick up the phone." Therefore, we can expect more of the same from the DNC, especially directed against any insurgent candidates not endorsed by Clinton. Canova and Teachout should take care.)

"DNC Leak Shows Mechanics of a Slanted Campaign" [Matt Taibbi, Rolling Stone]. "If you supported Hillary Clinton, it probably won't bother you that the Democratic National Committee is revealed in these documents to have essentially acted as an arm of the Clinton campaign during the contested primary season." Like Politico, Taibbi hones in on the Clinton "Victory Fund."

"During his campaign, Sanders railed against [what would have been wrong with "inveighed against," or even "criticized"?] the influence of big donors, of course. In return, it seems to many of his supporters, the D.N.C. conspired against him. That view might be exaggerated, but when you have evidence that the organization's chief financial officer, who hails from the South, suggested in an e-mail to his colleagues that they bring up whether Sanders was an atheist, adding that it 'could make several points difference with my peeps,' " [The New Yorker]. Strong Hirohito Award contender, there.

"Ms. [Shefali Razdan Duggal] wanted a reminder of how much she had raised for President Obama and the Democrats (the answer: $679,650) and whether it qualified her for the premium package of hotel rooms and V.I.P. invitations at the party's convention in Philadelphia. She asked whether she could have an extra ticket to Vice President Joseph R. Biden's holiday party, so she could bring her children. But most on her mind, it seemed, was getting access to an exclusive November gathering at the White House. 'Not assuming I am invited…just mentioning/asking, if in case, I am invited :)" [New York Times]. ":)." Indeed.
Philly
"Read: Bernie Sanders's Democratic National Convention speech" [Vox]. I should have more to say about this shortly.

"Bernie Sanders delegates can support their candidate in roll call vote" [Los Angeles Times]. I hope that's true. It's not on the schedule.

"Unity! Bernie will turn over all his delegates tomorrow night during roll call. All states to vote" [Daily Kos]. Party unity, my sweet Aunt Fanny…

If you ever want to see real hate, get a liberal started on the working class (the image has gone viral). From a Vice correspondent:

The arena seems to be filled with suicidal Marxists who work at TGI Friday's pic.twitter.com/dtYBr3cJX3

— Michael C Moynihan (@mcmoynihan) July 26, 2016

After Michelle and Booker, "when Elizabeth Warren and Bernie Sanders took the stage later in the evening, the convention began to sound much more like the campaign Gore actually ran: the dark and angry, 'people versus the powerful'" [The Atlantic]. There's that word, "dark," previously used of Trump. For Democrats of a certain class, things must always be "light," like a sunny loft space in a repurposed brick mill building in a freshly gentrified — yet still so authentic! — neighborhood. (Also, Gore's "people vs. the powerful" theme was only adopted late in the 2000 campaign, after Gore spent most of the election running away for Clinton and populism.)

"Sanders's delegates began the convention session by loudly booing every mention of Clinton's name. Later, however, it seemed that most Sanders delegates — with the exception of a small group of dead-enders — decided to behave themselves (that is, cheering Sanders but not booing Clinton or shouting down the speakers)" [Bloomberg]. Funny what's infantilized and what isn't…

"Yes, of course Donald Trump can win" [Chris Cilizza, WaPo]. "[T]he electoral map clearly favors Clinton and that Trump is on the wrong side of the massive demographic changes sweeping the country…. [But] Clinton is a uniquely flawed candidate. She has been in the national eye for a very long time and people have largely made up their minds about her. It is very hard for her to change those perceptions. What that means is she has a hard and relatively low vote ceiling. In a binary choice election — which is what this is — Trump benefits from the fact that he is simply not Clinton. What's happened to date in the race — pre-GOP convention — is that support has peeled off Clinton but not gone to Trump. Rather, it's moved to 'undecided.' The GOP convention, as Philip Bump documented here, led to some movement to Trump. Hence the tightening in polls. What this all means is that the race is close today and there's plenty of reason to believe it will stay like that all the way until the election."

"Clinton's convention lineup wasn't designed to contrast with Trump's brigade of C-list celebrities and agitators, though it did do that. It was instead meant to serve as a demonstration that Clinton is widely respected in the Democratic Party, which is much less divided than a handful of Sanders delegates would have you believe. Where Trump insists to the public that Republicans are unified, Clinton and her supporters showed that they are" [Brian Beutler, The New Republic]. The case for the defense.

"There was a haze that hung low and very sweet. It was brutally hot and there was a thick glaze on everyone as clouds darkened over the distant skyline and the sky began to smell of rain" [Charles Pierce, Esquire]. That's Phllly in the summer, especially the thick glaze part. Pierce encounters " the #UpToUs movement, a kind of independent Sanders auxiliary who took his call to political revolution so seriously that the candidate himself has become rather irrelevant to its mission. (In fairness, Sanders made this argument all year on the stump.)" From the video they're making:

"Hi, Bernie. You started a beautiful revolution. Millions of people across the globe, across this country, have sacrificed so much. People have given up their homes, given up relationships."

People on welfare have given money," YahNe jumped in. Anne continued, and suddenly, what she was saying sounded like one of the prayers from Good Friday, an invocation of sacrifice in pursuit of reward, all minor keys and dark grace notes.

"We need you to stand with us now the way we've stood with you. We understand that you are a noble man and that you have integrity and that you never break your word. But you have given your word to a party that has since been found out to be corrupt and that has lied to us, cheated us, and a party that simply not for the people any more. And you're a man of the people. We're sorry that we didn't come to you quicker and stronger, but we're all here now for you. You always said it's not about you, it's about us. So we're making this call to you. It is no longer your decision if you're going to run for president, it's ours. So come be with us. It's not you, it's us."
The Trail
"'No homo!' How DNC staffers under Wasserman Schultz used anti-gay slurs, mocked the name of an African-American assistant and created a sexist Craigslist job posting to humiliate Donald Trump" [Daily Mail]. All these seem hateful to me; once of the Democrat establishment talking points that I find most irritating is the idea that they are against hate, when in fact they are no more immune to this human failing than anyone else.

"Trumputin! And the Leak(s) " [China Matters]. " One thing for sure is that the Clinton campaign is desperate to find a bigger villain to shift the focus away from the DNC's abysmal security practices and sleazy electioneering revealed by the leak." A long and detailed exposition. Must read.

"The same people on the Clinton team who made enormous efforts to claim her private email server—which operated unencrypted over the Internet for three months, including during trips to China and Russia, and which contained top-secret national-security data—was not hacked by the Russians now are certain that the DNC server was hacked by the Russians" [The American Conservative].

Robbie Mook on Trump-Putin: "'It's a theory that is being put forward now by CNN, by the Washington Post, by the New York Times, these are the experts speaking out on this,' Mook told the Today show's Savannah Guthrie who brought up that Republican Donald Trump has called these accusations a 'conspiracy theory.' "s [Daily Mail]. "Mook noted that CNN had reported yesterday that the FBI is investigating the DNC hack, but admitted that no government official had confirmed the connection to the Clinton campaign. 'hey have not communicated that to us,' Mook said. 'I am simply going off what the reporting is telling us.' " First, the Wikileaks trove makes Mook's assertion that "I am simply going off what the reporting is telling us" risible; it's just as likely that the stories were planted. Second, this hasn't been a good year for experts; see Thomas Frank on the credentialed classes in Listen, Liberal. Oh, and the gossip column locuation "speaking out" is a tell; they're not speaking out, as if they're voices have been suppressed; in fact, they're fanning a (profitable) media firestorm.

"A trove of hacked party emails posted by WikiLeaks show that Democratic National Committee officials had worked to undermine the underdog campaign of Mr. Sanders. Weeks before the firestorm erupted, culminating in the resignation of party chief Debbie Wasserman Schultz, a group of plaintiffs brought a lawsuit in federal court alleging that DNC 'actively concealed its bias' from its donors and Democrats backing Mr. Sanders.

[Wall Street Journal, "DNC Seeks Dismissal of Lawsuit Alleging Donor Deception"]. "'[T]he DNC was biased in favor of one candidate – Hillary Clinton – from the beginning and throughout the process,' the plaintiffs state in their complaint, which seeks class-action status. '[I]n spite of the [DNC's] governing Charter and its multiple public statements, the DNC devoted its resources to propelling Clinton's candidacy ahead of all of her rivals, even if this meant working directly against the interests of Democratic Party members, including Bernie Sanders' supporters.'"

"In a video posted under the banner of 60 Minutes Overtime and touted as an "unaired" clip from the interview, [CBS's Scott Pelley] asked Clinton and Kaine about the [Wikileaks DNC email leak] [Weekly Standard].

Pelley began by reading some of the emails among DNC staff members suggesting ways to undermine Sanders's campaign. "Did you know anything about any of that?" he asked.

"No, I didn't know anything about it, and I haven't read any of those," Clinton responded.

Pelley kept pressing. "You have people in the Democratic National Committee who are supposed to be, if you will, agnostic about who the nominee is going to be, and they seem to have their thumb on the scale for you. They seem to be working against Bernie Sanders, their fellow Democrat.".

"Again, I don't know anything, I don't know anything about, uh, about these emails. I haven't followed it," Clinton responded..

"In your view, any effort in the DNC to favor one candidate or another would have been improper?" Pelley asked..

"Again, I don't have any information about this, and so I can't answer specifically," Clinton said.

She can't even make a ritual condemnation? (Incidentally, DWS was heaved over the side at the DNC — and then promptly rescued by the Clinton campaign — because of a subordinate's brainstorming an anti-semitic attack on Sanders, for which the DNC apologize, and not for "thumb on the scale" behavior (the less polite word is "rigging"), for which the DNC did not apologize. The simplest explanation is that neither they, nor Clinton, think they did anything wrong. The DNC's lack of neutrality has been apparent for some time, and here's an article from Politico in 2015 that quotes the appropriate clause in the DNC Bylaws:

DNC rules, designed to ensure all candidates get a fair shake in presidential primaries, state: "The Chairperson shall be responsible for ensuring that the national officers and staff of the Democratic National Committee maintain impartiality and even-handedness during the Democratic Party Presidential nominating process."

No objective observer reading the WIkileaks DNC emails would conclude the DNC was impartial or even-handed.

"Given all of the news here in Philadelphia, perhaps Monday's biggest news was about Colorado — in the Clinton campaign's decision to pull down its TV ads there, because it feels confident enough about its standing versus Trump in that battleground state. The campaign, however, will continue to advertise in eight other states – Florida, Iowa, Nevada, New Hampshire, North Carolina, Ohio, Pennsylvania, and Virginia" [First Read]. Leaving Sanders free to campaign in Colorado for single payer and against fracking. One assumes.

If you're a Russian mole, don't apply for this job: Security Engineer at Hillary for America (Tech Team).
Stats Watch
Richmond Fed Manufacturing Index, July 2016: "Manufacturing activity in the Fifth District picked up strongly in July" [Econoday]. "Looking ahead, manufacturers anticipated even more positive conditions." And: "Of the four regional Federal Reserve surveys released to date, three are in expansion and one is in contraction" [Econintersect].
Purchasing Manager's Index Services Flash, July 2016: "New orders are hard to get" [Econoday]. "A big positive in the report is a jump in business confidence which, post-Brexit, is up from a record low and at its best level since the start of the year. A negative, especially for policy makers, is weakness in price readings with input costs rising at the slowest rate since January. Traction for selling prices is minimal."
Consumer Confidence, July 2016: "Consumer confidence is solid" [Econoday]. "Buying plans for autos are soft, down nearly 2 percentage points to 10.8 percent in a reading that will bring down estimates for July vehicle sales. Buying plans for homes and appliances are steady." ("Observers of consumer sentiment polls should be aware they are imperfect quantifications of opinion. The question arises whether they are a rear view window or a forward looking indicator – or possibly a little of each. There is little question, however, that poor consumer sentiment corresponds to poor economic performance. Econintersect believes that consumer sentiment is mostly a coincident or lagging economic indicator" [Econintersect].)
State Street Investor Confidence Index, July 2016: Down [Econoday]. "State Street said the numbers are an unequivocal sign of a decline in institutional investor confidence, especially those in Europe who were caught off guard by Brexit, with risk aversion surging due to the wider anti-globalization implications of Brexit and Turkey's recent geopolitical turmoil. Only Asian institutional investors remained tilted toward risk, most likely encouraged by the Chinese 2Q GDP beating consensus expectations."
S&P Case-Shiller Housing Price Index, May 2016: "Home sales are up while home prices are down" [Econoday]. "[T]he bottom line is very clear, that home prices, despite thin supplies of homes for sale, are softening." ("The way to understand the dynamics of home prices is to watch the direction of the rate of change. Here home price growth generally appears to be stabilizing (rate of growth not rising or falling)") [Econintersect].
New Home Sales, June 2016: "Housing is emerging as a positive surprise for the 2016 economy. New home sales burst to their best strength of the cycle during the Spring, coming in at a much higher-than-expected" rate [Econoday]. "One negative is supply in the new home market which looks to become an increasing problem."
Fodder for the Bulls: "July 2016 Chemical Activity Barometer Signaling Improved Economic Growth" [Econintersect].
The Banks: "RBS may charge to hold cash deposits if Bank of England takes rates below zero" [MarketWatch]. RBS. Of course.
Shipping: "The oil-train boom is waning almost as quickly as it began." [Wall Street Journal, "Crude Slump, Pipeline Expansion Mark End of U.S. Oil-Train Boom"]. "Boom" being the operative word, especially in Lac Mégantic, Quebec.
Shipping: "Do you believe the freight-rail industry's decline in shipment volume will ease in the second half of this year?" [Progressive Railroading]. Online poll: No, 58%. Yes, 42% (rounding).
Shipping: "Amazon is partnering with the UK Government to explore the steps needed to make the delivery of parcels by small drones a reality, allowing Amazon to trial new methods of testing its delivery systems" [Air Cargo News]. "A cross-Government team supported by the UK Civil Aviation Authority (CAA) has provided Amazon with permissions to explore three key innovations: beyond line of sight operations in rural and suburban areas, testing sensor performance to make sure the drones can identify and avoid obstacles and flights where one person operates multiple highly-automated drones." Britain is a tight little island…
The Banks: "Germany's yield curve is getting kinky. The European Central Bank's extraordinarily easy monetary policy has led to an unusual kink in the path of bond yields, with the 10-year bond offering a higher yield than the bond maturing in 12 years" [Across the Curve]. "More important than any kinks is the broader shape of the yield curve. With relatively little difference between bonds maturing soon and those maturing in a decade, the curve is very flat – meaning little extra reward for locking up money for the long run. This is bad for banks, and suggests little faith that the ECB's easy money will get the region's economy moving again." I can't think why. The best and the brightest are working on it.
The Bezzle: "The government's labor agency has filed a formal complaint against WeWork" [Business Insider]. Yet another unicorn whose sky-high valuation depends on breaking the law.
The Bezzle: "Car insurers last year hauled in $200 billion of premiums, about a third of all premiums collected by the property-casualty industry. But as much as 80% of the intake could evaporate in coming decades, say some consultants, assuming crucial breakthroughs in driverless technology make driving safer and propel big changes in car ownership [Wall Street Journal, "Driverless Cars Threaten to Crash Insurers' Earnings"]. "Assuming" is doing a lot of work in that paragraph.
The Bezzle: "A pack of technology startups seeking to upend the business of booking freight shipments for trucks is drawing rich new funding from investors" [Wall Street Journal, "Freight Booking Startups Drawing Rich New Funding"]. "These new entrants—including Los Angeles-based Cargomatic Inc., San Francisco's Trucker Path Inc., Austin, Tex.-based uShip and Seattle-based Convoy—offer smartphone apps that connect companies looking to ship goods to truck drivers. Many describe themselves as the "Uber of trucking." All you need is a pitch, an elevator, and the right connections….
The Bezzle: "If you look at the world fleet of cargo vessels today, it is actually only a small portion that are fully connected, beyond simple email and dialup capability. This is the main reason why digitalisation until now has had a very little impact on core shipping processes. Despite everything that has happened, most vessels are still being commercially operated on charter agreements that have in principle changed very little in the past century. The ship to shore link is still in most cases relying on manual reporting. In almost all comparable industries paradigm shifts have occurred as connectivity has made alternatives possible. Take for example the impact Uber has had on the taxi industry across the world" [Splash247]. Uber for supertankers!
The Bezzle: "Moocs can transform education – but not yet" [Inside Higher Ed]. Remember when a squillionaire with a bright idea on UVa's board, and a bunch of Deans and other lackeys administrators, went crazy pants and fired UVa's President over MOOCs? Good times.
The Bezzle:
i wish this wasn't a parody just because it's so believable https://t.co/9ln2n7wva5 pic.twitter.com/gLY2F2IDyA

— Internet of Shit (@internetofshit) July 20, 2016
The Fed: "A 42-year high in the number of apartment buildings under construction points to an impending surge in supply that portends a moderation in the cost of shelter, which in June capped the biggest 12-month jump in almost a decade. Any cooling in the most pronounced driver of inflation means the Fed will have to wait even longer to reach their 2 percent price target — a prerequisite for some policy makers to raising interest rates" [Bloomberg].
"A Boeing spokeswoman said in a statement that the aerospace giant is "in the process of adjusting the payment terms of suppliers." Boeing is changing the frequency with which it pays its bills to suppliers to align with what it describes as industry norms" [Wall Street Journal, "Boeing Is 'Delinquent' on Payments, Says Supplier Rockwell Collins"']. "Boeing has long had the reputation among suppliers as having the most efficient and timely payment, according to industry officials. And Boeing's cash flow is among the most important metrics watched by analysts and investors."
Today's Fear & Greed Index: 85, Extreme Greed (previous close: 85, Extreme Greed) [CNN]. One week ago: 87 (Extreme Greed). (0 is Extreme Fear; 100 is Extreme Greed). Last updated Jul 26 at 12:15pm. Holding steady.
Black Injustice Tipping Point
"Hillary and Bill Clinton: Specialists in Black Misery, Foreign and Domestic" [Black Agenda Report]. Check the URL for the original headline.
"Police Commander Suspended For Alleged Fabrications About Charles Kinsey Shooting" [HuffPo]. "Bystander video shows Kinsey lying in the street with his hands up shortly before the shooting. Kinsey said he had been trying to calm a patient with autism who had run from a nearby group home. The patient's toy truck apparently was mistaken for a gun by a 911 caller. "
"Jailer testifies he falsified jail log in Sandra Bland case, lawyer says" [Houston Chronicle].
"Sociology professor on racism, inequality: 'We get better'" [Virginia Commonwealth University]. Readers will recall Tressie McMillan Cottom wrote an excellent trip report from a Trump rally.
Class Warfare
"Power in the Age of the Feudal Internet" [Collaboratory]. "We're in the middle of an epic battle for power in cyberspace. On one side are the nimble, unorganized, distributed powers such as dissident groups, criminals, and hackers. On the other side are the traditional, organized, institutional powers such as governments and large multinational corporations. During its early days, the Internet gave coordination and efficiency to the powerless. It made them powerful, and seem unbeatable. But now the more traditional institutional powers are winning, and winning big. How these two fare long-term, and the fate of the majority of us that don't fall into either group, is an open question – and one vitally important to the future of the Internet."
"Researchers Who Exposed VW Gain Little Reward From Success" [New York Times]. Important to remember that the tendency of the professional classes to looting and corruption, given a rentier economy, is just that: A tendency. These professionals were honorable, as was the Virginia Tech professor who helped the citizens of Flint find out their water suppy was poisoned. There really should be a formal medal of honor for whistleblowers!
News of the Wired
"Bitcoin not money, Miami judge rules in dismissing laundering charges " [Miami Herald]. Maybe we need a rethink here. Perhaps any token that can be laundered is, in fact, money?
* * *
Readers, feel free to contact me with (a) links, and even better (b) sources I should curate regularly, and (c) to find out how to send me images of plants. Vegetables are fine! Fungi are deemed to be honorary plants! See the previous Water Cooler (with plant) here. And here's today's plant (Optimader):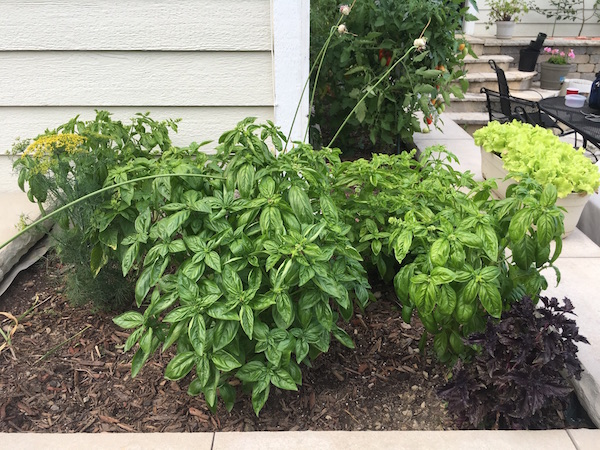 I'm not a fan of bark mulch, but that's a nice basil patch. My basil just flowered last week, and the pollinators are going nuts. They strike the plants so hard you can see them vibrate, gently.
Readers, if you want to send me some videos of plants in whole systems (bees and blossoms, for example, or running streams) — I can use them to practice with FFmpeg and hopefully post them. Because of download times, they'll have to be measured in seconds, rather than minutes. Thank you! Adding, I got another one today! Please keep sending them; they will ultimately appear!
* * *
Readers, if you enjoyed what you read today, please use the dropdown to choose your contribution, and then click the hat! Your tip will be welcome today, and indeed any day. Water Cooler will not exist without your random acts of kindness.