By Lambert Strether of Corrente.
TPP/TTIP/TISA
Just to repeat:
The DNC has also informed Sanders delegates that they will have their credentials taken away for holding up anti-TPP signage as well

— Rania Khalek (@RaniaKhalek) July 28, 2016
2016
Readers, I am going on a media fast regarding electoral politics today, since my post on Sanders, Obama, and Clinton took longer than I hoped (they always do…). So if you want to discuss this topic today, you may do so in the comments section of that post. Those of you who want the Inside Baseball stuff instead of a 30,000 view can skip to the appendices. Please be analytical! No drive-bys, no oft-repeated one-liners, no me-toos, and no campaign issued talking points (you know who you are). Thank you!
Stats Watch
GDP (advanced estimate): "Second-quarter GDP looks very weak at only a plus 1.2 percent annualized rate" [Econoday]. "The details are positive. The biggest positive is consumer spending where growth, showing strength across readings, came in at a stellar 4.2 percent rate, more than double the first-quarter's 1.6 percent rate. lean inventories point ahead to new accumulation which is a plus for future production and employment." Hmm. Always? And: "Though some economists said Friday that the United States is due for a pickup in the second half of the year, the recent weakness could dampen sentiment about the country's course and push Democratic nominee Hillary Clinton to take a more critical tone about the economy under President Obama" [WaPo]. However, these estimates are all subject to revision, and often turn out to be "wild guesses." But: "A particularly telling representation of slowing growth in the US economy is the year-over-year rate of change. The average rate at the start of recessions is 3.35%. All eleven recessions over this timeframe have begun at a higher level of real YoY GDP" [Econintersect]. Moreover: "Worse than expected, Q1 revised lower, and note the year over year deceleration in the chart. The inventory correction previously discussed looks to be well underway and has much further to go to bring inventories into balance with sales" [Mosler Economics]. "Problem is, sales growth is declining, and the downward spiral will continue until 'borrowing to spend' steps up to support the negative effects of what I call unspent income, aka savings desires. And the historical drivers of private sector deficit spending- housing, cars, and business investment- are all going the wrong way. And note that the much touted increase in consumer spending was in energy purchases, as prices went up, which tends to reduce other consumer purchases over time." I'm a Maine Bear: We've been receding a long time, and we're always depressed! So obviously Mosler's view conforms to my priors…
Chicago Purchasing Managers Index, July 2016: In consensus range [Econoday]. "Growth in new orders, however, is down this month as is growth in backlog orders, which are two negatives for future activity. A positive for July is a rise in employment and also a solid build in inventories, both hinting at business confidence in the outlook." And: "The Chicago Business Barometer which recently has spent more time in contraction than expansion declined but remans in expansion. This survey came in above expectations" [Econintersect].
Employment Cost Index, Q2 2016: "Labor costs are accelerating, which hints at pass-through to workers and welcome upward pressure for overall inflation" [Econoday]. "Higher labor costs may not be a plus for corporate profits but will be seen as a plus by policy makers who are hoping for a little wage inflation to help the economy. "
Consumer Sentiment, June 2016: Down. "The weakness is centered in expectations" [Econoday]. And: "Worse than expected" [Econintersect].
The Bezzle: "Tesla and Uber have more in common than you might think" [Tech Crunch]. Oh, I don't know about that…
The Bezzle: "Thousands of members of the [H-P] salesforce have not been properly paid since Hewlett Packard split itself apart the previous November, they tell her. That's six months of wacky pay. It's gotten so bad that some salespeople couldn't make their mortgages and were facing foreclosure. Others were behind in their alimony payments" [Business Insider]. "HPE even wrongly told one salesperson that he owed the company over $130,000 after the first quarter from taking a 'draw,' one person told us." But I'm sure the finance people and lawyers who worked out the deal made out fine, just fine, along with the executives. So that's alright then.
UPDATE The Bezzle: "Smart feeder outage left pets hungry for 10 hours" [The Telegraph]. I'm starting to think that "smart" is one of those words I should run a mile when I hear… Like Obama's "smart wars," for example.
UPDATE The Bezzle: "Malaysia's 1MDB Decoded" [Wall Street Journal]. Handy chart for the fridge!
UPDATE Political Risk: "Why Clinton could still tap Wall Street talent despite platform pledge" [Francine McKenna, MarketWatch]. "'The point of the platform pledge is not to disqualify everyone who has any industry experience at all,' says Andy Green, managing director of economic policy for the Center for American Progress Action Fund, 'but rather to make sure that regulators are independent enough from their work in industry and are focused on the public interest.'"
"IMF's Lagarde to stand trial in Tapie case" [Reuters].
Today's Fear & Greed Index: 79, Extreme Greed (previous close: 82, Extreme Greed) [CNN]. One week ago: 85 (Extreme Greed). (0 is Extreme Fear; 100 is Extreme Greed). Last updated Jul 29 at 1:17pm. I wouldn't call this a swoon, exactly…
Black Injustice Tipping Point
"Before killing Alton Sterling, Baton Rouge police had a history of brutality complaints" [NOLA]. Note however the intrusion of kitchen table issues: Sterling, who sold CDs on the street, was especially vulnerable because he was in the informal economy ("System D"), just like Eric Garner, who sold loosies.
Police State Watc
"While activists are calling for better and more extensive training, the experts said quick changes on the ground are unlikely. For nearly a century — since the Wickersham Commission of 1929 — allegations of abusive police tactics have been quelled by forming task forces or blue-ribbon committees to study the issue" [WaPo].
And then there's this:
Police departments across the U.S. are arresting people for anti-cop posts on social media. https://t.co/PukYlSUMWF

— The Intercept (@theintercept) July 12, 2016
But wait. The cops tell women that nothing can be done about online abuse. So that's not true?
"Copspeak: 7 Ways Journalists Use Police Jargon to Obscure the Truth" [FAIR]. #1: ""Officer-involved shooting."
Imperial Collapse Watch
"The Ghost of King Leopold II Still Haunts Us" [Media Diversified]. Must read. So modern!
Gaia
UPDATE "'The extraordinary years have become the normal years': Scientists survey radical Arctic melt" [WaPo]. Figured I was out of the line of fire up here in Maine, but instead I'm in a target area, since that melt affects the Gulf of Maine.
Water
UPDATE "With concerns about climate 'extremes' growing1, water is often the focus — either too much or too little. That is no coincidence: climate and the hydrological cycle are tightly coupled, and water is essential to ecosystems and societies. But it is not just the quantity of water that matters. So does its quality" [Nature]. "Last year, Lake Erie, one of the US Great Lakes (which contain one-fifth of the world's fresh surface water), experienced its biggest recorded harmful algal bloom. At its peak, the bloom spread some 200 kilometres across most of the lake2. Meanwhile, off the continent's west coast, another record harmful bloom stretched from Baja California in Mexico up to Alaska, probably triggered by unusually warm water in the Pacific Ocean3. Both blooms were dominated by species of phytoplankton that produce powerful toxins." Will Michael Burry please pick up the blue-green courtesy phone?
Class Warfare
"Climate Change Activism: A Post-Mortem " [The Archdruid Report]. In a crisis, things correlate. And so I could have filed this under Gaia, but instead it goes under class warfare:
It might still be possible to avoid the worst of it, if enough people who are concerned about climate change stop pretending that their own lifestyles aren't part of the problem, stop saying "personal change isn't enough" and pretending that this means personal change isn't necessary, stop trying to push all the costs of change onto people who've taken it in the teeth for decades already, and show the only kind of leadership that actually counts—yes, that's leadership by example. It would probably help, too, if they stopped leaning so hard on the broken prestige of science, found a positive vision of the future to talk about now and then, backed away from trying to rewrite the recent past, and dropped the habit of demonizing honest disagreement. Still, to my mind, the crucial thing is that the affluent liberals who dominate the climate change movement are going to have to demonstrate that they're willing to take one for the team.
UPDATE Word of the day: "Lumpenproletariat" [Bloomberg]. Funny clickbait headline: "A 164-Year-Old Idea Helps Explain the Huge Changes Sweeping the World's Workforce."
UPDATE "Lessons for restoring the American dream from Latin America" [Brookings]. Interesting discussion of the problem. Here's the conclusion:
But what is to be done about the tattered American dream? The underlying structural economic trends are as malleable as tectonic plates. Yet the markers of desperation are frightening enough that they are beginning to shift public attention from debilitating ideological divides to the deep social ills facing the U.S. today. That might provide some attention to the plight of those left behind. One part of the solution, meanwhile, is to reorient our social welfare system away from one that stigmatizes the poor and steers them farther behind psychologically. to more broadly available preschool…. The key challenge will be bringing them into the spotlight of public debate.

Reducing inequality is difficult, making it even more unattractive for politicians to take on. Yet it is doable. And it is an area where Latin America can provide some important lessons. The region surely has its own challenges, but in this instance we could learn some lessons from our much more optimistic Southern neighbors.
Give 'em credentials! More liberal goodthinking, and so hopeless. (Oh, and note that the only people guaranteed jobs from training programs are the (credentialled) trainers themselves. Ka-ching.
News of the Wired
"New Caledonian crows have figured out how to move two things in one fell swoop. The adept tool users have been filmed inserting sticks into objects to transport both items at once – a feat that has never been seen in non-humans" [New Scientist].
"People can sense single photons" [Nature]. That is utterly amazing to me. Photons are really small! What a brilliantly evolved system! (And I'm especially conscious of this since my eye exam, which involved testing my peripheral vision with flashes of light. All went well!) Not all agree, and there's more science to be done: "Vaziri plans to test how the visual system responds to photons in various quantum states — in particular those that are in a 'superposition' of two simultaneous states. Some physicists have suggested that such experiments could test whether a superposition of two states could survive in a person's sensory system, and perhaps be perceived in the brain."
UPDATE "Revealed: Rail companies' plans to track your movements and make you pay more to stand on packed trains" [Telegraph]. Sounds legit.
* * *
Readers, feel free to contact me with (a) links, and even better (b) sources I should curate regularly, and (c) to find out how to send me images of plants. Vegetables are fine! Fungi are deemed to be honorary plants! See the previous Water Cooler (with plant) here. And here's today's plant (Doug):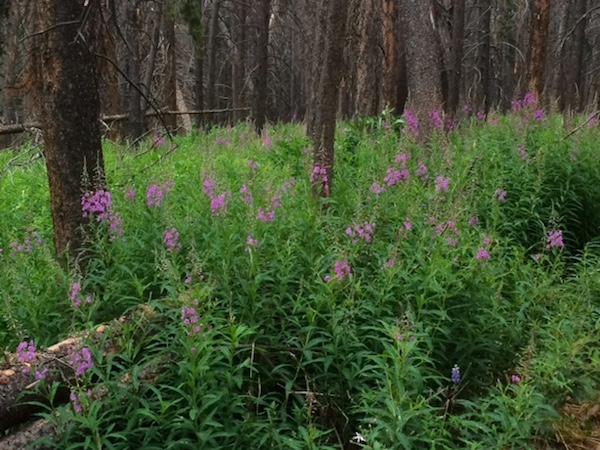 Doug writes: "'Fire Weed' flourishing in forest open space after pine beetle infestation. Colorado."
Readers, if you want to send me some videos of plants in whole systems (bees and blossoms, for example, or running streams) — I can use them to practice with FFmpeg and hopefully post them. Because of download times, they'll have to be measured in seconds, rather than minutes. Thank you! Adding, I got another one today! Please keep sending them; they will ultimately appear!
* * *
Readers, if you enjoyed what you read today, please use the dropdown to choose your contribution, and then click the hat! Your tip will be welcome today, and indeed any day. Water Cooler will not exist without your random acts of kindness.