By Lambert Strether of Corrente.
The "kitchen table" is a hoary political metaphor ("kitchen table issues"); it summons up a family, sitting round the kitchen table, looking at the wages that are coming in, and looking at the bills going out. In the days of pay envelopes, when everything was done on a cash basis, the wages might actually be distributed into envelopes, as my father did: So much for the mortgage, so much for the electric, so much for food, so much on that doctor's bill, and maybe a little left over, for extra, to put in a coffee can in the middle of the table or on the sill of the kitchen window. Of course, with today's fragmented and precarious work schedules, increased apartment dwelling, and the tendency of working people, especially poor people, to eat out because that saves time, the real life "kitchen table" hardly exists anymore. The kitchen table as an idea — the central household space where the working class family takes the exact measure of its material conditions — is as central as it has ever been. The kitchen table is also central to across all identities. Women, people of color, immigrants, GLBTQs, the religious: all, insofar as they are wage workers, have kitchen table issues, since they must all consider their material conditions as a prerequisite for anything else they might wish to do ("life, liberty, pursuit of happiness…").
Given the centrality of the kitchen table issues[1] to the overwhelming majority of the American people, who are, after all, wage workers, one might assume that they would assume great prominence in the political life of the Republic. Oddly, or not (Givens and Page provide a clue why not) they do not. Perhaps it's a difficult subject to have a "conversation" about. After all, the working class family can, with luck, control the expense side of the household balance sheet, but the income side of the balance sheet is not under their control at all; capital controls it. (Yes, it might be possible to risk leaving the $10.00 an hour job[1] to find one paying $12.00, but the $12.00 as such is no more under the individual worker's control than the $10.00 was.) And so taking kitchen table issues seriously would require addressing power imbalances between capital, as such, and labor[3], as such, because the household balance sheet — the concrete material conditions discussed at the kitchen table — is the result of that balance. However, our political class seems incapable of taking anything seriously just now. As a superficial look the Presidential-level speeches at the Democrat National Convention will show!
I said "superficial," and sadly, I meant it; this is a "hot take," and I don't have time to put on my yellow waders. Instead, I will first set the context by presenting a few charts — long-term NC readers will be familiar with all of them — that illustrate the material conditions of labor (and capital). Then I'll look at contradictions in the convention speeches of Senator Sanders, President Obama, and Democrat presidential candidate Clinton. In each case, the contradiction will be seen in how the candidate addresses the power imbalance between capital and labor.
The Kitchen Table in Chart Form
Table 1: Pavlina Tcherneva's Famous Chart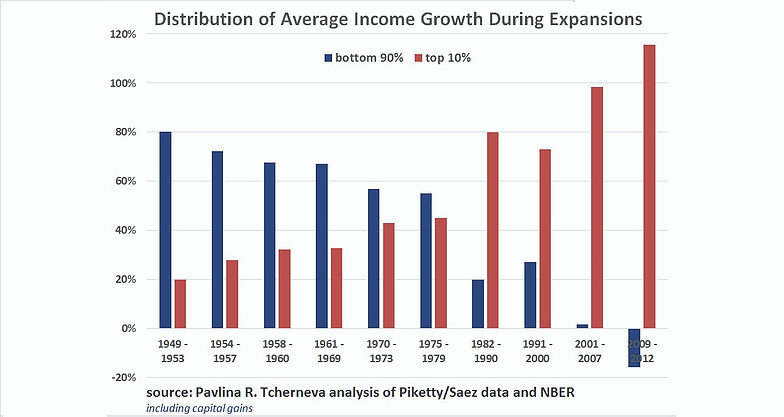 I've helpfully annovated Tcherneva's chart to show the power imbalance between capital and labor; as you can see, the top 10% — which includes both capital and those who service it professionally, that is, a significant portion of both Clinton and Trump's bases, though with different demographics — creamed off all the gains. To improve the input side of the household balance sheet, those gains would have had to be redistributed. (Matt Stoller has a fine article at NC on this point, showing that Obama's Democrats made the power imbalance worse than Bush's Republicans did.)
Table 2: Economic Policy Institute on Stagnant Wages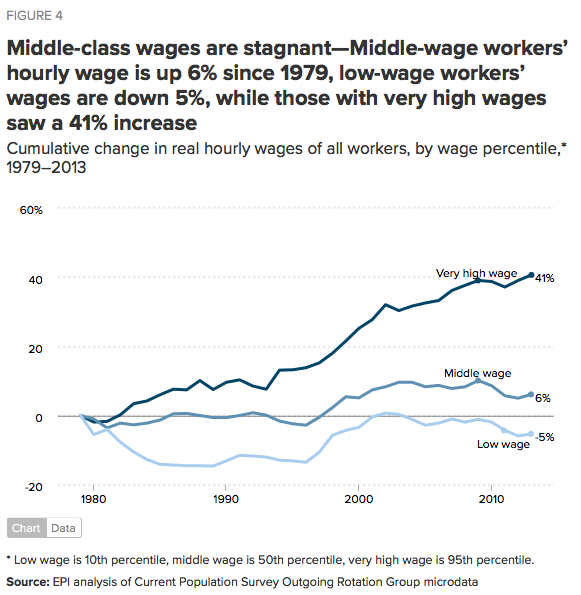 This is one of the many charts showing that real wages have been flat since the beginning of the neo-liberal era to this day (and that's not a bug. It's a feature.) I mean, come on. A 6% increase for "middle" wage earners over 40 years? A decrease for others? That's forty years of increasingly depressed kitchen table conversations, again due to the power imbalance between capital and labor as shown in Table 1.
Table 3: Case-Deaton on White Middle Class, Middle-Aged Mortality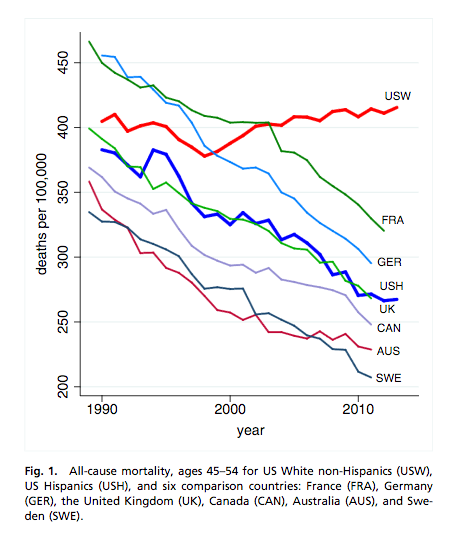 Naked Capitalism has several posts on the Case-Deaton study: "'Stunning"'Rise in Death Rate, Pain Levels for Middle-Aged, Less Educated Whites" (that is, non-credentialed, working class whites); "America to Working Class Whites: Drop Dead!"; "Credentialism and Corruption: The Opioid Epidemic and 'the Looting Professional Class'". (The looting professional classes are key Clinton constituency, of course.) And this sidebar from Case-Deaton shows the impact: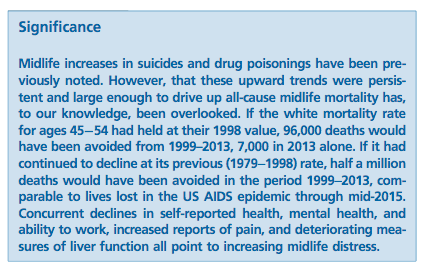 That's an AIDS-level death rate you're looking at, right there. The failure of the political class to address it is a moral failure of the first order. Why, given the death rate one might almost think that a class war was being successfully conducted![4] Of course, it's possible to focus on the individual's problems with opiods or alchohol. But those are symptoms of loss of social cohesion, as neoliberal trade deals set the rules and private equity played the game, that stripped these communities of the work they used to do. Jeremy Grantham (!) writes:
There is a consensus that social cohesion is the key to a successful society. It brings with it the broadest range of advantages: greater economic mobility; longer lives and better health; fewer babies born to teenagers; fewer traffic deaths, murders, suicides and robberies; a smaller percentage in prison; and less stress and higher levels of contentment, amongst others. Not bad. The biggest simple input to social cohesion turns out to be income equality, which is correlated highly with every individual measure of social cohesion listed above. The exhibit below provides an example. Conversely, income inequality leaves the impression, probably correctly, that the political voice of the poor has been lost or weakened.
Of course, addiction is about as "kitchen table" as an issue can possibly be. Paying for the substance of choice is on the expense side of the household balance sheet, after all. But if the work that brings in the wages on the income side just doesn't cover the bills, or, worse, is painful and humiliating to do, or even worse, is entirely without meaning, then why, exactly, would a rational actor not seek the surcease from suffering that oblivion brings?
With these charts as background, let's turn to how the several Presidential candidates address the power imbalance between labor and capital. (I feel kinda like Luis Tiant here; a massive and complicated windup followed by what I hope is a pinpoint pitch. Because the views of all three speakers on this topic are easy to see.
Sanders and the Kitchen Table
As Robert Scheer points out, Sanders speech falls neatly and very visibly into two parts; the first part, on oligarchy, and the second part, on Clinton. From the full text (turn your sound down to avoid the autoplay), here's the first part:
[SANDERS:] Together, my friends, we have begun a political revolution to transform America and that revolution – our revolution – continues. Election days come and go. But the struggle of the people to create a government which represents all of us and not just the 1 percent – a government based on the principles of economic, social, racial and environmental justice – that struggle continues. And I look forward to being part of that struggle with you.

This election is about ending the grotesque level of income and wealth inequality that we currently experience, the worst it has been since 1928. It is not moral, not acceptable and not sustainable that the top one-tenth of one percent now own almost as much wealth as the bottom 90 percent, or that the top 1 percent in recent years has earned 85 percent of all new income. That is unacceptable. That must change.
So far, so good. Sanders gets this exactly right; see the charts above. And now we come to Sanders' pivot to supporting Clinton in the second part of the speech:
[SANDERS:] We need leadership in this country which will improve the lives of working families, the children, the elderly, the sick and the poor. We need leadership which brings our people together and makes us stronger – not leadership which insults Latinos, Muslims, women, African-Americans and veterans – and divides us up.

By these measures, any objective observer will conclude that – based on her ideas and her leadership – Hillary Clinton must become the next president of the United States. The choice is not even close.
The contradictions are open and visible for all to see. In part one, the "struggle of the people" (bottom up). In part two, "we need leadership" (top down). In part one, the top 1% vs. the bottom 90% (class based). In part two, "the lives of working families, the children, the elderly, the sick and the poor" (class erased, replaced by the silos of Democrat identity politics). In part one's problem statement, the power imbalance between capital and labor is directly addressed; in part two, it is erased. The Sanders pivot is more than a little awkward.
Obama and the Kitchen Table
Obama's speech is a return to hope and change, but in a minor key. Here's Obama's appeal to the working class:
By so many measures [but not the kitchen table charts above] , our country is stronger and more prosperous than it was when we started. And through every victory and every setback, I've insisted that change is never easy, and never quick; that we wouldn't meet all of our challenges in one term, or one presidency, or even in one lifetime.

So, tonight, I'm here to tell you that, yes, [who?] More work to do for every American still in need of a good job or a raise, paid leave or a decent retirement; for every child who needs a sturdier ladder out of poverty or a world-class education [credentiaism]; for everyone who has not yet felt the progress of these past seven and a half years. We need to keep making our streets safer and our criminal justice system fairer — (applause) — our homeland more secure, our world more peaceful and sustainable for the next generation. (Applause.) We're not done perfecting our union, or living up to our founding creed that all of us are created equal; all of us are free in the eyes of God. (Applause.)
(I'm sorry, that's the best I can come up with.) Turning incrementalism into triumphalism is a neat rhetorical trick, and only a con man as smooth as Obama could have achieved it, or even attempted it. But let me draw your attention to one sentence:
[OBAMA:] More work to do for … .everyone who has not yet felt the progress of these past seven and a half years.
Check the charts above in "The Kitchen Table in Chart Form," and you'll see that Obama's "everyone who has not yet felt the progress" is, like, 90% of the population if you use the kitchen table metric of concrete material benefits given to working class households.
So where Sanders exposes the power imbalance between labor and capital — might even be said to enact it in the intellectual and rhetorical concessions in part two of his speech — Obama carefully erases it. He does so by pushing out the horizon for hopes to be realized ("not yet felt," not "even in one lifetime",) and minimizing our expectations for change. Look at his adjectives: "more work," "sturdier ladder," "safer," "fairer," "more secure," "more peaceful." It's like the soft inverted totalitarianism of low expectations. This after a candidate explicitly calling for (dread word) socialism — which, for those who came in late, is all about the power imbalance between labor and capital — took 45% of the Democrat vote in a grotesquely rigged primary!
Clinton and the Kitchen Table
And now we come to the Clinton's acceptance speech. (One ubiquitous phrase in press coverage of the convention was that Obama "passed the baton of hope" to Clinton. Well, if the promised "change" was all that great, why does the baton of hope need to be passed in the first place? And if we are in some kinda relay race, then how come the finish line is constantly receding? (See above at "not yet felt.") Here she is:
[CLINTON]: I've gone around our country talking to working families. And I've heard from so many of you who feel like the economy just isn't working.

Some of you are frustrated — even furious.

And you know what??? You're right.

It's not yet working the way it should.

Americans are willing to work — and work hard.

But right now, an awful lot of people feel there is less and less respect for the work they do.

And less respect for them, period.

Democrats are the party of working people.

But we haven't done a good enough job showing that we get what you're going through, and that we're going to do something about it.

So I want to tell you tonight how we will empower Americans to live better lives.

My primary mission as President will be to create more opportunity and more good jobs with rising wages right here in the United States…

From my first day in office to my last!
I'm not going to look at the Gish Gallop of minor policy fixes and shopworn slogans that Clinton emits. I am, however, amazed at the effrontery these claims by Clinton, later in the speech:
[CLINTON:] That's why we need to appoint Supreme Court justices who will get money out of politics and expand voting rights, not restrict them. And we'll pass a constitutional amendment to overturn Citizens United!
First, Obama had the chance to nominate a Supreme Court justice who would do just that; last I checked, Merrick Garland had not expressed a view on Citizens United. Second, if Democrats were serious about voting rights, they'd have voter registration as a normal party function, 24/7/365. They would also be setting up voters with IDs, in states that require them. They have done neither. Finally, in order to save the Clinton candidacy from fully justified charges of corruption, Democrats have accepted the doctrine of Citizens United, which is that the only form corruption takes is a quid pro quo (and not, say, laundering political favors through a Foundation).
But back to Clinton's primary mission. The dominance of the FIRE sector at the Democrat National Convention was overwhelming. If you think they are funding Clinton on behalf of labor, and not on their own behalf, capital, then I have a headquarters in Brooklyn I would like to sell you; I think maybe there's a kitchen table in one of the meeting rooms. But let me pull out one sentence from Clinton's speech, exactly as I did with Obama:
[CLINTON:] But we haven't done a good enough job showing that we get what you're going through, and that we're going to do something about it.
First, Clinton sees her problem with labor as a public relations problem ("we haven't done a good enough job showing"). She's airbrushing even worse than Obama, since she draws attention to the airbrushing explicitly. See the charts; we're look at policy failure (or, depending on your level of cyncism realism, policy success). Second, "we're going to do something about it." Well, where were you in the hell of the last eight years?
Conclusion
I am with Sanders that "elections come and go." Last night, a friend said to me things now remind them of flooding on the Missisippi or the Ohio, which were a regular news story in my childhood in the midwest; nightly reports of the height the water reached, the river "cresting," having reached "flood stage," and the volunteers with sandbags, and the decision about which towns to save, and which to abandon to the water. There is an enormous mass of water upstream now, and it's heading downstream, toward us, and it is not in our power to stop it. That flood will overwhelm whatever went on in both convention halls. I've seen three headlines about the Clinton speech, and they each used the phrase "Moment of Reckoning." I think that's true, but not necessarily in the way Clinton thinks. Until the power imbalance between capital and labor is addressed, I'm long sandbags.
APPENDIX I: Word Usage in the Sanders, Obama, and Clinton speeches
Figure 1: Wordle for Sanders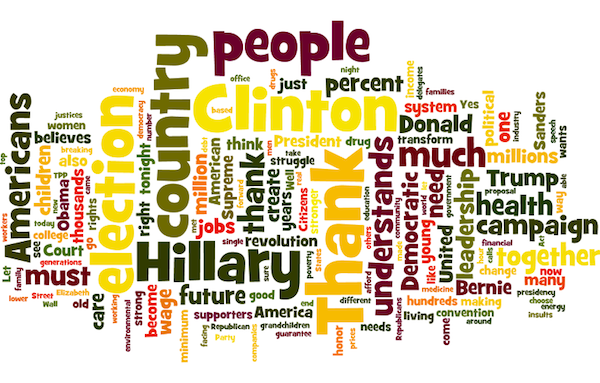 Figure 2: Wordle for Obama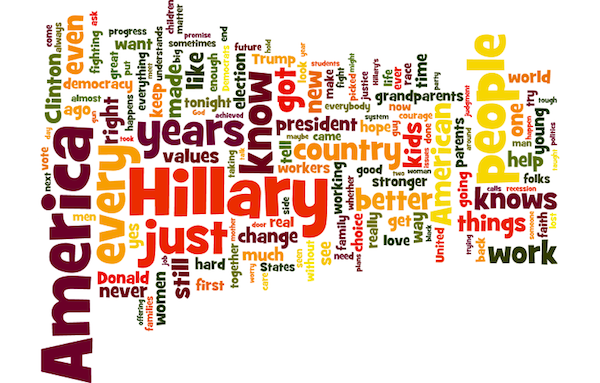 Figure 3: Wordle for Clinton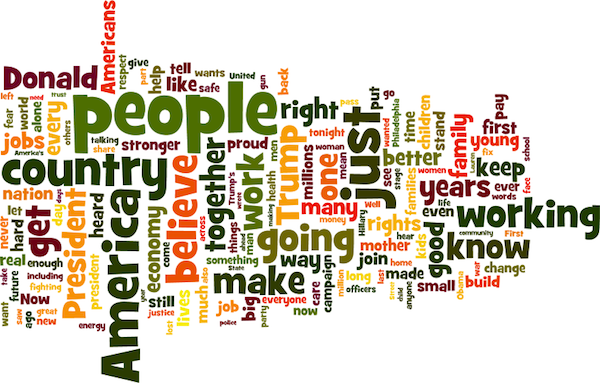 These Wordles are not all that interesting: "People," "America," and, for Obama and Sanders, "Hillary" and "Clinton." As expected for a Democrat speech. However, the Sanders wordle in Figure 1 is interesting for two reasons: First, the prominence of the word "Thanks." Amazingly, or not, Sanders is the only candidate to thank his voters for voting for him! Second, the prominence of the word "election," which shows the contradiction between Sanders "revolutionary" goals — the word "revolution," though small, is there, immediately above "Hillary" — and what the choice on offer in this "election" is.
APPENDIX II: Sanders' Role in the 2016 Election
We will have to wait for the campaign tell-alls to understand what the Sanders campaign believed its strategy was, and whether the campaign believes it was successful, or not. While it is true that reform efforts in the Democrat Party have a very poor track record, it's also true that third parties have a terrible track record. (It's worth noting that in the eight years just past, with the capitol occupations, Occupy proper, Black Lives Matter, fracking campaigns all on the boil, the Green Party was flatlined, seeminly unable to make an institutional connection with any of these popular movements. It may be that 2016 is different. It may also be that the iron law of institutions applies to the GP just as much as it does to any other party.) Therefore, "working within the Democrat Party" — which Sanders consistently said he would do; the label on the package was always there — is not, a priori, a poor strategic choice, especially if "working within" amounts to a hostile takeover followed by a management purge. And it's hard for me to recall another "working within" approach that garnered 45% of the vote, severed the youth of the party — of all identities — from the base of the ruling faction, and invented an entirely new and highly successful funding model. Jesse Jackson's Rainbow Coalition, which the dominant faction in today's Democrat Party destroyed, would be the closest parallel, and the material conditions of working people are worse today than they were in Jackson's time, and institutions generally far less likely to be perceived as legitimate. And if we consider the idea that one of Sander's strategic goals was not the office but the successful propagation of the socialist idea — as a Johnny Appleseed, rather than a happy warrior — then the campaign was a success by any measure. (That said, readers know my priors on this: I define victory in 2016 as the creation of independent entities with a left voice; an "Overton Prism," as it were, three-sided, rather than an Overton Window, two-sided. I've got some hope that this victory is on the way, because it's bigger than any election.)
With those views as background, most of the attacks on Sanders accuse him of bad faith. This was the case with the Green Party's successfully propagated "sheepdog" meme; it's also the case with the various forms of post-defeat armchair cyncism, all of which urge, that in some way Sanders succeeded by betraying his supporters in some way. (This is, I suppose, easier to accept than the idea that Sanders got a beating by an powerful political campaign with a ton of money and the virtually unanimous support of the political class.)
If Sanders had defined success as betraying his supporters, I would expect him to act and behave like a successful man. That's not the case. Here is Sanders putting Clinton's name into nomination:
It's a sad, even awful, moment, I agree, but politics ain't beanbag. While it would be irresponsible to speculate that Sanders looks so strained and unhappy because he found a horse's head in his bed ("Mrs. Clinton never asks a second favor once she's refused the first, understood?"), his body language certainly doesn't look like he's a happy man, a man who is happy with the deal he's made, or a man who has achieved success through the betrayal of others; you'd have to look at the smiling faces on the Democrat main stage for that.
And here is Sanders during Clinton's acceptance speech, while she is praising him: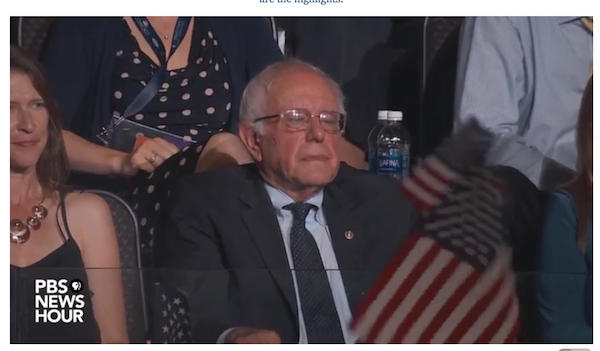 More unity like this and we are undone, Clinton might be forgiven for thinking. Again, not the face of a man who's achieved success. (If you want to see what Sanders looks like when he's happy, see Sanders and the birdie, here. Nothing like that in these photos, at all. And Sanders is a man who, if I recall correctly, didn't lose any elections after being elected Mayor of Burlington in 1981. (His previous losses were as a third-party candidate, which may account for his reluctance to try the third party route again.)
NOTES
[1] And not pissant minor fixes like bringing family leave policies more into line with world standards, assuming the Democrat proposal isn't crippled by complex eligibility requirements put in place to deny services to working people while simultaneously giving jobs to the credentialed whose duty is to separate the deserving from the undeserving.
[2] I believe that human rental (wage labor) in all its forms will one day come to be seen as just as immoral as human sale (slavery). Clearly, however, that day is not yet, and there is no abolition movement to bring the issue forward.
[3] By "labor," I don't mean the labor movement, or unions. I mean people who labor for wages. I am not implying that "labor" "identifies as" labor; indeed, it would seem that there are many obstacles to them doing so!
[4] No, labor is not all white. Tactics will vary by identity!