Regulating Endocrine-Disrupting Chemicals Could Improve the Health of the Next Generation Environmental Health News
Geek Out Over This $1.5 Million Star Trek Home Theater CEPro. I debated whether to make this Guillotine Watch, but the spending level isn't high enough to warrant inclusion.
Full Scale of Olympic Financial Disasters Revealed MIT Technology Review (rfd)
Brexit
Elite crew to steer City through Brexit Financial Times. Ugh.

Why Britain's Path to Free Trade Won't Be Smooth Wall Street Journal. Important.

Why France is unlikely to spoil the Brexit party Politico. I hate to be tacky, but see picture. Out of curiousity, is May particularly tall, Hollande particularly short, or does May have a thing for super high heels?
Visegrad urge post-Brexit EU reform Financial Times
Italy's bail-in conundrum Politco. By a writer at Bruegel we've cross posted occasionally. Has some detail I have not seen before on junior bondholder exposures. Also appears to have been written before Draghi gave support for the idea of a waiver of the BRRD rules
How Trichet threatened to cut Greece off ekathimerini (TF). Important.
Swedish Women Urged to Wear Headscarf – Or Be Raped Sputnik (Swedish Lex). I've heard stories less extreme than this from France, of non-Muslim women being told to wear headscarves.
France at War New York Review of Books (resilc)
China?
Why China's Trapped Economy Won't Find Easy Escape Wall Street Journal

Here's a controversial idea about China's economy that no one wants to hear Business Insider
Goldman under spotlight in 1MDB complaint Financial Times. Couldn't happen to a nicer bunch.
Ukraine/Russia
US LIFTS KREMLIN CAPITAL BLOCKADE – SOVCOMFLOT FLOATS $750 MILLION BOND, US BANKS SUBMERGE TIMCHENKO TAKEOVER RISK John Helmer

Russia and Turkey's Rapprochement Foreign Affairs (furzy)
Turkey
Syraqistan
As Anti-ISIS Forces Close In on Mosul, Coalition Leaders Focus on What's Next Defense One (resilc)
Big Brother is Watching You Watch
Edward Snowden's New Research Aims to Keep Smartphones From Betraying Their Owners Reader Supported News (furzy)

Facebook's Giant Internet-Beaming Drone Finally Takes Flight Wired (resilc)

Spotify is now selling your information to advertisers engadget
Trade Traitors
Battle lines harden in push for services deal Politco. TISA is in doubt.
2016
Spend, spend, spend! Clinton campaign puts million into advertising that's had a mixed effect on her standing against Trump in the polls Daily Mail (Li)

Labor Clinton Rust Belt Bloomberg. Resilc: "Versus free trade Clintons."

Good as Goldman: Hillary and Wall Street Counterpunch

US election: Donald Trump promises a 'safer' America BBC

Republicans rip Trump over NATO plan Politico (furzy)

Money Talks: Trump Does a U-Turn on Israel Counterpunch

Donald Trump's New York Times interview reveals a dangerously lazy mind at work Vox (resilc)

'I was looking at the next president of the United States': the verdict on Trump's speech Guardian

Donald Trump gave Bernie Sanders a shout-out in his RNC speech, and Sanders was not amused Vox (resilc)

Trump ascends at Republican convention: As it happened Financial Times. Liveblog with lots of tweets. Interesting to see how upset the punditocracy is at how downbeat The Donald's message is. Scaring people for 15 years warnings about terrorists under every bed, increasingly aggressive policing and surveillance (independent of actual crime risk), lousy wage growth, high under-employment, and short job tenures will do that.

Trump's RNC speech was an exercise in fearmongering. But he's not entirely wrong on crime. Slate

Peter Thiel: I Miss the Days of Strong, Daring Federal Spending Intercept (resilc)

Is Donald Trump So Popular Because of How He Talks? A Linguistics Explainer Motherboard (resilc)

How Trump's Supporters Understand His National Security Views Defense One (resilc)

Trump takes heat from NATO officials for interview comments Fox (furzy)
Roger Ailes to leave Fox News immediately Financial Times
Aetna-Humana Merger: Aetna CEO Mark Bertolini Vows To Continue Merger And Fight Justice Department Lawsuit David Sirota, International Business Times
In Dallas & Baton Rouge, Media Ignores That Veterans Pulled the Trigger Reader Supported News (furzy)
Young Black Protesters Blockade Police Facilities Across the Country Truthout. Maybe Lambert, who follows Black Lives Matter on Twitter, will have more details in Water Cooler tomorrow, but (predictably), I see nada in the MSM.
Oil Rally Hopes Crushed As Inventories Hit All-Time High OilPrice
CalPERS … Private Equity … and the Quest to Be Governor CityWatch. Note that Marcie Frost will not start as the new CalPERS CEO until October.
Pointing a Finger at the Fed in the Lehman Disaster New York Times. Consistent with what we wrote in 2008, but good to have it confirmed. Hank Paulson made it clear there would be no more bailouts on his watch after Bear. And then he quickly backtracked after Lehman.
Central Bank Faustian Pacts Blonde Money (Scott). Today's must read.
Class Warfare
Amazon wants to sell you everything, including student loans Quartz

Amazon Prime's Newest Perk: Discounted Student Loans Fortune (resilc)
Antidote du jour:
Good morning. I'm Hunter, and this photo is of our sweet girl, Reagan. She passed away on Monday after a battle with cancer. I would be thrilled if you memorialized her in your antidote. I think this photo captures her spirit perfectly. Thanks for the consideration. Here's me eulogizing – you can use whatever you see fit:

This is Reagan, and we let her cross the rainbow bridge Monday. We rescued her five short years ago from a shelter in AL after a severe tornado decimated the area. The shelter said that she was found with a whole litter of brothers abandoned in a parking lot. She was the only one left unadopted, and our hearts melted. My wife and I were only dating at the time, still in college, and learning how to grow. She was both of our first real dependent that we had sole responsibility for. Our sweet Reagan girl taught us so much about selflessness, unconditional love, and how we could care for others (human and canine). She helped us realize our true love of dogs, and we have since rescued two more and saved/placed several others. Most importantly, I believe that she was placed into our lives to prepare us for raising children. She fought the disease for a year or so – about 8 months post-diagnosis. Unfortunately, her symptoms were hidden, and she was wrongly diagnosed until the cancer had spread inoperably into her lungs. She fought bravely and with incredible dignity – never showing any signs of real pain until the end. Ultimately, she let us know that she was ready over the weekend, and we said a very tearful goodbye on Monday. Although I am happy that she has been released from this horrible disease, I don't know what to do about this hole in my heart. She was so special to me, and I can't stop imagining our fun times together everywhere I go. I've barely stopped crying since Monday. We miss her so much, but I'm glad that I have a place to memorialize her and share her story. Run free, sweet girl. Thank you for making us better people, and I hope we can be together again.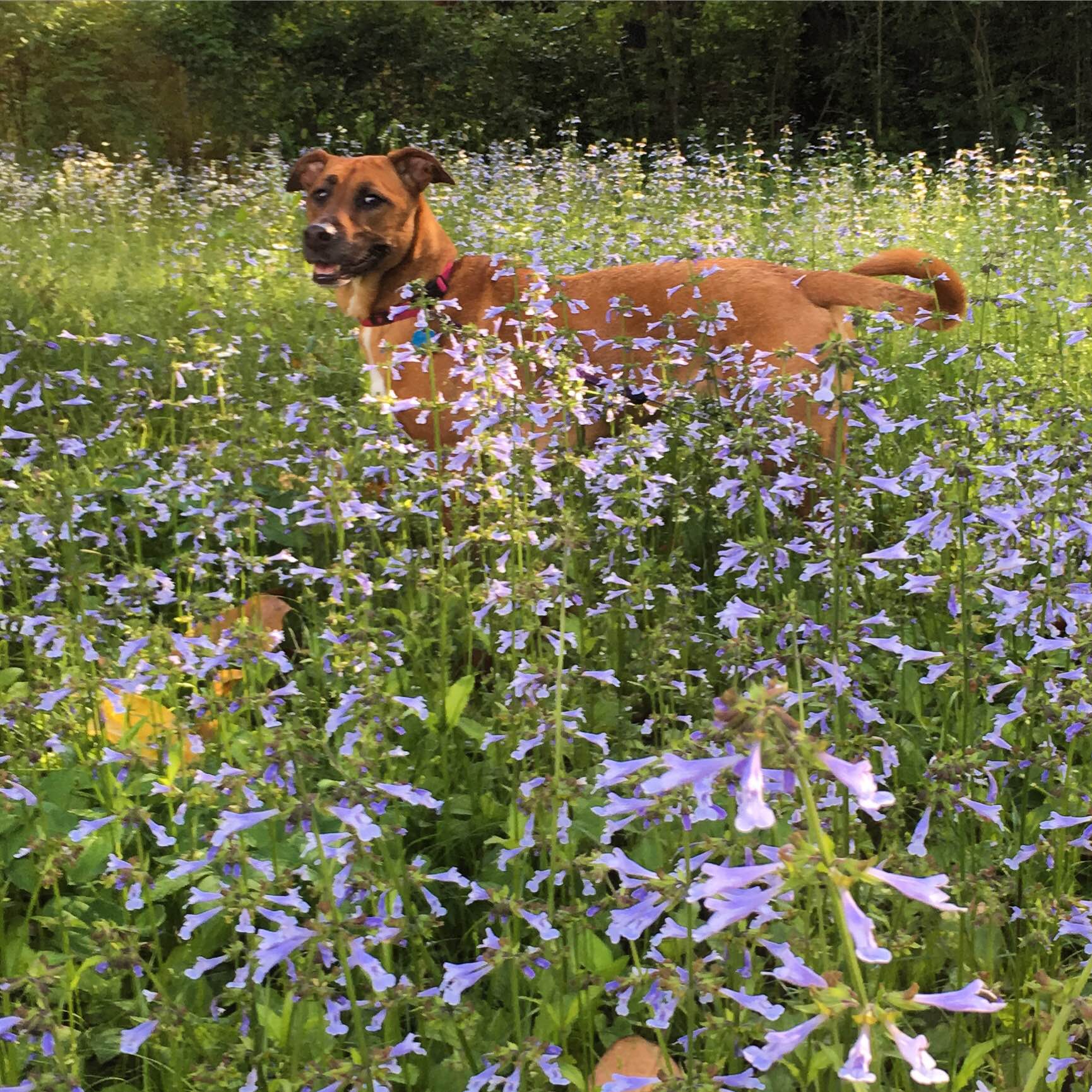 See yesterday's Links and Antidote du Jour here.