Lambert here: Readers, we're saving our strength for Philly, and so you got two cross-posts tonight, and no original posts. As a partial make-good, you get an extra ration of links.
The Healing Power of Venom WSJ
Updated: Thousands of bees surround truck on Geary Street in San Francisco San Francisco Chronicle (MB).
Justice Department Charges Three in $1 Billion Medicare Fraud Scheme in Florida WSJ. Banksters next?
Billion-Dollar Video-Game-Streaming Industry Has Its First Big Payola Scandal New York Magazine
Feds shut down tech support scammers, freeze assets ComputerWorld
Civil unrest joining weather as common, if ambiguous, explanation for financial results MarketWatch
Eastern Hemisphere's All-Time Temperature Record: Kuwait Fries in 54°C (129.2°F) Heat Weather Underground
What You Need to Know About the World's Water Wars National Geographic
Brexit
Germany and the Baltic Sea Maritime Security Review
America Keeps Lethal Nukes All Over Europe for No Good Reason The National Interest
Middle Ages in Greece: More than 120,000 employees get paid less than 100 euros per month! Unbalanced Evolution of Homo Sapiens
China?
Impact of Brexit dominates G20 meeting in Chengdu FT

China's growth sucks in more debt bucks for less bang Reuters

The South China Sea Is Really a Fishery Dispute The Diplomat
Syraqistan
2016
Donald Trump's Convention speech dissected FT. Well-worth a read. Conclusion: "The speech gives us – at least stylistically — a new Trump, and one that his opponents will have cause to fear." I agree.

Trump's Appetite for Destruction: How Disastrous Convention Doomed GOP Matt Taibbi, Rolling Stone

Party of Rage NYRB. Well, part of Trump's coalition is experiencing an AIDS-level die-off with no help, or even attention, from the political class. So there's that.

I'll just leave this here:

.@timkaine is as decent, honorable, selfless soul as you will ever meet. A man with the heart of a servant, who is "woke". @HillaryClinton

— Jennifer Granholm (@JenGranholm) July 23, 2016

Listen To Tim Kaine's "I'm Conservative" Radio Ads From 2005 BuzzFeed. Every one of the links below (well, except one) shows why Kaine is a great choice if Clinton's goal is to win Republican votes and kick the left (which also wins Republican votes, besides being fun and entertaining, which is a justification in itself).

Fiscal Heroes 2014 Fix the Debt. Tim Kaine (D-VA). Grand Bargain, here we come!

On Death Penalty Cases, Tim Kaine Revealed Inner Conflict NYT. And then he executed the guy, who "never learned to tie his shoes" (and who was, although the story, oddly, or not, does not use the word, black). So Kaine and Bill Clinton share a bond.

Tim Kaine Has a Troubling Record on Labor Issues The Nation. If you consider TPP a labor issue, instead of a national sovereignty issue.

Kaine's crime-busting past may hurt Clinton's outreach to blacks Reuters. "Kaine's backing of Project Exile also makes him odd bedfellows with Trump, who has made law and order a central theme of his candidacy. Trump has called for the program's revival and his campaign website said it was 'tremendous.'" But black voters have no place to go; having served as a firewall, their usefulness to Clinton is at an end.

Tim Kaine for VP is the Ultimate Symbol of the End of White Male Politics J. Winthrop Whitington IV, Medium

Clinton's VP Pick Scott Adams' Blog (ewmayer).

DNC Staffers Mocked the Bernie Sanders Campaign, Leaked Emails Show The Intercept. The headline is milder than the behavior described, which includes assiduously propagating Jon Ralston's fake story on chair-throwing in Nevada.

"Hillary should fire Debbie Wasserman Schultz." Robert Reich, Facebook. The Kossacks work for the Czarina….

DNC chair won't speak at Dem convention following Wikileaks fallout CNN

Democrats vote to bind most superdelegates to state primary results WaPo

Democrats, Looking Past Obama, Are a Party Without a Cause NYT

Clinton's Long Shadow Jacobin. From May, but still a good read. There's a reason the Clinton campaign never talks about Haiti.

Trump & Putin. Yes, It's Really a Thing Talking Points Memo. It took awhile for it to dawn on me, but Marshall, Democrat apparatchik, is helping Clinton appeal to Republicans by adopting classic Republican messaging:

Joe McCarthy: "I have here in my hand a list of 205 that were made known…." The Russians are coming! The Russians are coming! Look under your beds! worked great with Republicans in the 50s, and no doubt the Clinton campaign thinks it will work for them, as they appeal to the Republicans of today. Really, it's just another form of virtue signaling and frankly, the most amazing pivot to the general I've ever seen. And of course, the Two Minutes Hate for Putin is a two-fer.

Staying Home: Many Democratic Senate Hopefuls Are Skipping Philadelphia WSJ
A Setback for Justice US News. Lynch renews asset forfeiture program.
How President Obama failed Black Lives Matter WaPo. Who could have seen that one coming?
Class Warfare
The Italian Region Where Co-ops Produce a Third of Its GDP Truthout
Instead of asking, "are robots becoming more human?" we need to ask "are humans becoming more robotic?" Quartz
Japanese 'rent men' who are paid just to listen Yahoo
Antidote du jour (AM):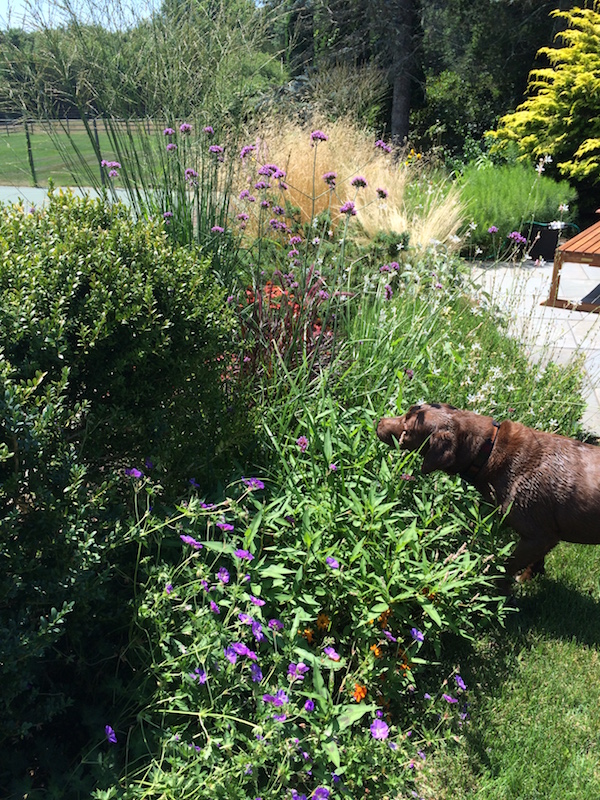 AM writes: "Charlotte, a chocolate lab, helping to weed my mother-in-law's garden in Rehoboth, MA."
See yesterday's Links and Antidote du Jour here.