By Richard Smith of Naked Capitalism, Gareth Vaughan & Denise McNabb
The words "Mossack Fonseca" are now infamous.
The Panamanian law firm that incorporates companies and trusts is at the centre of the so-called Panama Papers. Millions of files were leaked (or hacked) from its database and given to German newspaper Suddeutsche Zeitung, and from there to the International Consortium of Investigative Journalists. Here's Mossack Fonseca's response to the Panama Papers.
In New Zealand, journalists from Radio NZ, TVNZ, along with Nicky Hager, were eventually given access to the Panama Papers. From them, and via reports from Australia, Malta and the US, we heard about the use of NZ companies and NZ foreign trusts, in ways that simply don't paint NZ in a good light.
But Mossack Fonseca is just one of dozens, if not hundreds, of fast moving global firms arranging NZ company, trust and financial service provider registration for clients scattered all around the world.
In 2012 the NZ Cabinet was told that the Companies Office monitored 77 trust and company service providers who had created many of 1,200 companies categorized as "high risk" by the Companies Office.
The Ministry of Business, Innovation & Employment (MBIE), under whose umbrella the Companies Office is located, won't name the 77. Doing so, MBIE says, would "be likely to prejudice the maintenance of the law, including the prevention, investigation, and detection of offences, and the right to a fair trial."
MBIE does say, however, that the Companies Office continues to monitor trust and company service providers, "some of which are required to provide additional verification documents when they file certain documents."
Global coverage 
Our map below includes the names and websites of an array of New Zealand Offshore Company Agents, based all around the world. All of them promote NZ vehicles, including companies, trusts, financial service providers and look-through companies. Some also offer onshore office and mail forwarding services.
We are not saying they have all helped register NZ companies or other entities that have then engaged in illegal activity. We are saying that their ability to assist clients to engage in regulatory arbitrage across jurisdictions is a major headache, not just for NZ regulators, but internationally.
We have provided just one location for each agent, to simplify use of the map, although many of them have a presence in several jurisdictions. Hovering your mouse over the dots on the map will bring up the agents' names and links to their websites.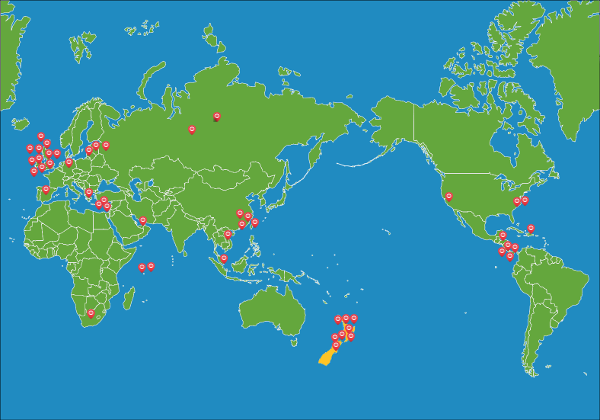 Turning the clock back
In September 2011, the NZ Ministry for Economic Development (since superseded by MBIE) issued a discussion paper about reforms to company registration. Here are the unwelcome symptoms:
There is evidence that individuals and groups (particularly offshore interests) are misusing the New Zealand company incorporation process and consequently threatening the international reputation of New Zealand. One recent case to receive significant publicity, both in New Zealand and internationally, is that of SP Trading Limited, where a New Zealand-incorporated company controlled from overseas was involved in chartering a plane later used in weapons trafficking in contravention of United Nations sanctions. High profile or repeated instances of foreign-controlled New Zealand companies engaging in criminal activities overseas is likely to seriously impact New Zealand's international standing.
Here's the diagnosis:
The particular phenomena that sit behind these concerns relating to New Zealand's company registration system are:

A] The unprecedented promotion of New Zealand-incorporated companies to wholly overseas interests by New Zealand and overseas company formation agents and brokers; and

B] The ability of persons based overseas to register companies in New Zealand via the internet, with no apparent intention of operating in New Zealand.
And here's the proposed cure:
Officials in the Ministry of Justice are currently considering substantive reform in the context of Anti-Money Laundering (AML) reforms and in connection with New Zealand's evaluation by the Financial Action Task Force (FATF) report, to which New Zealand must respond by October 2011. In the present context, one of the significant proposed reforms is to bring company formation agents within the scope of AML legislation. This will require them to be supervised and to undertake due diligence on their customers.
Those reforms were duly introduced by adding company agents to the list of reporting entities in the Anti-Money Laundering and Countering Financing of Terrorism Act (an overview is here). However, it's one thing to make a trust and company service provider based in Auckland or Nelson a reporting entity under AML laws, but what about those operating in overseas jurisdictions, especially those able to find a friendly NZ resident to assist them with registrations in NZ?
High stakes
Did the reforms work? Certainly, the Companies Office's almost total demolition of two large rogue incorporation franchises, GT Group and The Company Net, which took place between 2008 and 2011, does seem to have put the brakes on the NZ shell co business. GT Group and The Company Net fronted for a variety of dubious international agents and their even more dubious clients.
Isolated slip-ups by the Companies Office emphasize the stakes: here's a 2014 story about a GT Group company that, because of an oversight, didn't get wiped off the register, at a cost to someone, somewhere in the former Soviet Union, of $600 million.
More recently there's also Fennas Finance Ltd, which helped a shady offshore entity use an ANZ bank account as a Ponzi scheme depository.
But the reforms, which include the Companies Amendment Act 2014 covered in our previous story, have certainly not snuffed out all the problems.
The continuing "ability of persons based overseas to register companies in New Zealand via the internet, with no apparent intention of operating in New Zealand", continues to be evidenced by the never ending saga of offshore NZ financial services providers.
The evidence is live 
If you want evidence of the continuing "promotion of New Zealand-incorporated companies to wholly overseas interests by New Zealand and overseas company formation agents and brokers", look at our map to see the offerings on live websites.
TBA & Associates, formerly Atrium Incorporators, is among the more intriguing ones. The identity theft used for what was purported to be Atrium's executive team is detailed here. Euro Forex, an infamous company associated with Atrium, used the same trick, as detailed here.
Elsewhere, Israeli firm Archer wasn't going to let its geographical location on the other side of the world prevent it from getting international clients' NZ financial service providers.
Archer teamed up with the Napier-based Acura Business Solutions Ltd , now Game Plan Ltd, to get NZ financial service providers registered for companies with directors and shareholders scattered among the likes of Turkey, Kuwait, China, Russia, India, England, Egypt, Malaysia and Cyprus. The Financial Markets Authority, however, wasn't impressed. 
Then there's International Overseas Services and Latvian Erik Vanagels, who have weaved quite a web around the world with NZ featuring prominently.
Other jurisdictions certainly have their problems too. The aggressive online marketing of Sovereign Management and Legal, who promote a multitude of secrecy vehicles, including NZ "offshore" FSPs and NZ Trusts, apparently proved so successful that the US Internal Revenue Service and prosecutors noticed, filing a court petition in New York to get records of Sovereign's customers from HSBC, as well as from delivery and money wire transfer services including the Federal Reserve Bank of New York.
Here's what three of the offshore agents say about NZ. Firstly, TBA & Associates;
One of the major advantages of utilising New Zealand companies is that New Zealand is a full member of the Organisation for Economic Co-operation and Development (O.E.C.D) and is not considered as a harmful tax jurisdiction.

If properly structured, a New Zealand resident company can operate as a tax free international business company. There is great flexibility in the incorporation and management of a New Zealand Company. It has no capital requirements and has a simple and fast incorporation procedure.
And here's Adriatic Securities VIP Consultants;
Vipconsultant can help you register OFC which can operate like online bank. Your New Zealand offshore financial company can provide commercial and private banking services with very little or no restrictions to a worldwide customer base except residents of New Zealand. Your New Zealand offshore finance company can offer the same services as any fully licensed bank, however the word "bank" or any word related to banking cannot be used in the entity name, alternatives such as "Credit Union" and/or "Savings & Loan" and/or "Trust" are often used. New Zealand offshore finance company (OFC) can offer the following services and do the following activities:

o take deposits

o issue debit and credit cards

o make loans

o issue financial guarantee and other financial instruments

o offer current and checking account to persons and companies

o offer cash management services

o open saving accounts and term deposits and certificates of deposits

o process transactions for clients (wire transfers) o process payments for clients o manage clients money and make investments

When you register OFC in New Zealand there is no paid up capital required. Offshore private banks need reserve from $1 million to $30 million dollars prior to being licensed. Your New Zealand OFC does not have a capital reserve requirement.

Shareholders and Directors of New Zealand offshore finance company (OFC) can be of any nationality and reside anywhere in the world. There is only one Shareholder and one Director needed for incorporation which can be the same person.
And AG Paphitis;
New Zealand FSP registration is now strongly recommended by our Firm for a number of reasons. Low cost, no capital requirements, no income tax (subject to advance planning), fast process (up to four weeks) and professional regulatory authorities places New Zealand FSPRs to the top of the range for reputable Forex registration.
For a flavour of the bargain-basement marketing typical of these sites, here is what Zealand Financial's website looks like.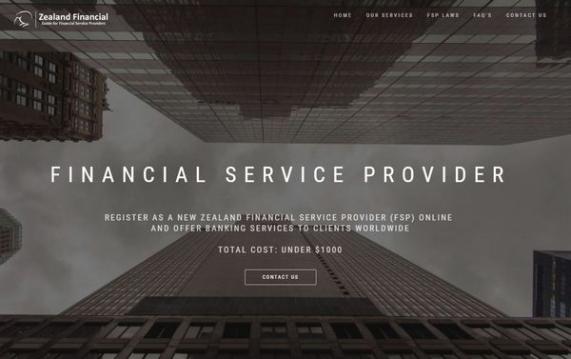 Companies Office doesn't have arrangements with overseas counterparts to monitor offshore-based trust & company service providers
We asked MBIE a series of questions about how the Companies Office cooperates with its counterparts from other countries, if and how it has oversight of trust and company service providers located overseas, and what it can do about any anti-money laundering concerns that may stem through such entities. MBIE turned the questions into an Official Information Act request, and then provided answers two weeks later.
An MBIE spokesman confirmed the Companies Office does not have any oversight of trust and company service providers based offshore, saying "these entities are only subject to New Zealand laws to the extent of the activities they conduct in New Zealand." He also said AML/CFT Act requirements are the responsibility of the Department of Internal Affairs rather than the Companies Office.
And, the MBIE spokesman said, the Companies Office does not have arrangements with overseas registration authorities to monitor overseas based trust and company service providers.
"However, as a result of amendments to section 365 of the Companies Act 1993 in 2015, the Registrar of Companies has increased powers of inspection to require, for example, confirmation of information provided to the [Companies] Registrar."
NZ is a member of three international organisations for business registration authorities (such as NZ Companies Office): the Corporate Registers Forum, the International Association of Corporation Administrators, and the European Commerce Registers' Forum.
A case study on NZ from the International Business Registers Report 2016 notes NZ was ranked first out of 189 economies for starting a business in the 2016 World Bank Doing Business report, and ranked second for overall ease of doing business. However, it notes a business friendly and trustworthy international reputation, with corruption "rare" in the NZ corporate environment, has made the country an attractive place for overseas interests to form companies to use for criminal activities.
The case study describes the Companies Amendment Act 2014 as a "significant step forward" in the prevention of the misuse of NZ companies and ensuring the integrity of information on the Companies Register. And it says "intelligence sources" the Companies Office mines include networking with other agencies and jurisdictions, and the perusing of media including social media, help improve data integrity.
OECD criticism
In 2013 the OECD outlined criticism of the oversight of NZ companies in a report on implementing the OECD Anti-Bribery Convention in NZ. The OECD pointed out cases had emerged where shell companies were being established in NZ as a conduit for illegal activity, with NZ companies reported as being fronts for international laundering of drug money, fraud and terrorism.
Given the ease with which shell companies may be created in New Zealand and the role these companies may potentially play – and have played – in transnational crime, the availability of an effective corporate liability regime in New Zealand is particularly crucial. The serious deficiencies of the current corporate liability regime and/or of the possibility for New Zealand to exercise jurisdiction over these companies creates a serious loophole in the joint effort of the Parties to the Convention [on Combating Bribery of Foreign Public Officials in International Business Transactions] to fight transnational bribery. This issue has become of particular relevance to foreign bribery with the Technology Company Case, currently on-going in another State Party to the Convention, and which allegedly involves foreign bribe payments made through New Zealand shell companies.
"The Technology Company Case" involves allegations that the senior management of a non-NZ company routed foreign bribe payments to public officials of another country through a network of shell companies, including in NZ. The OECD noted the Serious Fraud Office had not investigated the allegations, because there was no information available on who might be behind the shell company!
Meanwhile, the OECD also suggested the Companies and Limited Partnerships Amendment Act, designed in part to crackdown on illegal activity by NZ companies overseas, didn't go far enough. The Act, passed in 2014, means all companies are required to have at least one director resident in NZ or Australia to provide an identifiable individual with a substantive connection to the company who can be questioned, and if necessary, held to account.
"While the Bill [Act] addresses the issue of the nominee directors, it does not directly address the issue of the liability of the shell companies themselves and the liability of their corporate beneficial owners," the OECD pointed out. There's more on these issues from Ron Pol, here.
Where does the buck stop? 
It's not just NZ companies and financial service providers that are promoted overseas: Limited partnerships, foreign trusts and look through companies appear as well. Both limited partnerships and foreign trusts are now showing up in coverage of fraud and corruption stories, for instance here, here and here.
This all raises obvious questions for the current anti-money laundering regime. First, does it seem at all sensible to control local company agents, while exercising no control whatsoever over the activities of overseas agents? Second, does MBIE have any idea if any of these overseas agents are reporting entities under anti-money laundering laws in their home jurisdictions? And then, if it turns out they're not regulated anywhere, whose job is it to protect NZ's good name by attempting to introduce the appropriate controls?
Thanks to Faiz Dholkawala for all his hard work on our maps!