By Lambert Strether of Corrente.
TPP/TTIP/TISA
"The White House put Congress on notice Friday morning that it will be sending lawmakers a bill to implement President Barack Obama's landmark Trans-Pacific Partnership agreement — a move intended to infuse new energy into efforts to ratify the flat-lining trade pact." [Politico]. Friday morning, oddly enough. "[But the deal is going nowhere until the White House addresses a number of concerns lawmakers have raised… [S]atisfying the concerns of Senate Finance Committee Chairman Orrin Hatch (R-Utah) and other lawmakers about protections for a new class of drugs known as biologics. They say the pact provides too short a monopoly period for rights to research and development data. Other lawmakers have complained the deal would bar tobacco companies from seeking redress through investor-state dispute arbitrage for damages resulting from country regulations. Still others are seeking assurances that member countries will abide by their commitments to provide access for U.S. pork and dairy exports." This is just horse-trading. If a President Clinton corrals Big Labor, giving just enough Democrats cover to vote for it, it's a done deal.
From the Department of I See What You Did There: "Attention, Bernie Sanders supporters: Hillary Clinton wants you to know she does NOT support President Obama's Trans-Pacific Partnership trade deal. Not now, not ever." So, relax! We're on your side! [Amber Phillips, WaPo]. "'My message to every worker in Michigan and across America is this. I will stop any trade deal , including the Trans-Pacific Partnership,' she said in an economic speech outside Detroit on Thursday. 'I'll oppose it now, I'll oppose it after the election and I'll oppose it as president.' That's about as clear as it gets." It is, but not in the way Phillips thinks. Clinton's lawyerly parsing (helpfully underlined) opens the door for Big Labor to deal (and, naturally, sell out its members, but then you knew that).
"If we can beat the Saudi arms deal in the House, it will be a sharp, fresh indication that the House doesn't care about geopolitical US leadership blah blah very much. Most Americans don't care about Saudi Arabia or Yemen very much. So, if we can beat the US leadership geopolitical blah blah argument in the House on Saudi-Yemen, which most Americans don't care about, why would anyone think the House should care about a US leadership geopolitical blah blah argument in the case of the TPP, where there is a real domestic political cost to supporting the TPP in terms of engaged public opinion" [Common Dreams]. "If we beat Obama in the House on the Saudi arms sale, the most likely way we win is like the cluster bomb vote: almost all Democrats and 40-50 Republicans. In other words, in rough measure, a lot like a House TPP vote." True, all that does is send a message. But it's not a bad message.
2016
Corruption
"Handwritten ledgers show $12.7 million in undisclosed cash payments designated for Mr. Manafort from (Viktor) Yanukovych's pro-Russian political party from 2007 to 2012" [WaPo].

"Among the high-profile lobbyists registered to represent organizations backing Ukrainian President Viktor Yanukovich's government are prominent Democratic lobbyist Anthony Podesta and former Republican congressional leaders Vin Weber and Billy Tauzin" [Reuters].

"An area of ongoing scrutiny of the relationship between the [Clinton Foundation] and State is the appointment of a millionaire Clinton Foundation donor named Rajiv Fernando to the department's International Security Advisory Board. Fernando, a securities trader from Chicago, did not have a national security background" [Politico]. "Asked by [FOX interview Chris] Wallace about Fernando's appointment, McCaskill responded, 'I'm not sure that was a good idea. … I don't know why he was appointed.'" Why not? Because you're an innocent child of six? Showing how this works, those are the last paragraphs of the story, whose headline is: "Claire McCaskill: Trump and Putin are the founders of the Islamic State."

UPDATE "As we watch the Republican Party tear itself to shreds over Donald Trump, perhaps it's time to take note of another conservative political phenomenon that the GOP nominee has utterly eclipsed: the Tea Party. The Tea Party movement is pretty much dead now, but it didn't die a natural death. It was murdered—and it was an inside job. In a half decade, the spontaneous uprising that shook official Washington degenerated into a form of pyramid scheme that transferred tens of millions of dollars from rural, poorer Southerners and Midwesterners to bicoastal political operatives" [Politico]. And I bet they know it, too.
Policy
"When she speaks about poverty and inequality on the campaign trail, Hillary Clinton often mentions one plan that stands out in its simplicity: Rep. Jim Clyburn's '10-20-30′ formula" [McClatchy]. "The concept championed by the South Carolina Democrat is simple: steering 10 percent of federal investments to neighborhoods where 20 percent of the population has been living below the poverty line for 30 years… Although Clinton tends to bring it up when speaking to African-American audiences, Clyburn is emphatic that the power of the formula approach is that it is impartial. Some poverty initiatives direct their funds based on proposals and panels that evaluate a slew of different criteria, he said, and the sophistication of the system can pass over the poorest communities if they are not politically relevant or lack strong advocates. Not so with the 10-20-30 plan." Since Clyburn is a member of the Congressional Black Caucus, the epitome of the Black Misleadership class, I'd take anything he says with a dose of salts. Still, the 10-20-20 plan is a non uninteresting palliative.

"What The Mainstream Media's Missing: Clinton's Economic Plans Are The Most Ambitious Since WWII" [Joe Conason, The National Memo].

UPDATE "As secretary of state, Clinton recommended a plan to more aggressively arm the Syrian rebels fighting the Assad regime, a policy that Obama was late to and has never fully embraced. Prior to departing the State Department, Clinton called for a much more assertive response towards Russian belligerence. When Vice President Joe Biden was toying with the possibility of jumping into the 2016 race, Clinton boasted her recommendation for a special forces operation to kill or capture Bin Laden in his compound in Abbottabad, Pakistan, whereas Biden recommended the less risky choice of aerial bombing. Both Clinton and then U.N. Ambassador Susan Rice pressed Obama to use force against the Gaddafi regime in Libya to protect civilians. Republicans who favor a more assertive approach to national security, and critical of Obama's approach, could find an accommodating home in a Hillary Clinton White House" [War on the Rocks].

UPDATE "Why the Next President Should Forgive All Student Loans" [Leon Bostein, Time]. "By forgiving student loan debt—which is largely held by the government—a tremendous economic stimulus would be generated, whose beneficiaries are people, not banks." But military Keynesianism would benefit both people and banks (assuming the war stays nice and controlled). So it's a two-fer, far preferable. That said, it's remarkable to see a Debt Jubilee mainstreamed, though Botstein foolishly puts forward a new debt scheme, instead of advocating for free public college.
Our Famously Free Press
"Ivanka Trump Socializes with Old Friend Wendi Deng, Putin Rumors Intensify" [Snopes] (People story). I think Democrats concluded that the problem with the Republican Mighty Wurlitzer was not that it was a mighty engine of propaganda, but that there was no Democrat Mighty Wurlitzer. Now they have one. And they've lost their minds.
The Voters
"If this were an ordinary election, the smart money would be on the race tightening down the stretch run, and coming more into line with economic 'fundamentals' that suggest the election ought to be close. Since this is how the polls-plus model 'thinks,' it projects Clinton to win by around 4 points, about the margin by which Obama beat Mitt Romney in 2012 — a solid victory but a long way from a landslide" [Nate Silver, FiveThirtyEight]. Of course, if you believe in a Clinton landslide, you also believe that people should be free to "vote their conscience." Right?

"[T]he survey shows Clinton trouncing Trump 56%-20% among those under 35, though she has failed so far to generate the levels of enthusiasm Sanders did — and the high turn-out that can signal — among Millennials" [USA Today].
The Parties
"A collection of Republican donors and operatives loosely organized around several super PACs decided this summer to adopt newly aggressive tactics against GOP 'obstructionists' — or as John Hart, a former aide to ex-Sen. Tom Coburn, calls them: 'Rebels In Name Only' — after years of growing tea-party influence in Republican primaries and the halls of Congress" [Politico].
Swing States
"Hillary Clinton and her third-party rivals Gary Johnson and Jill Stein are expected to benefit the most in Arizona, Maine and Nevada from initiatives that would legalize the recreational use of marijuana. Donald Trump and Republicans are counting on the National Rifle Association's heavy spending to defeat ballot measures that seek mandatory background checks for gun purchases this fall in two of those states — Nevada and Maine" [Politico]. I'd say this was a wash in Maine, except in the Second District (which gets its own electoral vote) you can already recreate however you want out in your camp, and that's also where you want your gun.

"So it's probably worth noting that Trump is consistently underperforming his national numbers in polls of Pennsylvania, and that he's consistently outperforming his national numbers in Florida" [The American Conservative].
Realignment
Our Revolution to launch August 24 [Bustle]. Very notably, Sanders is not waiting until November 9 to fire the starting gun for the 2020 Democrat primary (well, a man can dream). "With Our Revolution, Sanders will attempt to propel the progressive movement forward by disseminating information and transforming leadership at all levels of government. The effort will require substantial volunteer participation and financial support from working class Americans, two factors that raised Sanders' presidential primary campaign to the unexpected height it achieved."

"Hostility oozed from South Florida TV screens Sunday morning as Tim Canova and Debbie Wasserman Schultz faced off in their first, and likely only, debate before the Aug. 30 Democratic congressional primary" [Sun Suntinel]. Sunday morning? Who scheduled that debate?

Put down your coffee [Wall Street Journal, "Democrats Brace for More Leaks From Hackers"] I am so sick of the rotten sourcing on these "stories." See the helpful underlining:

Two websites created in recent months and whose operators are believed to [note lack of agency] have ties to the Russian government now serve as portals for leaking sensitive and at times embarrassing information about the Democratic Party and its supporters.

[not all? and hired by whom?] in Congress both websites—the Guccifer 2.0 WordPress page and DCLeaks.com—have ties to Russian intelligence services and that the sites are using hacked information to try to influence the November elections.

.

So, three paragraphs down and we don't know anything. Now, I accept that in an election year the political class hooks up a drip feed to the bloodstream of the American body politic. But the protocol has changed. Back in the day, the bullshit in the feed bag was diluted in some way; say, by reporting as opposed to stenography. But now the bullshit is pure. Even the Wall Street Journal just writes up the oppo. And interestly, it's Democrat oppo, which is why I'm filing this under Realignment.

UPDATE Here's another one: "As such, the year-long hack of the DNC — discovered in mid-June and traced back to Russian military intelligence by the cybersecurity firm CrowdStrike — the archetypal "active measure" [disinformation campaign] described by [Michael Weiss, a senior editor at The Daily Beast], adapted to modern technology to have maximum impact" (helpfully underlined) [Business Insider]. Not that I'm foily, but when the only people willing to go on the record are consultants hired by the Democrats, and when Chelsea Clinton's on the board of the parent company of the Daily Beast, my spidey sense twitches. Anyhow, what's the issue? That David Brock hires American?

"Asked if Clinton, the Democratic presidential nominee, has arranged a 'backroom' alliance with the Bush family in order to attract the former presidents' aides and officials, Carville said that the mass defections are a result of Trump's poor political acumen rather than an establishment conspiracy" [The Hill].

"Scrum, shoving match interrupts county Democrats meeting" [Portland Tribune (MR)]. "Accounts differ, but several who were there say a few people in the audience — some who were allowed to vote at party meetings and some who were new to the group — tried to make points about procedure shortly after the meeting began, interrupting the committee chairwoman during a motion on training for precinct committee people. The whole thing flared into a scuffle as the chairwoman shouted down audience members and appointed two ad hoc sergeants-at-arms to escort some people from the building." Hmm. Factions carefully unnamed throughout this report.

UPDATE "Modern American conservatism, I've long held, has succeeded. It essentially destroyed the labor movement, which was, in conservatism's most recent incarnation in response to the New Deal, its original enemy. It also successfully beat back the Black Freedom movement, which was its second enemy. And it was able to defang the feminist movement, its third enemy. While all these movements are still around—the labor movement, only barely—they don't have the same traction and forward momentum they once did" [Corey Robin] (and excellent on Presidential cycles). "It's going to take a massive victory for the left—not at the polls but in the streets, as a comprehensive social movement of emancipation—for the right to recover its energy and animating purpose. Until that happens, the right might win an election here or there, but they're essentially going to be in a free-fall." In other words, for conservatives, as for liberals, the left is the real enemy. (And see Robin here on whether Clinton will be a re-alignment President. Spoiler: No.)
Clinton Email Hairball
"A Navy sailor facing the possibility of years in prison for taking a handful of classified photos inside a nuclear submarine is making a bid for leniency by citing the decision not to prosecute Hillary Clinton over classified information authorities say was found in her private email account" [Politico]. The fish rots from the head…
Stats Watch
Empire State Manufacturing Survey, August 2016: "The New York region's manufacturing sector remains flat based" [Econoday]. "Hit by weak global demand and weak demand for capital goods, the factory sector has yet to get in gear this year and this report, the first for August, doesn't point to any improvement." But: "As this index is very noisy, it is hard to understand what these massive moves up or down mean – however this regional manufacturing survey is normally one of the more pessimistic" [Econintersect]. "This survey has a lot extra bells and whistles which take attention away from the core questions: (1) are orders and (2) are unfilled orders (backlog) improving? Econintersect emphasizes these two survey points – and new orders improved and unfilled orders improved."
Housing Market Index, August 2016: "one of the bright spots of the [whose?] economy" [Econoday]. "Components show gains for both present sales and future sales but continued weakness in traffic where first-time buyers are still scarce."
Restaurant Sales: Fizzling out after recent boom [Mosler Economics].
Consumer Sentiment: "Respondents to the University of Michigan's monthly survey of consumers showed that the net share of households who expected Clinton to beat Trump in November rose to 39 percentage points in August. That's increased from 27 points in July and 14 in June. Note that the survey isn't asking for a household's preference between one candidate or another, but simply their expectations about who will prevail" [Bloomberg]. "Psephologists have shown that asking people who they think will win an election yields more accurate results than asking each individual for whom they plan to vote." I suppose this is in the University of Michigan's wheelhouse for this survey because of political risk (but then, what isn't?). Still, when you see a supermajority of the political class, and a supermajority of the ruling class, deploy all their resources toward a common end, the results can be amazing to see, even in these decadent times.
Shipping: "Container industry revenues are contracting faster than carriers can cut costs, Drewry warns in a new report. First-half results so far suggest sales are down by around 18%, increasing the pressure to reduce costs" [Splash 247]. "'With carriers waving goodbye to likely more than $50 billion of sales in two years since 2014 – in 2009 the sales reduction was about $66bn in just one year – it should be no surprise that most of the big players are losing money and that some are close to the financial abyss, or that a number of lines are merging in order to better prepare for such hard times," Drewry noted saying the M&A moves thus far have been "defensive strategies forced upon carriers by the weak state of the market.' Adding to carriers' woes, the third-quarter peak season will probably be a washout too, Drewry warned."
Housing: "McMansions 101: What Makes a McMansion Bad Architecture?" [Worst of McMansions]. "In this post, I will introduce basic architectural concepts and explain why not all suburban/exurban/residential houses are McMansions, as well as what makes a McMansion especially hideous."
Retail: "Amazon.com generated around $111 billion in e-commerce revenue, of which over $71 billion was within North America" [James Sands, Seeking Alpha]. "Within the U.S., traditional retailers like Radio Shack, Best Buy, Sears, Office Depot, Staples and Sports Authority [and now Macy's], among others have been some of the major casualties of e-commerce, namely Amazon. … Let it be clear that physical retail is still the most dominant platform for retail purchases with 2014 retail sales excluding motor vehicles and parts dealers at around $3.6 trillion. The electronic shopping and mail-order houses category was just under $400 billion and reflected around 11 percent of the retail sales total. … The demise of traditional retail is not solely an outcome from Amazon and e-commerce directly, but rather a slow shift away from what originally made retail stores great, namely customer service. Today's retail experience is mostly based upon older looking buildings with less upkeep and improvements, and unmotivated employees (without incentives to work hard a lot of times) which is a perfect equation for lackluster service." Disinvestment, screw the workers… Sound familiar?
The Bezzle: "How Hyperloop One Went Off the Rails" [Bloomberg]. That was fast. "Startups, including success stories Facebook and Twitter, often suffer founder clashes, executive churn, and squabbles over equity. But at Hyperloop One, a high-profile company spawned from an idea by Tesla founder and CEO Elon Musk, things got very toxic, very fast. The dueling lawsuits and lurid accusations threaten to sully the company's idealistic mission to create a new form of transportation." "Idealistic mission." Stop it! You're killing me!
The Bezzle: "The suddenly vast scale of Pokemon Go adoption is matched by the game's aggressive use of personal information. Unlike, say, Twitter, Facebook, or Netflix, the app requires uninterrupted use of your location and camera — a 'trove of sensitive user data,' as one privacy watchdog put it in a concerned letter to federal regulators" [The Intercept]. "All the more alarming, then, that Pokemon Go is run by a man whose team literally drove one of the greatest privacy debacles of the internet era, in which Google vehicles, in the course of photographing neighborhoods for the Street View feature of the company's online maps, secretly copied digital traffic from home networks, scooping up passwords, email messages, medical records, financial information, and audio and video files." That's not a bug…
The Bezzle: "Alphabet Inc.'s Google Fiber unit is rethinking how to deliver internet connections in about a dozen metro areas, including Los Angeles, Chicago and Dallas, after its initial rollouts proved more time-consuming and expensive than anticipated, according to people familiar with the company's plans. In San Jose, Calif., and Portland, Ore., Alphabet has suspended projects while investigating alternate technologies" [MarketWatch]. Wow, so infrastructure is hard, and corporations can't scale to do it, which is why we have governments. Same Silicon Valley stupidity and bubble mentality as with self-driving cars, which also require (non-existent) public infrastructure.
"Recent Libor spike isn't about a 'shortage of dollars per se,' but a lack of a 'particular kind of dollar-denominated asset,' Wrightson ICAP economist Lou Crandall said in note" [Across the Curve]. Oddly, this is cited to Bloomberg, but as of this writing, I can't find it there." From Bloomberg terminal? "* 100bp spread between 12-mo. Libor and 12-mo. bills isn't a 'credit-risk phenomenon. It's a regulatory artifact.'"
Co-ops: "'It feels like a gift': mobile phone co-op transforms rural Mexican community" [Guardian (DB)]. "a legal triumph by indigenous activists has cracked the monopoly enjoyed by Mexico's powerful telephone magnates – including the world's richest man, Carlos Slim – and opened the door to new services which will slash the cost of communication. The social cooperative has licence to install and operate mobile phone networks in 356 marginalised municipalities in five of the country's poorest states: Chiapas, Guerrero, Oaxaca, Puebla and Veracruz."
"To bolster the effort, Twitter is in talks with Apple to bring the Twitter app to Apple TV" [New York Times]. Please, Twitter has enough troubles without Apple's designers crapifying its software.
Today's Fear & Greed Index: 79 Extreme Greed (previous close: 76, Extreme Greed) [CNN]. One week ago: 84 (Extreme Greed). (0 is Extreme Fear; 100 is Extreme Greed). Last updated Aug 15 at 11:33am.
Police State Watch
"Dallas Police Want to Suppress Bomb Robot Evidence That's 'Embarrassing'" [Vice]. No doubt!
Water
"Flooding in Louisiana over the weekend forced tens of thousands of people from their homes, including more than 7,000 who had to be rescued, and left at least three dead, Gov. John Bel Edwards said at a news conference Sunday" [CNN].
Gaia
"We're under attack from climate change—and our only hope is to mobilize like we did in WWII" [Bill McKibben, The New Republic]. "Turning out more solar panels and wind turbines may not sound like warfare, but it's exactly what won World War II: not just massive invasions and pitched tank battles and ferocious aerial bombardments, but the wholesale industrial retooling that was needed to build weapons and supply troops on a previously unprecedented scale. Defeating the Nazis required more than brave soldiers. It required building big factories, and building them really, really fast. "
"Who owns the wind? We do, Wyoming says, and it's taxing those who use it " [Los Angeles Times]. "'The benefits of wind are disproportionately on the West Coast, and the costs of wind are disproportionately in Wyoming — and I mean the social costs,' said Cale Case, a state senator and economist who serves on the Legislature's revenue committee. 'This tiny reflection of the impacts back here, I think it's just kind of a fair trade.'" Same in Mai\ne. Of course, Maine is blessed with a lack of hydrocarbons, including coal.
Guillotine Watch
"More than 800 golf courses have closed over a decade. Now clubhouses are going up in flames" [Bloomberg]. I notice Obama's still golfing with Bill on the Vineyard. So everything's fine in the bubble.
Class Warfare
Review of The Rise and Fall of American Growth: The US Standard of Living Since the Civil War, by Robert J. Gordon. "[I]n the most recent years, particularly since 2000, the decline in average income growth was further exacerbated for the lowest income groups by a declining share of the total. So, for the bottom fifth, the growth in real income declined from 3 percent at the end of the special century [1870 – 1970] to essentially zero in the last fifteen years. Of this catastrophic decline, about half was due to the slower overall growth, while half was due to rising inequality. Gordon has an extensive review of the sources of rising inequality, but his emphasis on the role of declining productivity growth is an important and durable part of the story of stagnant incomes" [New York Review of Books].
"Commodification of what was hitherto a non-commercial resource [e.g., free time, as with Uber] makes each of us do many jobs and even, as in the renting of apartments via AirBnB], capitalists. But saying that I work many jobs is the same thing as saying that workers do not hold durably individual jobs and that the labor market is fully 'flexible' with people getting in and out of jobs at a very high rate. Thus workers indeed become, from the point of view of the employer, fully interchangeable 'agents.' Each of then stays in a job a few weeks or months: everyone is equally good or bad as everyone else. We are indeed coming close to the dream world of neoclassical economics where individuals, with their true characteristics, no longer exists because they have been replaced by 'agents'" [Global lnequality]. "The problem with this kind of commodification and flexibilization is that it undermines human relations and trust that are needed for the smooth functioning of an economy."
UPDATE "Wolff has taken in the breadth of Marxist economic/political literature and recognized that the end goal of all the various parties and movements has been workplace democracy, which in simpler terms is defined as an economy made up of worker self-directed enterprise (WSDE) cooperatives that are unique in a substantial way from the twentieth century worker-managed cooperatives that entailed great problems. Now our goal is to create a cultural revolution that will make this a reality" [CounterPunch]. Combine that with a Jobs Guarantee…
News of the Wired
"Windows 10 defaults to keylogging, harvesting browser history, purchases, and covert listening' [Boing Boing].
"[T]he more I look at Cortana, Windows 10's inherent virtual assistant, the more creeped out I get" [ComputerWorld]. "When it's working as your virtual assistant it's collecting your every keystroke and spoken syllable…. With the recently released Windows 10 Anniversary Update, hereafter Windows 10 SP1, you can't shut Cortana off. Maybe you don't mind Microsoft listening to your every word so it can catch when you say, 'Hey, Cortana.' I do."
"The long, incredibly tortuous, and fascinating process of creating a Chinese font" [Quartz].
"Why You Should Never Use MongoDB" [Sarah Mei]. Actually part of the sad history of the Diaspora project.
* * *
Readers, feel free to contact me with (a) links, and even better (b) sources I should curate regularly, and (c) to find out how to send me images of plants. Vegetables are fine! Fungi are deemed to be honorary plants! See the previous Water Cooler (with plant) here. And here's today's plant (mgl):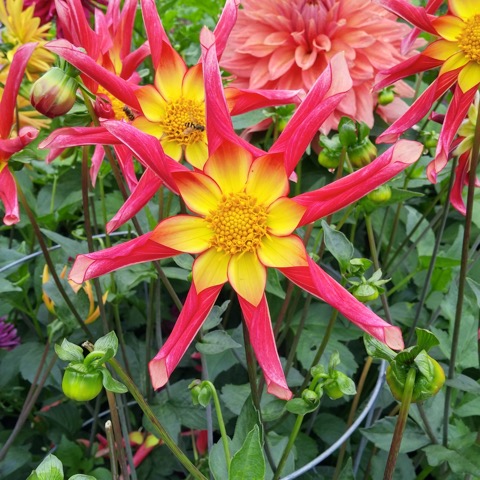 From Anchorage, Alaska!
* * *
Readers, if you enjoyed what you read today, please use the dropdown to choose your contribution, and then click the hat! Your tip will be welcome today, and indeed any day. Water Cooler will not exist without your continued help.