By Lambert Strether of Corrente.
TPP/TTIP/TISA
"[T]he Obama administration has been careful not to let the Transatlantic Trade and Investment Partnership fall by the wayside. Instead, an enormous amount of work — including regular, bi-weekly communication between U.S. Trade Representative Michael Froman and EU Trade Commissioner Cecilia Malmström — has been ongoing" [Politico]. "While the administration is optimistic about its own ability to work hard as a creative negotiating partner, it remains an open question as to whether the Europeans are ready to go, the official said." Ouch!
"Why the TPP Deal Won't Improve Our Security" [Clyde Prestowitz, New York Times]. "If anything, America is too often at the end of those chains, as the global consumer of last resort. It's not investing in domestic, let alone global, infrastructure. It is the world's largest debtor, and its role in the world economy is primarily to borrow and consume…. the administration is absolutely right that America needs tools to counter China's growing influence in Asia and around the world. But until America can come close to matching China's dynamism, it has no hope of countering its economic and geopolitical influence with old-fashioned trade agreements, no matter how monumental they are said to be."
CWA staffer and Sanders advisor Larry Cohen: "It was May of 2015. I'd been criticizing TPP at the time and they said, "He'd like to talk to you." What [Obama] told me was: 'I am too far down the road to change.' He repeated it over and over" [Mother Jones]. Terrific interview, well worth reading in full.
"When Democratic candidate Hillary Clinton announced her opposition to TPP last fall, Mr. Obama was furious. He believed she was making a political, not substantive, decision that was designed to diminish an advantage her then-primary opponent Bernie Sanders, who opposed the trade deal, had with Democratic voters" [Wall Street Journal]. No. With Obama, it's about nobody ever making him look bad. Clinton's "political" "decision" was to issue a statement filled with lawyerly parsing designed to allow her to do the deed if Obama can't.
2016
Corruption
"Behind the private jet journey of Hillary Clinton aide Huma Abedin" [Yahoo News]. The article explains why wearing one hat from Abedin's massive collection of headgear makes this all legal. Musical interlude!

"Clinton Foundation: World Class Slacktivists" [Medium]. "I think this could be called a 'charity bubble' since at some point, there won't be any more cash to take. And then what will people do? What will happen when the hospital where future doctors and nurses will work closes due to lack of funds?"

"After Hillary Clinton became secretary of state, Bill Clinton received $17.6 million in payments from a for-profit university. Since that time, another organization with a connection to that university received almost $90 million in grants from an agency that's part of the State Department" [CNN]. Clinton was paid for "inspiring people." Oh. OK.

UPDATE "Donald Trump appears to have donated $100,000 to the Clinton Foundation" [Business Insider]. As Trump said: "I gave to many people before this — before two months ago I was a businessman. I give to everybody. When they call, I give. And you know what, when I need something from them two years later, three years later, I call them. They are there for me. That's a broken system." I hate it when Trump's right.
Money
UPDATE "Hillary Clinton Continues Fundraising Swing at Home of Justin Timberlake, Jessica Biel" [Variety]. "Jamie Foxx, Jennifer Aniston, Shonda Rhimes, Tobey Maguire and former HBO programming president Michael Lombardo were among those at the event, according to a source who was there, with tickets priced at $33,400 per person. About 55 people attended…. The Democratic presidential candidate is fundraising in the weeks before her first debate with Republican rival Donald Trump [on September 26]." And definitely not holding press conferences.

UPDATE "Justin Timberlake, Jessica Biel & Hillary Clinton Pose for Adorable Photobooth Pics at Star-Studded Fundraiser" [ET]. " "Look who came over for lunch… ? #imwithher," Biel wrote on Instagram." Quite a lunch.
The Voters
UPDATE "'You can get rid of Manafort, but that doesn't end the odd bromance Trump has with Putin,' Clinton campaign manager Robby Mook said in a statement" [Washington Post]. That's our Democrats; gin up a war scare all to win Eastern Europeans in a swing state (Ohio). That's what this article, read closely, boils down to, read carefully. (I love Mook's "bromance," so reminiscent of the Clinton campaign's vile BernieBro smear.)

UPDATE "Republicans in North Carolina are pulling out all the stops to suppress the state's reliably Democratic black vote. After the Fourth Circuit court reinstated a week of early voting, GOP-controlled county elections boards are now trying to cut early-voting hours across the state. By virtue of holding the governor's office, Republicans control a majority of votes on all county election boards and yesterday they voted to cut 238 hours of early voting in Charlotte's Mecklenburg County, the largest in the state. 'I'm not a big fan of early voting,' said GOP board chair Mary Potter Summa, brazenly disregarding the federal appeals court's opinion. 'The more [early voting] sites we have, the more opportunities exist for violations'" [The Nation]. Bad Republicans. On the other hand, if the Democrats treated voter registration like a 365/24/7 party function, including purchasing IDs in ID states for those who can't afford them, none of this would be happening.
Our Famously Free Press
"But there is another way of thinking about the gaffe: as an inevitable expression of the paradoxes of scrupulously objective political reporting [!], pressures that have held reporters hostage for decades. Until Trump, of all people, set us free" [Charles Homans, New York Times]. "The gaffe, then, is a safety mechanism. It moves a statement from the realm of substance to the realm of performance and strategy — allowing the reporters to critique it without incriminating themselves professionally…. Trump has laid bare journalism's contradictions — reporters' desire to be critical of politicians without criticizing anything they stand for — to the point where we have no choice but to examine them. This may be the least expected outcome of 2016: The most flagrantly dishonest candidate in recent memory is forcing us to have the most honest political discussion we've had in years." Homan's piece seems more than a little self-congratulatory to me; in fact, it's a subtweet of Matt Taibbi here.
Policy
UPDATE "No Need to Build The Donald's Wall, It's Built" [Tom Dispatch]. Wait, wait. Obama's policy now is what Trump's would be? And Democrats and Trump are frothing and stamping over nothing? Is the problem that the wall's not beautiful? What?
Realignment
"Donald Trump's road show has detoured this month to states with no political value to a Republican nominee in a general election" [RealClearPolitics]. "The celebrity businessman's schedule has again raised eyebrows this week, with a rally Tuesday in Austin, Texas, and another Wednesday in Mississippi. Both states have favored Republicans consistently for decades and are expected to land in Trump's column." Trump looks to win Texas. Bu surely not Austin!

UPDATE "Obama signs order creating North Woods national monument" [Bangor Daily News]. This is not going to make Maine's Second District happy.

UPDATE "Landslides do not really happen in presidential elections anymore" [New York Times]. "The country is too fragmented and its political temperature too overheated for any single person to emerge as a consensus choice for anything nearing two-thirds of the electorate. And that climate has led the political parties to become far more ideologically uniform than they used to be…. given the polling today, the election is showing certain resemblances to the 1992 race that sent Mr. Clinton to the White House the first time. That year, many voters dissatisfied with President George Bush flocked to the independent Ross Perot, and neither Mr. Bush nor Bill Clinton came close to a majority."
Stats Watch
MBA Mortgage Applications, week of August 19: "Mortgage data are increasingly pointing to slowing for home sales" [Econoday]. So yesterday's spike was a blip?
FHFA House Price Index, June 2016: "Home sales are pivoting higher and appear to be getting a lift from seller discounting" [Econoday]. "Price data in yesterday's new home sales report were also very soft. Concessions are no doubt a plus for future sales but are also a negative for household wealth especially at a time when wage growth is soft." Wages and a house aren't wealth, for pity's sake.
Existing Home Sales, July 2016: "Prices are coming down but sales aren't going up, at least not in July" [Econoday]. "Pending home sales have been weak which limits the surprise of today's report. Yet today's report does take some shine off yesterday's sales surge for new homes. Still, lower prices together with higher supply are pluses for existing home sales ahead." And: "Our analysis of the unadjusted data is much worse than the headlines" [Econintersect]. For example: "Unadjusted sales rate of growth decelerated 8.5 % month-over-month, down 6.7 % year-over-year – sales growth rate trend was rapidly declining using the 3 month moving average."
Shipping: "U.S. companies are stepping up raises to more of the nation's lowest-paid workers, an action that could echo across hiring in transportation. The gains look to be driven by more competition for workers, minimum-wage increases and initiatives by big-name companies to trumpet the higher pay as a recruiting tool. The raises coincide with a decline in available workers for what are often less desirable jobs… something the trucking industry has already coped with in the past two years as many companies boosted pay to get and keep drivers behind the wheel. The renewed growth in national wages could boost driver pay again even as carriers face slack shipping demand. That's because the number of available workers per job opening is hovering near a 15-year low" [Wall Street Journal]. Time for J-Yel to take away that thimble-sized punchbowl?
Supply Chain: "But with our ever increasing reliance on technology, it was only a matter of time before humans were taken out of the [warehousing] equation" [Business Insider]. "[InVia] this week unveiled what it calls the first 'goods-to-box' robotics solution, one that requires no human intervention at all. Robots do all the sorting, 'picking,' and even packaging for shipment.' … [E]ach robot is leased rather than sold. This means a warehouse owner could ramp up its robotic fleet of workers around the holidays to meet the demands of its business, and reduce its fleet during down times to save on costs."
The Bezzle: "There's some financial turbulence in the high-flying world of digital freight booking startups. Cargomatic Inc., which arranges fright transportation near big U.S. ports, has shaken up its C-suite over the last two months, WSJ Logistics Report's Robbie Whelan reports, amid signs of financial trouble at the business. The company's chief financial officer and chief operating officer have left, and there are reports that the company's cash position has dwindled to the point where it can only cover two months of operating costs. It's a step back for the logistics industry's ambitious clutch of new tech-driving operators, including makers of apps that match truckers with cargo loads. At least 27 young companies in the field have raise $180 million in venture capital backing since 2011. Cargomatic's main investor, Canaan Partners, is pledging to infuse the company with cash, and it new chairman wants to bring in staff with more expertise in the transportation industry" [Wall Street Journal].
The Bezzle: " Truth in Advertising Organization Threatens to Report Kardashian/Jenners to FTC" [The Fashion Law]. They're doing product endorsements without calling them ads.
The Fed: "The Cliff's Notes version is this: Despite the very real struggles that some parts of the country, including Alaska, are facing, the broader national economy is in good shape: We're at full employment, and inflation is well within sight of, and on track to reach, our target. Under these conditions, it makes sense for the Fed to gradually move interest rates toward more normal levels" [John C. Williams, Federal Reserve Bank of San Francisco].
"Exacerbating this problem is the recent trend in trades of selling volatility. Put (extremely) simply, investors are selling 'insurance' on movements in the VIX through a series of options. So if there were a sudden uptick in the VIX, this 'insurance' would be called in by the buyers, losing the sellers of the options money. (If you want to dive into the nitty gritty of this trade, here's a deeper dive.)" [Business Insider]. "According to Vamvakidis, Sinha, and Chen, the number of people selling volatility in this way has reached an all-time record." Is this the kind of insurance where everybody needs it at once?
"Modern Monetary Theory – what is new about it?" [Bill Mitchell]. Part one.
Today's Fear & Greed Index: 72 Greed (previous close: 75, Extreme Greed) [CNN]. One week ago: 76 (Extreme Greed). (0 is Extreme Fear; 100 is Extreme Greed). Last updated Aug 23 at 12:07pm. Back to mere greed again. Get it together, people!
Class Warfare
"[R]esults provide robust evidence that overall inequality lowers an individual's sense of trust in others in the United States as well as in other advanced economies. These effects mainly stem from residual inequality, which may be more closely associated with the notion of fairness, as well as inequality in the bottom of the distribution. Since trust has been linked to economic growth and development in the existing literature, these findings suggest an important, indirect way through which inequality affects macro-economic performance" [IMF (!)] (original Working Paper).
It's a start:
Grad students are workers with the right to organize, says National Labor Relations Board. pic.twitter.com/2PfYAYEjKE

— corey robin (@CoreyRobin) August 23, 2016
"Big data and hidden cameras are emerging as dangerous weapons in the gentrification wars" [Quartz]. "Many low-income people living in housing projects already know that surveillance can control their access to housing. Now, renters everywhere should be prepared to be subject to such treatment as gentrification continues to increase."
News of the Wired
"Unix: An Oral History" [Princeton]. A salutary reminder that the giants of the field — now, mostly, gone — could also write clear, lucid prose that the common reader could understand.
"I Want to Know What Code Is Running Inside My Body" [Back Channel]. Pacemaker bugs!
"It Seems the Cigarette Industry Helped Create the Type-A Personality" [New York Magazine]. "It's a self-concept that was, at least in part, created by the cigarette industry."
"Airlander 10: Longest aircraft damaged during flight" [BBC]. "A spokesman said: 'The flight went really well and the only issue was when it landed.'" I don't want to mock this too heavily, since the Airlander is pretty cool, but shouldn't somebody enter the spokesman's statement into competition for a Hirohito Award?
"As computers became more and more powerful and datasets larger and larger, it became more practical to leave the computers to figure out the right feature space to use. That is what seems magical about software like [Go champion] DeepMind's: computers are abstracting from experience something which can then be applied in reasoning about a problem. It seems right to say that the computer has learned a concept" [London Review of Books]. How we maintain code that we don't undertand? Then again, perhaps that's what we're already doing…
"The Perpetuation of Our Political Institutions" [Abraham Lincoln, Address to the Young Men's Lyceum of Springfield, Illinois, January 27, 1838].
* * *
Readers, feel free to contact me with (a) links, and even better (b) sources I should curate regularly, and (c) to find out how to send me images of plants. Vegetables are fine! Fungi are deemed to be honorary plants! See the previous Water Cooler (with plant) here. And here's today's plant (MK):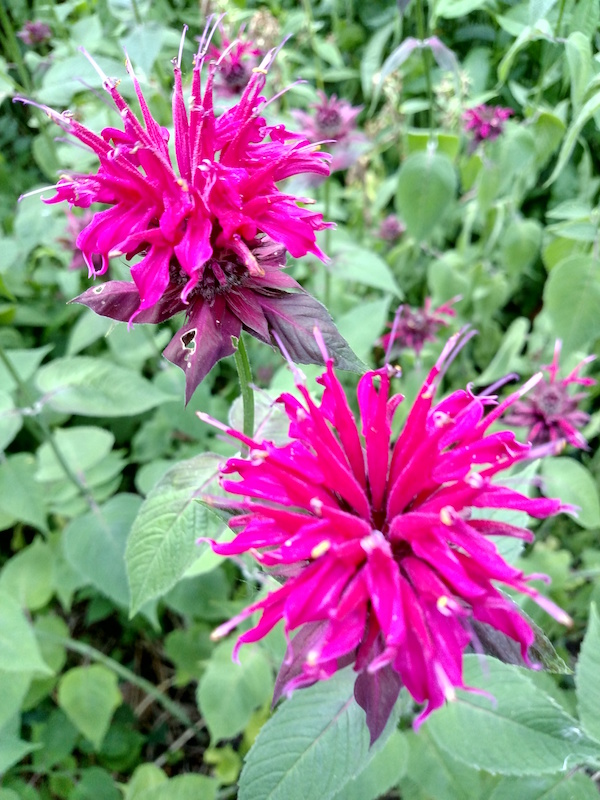 My hummingbirds love bee balm!
* * *
Readers, I know it's the dead days of August, but if you can, please use the dropdown to choose your contribution, and then click the hat! Your tip will be welcome today, and indeed any day. Water Cooler will not exist without your continued help.