By Lambert Strether of Corrente.
Readers, I somehow managed to leave out yesterday's plantidote, I think because I had two tabs open for the post, and submitted the wrong one. Oopsie!
TPP/TTIP/TISA
"'When [Senate Majority Leader Mitch McConnell] signals that he intends for it to be considered in the Senate, and after there is agreement on the final text of the legislation that would approve and implement the TPP, Sen. Wyden will take a position on the agreement,' his spokesman, Keith Chu, said in an email" [Politico]. More horse-trading, given that Wyden was key to passing Fast Track.
"Members of the [American Postal Workers Union], which says it represents 200,000 workers, have come out against the TPP for its investor-state dispute settlement clause and for the way it would 'lower worker protections to the lowest common denominator'" [Politico]. Funny how ISDS isn't part of the discourse in the Beltway. Why, it's almost as if the workers know how they're gonna get screwed better than anyone else! For example:
In a speech at the Democratic National Convention last month, Katherine Isaac, a coordinator for the Grand Alliance to Save the Post Office, said corporate banks could force participating nations to ban financial services under TPP, including postal banking — 'before they even get started.'

The Office of the U.S. Trade Representative said the critics had their facts wrong on that point. "No provision in TPP prevents postal entities from selling insurance or offering banking services," USTR spokesman Matt McAlvanah said.
Unsurprisingly, the USTR flak has learned to lie with a straight face. A suit for "lost profits" under ISDS is what would sink postal banking. Not a clause in the agreement.
2016
Corruption
"Other donors got action via direct appeal to Abedin: For example, 75-grand-giver Maureen White wrote, 'I am going to be in DC on Thursday. Would she have any time to spare?' Huma's reply: "Yes I'll make it work'" [New York Post]. Wait, all I need to buy access to Clinton is a grand? That's all? Really?

UPDATE "'Huma, I need your help now to intervene please. We need this meeting with Secretary Clinton, who has been there now for nearly six months,' Aboussie wrote. 'It should go without saying that the Peabody folks came to Dick and I because of our relationship with the Clinton's [sic],' she added" [The Intercept]. "'We are working on it and I hope we can make something work,' Abedin replied, noting 'we have to work through the beauracracy [sic] here.' Obviously, as the example above shows, that's not always true, and Abedin seems to be the arbiter of which donors go to Happyville, and which to Pain City.

UPDATE "The emails do not show that Clinton Foundation donors received any policy favors from Hillary Clinton or other elected officials. What they show is that people who donated to the foundation believed they were owed favors by Clinton's staffers, and at least one of those staffers — the odious Doug Band — shared this belief" [Jonathon Chait, New York Magazine]. Yes, selling access is called "influence peddling." It's corrupt in itself, regardless of policy outcomes. The headline: "Clinton Foundation Still Not Criminal, Still Not Great for Hillary." So, if "not criminal" is the baseline…

UPDATE "Bill Clinton says he will leave Clinton Foundation if Hillary is elected president" [Los Angeles Times]. From the Department of How Stupid Do They Think We Are? Even if you accept that quid pro quo is the only form of corruption, which I don't, consider the possibility that Bill closed the deal on the quid before the election, and Hillz will deliver the pro quo after the election. Surely, that is, a quid pro quo can be asynchronous? Or are we now to believe that the only form of corruption is when cash in an envelope is transferred from one hand to another? That's even worse than Citizens United!
The Voters
"Yet after all this, Trump remains around 40% in the polls or better — and only about five points behind Hillary Clinton" [Brent Arends, MarketWatch]. "n other words, in presidential election terms, it's still either party's race. Most elections see swings of several points between August and early November. Some see even bigger ones — at this point in 1988 Vice President George H.W. Bush looked like a no-hoper against Massachusetts Gov. Michael Dukakis. Bush went on to win by seven points. There is no reason to think this election will be less volatile than the norm…. Right now the bookmakers give Trump about a 25% chance of winning. That's high enough to be alarming. But what's worse: If I had to take a wager at these levels, I'd take the over rather than the under. This race, terrifyingly, is still open."

"That remarkable fact underscores how virtually unchallenged Clinton has been on the advertising airwaves, as Democratic and Republican strategists alike say she has gone deeper into the election calendar than any non-incumbent president they can remember in the modern era without sustained, paid opposition on television" [Politico]. So, if election 2016 were a WWF match, the [good|bad] guy would be fighting with one hand behind his back, and getting pounded, for sure, but….

"Three of the top four nonfiction hardcover best sellers in the New York Times Book Review on Sunday were anti-Hillary Clinton screeds ('Hillary's America' by Dinesh D'Souza, 'Crisis of Character' by Gary Byrne, and 'Armageddon' by Dick Morris), and the fourth, 'Liars' by Glenn Beck, was a more general assault on the liberal agenda that certainly has no kind words for Clinton" [MarketWatch]. And they say people don't read books any more…

"Our research suggests yet another reason not to overreact to news stories about the newest poll: Media outlets tend to cover the surveys with the most "newsworthy" results, which can distort the picture of where the race stands" [WaPo]. Look! Over there! Another fluctuation well inside the margin of error!

UPDATE "Despite frequent claims of the 'women's vote' working in Democrats' favor, much depends on which women. Individually, these women's views vary widely, just as the county they live in. Lake County [Ohio] has been nearly evenly split between Democrats and Republicans. Collectively, they make up a demographic that has reliably voted, and reliably voted Republican, in nearly every election since 1972: Married women, especially white married women" [NBC]. Joyce was still keeping her vote a secret, but she thought she knew why people were so angry. 'I think it's more that we don't trust politicians, period,' she said. 'We've gotten to a point in the United States where they're all liars or they're all cheaters or they've all done something wrong and we're gonna blow that up. And so we don't trust any of them.' The other women were nodding. 'And I think," Joyce said, 'that's where Trump's power came from." Joyce is a volatility voter, then.

UPDATE Re: Clinton and "welfare reform": "Having abandoned the maternalists' sentimental defense of motherhood as a sacred calling, most second-wave feminists had no terms in which to mount a convincing justification for income support to poor mothers. Other women were working; why shouldn't they work too? But for middle-class women, work meant public recognition, self-determination, the right to be seen as autonomous individuals and to participate in civic life. For welfare mothers, especially black women, who made up two-thirds of all domestic workers by 1960, it meant watching other women's children, preparing their food, and scrubbing their floors, services that professional women increasingly relied on as they entered the workforce in greater numbers. The version of welfare reform Bill Clinton envisioned was much more generous than the bill eventually passed by the Republican Congress in 1996. It would have included child-care and job-placement programs — but it would still have required welfare recipients to work. Hillary's support for the bill reveals the deep fault lines of class and race that fractured the second-wave feminist movement, as " [N+1]. Remember Nannygate? There you have it.
Realignment
"Sen. Bernie Sanders (I-Vt.) will address supporters on Aug. 24 to tout 'Our Revolution,' a new organization intended to harness the energy of his supporters and help progressive political candidates across the country" [Defend Democracy]. "Sanders envisions the organization having three objectives, including 'revitalizing American democracy by bringing millions of working people and young people into the political system.' The independent senator also wants to empower 'the next generation of progressive leaders by inspiring, recruiting and supporting progressive candidates across the entire spectrum of government – from school board to U.S. Senate.'"

"'It's about both the fundraising and the spending: Jeff would like to take big money from rich people including billionaires and spend it on ads,' said Claire Sandberg, who was the digital organizing director of the campaign and the organizing director of Our Revolution (whose entire department of four left) before quitting. 'That's the opposite of what this campaign and this movement are supposed to be about and after being very firm and raising alarm the staff felt that we had no choice but to quit'" [Politico]. Of course, Politico is rubbing his hands gleefully, and some staffers remain, but my impulse is to side with Sandberg, even if this looks like a campaign power struggle (typical). So it will be interesting to see where Sandberg goes and what she does. To be fair, a campaign is a like a traveling circus, so it would be institutionally challenging to anybody — and I'm not certain that administration is a strength for either Sanders — to transform Ringling Brothers, Barnum and Baily into, oh, a Twenty-first Century version of The Grange (see also).

"A 501©(4) [like "Our Revolution"] may accept unlimited cash without having to disclose donors, but as a senator, Sanders may not ask contributors for more than a certain amount — $2,700 to a campaign committee and $5,000 [not sure how that squares with Sandberg's "billionaires"] to a super PAC. Sanders, who is involved in the group's management, signed Our Revolution's first fundraising email" [Buzzfeed]. So limit contributions to the famous $27, and no problem. Now, I can see concern about a fundraising model for a campaign, and a person, not scaling to a fundraising model for multiple campaigns all over the country, and why a campaign manager might see the air war on TV as critical (see link above), but if you think of voter/donors as investors, you can't dump a 1% whale into a tank of minnows, and not expect the minnows to feel swamped and angry. And rightly. I mean, that's the system we have now, and who wants it, except, well, the people who want it?

"So far, it doesn't seem as if [Trump has done enough damage to the rest of the party to put the House into question. The Cook Political Report estimates that just 36 Republican-held seats are either 'tossups' or 'leaning' Republican. Many of the well-educated white G.O.P. voters with reservations about Mr. Trump appear to be sticking by Republicans, at least for now" [New York Times]. Still looking good for gridlock!

"As partisanship has hardened in the 21st century, split-ticket voting has become rare. But it now offers a beckoning lifeline for Republicans who hope to preserve their party's control of Congress in the year of Donald Trump" [RealClearPolitics]. ";This election is ready-made for ticket splitting," says Stuart K. Spencer, a retired California political consultant who played a key role in the rise of Ronald Reagan."
Stats Watch
New Home Sales, July 2016: "Volatility is the name of game for the new home sales report where July's headline surged, up a monthly 12.4 percent" [Econoday]. 12.4% seems rather a lot. "Strength in this report comes from the largest region which is the South where sales rose 18.1 percent to a 398,000 annualized pace. The Northeast, which is a very small region for new homes, surged 40.0 percent in the month but to only a 35,000 rate." And: "The headlines say new home sales again dramatically improved. The median sales price for homes was down – and inventory was also down. This was a very good month as sales were well above expectations" [Econintersect]. "This data is compiled by sampling, and historically has little revision. This data is based on contracts signed – not actual properties conveyed." And: "This was well above expectations of 580,000 sales SAAR in July, [highest since October 2007]. This was a strong report" [Calculated Risk]. Then again: " Strong sales, higher than expected, but in any case no homes get built or sold without permits which remain weak, so expect 'corrections' with future releases" [Mosler Economics].
PMI Manufacturing Index Flash, August 2016: "Weakness in orders and employment were unfortunate themes of last week's Empire State and Philly Fed reports and likewise headline the manufacturing PMI report" [Econoday]. And: "Of the three regional Federal Reserve surveys released to date, one is in expansion and two are in contraction" (charts) [Econintersect].
Richmond Fed Manufacturing Index, August 2016: "Richmond's headline bounced down into the negative column this month, to minus 11 from plus 10 in July and minus 10 in June" [Econoday]. "If housing is proving itself to be the biggest positive surprise of the 2016 economy, manufacturing may be proving to be the year's biggest disappointment."
Chemical Activity Barometer, August 2016: "The Chemical Activity Barometer (CAB) expanded 0.4 percent in August following an upward revision for July. This marks the barometer's sixth consecutive monthly gain" [Econintersect]. "In August, three of the four core categories for the CAB improved. Production-related indicators were positive, with goods reports on housing trends strengthening. Equity prices continued to gain and inventory remained positive. Product prices slipped slightly in August."
Supply Chain: "Thin foil used to wrap cigarettes and seal yogurt cups increasingly comes from China, forcing factory closures in the U.S. that echo the widespread shutdown of American aluminum smelters. U.S. buyers of aluminum foil say they can't resist China's cheap prices and seemingly limitless production capacity. The slow death of the U.S. foil industry also shows there's more at stake in trade disputes brought by Western steel and aluminum industry groups than the commodities themselves" [Wall Street Journal].
Supply Chain: " Target Corp. is the latest global retailer to find trouble deep within its supply chain. The Minnesota-based company cut ties with textile supplier Welspun India Ltd. , saying the firm's claims that some of its products contained premium Egyptian cotton were false. The incident demonstrates how difficult it can be for companies to guarantee that quality and ethical standards set at headquarters will be followed throughout complicated, multi-layer supply chains" [Wall Street Journal]. "Ethical standards." Wait, you're telling me that labor and regulatory arbitrage aren't drivers for globalization?
Shipping: "The much-discussed sale of the Baltic Exchange to the Singapore Exchange may be finalised by the end of November, provided it gets regulatory and shareholder approvals" [Lloyds' List]. This keeps not happening…
The Bezzle: "Top auto-parts suppliers Delphi Automotive PLC and Mobileye NV are joining forces to develop a fully autonomous driving system that car makers could begin placing in their vehicles beginning in 2019" [Wall Street Journal, "Delphi, Mobileye Join Forces to Develop Self-Drive System"]. "The two hope the development partnership will produce off-the-shelf systems for everything from small cars to sport utilities and pickup trucks—and help them carve out a central role in the race to supply technology for driverless vehicles. The tie-up, which was disclosed on Tuesday, comes as big auto makers and tech companies are moving independently on autonomous-vehicle developments." Maybe I'm just a Luddite, but I don't see how "fully autonomous driving systems" happen without (a) major infrastructural changes, like painting lines on the roads and eliminating potholes and stuff like snow and ice, and (b) without major changes to insurance polices, that in essence hold the developers and programmers of self-driving systems harmless. Are these things happening, and I didn't get the memo? Now, I can see these systems being implemented in a few cities, and happiliy sucking immense amounts of money away from the public transportation that working people use, but 2019? Really? (Now, it may be that all the Democrat movers and shakers are in Silicon Valley to facilitate this.
The Bezzle: "Ride-hailing pioneer Uber Technologies Inc. has accelerated its entry into the self-driving vehicle sector by acquiring autonomous trucking startup Otto for a reported $680 million and announcing a deal with Volvo Car Group to build the technology into sedans and SUVs" [DC Velocity]. "Formed in 2016 by four veterans of Google's self-driving car project, San Francsico-based Otto's combination of hardware and software retrofits existing trucks with autonomous driving abilities by adding sensors to the roof."
Coops: "Platform Cooperativism: a worker-owned Uber for everything" [Boing Boing]. "On November 13 and 14, the New School in New York City will host a coming-out party for the cooperative Internet." This looks really interesting!
The Fed: " Federal Reserve Chair Janet Yellen may struggle later this week to convince financial markets she can steer a divided U.S. central bank to raise interest rates at least once in 2016 after it started the year with four hikes on its radar" [Reuters]. "'You can talk all you want but let's face it: In the last seven years we have had one measly 25-basis-point hike. Show me the money,' said Don Ellenberger, a portfolio manager at Federated Investors in Pittsburgh.'"
Today's Fear & Greed Index: 76 Greed (previous close: 72, Extreme Greed) [CNN]. One week ago: 78 (Extreme Greed). (0 is Extreme Fear; 100 is Extreme Greed). Last updated Aug 23 at 12:07pm. Greed extreme once again. Phew!
Health Care
"As patients like Ms. Newmyer struggle to cope with the dizzying demands of a trillion-dollar health care system that generates most of its revenues from older people, they are increasingly turning to patient advocates for help. The profession, officially seven years old, now has about 650 advocates, including doctors, and is growing rapidly, according to the Alliance of Professional Health Advocates" [New York Times]. And every one of those "professionals" a committed advocate against single payer, since that would remove the artificial complexity, which they collect a rent to decode. One of those "think happy thoughts on the way down" stories the Times is so good at.
"The Affordable Care Act is not in crisis — but it could be better" [Ezekiel Emanuel and Topher Spiro, WaPo]. "In the meantime, the public, stakeholders and policymakers should act constructively to make the law work and fix any problems that arise, rather than root for its failure or cut and run." First time I've heard Medicare for All described as "cut and run," but that's a liberal for ya.
Imperial Collapse Watch
"Exclusive: CIA Files Prove America Helped Saddam as He Gassed Iran" [Foreign Policy].
Gaia
"Clean, Green, Class War: Bill McKibben's Shortsighted 'War on Climate Change'" [Counterpunch]. "[What] Bill McKibben proposes does not, however, amount to much more than a proposal to reform (and continue) an other, far less openly discussed, war – i.e., class war. This becomes clear as soon as McKibben identifies his war on climate change's enemy as the fossil fuel industry – rather than the political economic system designed to exact, extract, and exploit resources (and to reinvest its gains into exacting, extracting, and exploiting more resources, ad mortem)."
Class Warfare
"Losing My Revolution: How Many Resources Shared on Social Media Have Been Lost?" (PDF) [Hany M. SalahEldeen and Michael L. Nelson]. "After the first year of publishing, nearly 11% of shared resources will be lost." I'm filing this under class warfare because social media is making activists more stupid — and becaue the 1% and the 10% can afford therir own, institutional, archiving systems.
Krugman panders to working class voters, defends liberal cred [Paul Krugman, New York Times]. But you can see his heart's not in it. Read it for the lulz!
"class & wealth inequality are white people issues" – 2016 liberal journos pic.twitter.com/6y0tyl8NkM

— Connor Kilpatrick (@ckilpatrick) August 23, 2016
From the ShadowBrokers: "Then after what they call the "fun Cyber Weapons Auction" comes the real message, a serious threat. 'We want make sure Wealthy Elite recognizes the danger [of] cyberweapons. Let us spell out for Elites. Your wealth and control depends on electronic data.' Now, they warned, they have control of the NSA's cyber hacking tools that can take that wealth away. 'You see attacks on banks and SWIFT [a worldwide network for financial services] in news. If electronic data go bye-bye where leave Wealthy Elites? Maybe with dumb cattle?'" [Reuters].
"Walmart's business model relies on low prices because it serves a precarious and low-wage customer base. And Walmart operates in a world where recoveries from recessions are grindingly slow, incomes have stagnated or even fallen for the middle and lower slices of American workers, and where big cities are the few remaining islands of economic vibrancy" [The Week]. "So it has to keep cutting prices to keep up with its customers' ability to pay. But Walmart is also the country's biggest employer, and the biggest employer in 19 states. So when it holds down pay to make its price cuts financially viable, it ends up creating a vicious cycle. All the while, Walmart has trouble keeping a profit margin compared to upscale competitors." So Walmart doesn't have a crime problem. It has a class problem.
" Economic anxiety isn't driving racial resentment. Racial resentment is driving economic anxiety." [WaPo]. This belief is extremely important to the meritocracy.
News of the Wired
"Women and writers of color win big at Hugo Awards and the Puppies are even sadder" [Los Angeles Times]. With the complete list of the 2016 Hugo Award winners.
* * *
Readers, feel free to contact me with (a) links, and even better (b) sources I should curate regularly, and (c) to find out how to send me images of plants. Vegetables are fine! Fungi are deemed to be honorary plants! See the previous Water Cooler (with plant) here. And here's today's plant (AW):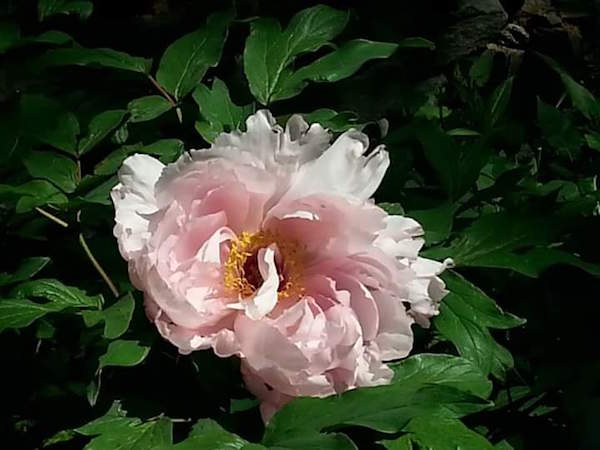 Lovely peonies!
* * *
Readers, I know it's the dead days of August, but if you can, please use the dropdown to choose your contribution, and then click the hat! Your tip will be welcome today, and indeed any day. Water Cooler will not exist without your continued help.