By Lambert Strether of Corrente.
I haven't posted on higher education before, and a series of posts on credentialism really should focus on the institutions where those credentials are, in the main, granted. But rather than a serious analytical piece on the state of the university, this will be a light-hearted romp through some spectacular examples of executive malfeasance at NYU, Baylor, and Penn State.[1] (Tomorrow I'll look at the adjunct system, and potential effects of yesterday's NLRB decision. And there will be more posts to come on this topic, as I come to understand it better.)
Before I begin, though, let's recall Zephyr Teachout's definition of corruption. Not a quid pro quo — that's the Citizen's United doctrine, now supported by the Clinton campaign — but the use of public office for private ends. What does corruption look like in a university setting, given that some universities are private to begin with, and that "ends," in the ancient and tricky academe, may not always be immediately evident?
Here's a story from the University of Maine, Maine's "flagship" university. Our last President, Robert Kennedy, gave the contract for sports broadcasting to ClearChannel, thereby moving the profits out of state, because he took the contract away from Stephen King's radio station (yes, that Stephen King). Naturally, this ticked King off, and King — up to that point the university's largest donor, and the funder of many good works round the state, like dental clinics and libraries — decided he would no longer give to the university. (Kennedy then rorated out to the University of Connecticut, for a hefty salary increase, where he was shortly axed by the Regents for a cronyism scandal. Dodged a bullet, there, Maine!) Dollying back to the larger picture, King came up through the much despised and derided English Department, in the humanities, which powerful institution forces in the administration and the Board of Trustees are shifting resources away from, in favor of more pragmatic, "business-friendly," corporate majors (graduates, that is, that they themselves can hire[2]. Even though King was the university's largest donor.)
Is there corruption here? I would argue yes, but I'm not sure that Teachout's definition quite meets the case. The corruption I'm going to describe seems more along the lines of converting a public institution to serve private purposes (assuming higher education to be a public institution, which I do, because education is a public good)[3]. This is evident from the King story in two ways. First, Kennedy is only one of many university administrators who stay a couple years at an institution, punch their ticket, and move on to a higher salaried position elsewhere. Second, optimizing university curricula, grounds, personnel decisions, etc. for corporate ends is about as corrupt as you can get (as are the concomitant rationalizations and cover-ups that occur when scandal breaks). Now, human nature being what it is, a certain amount of empire-building and concern for one's rice bowl has always been inevitable, but when greed for one's self, or one's class, becomes the institutional driver, it's time for a thorough cleansing.
With that, let's look at the case of John Sexton, once President of NYU. (NYU is an important nexus for the Democrat nomenklatura, so we'll have more to say about NYU in the future.)
John Sexton, NYU
John Sexton (salary: $1.5 million) was President of New York University from 2002 to 2015, and for a portion of that time doubel-dipped as Chairman of the Board of the Federal Reserve Bank of New York. For the connoisseur of corruption, his long tenure provides an embarrassment of riches — the union busting, the faculty no-confidence votes, the Abu Dhabi debacle (among other issues, the campus was built using slave labor), the lavish compensation packages, the tacos made from endangered shark meat — but I'm going to focus on just one. The apartments. No, I don't mean the faculty apartment NYU remodeled for Sexton's son:
NYU gave president's aspiring actor son apartment on campus

Jed Sexton, whose sole affiliation with NYU was his status as the president's son, for years enjoyed a spacious faculty apartment while the university experienced a "severe" housing shortage, The Post has learned.

In spring 2002, NYU ordered that a pair of one-bedroom apartments normally reserved for law school faculty be combined into a lavish, two-story spread in the heart of Greenwich Village, property records show.

The Harvard-educated Sexton, who was a 33-year-old aspiring actor at the time, shared the new duplex with his newlywed wife, Danielle Decrette, for the next five years, according to documents and people briefed on the situation.

That's despite the fact that NYU officials, just weeks earlier, had warned in a written report of a "severe housing shortage" for faculty, "especially of larger units."
How cozy! No, I mean the vacation properties, plural, that NYU under Sexton doled out as perks to insiders:
NYU Offers Top Talent a Path to Beachfront Property

New York University students carry some of the highest debt loads in the nation, a fact they are bound to remember through gritted teeth when they read the New York Times report about the school's loans to top faculty for vacation homes in places like Fire Island and the Hamptons. The loans, which have gone to at least five faculty members in the medical and law schools as well as university president John Sexton, sometimes get forgiven over time as their recipients continue to work at the university. Mortgage loans apparently aren't unheard of as compensation packages for professors and executives in tight real estate markets, but they're usually for homes, not vacation properties.
From the New York Times, which broke the story, it seems that Sexton gifted himself a house, an "an elegant modern beach house that extends across three lots":
The house, which is owned by John Sexton, the president of New York University, was bought with a $600,000 loan from an N.Y.U. foundation that eventually grew to be $1 million, according to Suffolk County land records.
Since the late 1990s, at least five medical or law school faculty members at N.Y.U. have received loans on properties in the Hamptons or Fire Island, in addition to Dr. Sexton.
NYU's Chief Financial Officer Martin Dorph argued that arrangements like this are necessary to retain top personnel:
While that feeling is understandable, it is important to note the economic truth that the markets for different positions often dictate different levels of compensation, whether that is embodied in salary payments, loans, or an overarching agreement about terms of employment. And, when we commit to provide such compensation, we do so only when we are sure

that the benefit to the University far exceeds the cost.
First, CEO compensation and shareholder returns are inversely correllated; even if we grant Dorph's premise, and a corporate model for the university, it's just not clear that top compensation means top talent. Second, why doesn't NYU simply pay its talent more? Why complicate matters by bringing in vacation housing? Why not just write a fatter check? The answer can only be arbitrage of some sort: NYU giving access to property that otherwise isn't on the market, tax advantages of some kind, a better rate on the mortgage, or whatever; some way in which NYU uses its muscle on behalf of the compensated. But that is, precisely, converting a public institution to serve private purposes. Not to mention Sexton openly using NYU facilities to house his son and for his own vacation home on Fire Island. Come on. Why is that not self-dealing? And the rest of looks suspiciously like powerful faculty members feathering their own nests. "Why not? We deserve it."
Naturally, NYU has learned nothing, and is in fact doubling down: "N.Y.U. President's Penthouse Gets a Face-Lift Worth $1.1 Million (or More)." For Sexton's successor, Andrew Hamilton (salary: not disclosed):
The 19th and topmost floor of the building will be turned into a master-bedroom suite, where Dr. Hamilton will have private exits — one from the bedroom and one from the bathroom — onto a terrace overlooking Washington Square and, to the south, the financial district skyline, according to documents filed with New York City.
"Private exits." Perhaps he'll need them.
Ken Starr, Baylor University
We now turn to the simpler case of Baylor President Ken Starr (salary: $1 million), last seen unloading a dumpster-load of lascivious footnotes onto the steps of Capitol Hill during the Lewinsky matter (thank you, Monica, for helping to save Social Security from Bill Clinton). Former Manhattan assistant DA Bennett L. Gershman has a good summation, in full "What did he know, and when did he know it?" mode:
Baylor University, the country's largest Baptist university and a bastion of Christian values, has just been denounced in a blistering report by the University's Board of Regents for "mishandling" — covering up might be a more apt description — credible allegations of horrific sexual violence against female students, especially alleged assaults by members of the football team. The Board of Regents said it was "shocked," "outraged" and "horrified" by the extent of the acts of sexual violence on the campus, which covered years 2012 through 2015, and the failure of the University to take appropriate action to punish violators and prevent future violations. The Board issued an "apology to Baylor Nation," fired the football coach, and "transitioned" (the Regents' term) Baylor's President, Kenneth Starr, to the role of Chancellor. Starr also was allowed to retain his lucrative Chair and Professorship of constitutional law at Baylor's law school….

As Baylor's president from 2010 to 2016, the vexing question is the level of Starr's culpability for the "shocking," "outrageous," and "horrendous" sex scandal. What exactly did Starr know? The allegations of sexual violence on the campus were rampant and notorious, especially by the football players. Starr had to know something about the extent of the University's response to the complaints, and most likely the failure to address these complaints properly. Indeed, there were several Title IX investigations by the Justice Department at the time that Starr must have known about. Moreover, there are plenty of egregious examples of sexual violence on the campus that had to have been reported. In one egregious case, an All-Big 12 football player was accused in 2013 of sexual violence against a student. Although Waco police contacted university officials, nobody in the university investigated the case until two years later, after a Title IX investigation was underway, and media reports highlighted the case. This was after several other Baylor football players were indicted and convicted of sexual assaults. It was only then that the University hired an outside investigator. Notably, the headlines also prompted a public outcry, and a candlelight vigil at Starr's residence.

The Board of Regents Report describes the breadth of the independent investigation into the university's failure to properly address the University's dereliction. The investigators interviewed numerous University officials, but there is no mention whether they interviewed Starr, and if so, what he may have said. … Starr may have claimed to be unaware of the repeated failures of university officials to investigate these complaints, but is that contention credible? Starr presumably had to know that aggressively investigating these allegations — indeed, as aggressively as he investigated the sexual misdeeds of President Clinton — might have interfered with his intensive multi-million dollar fundraising efforts to build a new and lavish football stadium, which opened in 2014. And Starr may have believed that getting too deep into the mud of the roiling sexual scandal would undermine the public perception of Baylor's "Christian commitment within a caring community" — again the Board of Regents' description — as well as compromise the heroic efforts of the Baylor football team to win a national championship.

So Starr is no longer the university's president. To be sure, it's a demotion of sorts. He was allowed to keep his Chancellorship, which he just relinquished, but he still gets to keep his Chair and Professorship at the Law School. One might think this is not a very harsh result, certainly not if Starr knowingly violated federal law, or by his deliberate indifference allowed serious criminal conduct to take place at the university he led.
Alternet is, as one would expect, a bit more direct in connecting the dots:
Not to put too fine of a point on it, but Ken Starr is accused of ignoring sexual violence at Baylor University mostly because doing something about it would have jeopardized a cash cow.
(Note that the disgraced Baylor football coach's salay, $6 million, was six (6) times college President "Judge Starr." Starr will also retain his position on the faculty. Priorities!) The New York Times says what Alternet says, in its own more muffled language:
[Baylor] also fired the football coach, Art Briles, whose ascendant program brought in millions of dollars in revenue but was dogged by accusations of sexual assault committed by its players — an increasingly familiar combination in big-time college sports.
"Was dogged by." What we have here is a football team acting as a standalone, dominating entity, rather like a parasite controlling the behavior of the host univeristy:
Among the firm's findings was that football coaches and athletics administrators at the school in the central Texas city of Waco had run their own improper investigations into rape claims and that in some cases they chose not to report such allegations to an administrator outside of athletics.

By running their own "untrained" investigations and meeting directly with a complainant, football staff "improperly discredited" complainants' claims and "denied them a right to a fair, impartial and informed investigation."
Starr wanted the revenues. Briles wanted the revenues, the facilities, the salaries, the ticket to be punched, etc. Again, this is quite directly converting a public institution to serve private purposes. And like NYU, Baylor appears to have learned nothing. Starr still has a job, and was never censured. The full report was never released. And from an ad taken out by Baylor alumni: "Thank You Judge Ken Starr — For your integrity, leadership, character and humble nature."
Eric Barron, Penn State
Finally, we come to Eric Barron, President of Penn State (salary: $1.2 million with incentives). I'm not going to focus on whether Penn State hiring Barron in the wake of his dubious handling of a festering rape scandal at Florida State was odd, or not. And I'm not going to focus on climatologist Barron's relationship with Koch Brothers funding. Or his conflation of "incredulous" with "incredible"; who among us, etc. No, I'm going to focus on this amazing piece of puffery. From an interview with Barron on "entrepreneurship" and "proactive leadership":
ERIC J. BARRON: We actually have launched a whole program, which is titled "Invent Penn State," and there are several different elements of this. One is to do more to incentivize people on campus to get their ideas out into the marketplace. We have many, many student events that are competitions and have scholarship funds at the end of it. The second part of it is to add more visibility to our intellectual property. A third part is to build an ecosystem around our campuses that promote startups and partnerships with communities.

A general view, in my opinion, is that many universities are focused on this topic as a source of revenue, not as educational experiences for students and opportunities for them to do startups. We have a lot of effort on the student side. The minors have expanded. I think we have six or seven entrepreneurship minors now that are embedded in curriculum for different colleges if you want. Last year, we started having any student with any major to be able to get all the credits equivalent to a minor in business. There's a lot on that side plus startup weeks and other activities with a scholarship side of it.

We have funded but have not yet cut the ribbon on a total of 20 incubators and accelerators around the state of Pennsylvania associated with our campuses. In March, we cut the ribbon on what's called Happy Valley Launch Box, which is here in State College, with the idea of having 30 startups in there at any one time. I think we had about 15 before even 30 days. All of these have gone through some sort of vetting process or competition for which they were winners. It's growing just left and right. Many of them, we've given them seed money and they've gotten many times more money from their community and other partners that want to enable the students.
Never mind converting an entire student population into "winners" and "losers." Never mind that 90% of start-ups fail. Never mind that when startups succeed, it's as much a matter of luck, and especially the luck of having been born into the right social network. Thomas Frank has already described Barron's program, and where it leads. This is the innovation cult! Quoting Frank once more:
I just finished Thomas Frank's excellent Listen, Liberal, and he has a great rant about "innovation," of which I will show a great slab here, from p 186 et seq. Frank even helpfully quotes the more egregious bullshit tells, so I don't have to highlight them! Do read it in full. After visiting hollowed out mill town Fall River, Frank goes to Boston:
And: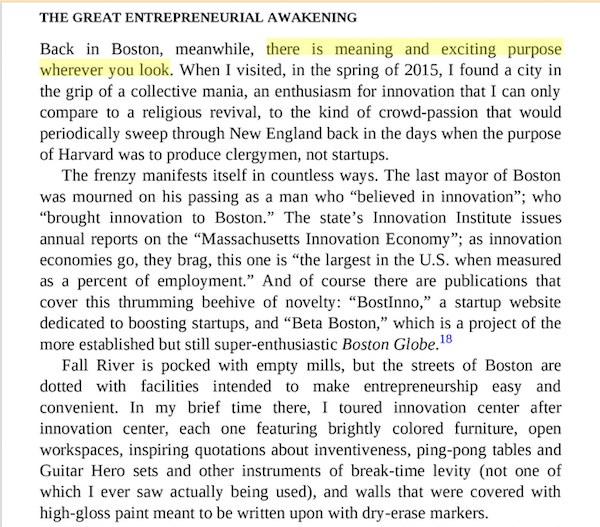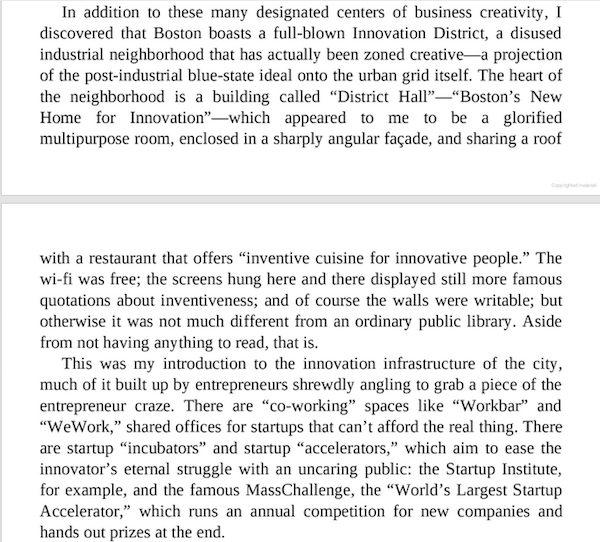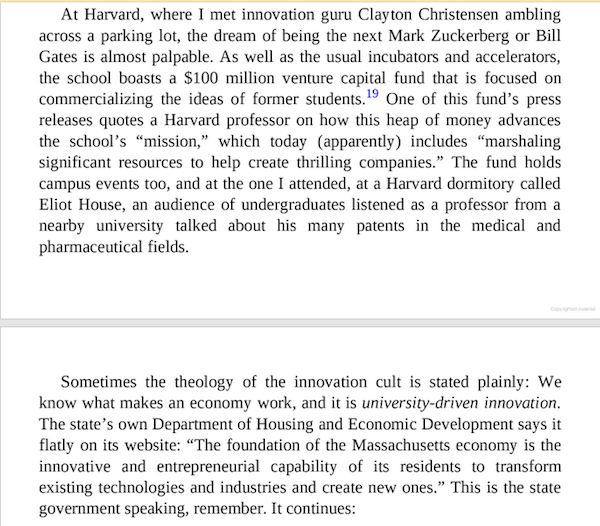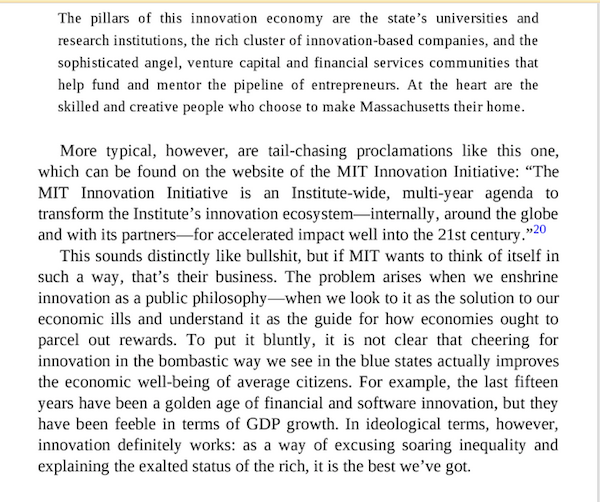 Let's also leave aside the issue of whether "innovation" culture increases "income inequality." Suppose Penn State structures its curriculum to optimize for startups (and not for education as such; critical thinking skills, the construction of narratives, the sciences, research, even (relatively) humdrum majors like accounting). What happens to the students when 90% of their startups fail, as history tells us they will? What will they have to fall back on, if everything has been optimized for startups, and the rest of the university's assets have been stripped?
The future lies ahead on that question. For now, I'm uncertain whether "the innovation" cult is corrupt as such, or not. Certainly it provides almost limitles opportunities for backscratching, logrolling, bezzle creation, and so forth. And Barron seems to conceive of it as a big revenue generating opportunity for Penn State (rather like the football team, if it comes to that). If the program fails, and is seen to fail, will Penn State learn from the experience? It's hard to know, but Barron's handling of the fallout from the Sandusky matter does not inspire confidence.
Conclusion
So, what we've got here is an NYU President handing a New York apartment, meant for faculty, to his son, and what looks rather like powerful faculty members feathering their own nests with cheap housing; we've got a Baylor President not wanting to cross a powerful and wealthy football team, even to the extent of failing to handle a rape scandal; and at Penn State we've got a President who's a member of the "innovation cult," when it's not at all clear this will benefit the student body as a whole. Have any of these institutions learned from these experiences? No. Are these college Presidents personally responsible for corruption at their universities — for converting a public institution to serve private purposes? Sexton and Start, yes. For Barron, the jury is still out.
And these are the institutions of higher education that are granting credentials. Not a good look. More examples from readers welcome!
NOTES
[1] I should disclose my priors and/or prejudices: I'm a university brat with a humanities background. Family tradition mandates that I instinctively distrust college administrators, Big Football, fraternities, and sororities (and, my parents would urge, for very good reasons). Only the first two will be at issue here.
[2] That is, they're creating hires, as opposed to creating graduates some of whom might be creative enough to come up with businesses that compete with their own.
[3] If you think that implies that neoliberalism is intrinsically corrupt, since it will put everything up for sale, including itself, you're not wrong.