By Lambert Strether of Corrente.
Readers, my logistical difficulties have now rippled through to Water Cooler; I'll do as much as I can, with some updates.
* * *
2016
Corruption
When non-profit professionals look at the Clinton Foundation, they just shake their heads. Those who aren't worried about keeping their heads on their shoulders, that is:

Carter Center: top rating from Charity Navigator
Clinton Foundation: cannot even be assessed due to opaque structure pic.twitter.com/m3VsXAWYK7

— Michael Tracey (@mtracey) August 22, 2016

UPDATE "Greenwald: 'Why Did Saudi Regime & Other Gulf Tyrannies Donate Millions to Clinton Foundation?'" [Democracy Now!].Stating the obvious:

[W]hat Donna Brazile said in that video that you played is nothing short of laughable. It's not questioned when Republicans do favors for their donors? Of course it is. In fact, it's been a core, central critique of the Democratic Party, both Barack Obama and Hillary Clinton, for years, that Republicans are corrupt because they serve the interest of their big donors. One of the primary positions of the Democratic Party is that the Citizens United decision of the Supreme Court has corrupted politics because it allows huge money to flow into the political process in a way that ensures, or at least creates the appearance, that people are doing favors for donors.

And so, here you have Hillary Clinton and Bill Clinton having this Clinton Foundation, with billions of dollars pouring into it from some of the world's worst tyrannies, like Saudi Arabia and the United Arab Emirates and Qatar and other Gulf states, other people who have all kinds of vested interests in the policies of the United States government. And at the same time, in many cases, both Bill and Hillary Clinton are being personally enriched by those same people, doing speeches, for many hundreds of thousands of dollars, in front of them, at the same time that she's running the State Department, getting ready to run for president, and soon will be running the executive branch. …

And so, the problem here is that the Clintons have essentially become the pioneers of eliminating all of these lines, of amassing massive wealth from around the world, and using that to boost their own political power, and then using that political power to boost the interests of the people who are enriching them in all kinds of ways. And of course questions need to be asked, and suspicions are necessarily raised, because this kind of behavior is inherently suspicious. And it needs a lot of media scrutiny and a lot of attention, and I'm glad it's getting that.

Maybe Greenwald being too nice? It isn't just "suspicious." It's influence peddling, which is corrupt by definition. And there's a whole infrastructure, institutional and technical, to support it.

"When politics and justice collide: Clinton case echoes Gore probe" [USA Today]. Remember "no controlling legal authority"? Good times. And one way to look at Clinton's privatized server is to see it as a deliberate attempt to create a "safe space," where the law does not apply (let alone what used to be ethical norms, like not putting access to the powers of your office up for sake in real time).
Policy
"Hillary Clinton had the chance to make gay rights history. She refused." [WaPo]. And yet now she's a feminist icon (supposing feminism to mean something other than career advancement for 10% women.). Life is very odd.

And then there's this, from swing state Pennsylvania:

In Pennsylvania, at Zapata taco stand, off route 93. pic.twitter.com/dc6TCqyTtt

— Andrea Nguyen (@aqnguyen) August 28, 2016

America!
The Voters
"Huma Abedin separates from Anthony Weiner after latest sexting scandal" [The Hill]. Musical interlude!

"The strangely amazing Twitter poetry of Sen. Charles Grassley" [The Week]. And then there's this:

The best bumper sticker in American history pic.twitter.com/BudVC5URA1

— Ben Jacobs (@Bencjacobs) August 28, 2016

It is what it is. And at least it's not pretending to be anything else.
Realignment
UPDATE "A Field Guide to Red and Blue America" (charts) [Wall Street Journal]. Not really a "Field Guide," since that would imply actual contact with members of the respective species. But interesting nonetheless!

UPDATE "Democratic Dream of Two Blue Coasts? Clinton Is in Striking Distance" [New York Times]. Another way to slice the country in two.

"Republicans Against Trump: Bush Advisor Wolfowitz Says He'll Likely Vote for Clinton" [Der Speigel]. Another member of the Iraq Debacle team, so I'm sure Clinton is quite comfortable with him. For those who came in late: The video of Wolfowitz licking his comb before combing his hair is priceless!
Clinton Email Hairball
"Hillary Clinton Used BleachBit To Wipe Emails" [SlashDot]. They cleaned those disks down to the bare metal. I wonder why?
Stats Watch
Personal Income and Outlays, July 2016: " Income picked up slightly in July and consumption slowed slightly in what was another constructive month for the consumer." [Econoday]. "The respectable showings for income and spending are no surprise given the strong employment report for July, strength that is the underpinning of the consumer. The outlook for August will unfold this week, with vehicle sales on Thursday and the employment report on Friday." But: "The headline data this month continues to show consumer expenditure growth. This is postive for 3Q2016 GDP if one considers GDP as a good measure of the economy. The negative of the headlines is that year-over-year income is still growing slower than expenditures" [Econintersect].
Dallas Fed Mfg Survey, August 2016: "There's as many positives as negatives in the August manufacturing report from the Dallas Fed, which is a plus since negatives usually dominate this report" [Econoday]. "This along with the Kansas City Fed report have been depressed the past 2 years due to the drop in energy prices. But today's report, though no better than mixed, does show signs of improvement, in a reminder of last week's solid strength in the durable goods report." But: "Of the four Federal Reserve districts which have released their August manufacturing surveys – two are in contraction and two are in expansion" [Econintersect].
Retail: "Sears workers reveal why the company is bleeding cash" [Business Insider]. I went to the Mall over the weekend, and there were a lot of empty spaces and shelves in the Sears; looks like were going to lose an anchor tenant. Macy's was still doing OK, but for how long?
Retail: "Amazon.com will soon launch a program to experiment with a 30-hour workweek for select employees" [Jeff Bezos Shopper WaPo].
The Bezzle: "Direct Match, a Wall Street trading startup focused on the US Treasurys market, is exploring strategic options that could include a sale" [Business Insider]. Ah. "Strategic options."
UPDATE The Bezzle: "Legalist is a Silicon Valley startup that was developed in the Y Combinator incubator offering 'data-backed litigation financing' using algorithms to 'analyze millions of court cases to source, vet, and finance commercial litigation.' It's the latest in a series of companies that allow third parties to 'invest' in the success of a lawsuit, by funding said lawsuit" [Motherboard].
Co-ops: "NCBA CLUSA kicked off its 100th Anniversary at the National Press Club yesterday with the formal launch of the newly-formed bipartisan Congressional Cooperative Business Caucus and testimonies from a broad spectrum of co-op advocates" [NCBA].
UPDATE Political Risk: Happy dance for Warren Mosler on the Euro:
Talk about nailing it. May 5, 1998@wbmosler pic.twitter.com/qLprlJQbXg

— Stephanie Kelton (@StephanieKelton) August 26, 2016
UPDATE Today's Fear & Greed Index: 66 Greed (previous close: 63, Extreme Greed) [CNN]. One week ago: 72 (Extreme Greed). (0 is Extreme Fear; 100 is Extreme Greed). Last updated Aug 29 at 2:08pm. Still mere Greed. Did J-Yel make Mr. Market have a sad?
Black Injustice Tipping Point
UPDATE "Socialism and the American Negro" (transcript) [W.E.B. DuBois, Smithsonian].
Corruption
"Coming soon to a school near you Idaho: Charter school cronyism" [Idaho's Promise]. I wonder what all the preppers in "The Redoubt" think about this.
Health Care
UPDATE Here's a handy chart [Wall Street Journal, "Burden of Health-Care Costs Moves to the Middle Class"].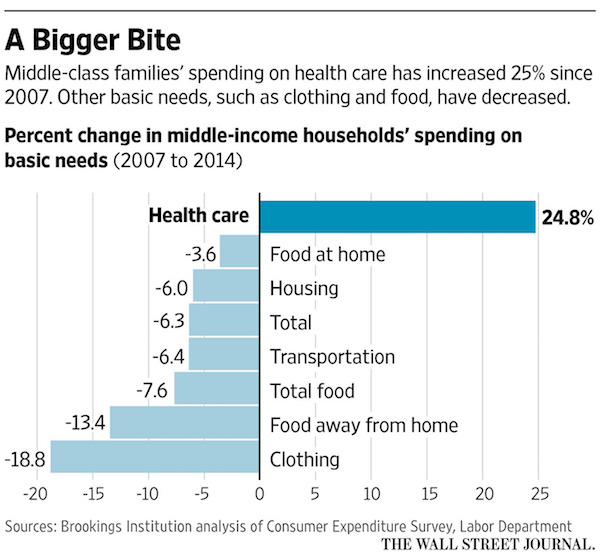 There's your service economy….
UPDATE "Enrollment in the insurance exchanges for President Obama's signature health-care law is at less than half the initial forecast, pushing several major insurance companies to stop offering health plans in certain markets because of significant financial losses" [WaPo]. As a result, the administration's promise of a menu of health-plan choices has been replaced by a , though preliminary, forecast: Next year, more than 1 in 4 counties are at risk of having a single insurer on its exchange, said Cynthia Cox, who studies health reform for the Kaiser Family Foundation." And enrollment is going to open up right before election day, too.
Gaia
UPDATE "The Iowa Utilities Board approved the nation's largest wind energy project, which will power 800,000 homes once completed" [EcoWatch]. I wonder if the money stays in the state. It doesn't in Maine.
Class Warfare
It's almost as if the public noticed when the Fed — and, to be fair, the entire political class — bailed out the banks and nobody else:
The decline and fall of the Federal Reserve's public reputation https://t.co/qNpJdO9jcO pic.twitter.com/pUumA4w6n7

— Ben Leubsdorf (@BenLeubsdorf) August 25, 2016
News of the Wired
This seems to capture the current zeitgeist quite well:
Happy dead birthday to legendary weirdo Jack Kirby pic.twitter.com/ayIGJnRqv7

— Christopher M (@mammothfactory) August 28, 2016
* * *
Readers, feel free to contact me with (a) links, and even better (b) sources I should curate regularly, and (c) to find out how to send me images of plants. Vegetables are fine! Fungi are deemed to be honorary plants! See the previous Water Cooler (with plant) here. And here's today's plant (KS):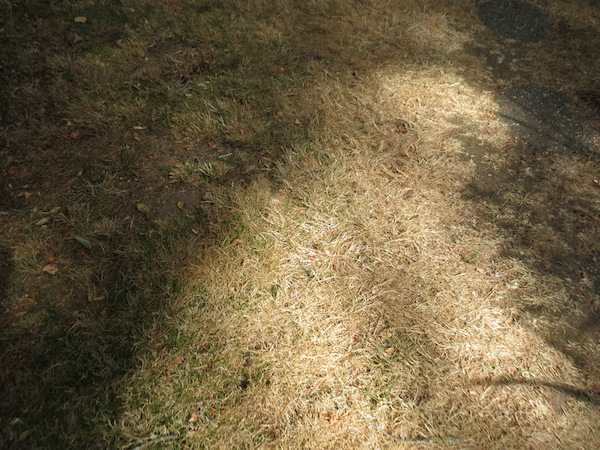 Prompted by our xeriscaping discussion, KS sent "some photos showing some unirrigated plantings in the yard. Summer's been nice but/and dry."
No kidding!
* * *
Readers, I know it's the dead days of August, but if you can, please use the dropdown to choose your contribution, and then click the hat! Your tip will be welcome today, and indeed any day. Water Cooler will not exist without your continued help.