By Lambert Strether of Corrente.
Readers, the political information flow was really an embarrassment of riches today, so I'll be adding more (2:42PM: done).
TPP/TTIP/TISA
"'The current agreement, the Trans-Pacific [Partnership], which has some serious flaws, will not be acted upon this year,' [Senate Majority Leader Mitch] McConnell said at the Kentucky State Farm Bureau breakfast Thursday" [The Hill]. McConnell, on passing Fast Track: "' was aligned with Barack Obama against [Sen.] Harry Reid [D-Nev.] and [House Minority Leader] Nancy Pelosi [D-Calif.]," he said. 'Almost an out-of-body experience, now that I think about it.'" All the more reason for interested parties to donate to the Clinton Foundation, I suppose. McConnell's doing Clinton a real favor!
"Japanese Prime Minister Shinzo Abe will be challenged to find some other way to make much-needed economic reforms to stimulate growth if Congress fails to approve the TPP pact and the initiative dies on the vine, a former U.S. trade official said Thursday" [Politico]. Abe has already collected his quid pro quo from Obama: Permission to remilitarized.
2016
Corruption
"Watchdogs warn of 'serious' conflicts of interest for Clinton Foundation" [The Hill]. "Chelsea Clinton's role on the board will only perpetuate the 'pay to play' perceptions and accusations, the watchdogs said. 'As long as the Clinton Foundation is tied to the family,' [Craig Holman, government affairs lobbyist at Public Citizen] said, 'very wealthy' people and special interests 'will try to find a way to throw money at the feet' of the Clinton family. And if Chelsea Clinton remains on the board — especially if she retains a fundraising roll — 'she would be the avenue.'" This is so wrong. How else is Chelsea supposed to raise money for her Senate run? Answer me that!

UPDATE "Chelsea Clinton would remain on the board of her family's foundation even if her mother is elected president, a spokeswoman said Thursday" [AP].

"Hillary Clinton said Friday the charitable programs of her family foundation would continue, perhaps through partnerships with other organizations, if she's elected president, even as critics argue that would present a conflict of interest" [AP]. Because everybody knows Middle East Wahhabists are totes on board with funding programs for women and girls.

"Editorial: Clintons should end ties to charity " [Charlotte Observer]. "[Clinton] seems not to recognize that while a good lawyer focuses on what the law allows, a good politician focuses on what the people want. Her dismal trustworthiness ratings strongly suggest the people want to see stricter ethical standards from her. She ignores that at her own peril."

UPDATE "The key to understanding why good government advocates are upset about the new revelations is to first get past the argument that Clinton Foundation donors were transactionally rewarded for their gifts" [Vox]. "This is not what my sources argued. Instead, the heart of their complaint was that the foundation's contributors appear to have gained a greater ability to make their voices heard by Clinton's State Department by virtue of donating to her husband's private foundation."

In other words, the Clinton Foundation (private) was selling access to the Secretary of State (public). That's called influence peddling, and if you follow Zephyr Teachout on corruption (and not the majority in Citizens United) that's a textbook case of corruption. The Clinton Foundation enables as capital in the form of wealth to be converted into social capital in the form of access (and reputation laundering). Which is how the Beltway works, and how an oligarchy works. As we have seen, liberals accept this completely, as do conservatives, although the left does not.

"Democrats embrace the logic of 'Citizens United'" [Lawrence Lessig, WaPo]. 2015, even more true today. See also Sirota from 2015.

UPDATE What liberals and Democrats used to believe, before the giant sucking pit of need that is the Clinton campaign made them lose their minds [image of tiny little hands waving, faint screams, as they circle downward in the vortex]. The dissenting opinion from Citizens United:

Justice Stevens' dissent in Citizens United (via @ggreenwald ) shreds the central argument of Hillary's defenders pic.twitter.com/M68EF0zsir

— Will Bunch (@Will_Bunch) August 25, 2016

UPDATE From The Blogger Formerly KnownAs Who Is IOZ?

There's an old Mexican saying: In the absence of an obvious quid pro quo, all payola is charity.

— Jacob Bacharach (@jakebackpack) August 26, 2016

On the AP story about the Clinton Foundation, the State Department refused AP access to all visitor logs. Then Clinton campaign surrogates complained that AP based its story on incomplete visitor logs. And so it goes in HillaryLand [The Intercept]. Lots more detail in this story, well worth a read.

UPDATE "Clinton Foundation Investigation Update: Key Details About Financial And Political Dealings" [David Sirota, International Business Times]. Good wrap-up from Sirota, who's been all over this.

UPDATE "On the campaign trial, Clinton is using a private airplane owned by a Wall Street banker and donor to get to fund-raisers this week on the West Coast" [New York Post]. How cozy.
Policy
"[W]e should expect Clinton to shape her foreign policy to neutralise the threat to her nomination in 2020 from the left of her party. So forget Hillary the hawk. To consolidate her Democrat base she will be even more cautious abroad than Barack Obama has been" [Lowy Interpreter]. "Ambitious Republicans looking to 2020 must already be sketching for themselves a foreign policy stance that captures [the appeal of Trump's 'America First' brand of muscular isolationism] while avoiding Trump's many negatives. So Clinton will face much less pressure from the traditional right on foreign policy than she ever has before." No. We should expect Clinton to kick the left and ally herself with establishment Republicans. Which she is already doing.
Money
"When the Democratic National Committee announced its $32 million fundraising haul last month, it touted the result as evidence of 'energy and excitement' for Hillary Clinton's nomination for the White House and other races down the ballot. The influx of money, however, also owes in part to an unprecedented workaround of political spending limits that lets the party tap into millions of dollars more from Clinton's wealthiest donors" [Bloomberg]. "At least $7.3 million of the DNC's July total originated with payments from hundreds of major donors who had already contributed the maximum $33,400 to the national committee, a review of Federal Election Commission filings shows. The contributions, many of which were made months earlier, were first bundled by the Hillary Victory Fund and then transferred to the state Democratic parties, which effectively stripped the donors' names and sent the money to the DNC as a lump sum. Of the transfers that state parties made to the DNC for which donor information was available, an overwhelming proportion came from contributions from maxed-out donors."

Lovely. Doubling down on the Victory Fund scam. Word of the day: Effrontery.
The Voters
UPDATE "Absentee ballot returns show spike in unlikely voters weighing in on Florida's primary" [Tampa Bay Observer]. "Almost half of the mail ballots returned so far for Tuesday's primary election have come from Floridians who voted in either one or zero of the past four primary elections. That means a big, decisive chunk of the vote will come from people who have not been polled, and potentially not courted, targeted or accounted for by countless campaigns across the state." And: "Pinpointing the reason for the trend is impossible, but local elections supervisors increasingly are promoting and encouraging people to vote by mail. It's more convenient for voters, less expensive to manage than in-person early voting, and the more people who vote before election day, the less likely polling places are to be overwhelmed." Which is insane, since there's now no such thing as an election day, and well-known incumbents are favored.

"A bleak choice between a 'liar' and your 'drunk uncle' for one Wisconsin focus group" [WaPo].

"Presidential contenders Hillary Clinton and Donald Trump delivered searing indictments of one another Thursday, trading charges of racism and corruption, and setting the tone for a bitter fight until the November election" [Wall Street Journal, "Hillary Clinton and Donald Trump Ramp Up Intensity of Attacks"]. Clinton: "There has been a steady stream of bigotry coming from him." Trump: "Clinton's actions constitute all of the elements of a major criminal enterprise." Maybe when they're both in the same room together for the debates….

"Clinton rips Trump in speech linking him to 'alt-right'" [Yahoo News].

UPDATE On alt-right:

This 4chan post is basically the truth although I doubt hillary actually believes this stupidity, but she said it pic.twitter.com/0YdpbTCn7W

— Zaid Jilani (@ZaidJilani) August 26, 2016

I think this tweet is basically correct, but Clinton's base of symbol manipulators may ascribe more power to trolls than they actually have. And, of course, many Clinton supporters online work for an organization that pays trolls (Brock's "Correct the Record") so perhaps there are competitive instincts at play.

"The Democratic nominee on Thursday suggested that Trump and his followers were an aberration from the GOP as a whole, but they had not taken it captive. 'A fringe element has effectively taken over the Republican Party,' she claimed" [The Hill]. So, Nixon adopting the Southern Strategy, Reagan launching a campaign at Philadelphia, Mississippi, Bush handing the keys for the car to the Christian right… The Republican establishment was, in essence, reasonable until Trump came along, apparently. People you can do business with. This is certainly erasure on a massive scale, and how on earth does such historical revisionism help Democrats, even assuming the Democrat Establishment deserves to be helped?
Realignment
"Donald Trump now needs a swing of only 3 to 4 percentage points in key battleground states to win this election" [MarketWatch]. "according to a new poll in Michigan, one of the key states in play, as well as the latest polls in other key states… Meanwhile, Trump faces even smaller deficits in other key battleground states. According to the polling averages calculated by Real Clear Politics, Trump trails by just 5 points in Ohio, 4 points in Florida and 2 points in North Carolina. Recent polls have also put him level with Clinton in Nevada and Iowa." Lambert here: My view is that triumphalism from the Clinton campaign — which now includes most of the political class, including the press and both party establishments, and ignores event risk — is engineered to get early voters to "go with the winner."

Our Revolution: "The senator hailed as a major accomplishment his delegates' work crafting what he called the "strongest and most progressive" platform in the Democratic Party's history. And he vowed to implement many of its planks" [Seven Days]. Sanders: "'If anybody thinks that that document and what is in that platform is simply going to be resting on a shelf somewhere accumulating dust, they are very mistaken,' he said. 'We are going to bring the platform alive and make it the blueprint for moving the Democrats forward in Congress and all across this country." So, more than "values." However, where there's less to hate in the Dem platform than usual, it's hardly adequate for the challenges facing the country. Now, if the operational definition of "bring the platform alive" means "incorporate all the Sanders planks the Dem establishment voted down," I'd be a lot happier. I haven't heard that yet.

UPDATE From the Benjamin Dixon show:

Adolph Reed on "Vote for the Lying Neoliberal Warmonger" Article, full interview: https://t.co/tWt1tL3Dr5 via @YouTube

— Benjamin Dixon (@TheBpDShow) August 26, 2016

Previous Dixon interview with Reed here (just for anybody who thinks Reed is a Clinton Democrat).
Clinton Email Hairball
"Clinton is attempting to inoculate the public against the 'October Surprise' they fear is coming from Julian Assange, the Wikileaks founder holed up in the Ecuadorean embassy in London. With Donald Trump's electoral prospects diminishing by the day, the only thing the Clinton camp has to fear is the facts. Therefore, the campaign's mission is to poison the well of public discussion in order to immunize Clinton from future factual disclosures" [Black Agenda Report].

"Judge orders search of new Clinton emails for release by September 13" [Reuters]. "A U.S. judge ordered the State Department on Thursday to release by Sept. 13 any emails it finds between Hillary Clinton and the White House from the week of the 2012 attack in Benghazi, Libya, among the thousands of additional emails uncovered by federal investigators."
Stats Watch
GDP, Q2 2016: "Very soft" [Econoday]. " [A]t only a plus 1.1 percent annualized rate for the second estimate following even softer rates in the prior two quarters of 0.8 and 0.9 percent. But masked in the latest quarter is a very strong 4.4 percent annualized growth rate for consumer spending which is 2 tenths higher than the first estimate. Inventory draw is the quarter's culprit, pulling down GDP by a very steep 1.3 percentage points. But, in a counter-intuitive twist, lighter inventory in times of slow economic growth is a major positive for future production and employment and is a major plus for the ongoing quarter." I dunno. "There's no pony in here now, but at some future point, there will be a pony, because ponies have always appeared in the past." Caveat: Bearish priors! And: "There was no major reason for the decline in GDP – just minor downward adjustments to inventories and government spending" [Econintersect]. But more: "A particularly telling representation of slowing growth in the US economy is the year-over-year rate of change. The average rate at the start of recessions is 3.35%. All eleven recessions over this timeframe have begun at a higher level of real YoY GDP."
Wholesale Trade, July 2016: "[U]nchanged" [Econoday]. "These results point to the need for inventory rebuilding and are a positive for the economic outlook" (remarks and caveat as above).
International Trade in Goods, July 2016: "A surge in food exports helped cut the nation's goods gap" [Econoday]. " Exports of foods, feeds & beverages rose 31 percent in the month though export prices of agricultural goods actually dipped slightly in the month. Other export readings are less favorable including a decline for capital goods, reflecting weak global investment in new equipment, and a small dip for consumer goods. A dip in imports also helped narrow the headline gap in July as capital goods imports and especially consumer goods imports fell sharply. The improvement in today's headline is a big plus for early third-quarter GDP estimates but it doesn't point to strength in underlying cross-border demand."
Corporate Profits, Q2 2016: "Corporate profits fell 2.2 percent year-on-year in the second quarter following a 2.3 percent decline in the first quarter" [Econoday].
Consumer Sentiment, August 2016: "[S]teady and respectable" [Econoday]. "The expectations component edged higher in the month to 78.7 which hints at confidence in the jobs outlook. Hinting at marginal softening in the current jobs market is the current conditions index which is down 2.0 points to a still solid 107.0. Inflation readings are especially weak in this report, reflecting in part this month's downturn in gasoline prices." And: "So the latest sentiment number puts us 20.5 points above the average recession mindset and 2.2 points above the non-recession average" [Econintersect].
Housing: "Two of the key reasons inventory is low: 1) A large number of single family home and condos were converted to rental units. Last year, housing economist Tom Lawler estimated there were 17.5 million renter occupied single family homes in the U.S., up from 10.7 million in 2000. Many of these houses were purchased by investors, and rents have increased substantially, and the investors are not selling (even though prices have increased too). Most of these rental conversions were at the lower end, and that is limiting the supply for first time buyers. 2) Baby boomers are aging in place (people tend to downsize when they are 75 or 80, in another 10 to 20 years for the boomers). Instead we are seeing a surge in home improvement spending, and this is also limiting supply" [Calculated Risk].
Shipping: "Rail Week Ending 20 August 2016: Remains In Contraction And Rate Of Improvement Slows" [Econintersect].
Shipping: "Rail is a huge expenditure for railroads, so extending rail life is crucial. Minimizing the potential for derailments is also critical. Many railroads grind rail to restore the profile and, as a result, extend rail life and improve ride quality" [Progressive Railroading].
Shipping: "Airfreight rates continued to climb in July, reaching a new high for the year and closing in on last year's level" [Air Cargo News]. Drewry: "The latest reading still signified the lowest July level since the index first launched in 2012, providing a reminder of the general weakness of the market. Higher fuel costs have played a part in driving this recovery, though signs are emerging of a mild strengthening in demand conditions, albeit from a low base."
Shipping: "Truck shipments were rmixed in July (depending on whose data one uses) – even the BLS employment data remained weak but did improve relative to the previous month. There is no question that the data here is soft, but the trend lines are mixed" [Econintersect].
Shipping: "The Baltic Exchange has secured sufficient shareholders' approval for its sale to the Singapore Exchange, despite a handful of panellists not yet approving the deal.According to a statement published on the exchange's website, 75.2% of shareholders have given their consent to the deal [Lloyd's List].
Supply Chain: "U.S. agriculture shippers say they are starting to see added costs since China added the U.S. to a list of Zika-infected countries early this month, and the WSJ's Costas Paris reports they're worried about bigger problems in supply chains as enforcement policies are rolled out" [Wall Street Journal].
Retail: "As consumers increasingly shop online for the best deals, retailers are pushing lower prices, putting pressure on factories and intermediaries alike. The big brands also are ordering less as shoppers move to online marketplaces, leaving sourcing agents with slimmer pipelines" [Wall Street Journal]. So that inventory bounceback may not be as big as conventional wisdom says. With much more efficient shipping, warehousing delivery systems plus online sales, can we leave more inventory "in the ground," as it were?
Political Risk: "Bernstein: Passive Investing Is Worse for Society Than Marxism" [Bloomberg]. "The social function of active management, in a capitalist society, is that it seeks to direct capital to its most productive end [snort], facilitating sustainable job creation [oh?] and a rise in the aggregate standard of living [no matter how distributed]. And rather than be guided by the Invisible Hand and profit motive, capital allocation under Marxism is conducted by an oh-so-visible hand aimed at producing use-values that satisfy each member of the society's needs. Seen through this lens, passive management is somewhat tantamount to a nihilistic approach to capital allocation. To adapt a line from a Coen brothers classic: Say what you will about the tenets of Marxism, Dude, at least it's a formal attempt to direct capital to achieve a desired end."
Political Risk: "nobody is suggesting that productivity isn't rising because individuals aren't working hard enough. On the contrary, most economists believe that American blue and white collar workers alike are firing on all cylinders. What we need are new tools and training to make the work that we do count more. That will ultimately require technologies that take us far beyond online taxi ordering, food delivery and the latest gaming app" [Time]. In other words, the capitalists are doing a terrible job of capital allocation?
Political Risk: "America's investment in its own future is in a depression" [MarketWatch]. "[T]here's still very little investment in the buildings, equipment and intellectual property that we ought to be putting into place today as the foundation of our prosperity tomorrow. Who's preparing the United States for the 21st century? Nobody, really. Not the 22 million private businesses, not the 118 million households, and not the 90,000 state, local or federal government agencies." It's rare to see a ruling class write off an entire continent. I can't think of a parallel. Will the elites all head for Mars? Do they share an unspoken depopulation scenario? More pragmatically, and for what this is worth: If what I see in my Maine town is a good proxy, I think a lot of very small business did invest in capital this quarter, but this is hidden in home improvement and truck sales numbers. Many freshly painted branded vans and pickups, lots of small physical plant stuff, like floors and doors. The Maine bear in me says they're protecting themselves from the incoming storm. Readers, do you see similar things?
The Fed: "How the Federal Reserve can gird for the next crash" [Mark Thoma, CBS]. "The Fed did not have enough room to cut interest rates before hitting the zero lower bound when the recession hit. Raising the target inflation rate, which would increase average interest rates and give the Fed more space for rate cuts, is something the Fed ought to seriously consider."
The Fed: "Here's what the Fed's rate should be, using rule footnoted in Yellen speech" (with image of the footnote) [MarketWatch]. "the formula: it involves four variables: so-called R-star, which is the longer-run normal value of the federal funds rate adjusted for inflation; the four-quarter moving average of core PCE inflation; the FOMC's target for inflation; the unemployment rate and the longer-run normal rate of unemployment. … [U]sing current data, the formula yields a federal funds rate of 0.54%, which is above the current target between 0.25% and 0.5%. (The effective federal funds rate was 0.4% this week.)"
The Fed: "'One of the key goals should be that we don't have another recession,' said Boston Fed President Eric Rosengren" at a meeting with activists opposing a rate hike [Futures].
Today's Fear & Greed Index: 62 Greed (previous close: 65, Extreme Greed) [CNN]. One week ago: 76 (Extreme Greed). (0 is Extreme Fear; 100 is Extreme Greed). Last updated Aug 26 at 12:04pm. Musical interlude!
Corruption
"Should Iowa professor promoting MS diet lead study to see if it works?" [Des Moines Register]. No.
Imperial Collapse Watch
"U.S. Military Now Says ISIS Leader Was Held in Notorious Abu Ghraib Prison" [The Intercept]. "In the occupation's first few years, U.S. facilities like Abu Ghraib and Camp developed a reputation as "jihadi universities" where hard-line extremists indoctrinated and recruited less radical inmates. Analysts have long suspected that Baghdadi took full advantage of his time at Bucca to link up with the jihadis and former Iraqi military officials who would later fill out the Islamic State's leadership." Well played, all.
Dear Old Blighty
"Right-Of-Center Labour Party Careerists In The U.K. Are Every Bit As Sleazy As Wasserman Schultz And Steve Israel Here" [Down with Tyranny].
" Jeremy Corbyn fends off Branson attack over 'ram-packed' Virgin train" [Guardian]. I'm sure that Corbyn's position on renationalizing rail has no bearing whatever on Virgin's decision to release CCTV footage from carriages that it owns and operates.
"Jeremy Corbyn claim Virgin train was 'ram-packed' backed by passengers" [Independent].
Class Warfare
"Milanovic and Roemer (2016) show that what seems a very positive development (that is, lower global inequality) when individuals are assumed to be concerned solely with their absolute incomes becomes much less positive when we also include in their welfare functions a concern with relative positions in national income distributions. Then the dominant feeling across the world, reflecting increasing national income inequalities, becomes one of a relative loss" [Branko Milanovic, Defend Democracy]. Charts, with an analysis of the "elephant graph."
"Who Works for the Workers?" [n+1]. "Union opponents think this quiescence means workers don't want to fight. Romantic union supporters, perhaps including the people at the conference, tend to think that workers are ready for a struggle but held back by conservative middle-class leadership. Neither account fully contemplates the idea that the struggle between labor and capital might more simply reflect the balance of power. The union movement's problem, in other words, isn't that workers don't want to fight; it's that they don't want to lose." Very interesting article, that overlaps with the movement vs. party discussion.
News of the Wired
"When the Police Target Black Twitter" [Brennan Center].
"Hillary Clinton's well-heeled backers have opened a new frontier in digital campaigning, one that seems to have been inspired by some of the Internet's worst instincts. Correct the Record, a super PAC coordinating with Clinton's campaign, is spending some $1 million to find and confront social media users who post unflattering messages about the Democratic front-runner [Los Angeles Times]. "In effect, the effort aims to spend a large sum of money to increase the amount of trolling that already exists online. The plan comes as Clinton operatives grapple with the reality that her supporters just aren't as engaged and aggressive online as are her detractors inside and outside the Democratic Party." If anybody thinks this will stop on November 9, think again. Clinton knows the 2020 primaries begin on that date just as much as everyone else does.
"Beyond Terminator: Squishy "Octobot" Heralds New Era of Soft Robotics" [Scientific American].
* * *
Readers, feel free to contact me with (a) links, and even better (b) sources I should curate regularly, and (c) to find out how to send me images of plants. Vegetables are fine! Fungi are deemed to be honorary plants! See the previous Water Cooler (with plant) here. And here's today's plant (PH):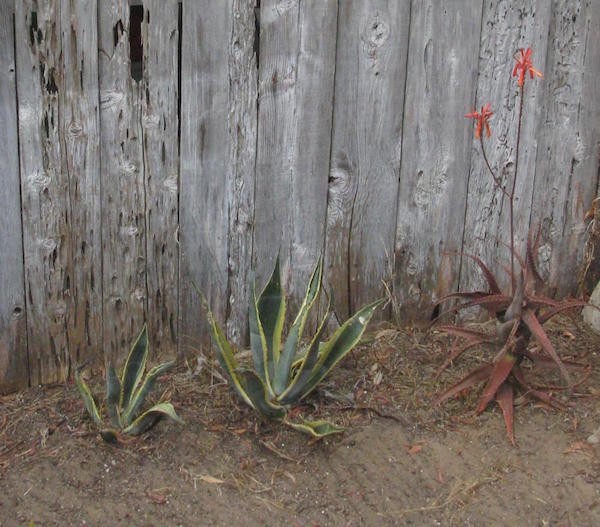 PH writes:
Just got back from visiting my daughter & family who live in California along
the central coast near Morro Bay … well within the exceptional drought part
of the state, & in an area with mandatory watering restrictions.

The attached picture shows part of her water-deprived flower garden. There is
more to the garden, but this is the part that has the actual flower.
"Flower," singular. Makes the case for xeriscaping? If we want things to stay as they are, things will have to change….
* * *
Readers, I know it's the dead days of August, but if you can, please use the dropdown to choose your contribution, and then click the hat! Your tip will be welcome today, and indeed any day. Water Cooler will not exist without your continued help.