By Lambert Strether of Corrente.
TPP/TTIP/TISA
"Matthias Fekl, the French minister for foreign trade, tweeted that his government demanded negotiations on the Transatlantic Trade and Investment Partnership (TTIP) should cease" [Defend Democracy]. "In a speech to French ambassadors, [French President Francois] Hollande said: 'The negotiations are bogged down, positions have not been respected, it's clearly unbalanced.' He said he would withhold support from any agreement reached before the end of Barack Obama's presidency in January."
http://nymag.com/daily/intelligencer/2016/08/a-super-court-is-helping-corporate-criminals-go-free.html
"[Japanese Prime Minister] Abe has a lot at stake in the TPP, and I think will really have to go back to the drawing board if it doesn't move forward,' Eric Altbach, a senior vice president at the Albright Stonebridge Group, told reporters at a roundtable discussion hosted by former Secretary of State Madeleine Albright, who co-chairs the policy advisory group" [Politico]. "'Japan has frequently relied on 'gaiatsu', foreign pressure, to make difficult decisions on domestic reform,' the former deputy assistant USTR for China affairs said. 'The provisions of the TPP itself are an important way for Japan to make some changes at home, as well as to create more market access among the other TPP member economies.'" I don't know enough about Abe's "reforms" to know what the typical Japanese would think of them, but I have seen the neoliberal "reform" movie several times. It doesn't end well.
"'For members like Vietnam and Malaysia, some of the reforms included in the TPP are changes that the countries' administrations want to implement, added Meredith Miller, a vice president at the group who focuses on Southeast Asia. Those countries looked to TPP 'as a vehicle for necessitating those to be pushed through, particularly when it comes to state-owned enterprise reform,' she said. "'I think those may progress in the future whether or not TPP moves forward,' she said, 'but they'll probably happen at a slower pace." [Politico]. Same argument deployed above, in different countries. Why is it important for this country to help out other country's elites, especially when they want to privatize?
2016
Corruption
"Charity Watch and Clinton Foundation" [Amy Sterling Casil]. A new post.

"Hillary and the Clinton Foundation: Exemplars of America's Political Rot" [Counterpunch]. "What the Clinton Foundation hullabaloo really demonstrates is that Clinton's will to power is single-minded, entirely simpatico with the corruption of the military-industrial-financial-surveillance complex; that she is a handmaiden for, and member of, the ruling establishment; that Clinton represents the marriage of all the worst aspects of the political class. In short, Clinton is more than just corrupt, she is corruption personified.

UPDATE Missed this one: " Structurally unsafe and laced with formaldehyde, the "hurricane-proof" classroom trailers installed by the Clinton Foundation in Haiti came from the same company being sued for sickening Hurricane Katrina victims" [The Nation (2011)]. Dear Lord. Mistakes were made?

UPDATE "A wiser course would be to ban contributions from foreign and corporate entities now. If Mrs. Clinton wins, Bill and Chelsea Clinton should both end their operational involvement in the foundation and its affiliates for the duration of her presidency, relinquishing any control over spending, hiring and board appointments" [Editorial Board, New York]. "I've leaving the money on the dresser. It's in a white envelope, and I wrote the date you can open it on the outside." And so what if the date is four years from now? Lots of investments take time to pay off. From the Department of How Stupid Do They Think We Are?
Downballot
"Sanders will raise money, campaign for Senate candidates, but won't turn over donor list to DSCC' [Roll Call]. "If Hillary Clinton wins the White House in November, Democrats need to win a net of four Senate seats to take control of the legislative body. That number increases to five if Donald Trump wins, though most party strategists concede that they have almost no hope of winning the Senate should Clinton lose. Sanders's assistance on the campaign trail, including to most centrist Democrats, should have been anticipated, those close to the senator say. Even incremental progress toward his progressive agenda would be blocked by a Republican-controlled Congress, they say, and the vacancy on the Supreme Court makes control of the Senate especially important. "Anybody who's surprised by this doesn't have any right to be surprised, frankly," one source close to the senator said."
The Voters
"Clinton Weaknesses Spotlighted in New Poll" [Bloomberg]. OH, PA, MI.

"Clinton shouldn't get too complacent. After mixed evidence before, it's become clearer, at least according to our forecast models, that Donald Trump has regained some ground on her. Clinton's national lead in our polls-only forecast has gone from a peak of about 8.5 percentage points two weeks ago to 6.5 percentage points as of Sunday evening — that is, a 2-point gain for Trump over two weeks. Correspondingly, Trump's chances of winning the election have improved from a low of 11 percent to 19 percent" [FiveThirtyEight]. Trump recently spent $10 million on an ad; a drop in the bucket compared to Clinton spending. Events, dear boy, events.

"The Story of 2016: Republicans Feeling "Betrayed" by Their Leaders" [National Journal]. From Re­pub­lic­an poll­ster Neil Ne­w­house before the Kan­sas City Cham­ber of Com­merce.

On the left side of the page was a com­pil­a­tion of res­ults from 2016 NBC News exit polls of Re­pub­lic­an primar­ies in 17 states to the ques­tion, The 17 states were ranked by their "yes, feel be­trayed" re­sponses: Neb­raska (63 per­cent), Flor­ida (60 per­cent), Pennsylvania (59 per­cent), Mis­souri (59 per­cent), Ten­ness­ee (58 per­cent), Michigan (58 per­cent), North Car­o­lina (56 per­cent), Geor­gia (54 per­cent), Ohio (54 per­cent), Arkan­sas (53 per­cent), Vir­gin­ia (53 per­cent), Wis­con­sin (52 per­cent), South Car­o­lina (52 per­cent), Alabama (51 per­cent), In­di­ana (50 per­cent), Illinois (50 per­cent), and West Vir­gin­ia (48 per­cent).

Yikes!

"Can Trump Win Without a Ground Game?" [Slate (RH)]. "f you're trying to mobilize nonvoters, giving them more information about the candidates or the parties or the issues or the consequences of the election doesn't dramatically affect their likelihood of voting. Voting is a habit. Nonvoting is also a habit. The things that turn nonvoters into voters tend to be things that change the social dynamic around voting. They're often in their way rather intimate. Somebody from your neighborhood coming up and having a real conversation with you." Very interesting on the nuts and bolts.

"Republican Donald Trump has said he isn't interested in running a traditional presidential campaign. Campaign-finance records show he's not: Half of the campaign's 10 highest-paid consultants over the course of the election had never previously worked for a presidential campaign" [Wall Street Journal, "Donald Trump's Unorthodoxy Extends to Spending"].

"FBI says foreign hackers penetrated state election systems [Michael Isikoff, Yahoo News]. Arizona and Illinois.

"Voter Records Get Hacked a Lot, And You Can Just Buy Them Anyway" [Motherboard].
Our Famously Free Press
UPDATE "Brian Fallon, Mrs. Clinton's press secretary, told me that Mrs. Clinton 'has answered no shortage of questions" in some 350 interviews, 'on nearly every possible topic'" [New York Times]. "In a review of her 350 interviews, National Public Radio determined that 65 were with nonjournalists like Mayor Philip Levine of Miami Beach, Fla., a fellow Democrat, and an FM radio host in Detroit who ran through her astrological chart; 101 involved national news networks; 80 were with local television stations; and more than 100 were with local radio. Interviews with reporters who cover her day in and day out — that is, those who know her and the issues surrounding her campaign the best — were rare." That's odd.
Realignment
"I don't know for sure whether Pelosi knew Steve Israel is a virulent racist when she appointed him DCCC chair. I'm told the appointment was just about 3 things: Israel could raise a lot of dirty Wall Street money without any feelings of guilt; Israel's only rival for the job was Debbie Wasserman Schultz, who Pelosi detests and doesn't trust; and Pelosi knew Israel would be loyal" [Down with Tyranny]. "As DCCC chair Israel didn't cotton to the idea of black politicians running in non-black majority districts. … That's Steve Israel– and that'sNancy Pelosi and, I'm afraid, that's the Democratic Party– denouncing Trump's racism out of one side of it's mouth, while enabling a racist pig like Steve Israel to destroy the careers of promising African-American politicians." You can't imagine how sick I am of Democrat virtue signalling on racism.

UPDATE "Meg Whitman to campaign for Clinton in Denver" [Politico]. "The California Republican will be Clinton's first aisle-crossing supporter to go on the trail for her."
Clinton Email Hairball
UPDATE "FBI to release report on Hillary Clinton email investigation as soon as Wednesday" [CNN]. What fun. And: "The release is in response to numerous FOIA requests including from CNN. Also to be released is Hillary Clinton's 302, the FBI agent notes from Clinton's voluntary interview at FBI headquarters. The report is about 30 pages, and the 302 is about a dozen pages according to the officials." Do notice that one effect of Clinton having privatized her email is that she's immuninized herself from FOIA requests, at least for the email about "yoga lessons" and "Chelsea's wedding" that she nuked (we think (and that no foreign government (or US intelligence service has (we think)))).
Stats Watch
S&P Case-Shiller HPI, June 2016: Add Case-Shiller to the list of home-price data that are slipping. The 20-city adjusted index fell 0.1 percent in data for June for the third straight negative score." [Econoday]. "The slowing has its positive side for California where prior gains were raising talk of a possible bubble. But over speculation doesn't seem to be a risk right now as prices for existing homes ease." And: "Recently, there has been an almost insignificant slowing of the Case Shiller HPI year-over-year growth. Many pundits believe home prices are back in a bubble. Maybe, but the falling inventory of homes for sale keeps home prices relatively high. I see this a situation of supply and demand" [Econintersect]. And: " It has been almost ten years since the bubble peak. In the Case-Shiller release this morning, the National Index was reported as being 2.6% below the bubble peak. However, in real terms, the National index is still about 17.0% below the bubble peak" [Calculated Risk]. Note the distribution: "Among the top performing metros, home prices are around 50% above their 2006 peaks, while among struggling metro areas, home prices remain nearly 45% below their peaks at the same time. Given that, an average of around 1% or so below the break-even line seems about right" [24/7 Wall Street].
State Street Investor Confidence Index, August 2016: " The State Street Investor Confidence Index dropped to 89.7 in August, falling a sharp 8.3 points after July's similarly steep 7.7 decline as the risk appetite of global institutional investors, measured by their increase or decrease of exposure to equities, plummeted to the lowest level since March 2013″ [Econoday]. "The decline in sentiment was led by the North American institutional investors… State Street attributed the decline to a poorer than expected earnings season, which clearly took the wind out investors' sails. The plunge deeper below the neutral 100 risk reading shows North American and European institutional investors do not share the prevailing risk-on attitude of the overall market in August, where all time historical highs were posted in the DJIA and the European indexes are rallying. Among institutional investors, only the Asian sub-index remains slightly tilted towards increasing exposure to equities, perhaps reflecting improvement in the outlook for the recovery in China."
Consumer Confidence, August 2016 (preliminary): "As goes the consumer so goes the U.S. economy. And the news has been mostly good and includes a nearly 4-1/2 point jump in the consumer confidence index to a 101.1 level for August that easily exceeds Econoday's high estimate" [Econoday]. "[T]his report in sum is definitely a positive for the economic outlook and ultimately reflects the strength of the labor market." And: Above expecations (charts) [Econintersect].
Personal Income and Outlays (yesterday): "In line with expectations as real disposable income growth remains at or below 'stall speed', as per the charts. And the total growth of that measure of income since the 2008 peak remains very low. On the consumption side, the mini jump in auto sales provided the (small) boost for the month, though down year over year, and auto sales forecasts for August are all pointing to a resumption of weakness" [Mosler Economics].
Housing: "Home prices have been moving steadily up for a few years now and typically when prices start moving up and inventory is tight, builders get building even if this means converting apartments into condos in areas where NIMBYism rules the day. That is simply not the case this time around (not in mass and only now does it seem like building is accelerating). Builders look at demographics and realize that renting is going to be the bigger trend moving forward" [Dr. Housing Bubble].
Supply Chain: "Economists say subdued activity on the docks is a sign of how retailers are slimming down their supply chains as more of their customers shop online. Companies such as Target Corp. , Lowe's Cos. and J.C. Penney Inc. are pivoting away from maintaining stores brimming with merchandise. Instead, they are housing more goods in warehouses where they can quickly ship to stores or fulfill online orders" [Wall Street Journal, "At Ports, a Sign of Altered Supply Chains "]. "Economists say subdued activity on the docks is a sign of how retailers are slimming down their supply chains as more of their customers shop online. Companies such as Target Corp. , Lowe's Cos. and J.C. Penney Inc. are pivoting away from maintaining stores brimming with merchandise. Instead, they are housing more goods in warehouses where they can quickly ship to stores or fulfill online orders. It is a shift that has caught the transportation sector off guard. Ports from New York to Georgia to California have spent billions of dollars to upgrade equipment and deepen harbors to handle an expected flood of imports that has yet to materialize. Shipping lines are scrapping vessels and cutting back service on unprofitable routes. Trucking companies bought tens of thousands of new big rigs as recently as 2015, many of which sit idle today."
Shipping: "Shanghai International Port Group, the main operator of the world's busiest container port, reported a decline in both profit and port throughput for the first half of 2016, amid a sluggish global economy and the shipping market downturn" [Lloyd's List].
The Bezzle: "Since the pound plummeted 12 percent after the U.K. voted to leave the European Union, lawyers say they have been inundated with inquiries from companies that claim they were cajoled into buying similar esoteric products. The concerns come as British firms are already bracing for economic headwinds likely to accompany a future outside the European Union" [Across the Curve].
The Bezzle: "The US Department of Homeland Security (DHS) is looking to publish a new rule in order to accommodate foreign startups. Entitled the International Entrepreneur Rule (IER), this will allow foreign entrepreneurs to gain easier entry into the country" [VentureBurn]. Dear Lord.
The Bezzle: "The two-year-old currency Monero has more than quadrupled this month after gaining support from prominent websites that anonymously peddle drugs. It spiked to as much as $10 on Sunday after AlphaBay, one of the most popular sites for buying drugs like liquid LSD and hybrid cannabis, said last week it will begin accepting the currency on Sept. 1. The total value of all Monero in circulation pushed past $100 million on Monday, up from about $25 million at the end of last month, according to coincap.io" [Bloomberg].
Honey for the Bears, Hotels Edition: "As the weeks move on, [hotel] occupancy continues to be negative as it has for most of the year. Recent numbers show a decline of 1.5%, and revenue per available room continues well below the levels projected by all the pundits at the Americas Lodging Investment Summit and the NYU International Hospitality Industry Investment Conference" [Hotel News Now]. "It is surely not the "Golden Age," nor the sweet spot for hotels espoused by many. It is about time everyone admitted the reality that the hotel industry peaked in 2015. Although RevPAR is up a little, inflation for items not including energy and food is up 2.2%, so real RevPAR is barely up at all. Just as important, net revenue after online travel agency fees and other commissions is down to 82.8% from 83.2%."
However, here is the real data point that matters: Personal income tax collections are flat, not up, despite job gains. That means that many of the new jobs are minimum-wage, or low-income and part-time. So less payroll and income tax is being collected. In short, workers are not getting ahead overall. Many jobs pay too little to really matter to hotels. Those people are not taking vacations, nor do they travel on business. Spending overall is not advancing much.
Political Risk: "Vista Outdoor Inc., which makes outdoor sports products including sporting firearms and ammunition, is expected to benefit if Hillary Clinton is elected president, analysts wrote in a research note. Why? Because her win presumably would spark demand for ammunition" [MarketWatch].
Political Risk: "'The market appears to have decided not only that [Hillary] Clinton will win, but that it won't be close,' David Woo, a strategist at Bank of America Merrill Lynch, said in a report distributed Monday. 'Investors like landslide victories'" [MarketWatch].
"How Much Does a Boeing 787 Cost? The Same as Last Year" [24/7 Wall Street]. "Boeing is certainly not going to fool any prospective customers by maintaining its jet prices at last year's levels. The move simply acknowledges the reality that the market is soft, orders are scarce and raising prices is without doubt an exercise in futility because no one is going to use a higher price as a negotiation starting point, much less pay the higher price."
"The Chinese Government Just Launched A Competitor To GE's Most Profitable Division" [Seeking Alpha]. Jet engines.
Marketing: "And yet, despite its effectiveness, the jingle has become a relic of the mid-20th-century commercials it once dominated" [The Atlantic]. Probably time for a retro reboot, then.
Today's Fear & Greed Index: 62 Greed (previous close: 65, Extreme Greed) [CNN]. One week ago: 76 (Extreme Greed). (0 is Extreme Fear; 100 is Extreme Greed). Last updated Aug 26 at 12:04pm.
Gaia
"But what sets [the tiny city of Barcelos] apart from countless other small jungle outposts in the Amazon basin is that Barcelos has, for the past 50 years or more, been the epicenter of a unique trade—harvesting millions of colorful tropical fish destined not for the local food markets but for home aquariums the world over" [Atlas Obcura]. What could go wrong?
"The state of California has taken another step towards blocking construction or expansion of coal export terminals by banning state transportation funding for such projects" [Splash247]. "In June Oakland City Council voted to reject a plan to use a proposed new terminal for shipping coal from Utah to markets in Asia."
Class Warfare
UPDATE "Invisible Inequality: The Two Americas of Military Sacrifice" [SSRN].
Through a series of empirical investigations — including analysis of over 500,000 American combat casualties from World War II through Iraq and Afghanistan — we show in this Article that there is growing socioeconomic inequality in military sacrifice and that the relative invisibility of this inequality has major political ramifications. Today, unlike in World War II, the Americans who die or are wounded in war are disproportionately coming from poorer parts of the country. We argue that these Two Americas of military sacrifice constitute invisible inequality because the issue is routinely overlooked by scholars, policymakers, and the public.
Merely speculating, but I would bet that the AIDs-level working class excess deaths that Case Deaton show for working class whites is powerfully correlated to "socioeconomic inequality in military sacrifice." After all, for many, a military career is the only way out. But I would imagine that for warmongering liberal goodthinkers like Clinton, Albright, Nuland, Flournoy, it's perfectly OK to use the white working class as cannon fodder. After all, they're all racist, right?
UPDATE "The 7-year-old economic recovery has not been kind to the American public education system. In May 2008, as the Great Recession was just beginning, U.S. school departments employed 8.4 million teachers and other workers, according to the Bureau of Labor Statistics. This past May, they employed just 8.2 million — despite public-school enrollments that the Department of Education estimated have risen by more than 1 million students during the same period. Student-teacher ratios are as high as they've been since the late 1990s, though they're still well below their levels of the 1980s and most of the 1990s" [FiveThirtyEight]. That's not a bug. It's a feature. I think we need more charters.
"What is the Inside Outside Strategy?" [Counterpunch].
News of the Wired
"'Our brains are horrible at arithmetic. Our implicit computations are so much better than our explicit computations,' Norman said" [Eurekalert]. Interesting analogy: "'When I try to cross the street, I'm not actually analyzing every bit of the scene,' said Yael Niv, an associate professor of psychology and the Princeton Neuroscience Institute (PNI) who co-authored the study. 'I'm constructing a narrative that I base my decision on, such as, 'That car is slowing down because of the red light."" Hmm. An automotive metaphor. Speculating freely, the field is getting funding from the self-driving car crowd?
* * *
Readers, feel free to contact me with (a) links, and even better (b) sources I should curate regularly, and (c) to find out how to send me images of plants. Vegetables are fine! Fungi are deemed to be honorary plants! See the previous Water Cooler (with plant) here. And here's today's plant (KS):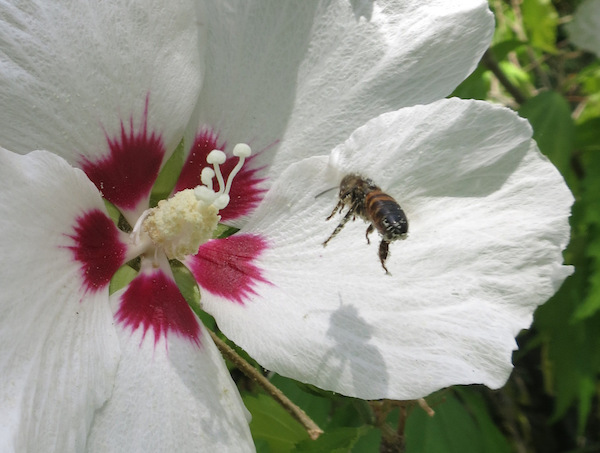 Wow!
* * *
Readers, I know we're approaching Labor Day weekend, but if you can, please use the dropdown to choose your contribution, and then click the hat! Your tip will be welcome today, and indeed any day. Water Cooler will not exist without your continued help.