By Lambert Strether of Corrente.
TPP/TTIP/TISA
"A letter sent from House Republicans to President Barack Obama this week urging him not to force a lame-duck vote on the TPP gained only six signatures despite being open for nearly two months, according to private-sector and congressional sources — a possible indication of low appetite among Republican lawmakers to protest the trade deal" [Politico]. The TPP zombie is very much undead.
"Speaking before a group of 400 wealthy conservatives participating in one of the Koch network's twice-a-year seminars, the House speaker did not mention GOP presidential nominee Donald Trump by name. But Ryan touted the importance of free trade, an issue Trump has railed against, and said it was essential that party leaders make a better case for the free market. Trump argues that free trade agreements have hurt American workers, and that better deals are needed" [WaPo].
"The agreement won't go into effect if the U.S. doesn't ratify it within two years, and at this point, practically speaking there are only two ways that can happen. President Obama and Congress could get it done during the lame-duck session. Or alternatively, Hillary Clinton could win and change her mind after the election. Edward Luce of the Financial Times calls this second scenario "virtually inconceivable," though as Eamonn Fingleton has explained in these pages, flip-flopping on trade is something that Clinton does, if not well, at least frequently. She helped negotiate the deal, after all." [The American Conservative].
"In full: The Straits Times' interview with US President Barack Obama" [Straits Times].
Q: On the TPP, many observers, including Singapore's PM Lee, have said that if it doesn't happen this year, the chances of it happening at all drop significantly. And that would be a big hit to US credibility in the region. Do you agree with that assessment and how optimistic are you that it will pass Congress this year?

A: I remain committed to TPP because it's a good deal—for America, for the region and for the world. TPP advances America's economic and our strategic interests. …

That said, I know that the politics around trade can be very difficult—especially in an election year. There are legitimate concerns and anxieties that the forces of globalisation are leaving too many people behind—and we have to take those concerns seriously and address them. But the answer isn't to turn inward and embrace protectionism. We can't just walk away from trade. In a global economy where our economies and supply chains are deeply integrated, it's not even possible.

The answer is to make sure that trade is working for our people by supporting good jobs, reducing inequality and creating more opportunity. That's what TPP does. I'll continue making the case for TPP, and I'm optimistic that the United States Congress will ultimately support this landmark agreement.
The "good jobs" talking point is the sop the Democrats could give to labor — more precisely, the Beltway labor establishment — for supporting the deal. You can see the Democrats positioning themselves for this with their "as written" weasel wording. (Note that the increased capital investment on logistics management — new or newly leased warehouses, warehouse automation, drones — simultaneously wrings more labor out of the supply chain, and is also a bet on that globalization will march on.)
Oddly, or not, no mention of slavery — you know, that thing where the United States bought and sold black people? — where Obama did Malaysia a solid by saying they weren't doing it any more.
Obama at presser: "Hopefully, after the election is over and the dust settled, there will be more attention to the actual facts behind the deal, and it won't just be a political symbol or a political football" [McClatchy]. As if the world-wide opposition to TPP weren't fact-based!
2016
Policy
" The progressive victory nobody's talking about" [Jared Bernstein, WaPo]. "In both the Republican and Democrat nominating conventions, the issue of government debt and deficits hardly came up. That's a victory for progressives, who've long argued that budget austerity and slavish adherence to deficit reduction are the wrong goals for fiscal policy. To be clear, neither this pivot nor this better understanding of debt dynamics alters basic arithmetic. Over the long run, governments must raise the revenue they need to pay for the services they offer and the investments they make." And for "arithmetic," read "ideology." Bernstein is still pushing the canard that Federal taxes fund Federal spending. They don't. After reinforcing the long-discredited loanable funds theory, Bernstein continues: "There are long-term mobility- and productivity-enhancing investments we should be making in disadvantaged populations. — versus the forecasts — smart investments like these would be worth it, even if they boosted the deficit." This is the "progressive give-up formula" in somewhat more benign terms.

Oh, and we're bombing Libya again. Reach me that Victory Gin, wouldja?
The Money
"On Tuesday, Obama campaign guru David Plouffe (now with Uber) and Gore consultant Chris Lehane (now with Airbnb) unveiled new polling data on the sharing economy; a second Airbnb event celebrated the 1964 Mississippi Freedom Party, featuring actor Bryan Cranston. On Wednesday, the Information Technology and Innovation Foundation convenes its own technology conference, featuring four members of Congress, a Federal Trade Commission member, the president of the biotech lobby, representatives from Microsoft and Facebook, and former White House Press Secretary Jay Carney, now at Amazon" [David Dayen, The New Republic]. Ka-ching.
The Voters
"In her speech accepting the Democratic nomination, Hillary Clinton said the nation was at 'a moment of reckoning.' She's right, but the reckoning is not simply the choice voters face this fall between her and Donald Trump. The real reckoning is larger and it will extend beyond Election Day" [Robert Reich, RealClearPolitics]. "Donald Trump isn't just an aberration and Bernie Sanders wasn't just a flash in the pan. Both, in very different ways, reflect a crisis in our political economy. The major issue the public is reacting to isn't terrorism or racism. We didn't see these numbers after 9/11. We didn't even get these sorts of responses in the late 1960s, when American cities were torn by riots and when the Vietnam War was raging. It's the rigging of our economy – the increasingly tight nexus between wealth and political power."

"What happens if Trump loses the election, and he claims fraud? What happens when hundreds of thousands of his most loyal followers—fed on a diet of anger and rage—convince themselves that the race was stolen from their tribune? The simple truth of American politics—and of democratic life at large—is that our institutions are only as strong as the norms around them. Those norms are the superstructure of democracy; they help us navigate conflict and mediate change. When they're violated, either by unaccountable elites or by reckless politicians, we suffer" [Jamelle Bouie, Slate]. And right now, one of those elites is undermining them for the sake of his own ego, stoking fear and distrust just so he can lose the election without losing face." "What happens?" I don't know. Of course, we could look for a precedent to the reaction of Sanders supporters after the Clinton-dominated DNC rigged the primary. (To be fair, Bouie's a Democrat loyalist, so perhaps he doesn't regard rigging a primary as violating a norm). Still, assuming Clinton wins, the Democrats have plenty of experience co-ordinating paramilitary crackdowns, whether in Ferguson or of Occupy. And Obama's developed quasi-legal justifications for assassinating U.S. citizens. So I think Bouie's unduly concerned.

"A major premise of [Identitarian Deference] is that the oppressed understand their oppression better than anyone, and that privileged people should therefore defer to their insights about it. There are all kinds of serious objections to this theory, but here it's enough to point out that ID does not actually imply that the oppressed are better positioned and resourced to organize anyone, or that they have some kind of superior insight and expertise into questions of strategy and tactics" [Carl Beijer]. "This vision of organizing is certainly compatible with the "oppressed must lead" rhetoric in the broadest sense that it is a coalition of oppressed groups that have to lead the fight against oppression. However, it is quite at odds with this narrower attempt to bracket off interrelated struggles from each other and to segregate the oppressed into independent vanguards. That approach is not only baseless from a historical and philosophical perspective, but will certainly doom the left to endless atomization and internecine conflict." Which would be why liberals push it.
The Parties
More firings from the DNC email scandal:

As interim Chair of @TheDemocrats, thanks to #AmyDacey, #BradMarshall and #LuisMiranda for their service to the Party. #StrongerTogether

— Donna Brazile (@donnabrazile) August 3, 2016

I just love this. First, it's good to know that #StrongerTogether is a euphemism for the more direct Trumpism: "You're fired." (Sanders supporters, of course, know this already.) Second, Clinton gave Wasserman Schultz a new job immediately after the DNC defenestrated her; I have no doubt these nice people will get new jobs, too (and better ones, if the relationship between sleaziness and salary for Democrat operatives is direct, and not inverse.) Third, none of these firings are happening because the DNC rigged a primary when its own charter said it had to be neutral; so for Democrat loyalists to pretend this is a housecleaning, or that they are "shocked, shocked" is ludicrous.

"The Necessity of Political Vulgarity" [Current Affairs]. "[T]o dismiss vulgarity as a tool for fighting the powerful, to say that being mean is 'ridiculous,' is to deny history, and to obscure a long and noble tradition of malicious political japery. In fact, 'being mean' not only affords unique pleasures to the speaker or writer, but is a crucial rhetorical weapon of the politically excluded."
Swing States
UPDATE Here's a poll of polls: Nationally, Trump is within striking distance, down 4.5% [RealClearPolitics]. And with Stein and Johnson, almost the same spread [RealClearPolitics]. This after spending no money, the unanimous opposition of the political class, and the knobs of the Democrat Outrage Machine turned up to 11. Interesting times.

UPDATE Here's the national map [RealClearPolitics]. The "toss-ups" ("battleground states," "swing states" are:

Arizona (11)
Florida (29)
Georgia (16)
Iowa (6)
Michigan (16)
Missouri (10)
Nevada (6)
New Hampshire (4)
North Carolina (15)
Ohio (18)
Oregon (7)
Pennsylvania (20)
Virginia (13)
Wisconsin (10)
Maine CD2 (1)

UDPATE "Economic output expanded in early 2016 across the majority of states, including four of the biggest prizes up for grabs in the November presidential election: Florida, Ohio, Pennsylvania and Virginia" [Wall Street Journal, "Key Presidential Swing States See Stronger-Than-Average Economic Growth"]. One wonders, however, how the output was distributed, and whether voters notice. Certainly the Democrats aren't running a "You never had it so good" campaign.
Stats Watch
Personal Income and Outlays (yesterday): "Consumer spending encompasses things like housing, health care, food and gas in addition to cars and smartphones. This month the increases in PCE [Personal Consumption Expenditure] were due to healthcare spending, electricity and gas while new motor vehicle spending declined" (charts) [Economic Populist]. "Overall most in the press are claiming personal consumption expenditures were red hot in June. We believe the weather was red hot, not actual spending as the increases were in electricity and more healthcare costs. Maybe healthcare costs look good on GDP paper, but for real people having to lay out more oof their money to insurance premiums and getting less for it is not a quality of life good thing." And: "Income a tenth lower than expected and remains depressed, spending was a tenth better than expected and up on higher energy prices. So looks to me like a mini 'dip into savings' that works against retail sales, etc. but just a guess. And note the deceleration of the annual growth of real disposable personal income as per the chart, which is down to stall speed" (charts) [Mosler Economics].
ADP Employment Report, July 2016: "Growth in the labor market held firm and steady in July," within consensus [Econoday]. But: "Employment is a rear view indicator, and looking at this ADP data – the overall trend for the year-over-year rate of growth has been flat since mid-2010" [Econintersect].
Gallup U.S. Job Creation Index, July 2016: "U.S. workers' reports of hiring activity at their place of employment in July remained at a record high for the third month in a row" [Econoday]. "The latest holding pattern follows a period of relative stability in workers' perceptions of their employers' hiring activity."
Purchasing Managers' Index, July 2016: Slow growth is the verdict of Markit's U.S. service sample whose composite index came in only slightly above breakeven" [Econoday].
Institute of Supply Management Non-Manufacturing Index, July 2016: "Conditions, especially for orders, remain very strong for the ISM's non-manufacturing sample" [Econoday]. "The bulk of the [one point] decline in the composite is due to a 3 point drop in delivery times which, in a signal of easing constraints in the supply chain, slowed only slightly in the month…. The order strength in this report points to early third-quarter acceleration for the bulk of the U.S. economy." And: "The ISM services employment index dipped 1.3 points to 51.4%. The index has been hovering just north of 50% for most of 2016 after hitting a postrecession peak last October." [MarketWatch].
Motor Vehicle Sales: "Lightweight cars and trucks better than expected, but heavy weight truck sales brought down the total" [Mosler]. Trucks as we've been seeing. And: "Sales for the top three auto makers selling in the U.S. slipped in July as the strong growth rate that defined the past six years slows to a crawl, another indication the industry is entering its first sustained plateau since the decade leading to the financial crisis" [Wall Street Journal, "July Auto Sales Stoke Fears of Market Plateau"]. And did I not get the memo on the summer retooling? Where did that go? And: "It looks like the slowdown in sales is already being felt in distribution channels: motor vehicle and parts shipments on U.S. railroads expanded more than 5% in the first five months of the year but grew just 0.8% in June" [Wall Street Journal].
MBA Mortgage Applications, week of July 29, 2016: "Purchase applications for home mortgages were down 2 percent" [Econoday]. "Year-on-year, the purchase index is now up only 6 percent, a significant retreat from the plus 30 readings seen in March."
Housing: "The latest homeownership rate figures show an interesting dichotomy to the housing market.  While prices are up, the homeownership rate is down.  And down significantly.  The homeownership rate is now at levels last seen 50 years ago (the latest figures are the lowest in a generation – each update seems to bring a new low).  This flies in the face of all the house humping that is being pushed out into the market.  What we do know is that Millennials are simply not buying numbers in any "pent up demand" form.  In fact, a record number of Millennials are living at home with at least one parent.  The data is interesting since the drive is being pushed by older Millennials, those that should be buying.  Younger Millennials are likely in college accumulating back breaking levels of debt" [Dr. Housing Bubble]. "I know it bugs some people but the reality is, the homeownership rate is now at a 50 year record low. This flies in the face of the thesis that this move up in housing values is coming from some economic miracle. The volume of home sales is tepid at best and weak for new homes. What you have is the after effects of a manipulated market. But people are waking up to the game and you see this in our very unique political season."
Retail: "Consumers are doing their part to keep the U.S. economy moving, but it's unclear whether they're buying enough to get more goods moving" [Wall Street Journal] "… The gain offset weaker business and government spending and the personal consumption outpaced income growth and came as the savings rate for Americans fell, suggesting growing confidence. That may be push retailers to restock store shelves and distribution centers going into the fall—if the buying is coming fast enough to cut into inventory stockpiles. The last measure of stocks showed the inventory-to-sales ratio for retailers remained at a historically high level in May and shipping businesses that serve the market suggest their store-owning customers are still in no rush to bulk up on inventories." If the PCE expenditures were due to "healthcare spending, electricity and gas," why would more goods move?
Shipping: "Idle fleet surges as peak season fizzles out." That was fast [Lloyd's List]. Paywalled, but also this: "THE recent decisions by several carrier alliances to suspend two transpacific loops at the start of the peak season, rather than at the end of it, was a signal that containership idling was on the rise, according to analysts at Drewry Research Services."
Shipping: "The US Federal Aviation Authority (FAA) has been very cautious about drone testing in the US so far, but that's about to change. The FAA has granted Google's sister X division (under Alphabet) permission to test Project Wing delivery services below 400 feet at six sanctioned test sites, according to the White House" [Engadget]. "The flights will be part of a new push by the US National Science Foundation, which is spending over $35 million on unmanned aerial vehicle (UAV) research and testing over the next five years."
Honey for the Bears: "Not Saying Winter is Coming, But Where's Your Coat?" [Kent Beck, Facebook]. Beck is the creator of "extreme programming." Beck goes on: "Combine a tech dip with a big external shock, though, and things could get ugly. A European banking crisis, invasion of the Balts, disruption of trade in the South China Sea, another US genital waving adventure, any of these combined with a dip could set off a positive feedback loop that would leave individual geeks in a bad position." Beck also offers advice; I'd be interested to hear what our technical readers in the Bay Area, if any, think of it.
Honey for the Bears: "'I show homes every day to Chinese families from Shanghai, Beijing, cities I've never heard of, and sometimes it's just the mother and kids because the father is working,' [real estate broker Clarence] Debelle said, referring to so-called astronaut families with the father working in China and mother and children staying in Vancouver. 'It's typical of any wealthy person to move money abroad to preserve their wealth. They're concerned about the market there and they want hard assets to preserve and protect their capital'" [Bloomberg]. Hmm. If the upper strata of the Chinese bourgeoisie are buying boltholes to ensure the safety of the wife and kids, that doesn't bode well for events on the Mainland. (I know that's not what Debelle said; I'm providing an alternative explanation.)
Honey for the Bears: "Which market indicators best forecast recessions?" [Board of Governors of the Federal Reserve System]. " In this note, we use econometric methods to infer which economic and financial indicators reliably identify and predict recessions. We find that, for forecasting the risk of recession 12 months from now, financial market indicators, such as the slope of the Treasury yield curve and measures of corporate credit spreads, are particularly informative. In contrast, when attempting to identify whether the economy is currently in recession, variables that describe real economic activity, especially the labor market, are the most reliable."
"There's substantial evidence from the field of behavioral finance that individual investors have a strong preference for investments that exhibit the same characteristics as lottery tickets. Two of these characteristics are high kurtosis (or fat tails) and positive skewness, meaning values to the right of (or more than) the mean are fewer but farther from it than values to the left of (or less than) the mean" [Larry Swedroe, ETF.com]. "And just as is the case with lottery tickets, this preference leads investors to overinvest in the most highly skewed (right-skewed) securities. Increased demand leads to higher prices, with the consequence being that such securities will have lower subsequent average returns."
Today's Fear & Greed Index: 77, Extreme Greed (previous close: 77, Extreme Greed) [CNN]. One week ago: 82 (Extreme Greed). (0 is Extreme Fear; 100 is Extreme Greed). Last updated Aug 3 at 10:47am. Mr. Market has ennui….
Health Care
"New insurance policy: Abandon ACA exchanges to avoid losses" [Yahoo News]. Cue doomy death spiral music. There are fewer signing up than projected, and they're sicker than projected. Nobody could have predicted…
Dear Old Blighty
The full text of the speech with which Corbyn launched his campaign for the leadership [Defend Democracy]. This speech makes me want to get out my Magic Markers and code all the good stuff. On a purely techincal level, it's very very good. And then there's this:
I also want to pay tribute to our Shadow Chancellor John McDonnell. Someone said of him the other day: "He does the honest, straight-talking politics, but the kinder, gentler stuff is still work in progress."

But what John has done more effectively than any other politician is demolish the case for austerity. He said it: "Austerity is a political choice not an economic necessity".

Every single plank of George Osborne's failed and destructive economic programme is being torn up.

From a year ago, when Labour was too cautious in criticising cuts. Now, you're hard-pressed to find even a Tory to defend it, as one fiscal target after another has been ditched, first by Osborne, and now by Theresa May. The long-term economic plan is dead.

Most people now believe that the government's cuts are both unfair and bad for our economy.

In post-Brexit Britain, even Tories like Stephen Crabb and Sajid Javid are converts, making the case for tens of billions in investment.

But it is Labour's shadow chancellor John McDonnell who led the way, and who earlier this week made the case for a National Investment Bank, and a network of regional investment banks, to redistribute wealth and power.
The British press has gone as crazy pants as our own, so a reliable fact check of the speech might be hard to come by. Readers?
Black Injustice Tipping Point
A five-point platform from Black Lives Matter [Nonprofit Quarterly]. Importantly, a large number of organizations (IIRC, 30) unified beyond this.
The platform, which BLM will advocate for in the run-up to the general election and beyond, contains six constellations of issues that the network will pursue locally and nationally:

Ending the war on black people

Reparations

Investment and Divestment

Economic Justice

Community Control

Political Power
Our Famously Free Press
"[Snopes.com] was launched to correct urban legends and false rumours. Now, with even presidential candidates repeating fake stories from the web, its co-founder David Mikkelson says 'the bilge is rising faster than you can pump'" [Guardian]. I see I'm not the only one.
Class Warfare
"History has shaped the landscape for any workers who might want to organize unions today. Because of the intensity of employer opposition, workers who seek to unionize risk polarizing their communities. They may be blamed for taking actions that could lead to their towns losing the company altogether; they may even be fired themselves in retaliation. Is it any wonder that many conclude unionization is not worth the effort?" [WaPo]. "When employers have been able to wield such political power, and when there are so many examples of collective defeat, it can seem as though acting alone is the only real way to improve your life. Over time, this comes to appear as a culture of individualism. But it might be more precisely described as a culture of fear." Well, at least the Obama administration delivered card check. Oh, wait…
"Aging workforce puts strain on skilled manufacturing workers" [AP]. Just to make things crystal clear:
"We're having to rebuild the entire pipeline of workers," said Katrina Evans, assistant director of the state's Economic and Labor Market Information Bureau. "It's not even so much a skills mismatch as it is a warm body mismatch."
Thanks for that "warm bodies" comment, Katrina. Well played. If only there were some mechanism, something like, oh, an invisible hand, that would adjust the supply of warm bodies to the demand! Assuming, of course, that the educational system that our squillionaires with their bright ideas crapified is capable of delivering them.
"[E]ven as unemployment hovers near a six-year low, U.S. companies say they have no plans to make increases to the money they set aside for pay raises next year" [MarketWatch]. "The finding is based on a survey of 461 companies commissioned by the Conference Board… According to the report, companies plan to raise their budgets for pay increases by a median of 3% in 2017, the same rate as in each of the last six years. The stagnation marks a shift in the way companies choose to reward workers, said Matteo Tonello, a managing director at the Conference Board. Instead of raises, Tonello said, companies are increasingly awarding performance-based bonuses. A study by HR consulting company Aon Hewitt found that bonuses jumped from 7.5% of total compensation budgets at U.S. companies in 1996 to 12.9% in 2015." This may clarify the issue of performance metrics:
More on performance metrics: "Have you taken inventory of your handheld devices and their batteries and come up short? That's a more common occurrence than you might think" [DC Velocity]. "The reason: Operators will go for the newest batteries—and hang onto them, sometimes stashing them in lockers, desk drawers, or work cabinets…. This problem is a particular concern when people are compensated based on their productivity. J.R. Rodrigues, the company's vice president of marketing, cites the example of warehouse employees who received a daily bonus if they could handle truck deliveries within a specified number of minutes. They were hoarding the good scanner batteries, he says, because they could not afford to take the time to go get a replacement."
"The first thing to note here is that transgenderism goes together with the general tendency in today's predominant ideology to reject any particular "belonging" and to celebrate the "fluidification" of all forms of identity" [Slavoj Žižek, The Philosophical Salon]. I always wondered about Žižek. If campaign 2016 is showing the "fluidification" of all forms of identity — except, possibly, Democrat and Republican establishment identity, an elite factional conflict — I'd certainly like to see it. How do you fund-raise off fluid identities? How do you decapitate leadership? Etc.
"Whole Foods Replaces Displaced Low-Income Tenants in Pittsburgh" [Nonprofit Quarterly]. "By raising the flag of affordable housing at every opportunity, advocates keep the issue in the public eye. And what brings mainstream and social media attention better than a Whole Foods plopped down in an inner-city neighborhood two blocks from another Whole Foods in a development that displaced low-income tenants? The phrase "rub raw the sores of discontent" comes from a 1972 Playboy interview with Saul Alinsky, but in this case the advocates aren't just agitating, they are keeping the issue in the public eye, building community support for civic action, and, maybe, softening corporate resistance."
News of the Wired
"China has actually built an elevated bus that travels above car traffic" [Tech Crunch]. This really is cool. If they made it look like a cat bus, that would be beyond cool.
"Welcome to Airspace" [The Verge]. A must-read, for digital nomads, roving executives, cosmolitican creative class types, and those impacted by them (that is, everybody):
We could call this strange geography created by technology "AirSpace." It's the realm of coffee shops, bars, startup offices, and co-live / work spaces that share the same hallmarks everywhere you go: a profusion of symbols of comfort and quality, at least to a certain connoisseurial mindset. Minimalist furniture. Craft beer and avocado toast. Reclaimed wood. Industrial lighting. Cortados. Fast internet. The homogeneity of these spaces means that traveling between them is frictionless, a value that Silicon Valley prizes and cultural influencers like Schwarzmann take advantage of. Changing places can be as painless as reloading a website. You might not even realize you're not where you started.
The artwork in the horrid Times private equity story that Yves called out here is very AirSpacey. Frankly, while I like AirSpace well enough — goes not only with AirBnB but with the MacBook Air — I don't think it's nearly as pejorative as it should be. I think we want more friction, not less. "We have got on to slippery ice where there is no friction and so in a certain sense the conditions are ideal, but also, just because of that, we are unable to walk. We want to walk: so we need friction. Back to the rough ground!" –Ludwig Wittgenstein
* * *
Readers, feel free to contact me with (a) links, and even better (b) sources I should curate regularly, and (c) to find out how to send me images of plants. Vegetables are fine! Fungi are deemed to be honorary plants! See the previous Water Cooler (with plant) here. And here's today's plant (JN):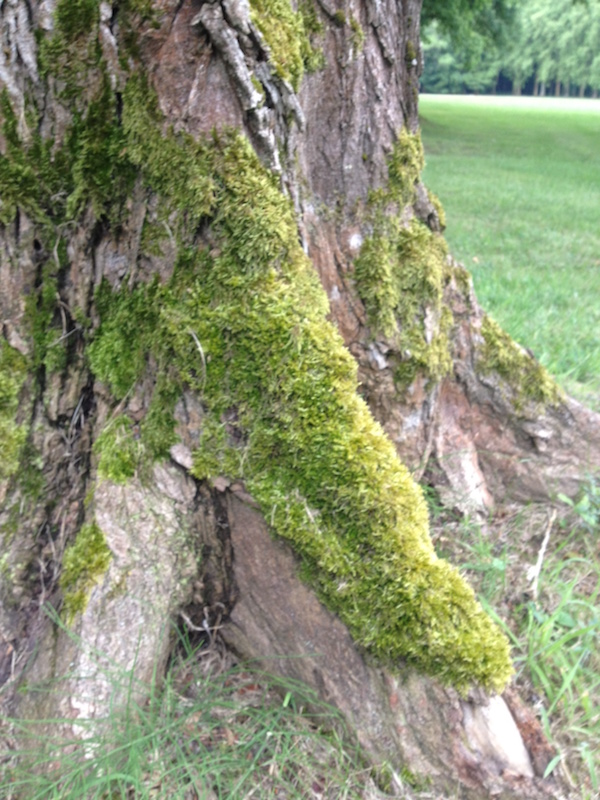 Alsatian moss.
Readers, if you want to send me some videos of plants in whole systems (bees and blossoms, for example, or running streams) — I can use them to practice with FFmpeg and hopefully post them. Because of download times, they'll have to be measured in seconds, rather than minutes. Thank you! Adding, I got another one today! Please keep sending them; they will ultimately appear!
* * *
Readers, if you enjoyed what you read today, please use the dropdown to choose your contribution, and then click the hat! Your tip will be welcome today, and indeed any day. Water Cooler will not exist without your random acts of kindness.