The New York Times' Dealbook has managed to outdo itself, and not in a good way.
On Monday, the Grey Lady published This is Your Life, Brought to You by Private Equity, a slide show apparently intended to stand in place of a bona fide reported story to close off a recent series on the industry.
The disgrace isn't just that it took so many writers (four) and such a clearly costly presentation to convey so little substance. The style of presentation, the at best mildly concerned tone, the inaccuracies and understatements, and the thinness of information were worse than a whitewash or conventional agnotology. The story came off as an arch promotional piece for private equity, with a few necessary ugly disclosures worked in, as if the reporters had been pwned. As a lawyer who has written extensively on private equity said, "Did David Rubenstein [of Carlyle Group] write this?"
Overarching Story Line Faithfully Echoes, and Therefore Evokes, Classic Corporate Do Gooder Pitch: "Our Company Touches Your Lives in So Many Ways" A long standing staple of corporate advertising, going back to before World War II, is the seeminlgy faceless major corporation such as "Better Living Through Chemistry" DuPont, showing citizens how its products, unbeknown to viewers, supposedly improved their daily lives. This trope is so widely recognized as a classic that it's even incorporated casually in movies. For instance, Michael Clayton, about evil Monsanto-like company U North, shows this commercial, in which U North depicts itself as playing a far-reaching, positive role:
U-North, for the film Michael Clayton from Victor Melton on Vimeo.
In other words, corporate influence is pervasive…but consumers are told again and again and again all and only for the good. Thus in the absence of concrete information otherwise, the fact that private equity firms now have their fingers in lots of pies the way, say a conglomerate like GE does, won't sound any alarms.* From the standpoint of the overwhelming majority of readers, it's at worst dog bites man. For instance (each mini-paragraph is a separate slide, with a fitting cute image with the text:
Let's say that, like most Americans, you drive to work.

These roads, bridges and highways are increasingly maintained by Wall Street investors. They either own the road, or manage it on the government's behalf.
Isn't this just swell? Nowhere does it describe, as we have, that toll road projects are almost always construction projects, and the process is so flawed that they have, without exception, resulted in bankruptcies? And worse, that when these roads are built as essential infrastructure (replacing existing roads or to serve rapidly growing suburbs or exurbs), the communities served by them are left with a mess, since the roads are typically maintenance-starved before they go belly up?
A key slide: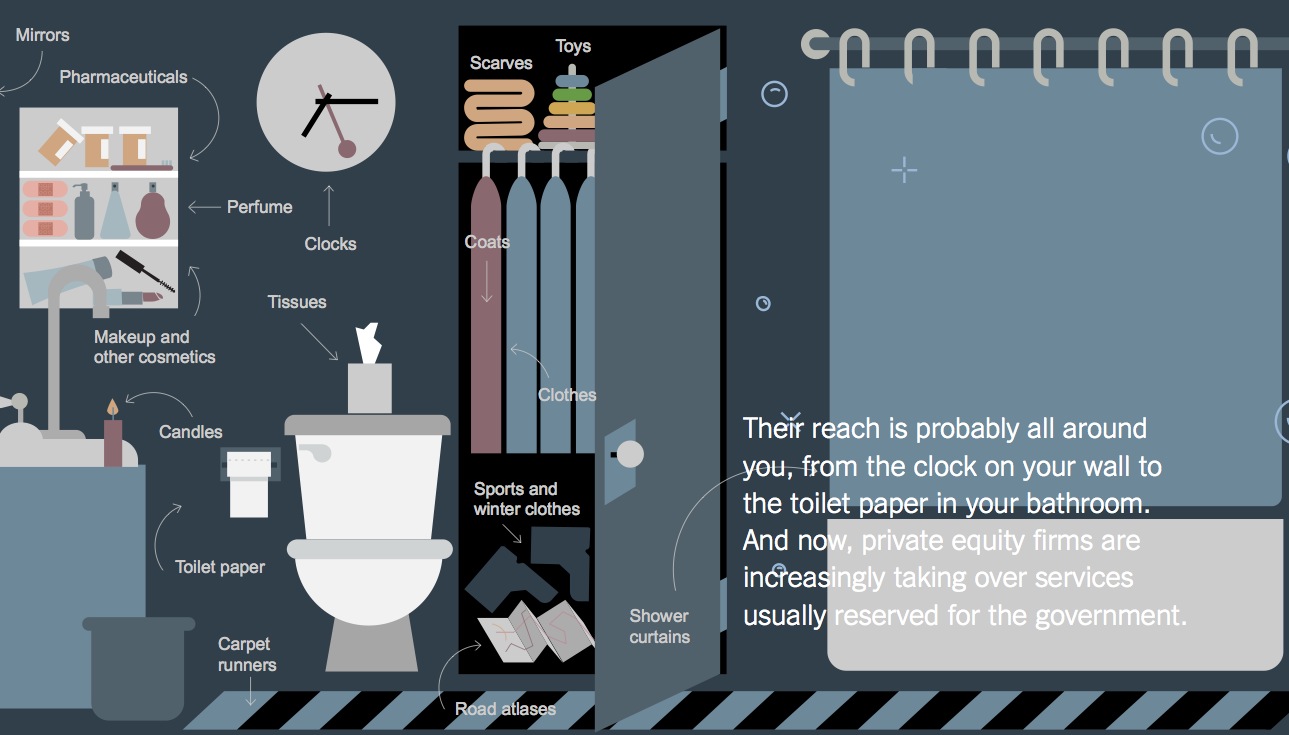 So should consumers be worried that Revlon is owned by raider Ron Perlman of MacAndrews & Forbes? The slick image doesn't even show which private equity owned company is associated with each of the products it shows, so the reader has no idea whether they are dominant or minor players. Indeed, the message looks an awful lot like, "You need private equity to get you through your day."
Children's Story Book Visual Style Makes Private Equity Look Kind and Talks Down to Readers. Was this weird format used to hide the lack of newsworthy information or to soft-pedal what little the Times team had to convey? The result is childish and anesthetizing, as if the intent was to tell a comforting bedtime story. True to the form, the slides go from someone waking up in the morning to get their first glass of water, and closes with: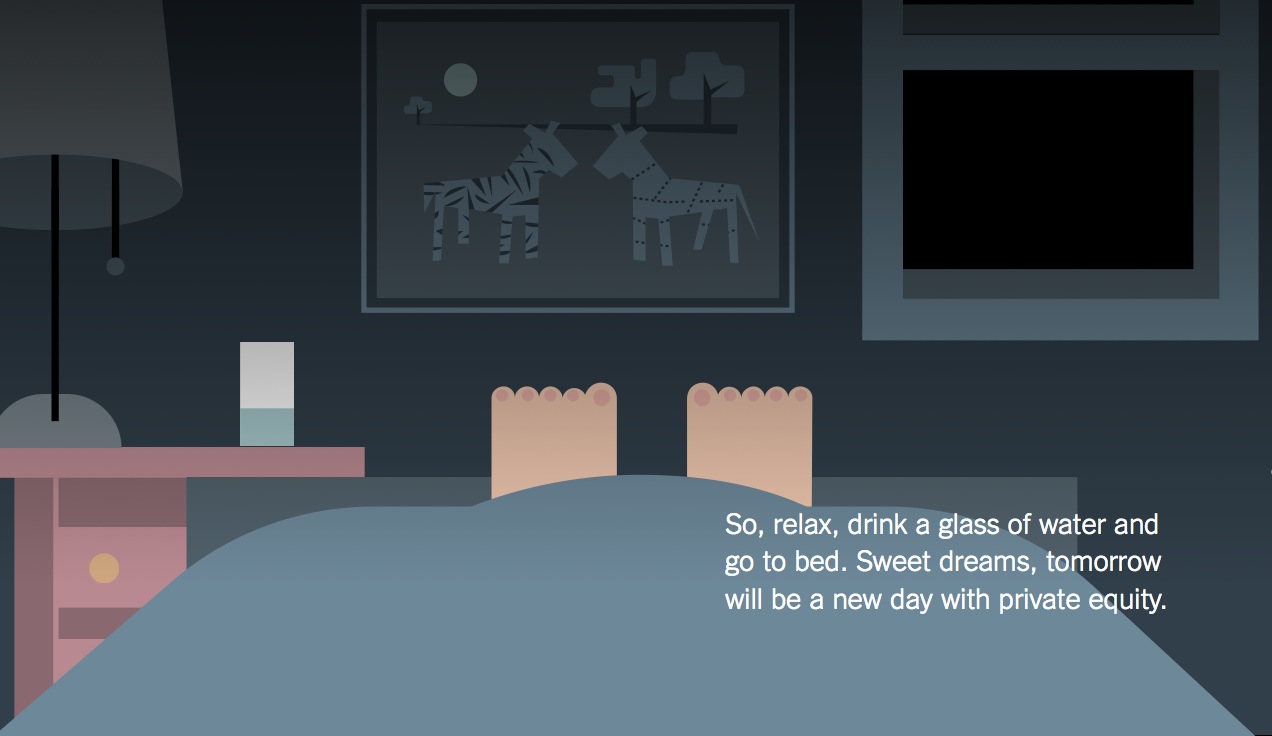 Notice the palette: calming, institutional, with a lot of blue undertones, the sort of thing you might see in a dentist's office or an upscale retirement facility.
And the presentation adheres closely to the tried and true presentation style of first grade teachers: no more than one sentence per slide, the shorter and simpler, the better.
The Story Omits and Minimizes Negative Information. Whitewash is too kind a word. Let's start with the opening text:
You wake up thirsty. [Mind you, that is a single slide]

A few years ago, that glass of water might have come from your local government. Today, it could be courtesy of a private equity firm. It may taste the same, but there's a good chance your bill has gone up.
This leaves readers with close to nothing. How many local municipal water works have been bought by infrastructure funds (which are treated by investors not as "private equity" but as "infrastructure" funds, with risk and expected returns that are distinct from private equity, revealing lazy, sloppy reporting)? Are there any estimates of what proportion of water supply nationwide is now under corporate control? Is this trend growing or has it fallen off with the bad press infrastructure plays have gotten recent years? And how much have prices gone up?
With only a vague threat mentioned and no supporting details, this winds up being the reverse of an alarm. It numbs the reader to accept the incursion of investors as a given, and probably benign, since he never knew about it before and the Times gives him no reason to be particularly bothered.
Here's the next slide: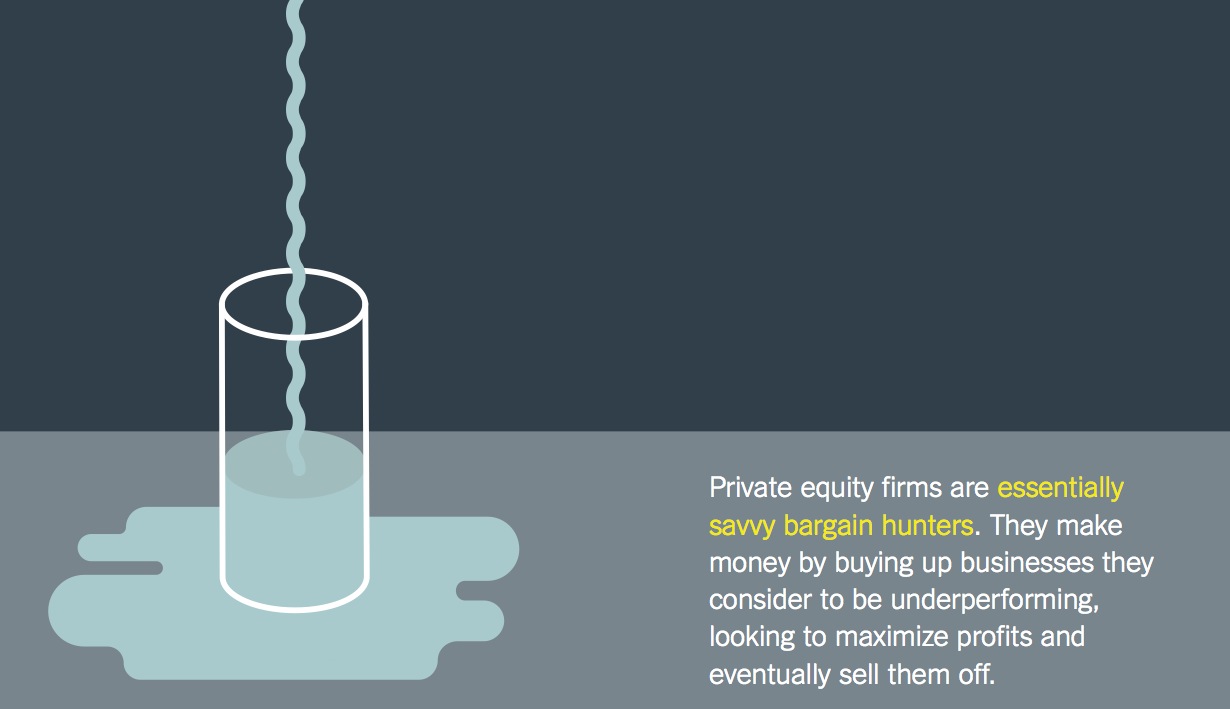 First, by carrying over the water discussion through the water glass image, the text promotes the privatization messaging that government services should be regarded and run with an eye to efficiency, as opposed to supporting communities on an affordable basis. And it therefore blandly treats turning critical public services over to profiteers as perfectly reasonable. In fact, as we wrote in 2013:
As we've discussed at length earlier, these schemes are simply exercises in extraction. Investors in mature infrastructure deals expect 15% to 20% returns on their investment. And that also includes the payment of all the (considerable) fees and costs of putting these transactions together. The result is tantamount to selling the family china and then renting it back in order to eat. There is no way that adding unnecessary middlemen with high return expectations improves the results to the public. In fact, the evidence is overwhelmingly the reverse: investors jack up usage fees and skimp on maintenance. And their deals are full of sneaky features to guarantee their returns.
The Flint water supply disaster is a stark reminder of the danger of a focus on costs n providing critical services. It also pushes the private equity line that they are smart and by implication, that their historical outsized returns were the result of their investment acumen. In fact, the profits of the general partners come overwhelmingly from fees that have nothing to do with investment success, and the returns they do earn depend heavily on tax avoidance. As tax expert Lee Sheppard wrote, "Private equity often resembles a tax reduction scheme with an acquisition attached."
The next slide is inaccurate:
These investors have lots of money at their disposal, mainly from rich individuals and pension funds. They also face fewer regulations than banks. Since the 2008 financial crisis, they've expanded their horizons and begun shopping for bargains in new places.
This perpetuates the canard that most of the money in private equity comes from high end retail investors, who are assumed to be big boys and able to walk on the wild side, when that's demonstrably false and again shows obviously deficient reporting. The biggest single investor group in private equity is government investors, meaning public pension funds like CalPERS. Historically, the next biggest group has been private pension funds, but recent news stories suggest that sovereign wealth funds may have surpassed private pension funds. Other big investors in private equity are life insurers, endowments, foundations and fund of funds (which take money from smaller public and private pension funds, endowments, foundations, and individuals; fund of funds are large investors in private equity in aggregate). The idea that private equity buys on the cheap is not a given, despite the Times hammering that claim; the industry at the end of cycles (late 1980s, 2006 to 2007) does a huge volume of deals at peak prices at the end of stock market cycles. And as we've pointed out over the last year, private equity has been buying companies at multiples that are richer than at the peak of the last cycle, leading experts to fall back on the cliche that the deals are "priced to perfection," meaning everything needs to work out for them to turn a profit.
The authors even tone down their tame findings from earlier stories in the series. For instance:
You call 911 and Wall Street answers.

You might think that you paid for your fire department with your taxes. But yours happens to be run by a private-equity-owned company, and you'll likely receive a bill for their services …

… even if they show up late.

The paramedics who treat you for smoke inhalation might show up late, too. Response times for some ambulance companies under private-equity control have worsened.
This is a synopsis of sorts of the first flabby article in their series, which we deigned to shred. The cheery images, with the cartoonish grey smoke balloon and a mere "Oops" signaling an emergency, presumably a fire (with no people, and therefore no reminder of harm, not even a prostrate figure and an obligatory X over each eye to show he's passed out) and a cute teeny red fire engine running across the screen, trivialize the issue. And again, the warnings are so general as to again deaden any personal reaction. Why should anyone think this warning might apply to them? You "might" be in a town where private equity has take over these services. If so, you'll "likely" be charged. But is the tab "likely" to be serious? You've got no idea. As we wrote:
Another factor impeding dealing with these articles crisply isn't that they are wrongheaded, but that they are flabby and inconclusive. They are reminiscent of a McKinsey progress review where the team got a ton of data but didn't figure out the "so what's" so they instead dumped a ton of slides in a semi-organized manner on the client to show they had done a lot of digging and initial analysis. You might call this the "Here is a lot of shit, I am sure you can find a pony" school of journalism.

The worst of this is that the fact that the Times appears to regard these pieces as impressive (among other things, they created custom graphics for each, as well as giving them lots of real estate) when the basic issues are all old news. Yes, private equity regularly crapifies their offerings through via overly-aggressive cost-cutting and installing know-nothing managers. Yes, alternative investors have been providing public services via infrastructure deals and other types of outsourcing, and their business model virtually requires that they provide a lower level of service at a higher cost to citizens. And yes, they regularly bankrupt companies.
Did any of those "old hat" facts get into the super dumbed-down children's tale? You tell me.
Agnotology, New York Times Style: A Google Search (or One of Our Archives) Tells You More About Private Equity Than a Big Series Did. Agnotology is defined as "the study of culturally induced ignorance or doubt." This series is a classic example. The Times made it clear that it regarded these stories as a major journalistic exercise by investing lots of reporter resources and flagging their importance by their length and the use of large, original graphics at the beginning of each one.
Yet the series averted its eyes from most of the bad aspects of private equity by taking only the neoliberal frame of impact on consumers. That meant the writers would be dealing only with anecdotes, since private equity targets narrow niches. Putting on my consulting hat, it's a major exercise to make even a crude assessment of basic trends across a sector since there are almost never any third party sources of data. So a large swathe of private equity's bad conduct – stripping and bankrupting companies, tax avoidance, lowered employment, and abusing investors – completely out of the story's frame. Thus the reporting team chose to cover results would never be able to investigate well.
To illustrate, the second story in their series, on the role of private equity in real estate, was such an embarrassment that I didn't dare go near it, since addressing all of the errors and misleading simplifications would easily have run to over 10,000 words and readers would not have patience for it. But a few examples: it failed to make any kind of clear distinction for a lay reader of the role played by lenders versus mortgage servicers. It acted as if private equity firms buying foreclosed properties "ought" to have bought in low income neighborhoods or older properties, when that was never the expectation of experts and insiders (I attended industry conferences when the trend was just getting started).
This gives a high-level sense of how wrong-headed the series is:
Private equity can follow you back home when you pay your monthly mortgage. After the 2008 housing crisis, private equity firms expanded dramatically into the mortgage business, as the nation's banks struggled.

They helped stabilize America's housing market. But at the same time, some private-equity-controlled mortgage firms have repeated the kinds of mistakes that got big banks into trouble in the first place.
Private equity did not get into servicing and rental purchases in a big way until well after 2009, when the banks had been bailed out and after Obama and Geithner had given them what amounted to a second bailout, the National Mortgage Settlement of 2012. Yes, Bank of America was still saddled with a lot of legacy mortgage costs, but that was more a big drag on profits than a threat to survival.
But the Big Lie is "repeated the same mistakes" which the original article features prominently on its first page, with its jazzy image. Again, no reasonable observer expected better results. The one exception was small, independent "combat" or default servicers, which were high-touch operations that had the expertise and manpower to modify mortgages, since that is much more work than foreclosing. But those economics worked only because regulators for a while had their boots on the necks of the major servicers, in particular Bank of America, which it forced to use third-party servicers for many delinquent mortgages. This salutary development had nothing to do with private equity and there was no reason to expect private equity to emulate it, save for a few bottom-fishers who might buy a portfolio of defaulted mortgages and might work some of them out. You've never expect a servicer, whether owed by private equity or a bank, to do that because servicing contracts pay servicers to foreclose, and not to modify mortgages. The underlying problem has yet to be addressed.
A simple example of how big a fail this big ticket series is: you will learn more about private equity, including how it hurts consumers as well as lots of other innocent bystanders, from one article by a lone writer, David Stockman, in 2012 than this entire series with a whole team on it. A representative section:
Except Mitt Romney was not a businessman; he was a master financial speculator who bought, sold, flipped, and stripped businesses. He did not build enterprises the old-fashioned way—out of inspiration, perspiration, and a long slog in the free market fostering a new product, service, or process of production. Instead, he spent his 15 years raising debt in prodigious amounts on Wall Street so that Bain could purchase the pots and pans and castoffs of corporate America, leverage them to the hilt, gussy them up as reborn "roll-ups," and then deliver them back to Wall Street for resale—the faster the better.

That is the modus operandi of the leveraged-buyout business, and in an honest free-market economy, there wouldn't be much scope for it because it creates little of economic value. But we have a rigged system—a regime of crony capitalism—where the tax code heavily favors debt and capital gains, and the central bank purposefully enables rampant speculation by propping up the price of financial assets and battering down the cost of leveraged finance.

So the vast outpouring of LBOs in recent decades has been the consequence of bad policy, not the product of capitalist enterprise. I know this from 17 years of experience doing leveraged buyouts at one of the pioneering private-equity houses, Blackstone, and then my own firm. I know the pitfalls of private equity. The whole business was about maximizing debt, extracting cash, cutting head counts, skimping on capital spending, outsourcing production, and dressing up the deal for the earliest, highest-profit exit possible. Occasionally, we did invest in genuine growth companies, but without cheap debt and deep tax subsidies, most deals would not make economic sense.
Yes, Stockman has the considerable advantage of being an ex-practioner, but there is now a large literature on the damage done by private equity, as well as accessible insiders and other experts, like Eileen Appelbaum and Rosemary Batt, whom we've regularly cited.
Resorting to Google would have produced better results at far less cost. Yet rather than build on existing knowledge, these reporters delivered a mediocre piece that they seem to believe was a bona fide journalistic exercise. As one maven put it, "At every juncture, the reporters went to some length to reach the most favorable conclusion to private equity possible. The result is that these articles leave you thinking, 'If that's all the Times can get on private equity, it's really not that bad.'"
This series is also a big warning about the state of journalism. It appears that younger reporters so regularly take dictation from sources that have honed access journalism to a fine art that they have lost most if not all of the sense that reporting is often a blood sport, and that the proper relationship between a writer and the object of his investigation is inevitably adversarial if the reporter has found real dirt.
Contrast this series with the Wall Street Journal's intrepid work on Theranos, where the company sent a team of big-ticket lawyers to intimidate the paper into dropping its investigation. The Journal nevertheless dug in and went toe-to-toe with a company with the blue-chippiest of boards and a peak valuation of $9 billion. By contrast, what passes for business reporting at the New York Times, like this feeble series, is largely out of Dealbook, which will never do more than nip the hand that feeds it.
____
* That before you get to the fact that the possible concern, of monopoly or oligopoly power, isn't even alluded to here. "Private equity" is not a monolith with a single powerful actor at the top, like JP Morgan's trusts, where he achieved concentrated economic power in steel, railroads and electricity, as well as owning other important industrial concerns, often related to these core industries. Private equity firms regularly seek to obtain dominant positions in niche businesses, which gives them similar pricing power, but that concern was absent from this series.