\We've criticized CalPERS for sticking with investment strategies long past their sell-by date. Our very first post, in December 2006, pointed out that CalPERS had admitted that it wasn't getting adequate performance from hedge funds. Yet CalPERS rationalized sticking with these managers because they supposedly provided useful portfolio diversification. But that argument was also bogus, since CalPERS could have created similar return profiles for vastly lower fees than the "2 and 20" it was paying to hedge fund managers. It took CalPERS a full eight years to act on this information and exit hedge funds….save ones that offered low-fee "alternative beta".
CalPERS and other limited partners have been even more reluctant to kick the private equity habit. The big reason, as CalPERS' staff has repeatedly said, is that they believe that private equity is their potential knight in shining armor as far as enabling them to meet their overall portfolio return target of 7.5% is concerned. But that belief is based on the bogus logic of regarding past performance as a predictor of future results, even when the top player in the industry, who have every incentive to sell hope, are warning that returns in the future will be lower than in recent years. And those results haven't been impressive.
One indicator of the declining standing of private equity is that even its most successful investors are no longer able to achieve superior results by relying on high leverage, high risk "alternative investment" strategies like private equity and hedge funds. What may have looked like genius might instead have been luck. After Volcker broke the back of inflation in 1982, the US was on a long-term trend of disinflation and declining bond yields. Where do you want to be when return requirements are falling? In risky assets. More specifically. strategies that normally look like walking on the wild side, such as levered investments in risky assets, can deliver particularly juicy payoffs.
Endowments like Yale and Harvard, which hired "talented" staff, paid them well, and allowed them to make exotic investments, were widely seen as the smart long term investors. And in the heyday of private equity investing, in the mid 1990s, they lived up to their glitzy image. Fromm Harvard professor Josh Lerner's presentation at CalPERS' private equity workshop last November: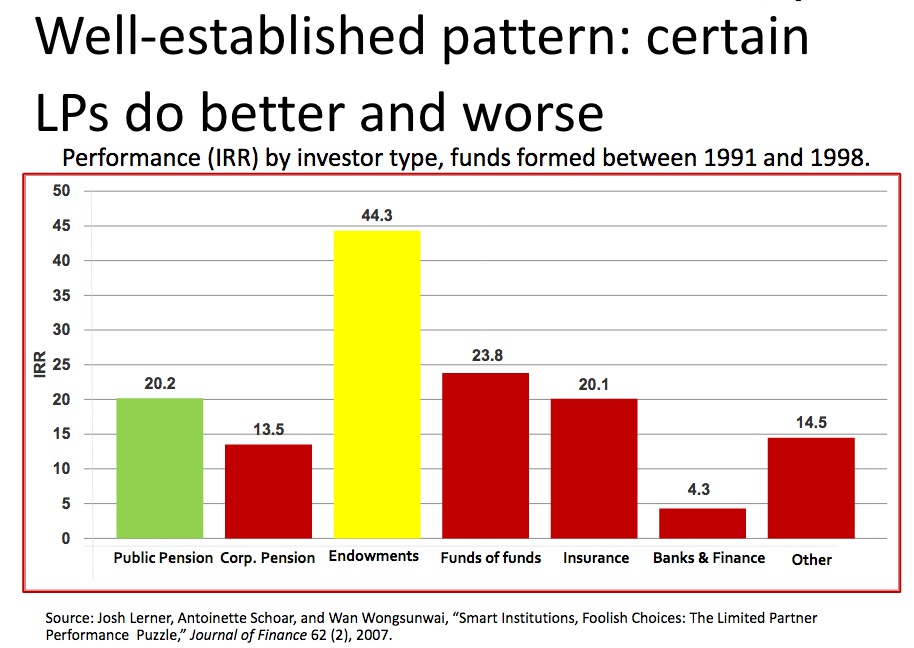 But endowments generally stopped living up to their reputation. As Lerner noted later:
• Sensoy, Wang, and Weisbach (2013) find that endowments no longer outperformed other LPs from 1999 to 2006.

• In fact, the authors found no statistically or economically significant differences in returns across LP types.

• During this period, reinvestment decisions of endowments were not statistically unusual relative to other institutional investors.
And even the much-touted Yale's long-term performance isn't a model for other investors. Its returns depended on its heavy allocation to venture capital. And not just any venture capital…but investments in Chinese venture funds that it identified through its alumni network. Other investors, even most other universities, lacked this information advantage. And returns from Chinese investment benefitted from the appreciation of its currency and its WTO entry in 2002, powerful tail winds that are no longer in play.
A Bloomberg story describes how even these supposedly super-savvy experts in illiquid investments would have done better with a straight up mix of good old fashioned stocks and bonds:
According to numbers compiled by Wilshire Trust Universe Comparison Service (which tracks endowments' investment performance), the median return for endowments greater than $500 million trailed a 60/40 U.S. portfolio by 0.9 percent annually over five years through June 2015. And the median endowment return over ten years was just 7 percent annually – a mere 0.2 percent annually better than a 60/40 portfolio.

There is nothing unusual — or even concerning — about cyclical periods of low returns, but the problem may be more deep-seated. The Harvard endowment's rolling ten-year returns have been trending down ever since HMC's first decade at the helm ended in June 1983. Harvard's ten-year returns peaked 16 years ago, and since 2009 the endowment has struggled to achieve a ten-year return that numbers in the double-digits.

The so-called endowment model of investing…calls for greater investment in private assets and hedge funds and less reliance on traditional investments such as stocks and bonds.The endowment model worked wonders for a while because private equity and hedge funds posted astonishing returns.

The HFRI Fund Weighted Composite Index – a widely followed gauge of hedge fund performance – returned 18.3 percent annually during its first decade from 1990 to 1999. Private equity did even better. Cambridge Associates' U.S. Private Equity Index returned 20.4 percent annually over that period.
More specifically, the real glory years for private equity were from 1995 to 1999. That was due to a rebund after private equity and even M&A fell out of favor after the nasty early 1990s recession. As those boom years roll out of long-term comparisons, the data no longer supports the story of private equity being a "gotta be there" strategy.
Part of the problem is too much money chasing (comparatively) too few deals. We highlighted this slide, again from the CalPERS November private equity workshop: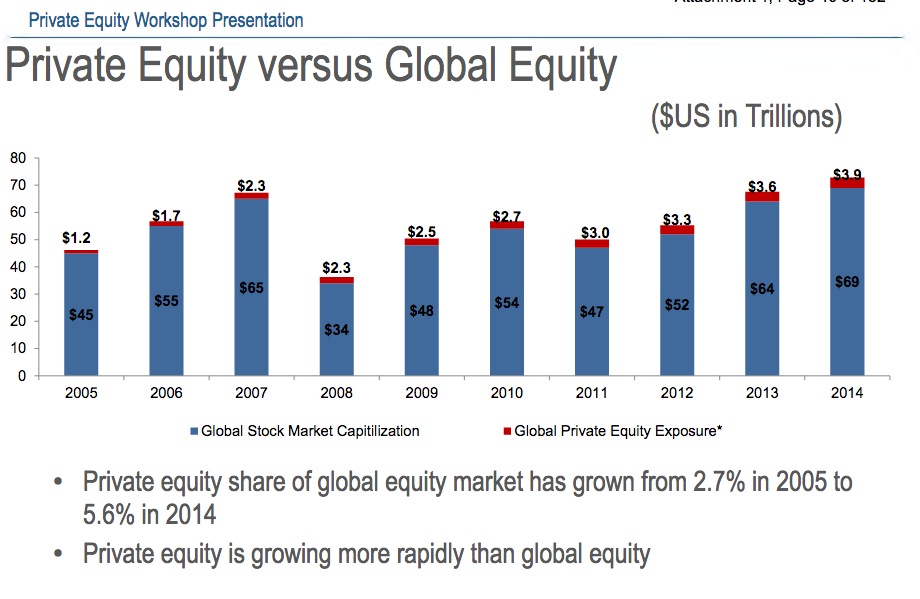 The Bloomberg article tells a similar story:
According to Wilshire, the median allocation to private equity and hedge funds and other alternative investments among endowments greater than $500 million was a paltry 14.6 percent in June 2005. That number swelled to 49.2 percent by June 2015.

The popularity of private equity and hedge funds among endowments has mirrored the explosion of interest in those investments more generally. According to HFR, hedge funds grew from $39 billion under management in 1990 to nearly $3 trillion in 2015. Private equity saw similar growth. According to Preqin, private equity grew from $580 billion in 2000 to $2.4 trillion in June 2015.
ELUSIVE ALPHA

Nothing squashes investment returns like a stampeding herd of investors.
And it reaches a damning conclusion:
Using the simplest measure of risk-adjusted returns – a ratio of annual return over standard deviation — both the Harvard endowment and a 60/40 U.S. portfolio achieved exactly the same ratio of 0.97 from July 1973 to June 2015. (Standard deviation measures the volatility of an investment and is a commonly-used proxy for risk.)

In reality, Harvard's risk-adjusted return is likely even worse. Harvard's private assets aren't subject to the daily gyrations of public markets, so their volatility is understated.

If those results are the best that Harvard could achieve in the golden age of private equity and hedge funds, it's unlikely to do any better with those investments going forward. And it could do worse because the combination of high fees and crowded trades have become formidable headwinds for private equity and hedge funds. Private equity and hedge funds also often rely on leverage — an advantage that may disappear as banks grow more conservative about exposure to outsize risks — and rock-bottom interest rates won't stay so low forever.
The article argues that it still might be worth investing in private equity and other alternative assets for diversification. But that argument not longer holds up either. As we said earlier, investors can obtain so-called synthetic or alternative beta at vastly lower cost than hedge fund manager fees. And private equity offers very little real diversification. Private equity returns have become more highly correlated with stock market averages since the crisis. And that's before you get to the openly-acknowledged fact that much of what apparent diversification there is is the result of bogus accounting, of not marking portfolio values down much in bear markets, when generally speaking, levered equity should fall even further than listed stocks.
And CalPERS has additional reasons for staying away from private equity. Its former CEO is in prison as the direct result of private equity pay to play. Pension funds all over the US continue to be embroiled in scandals involving payoffs and questionable political payoff from alternative investment managers. In the eyes of the public, CalPERS' refusal to take on private equity bad practices or even genuinely support transparency measures like California's AB 2833 look like more corruption, as opposed to intellectual capture. And CalPERS is providing the rope that is being used to hang it by investing in private equity. Private equity investors routinely seek to break unions and terminate pension plans, and the erosion of private sector worker rights and retirement benefits make public sector plans look like indefensible largesse. Similarly, the headcount and other cost cutting these funds engage in lowers employment and pay levels. Those hurt state and local economies, and hence their tax revenues, making it relatively more expensive to fund public pension fund contributions.
CalPERS and its fellow public pension funds mistakenly treat private equity general partners as important allies. In fact, the general partners regard them as particularly easy sheep to shear. The sooner CalPERS and its ilk smarten up. the better.