By Lambert Strether of Corrente.
As readers will have seen, there have been two nights of rioting in Milwaukee, Wisconsin in the city's Sherman[1] Park neighborhood, following the death of Sylville Smith, shot by the police after a traffic stop[2]. I'm not going to look at the details of the riots, although last night was calm; rather, I'm going to take a brief look at some of the systemic reasons why Milwaukee is a painful place for black people to live. As we'll discover — Naked Capitalism being concerned with finance, economics, politics and power — some of those reasons are in our wheelhouse. First, though, we've been here before (via):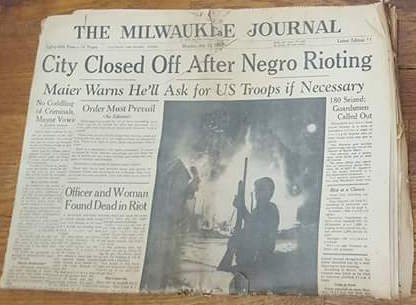 (Entertainingly, the police are blaming outside agitators, and the press are building the case that the dead man deserved to be shot. The governer declared a state of emergency and activated the National Guard. One might almost think there was a script.) And if I were black and lived in Milwaukee, I think I might be forgiven for thinking nothing has changed since the 60s. At least not for the better. AP writes of Milwaukee:
In the country's long history of racial strife, a few cities have become flashpoints: Los Angeles. Chicago. Ferguson, Missouri. Baltimore.

But by many measures, there is no tougher place to be black in America than Milwaukee, where in recent days the shooting death of a black man by a black police officer has led to violent protests, riots that destroyed businesses and gunfire.

The city of 600,000 along Lake Michigan is also the country's most segregated metropolitan area, surpassing larger, deeply divided Midwestern cities such as Chicago, Cleveland and Detroit, a 2012 Manhattan Institute analysis of census data found.

The overwhelming majority of the black residents who make up 40 percent of Milwaukee's population are concentrated on its north side — where the rioting and Saturday's shooting occurred — and away from the breweries and festivals that draw tourists to the waterfront.

People living on the north side are far more likely to live in poverty, to be incarcerated or to be out of work than those in the city overall or the metro area, according to a University of Wisconsin-Milwaukee report. Wisconsin also has the highest rate of black unemployment of any state, and it leads the country in the number of black men behind bars, with 1 out of 8 in prison or jail as of the 2010 census, another study found.

It is a reality that most people don't see or hear about, in part because Milwaukee's size often excludes it from nationwide rankings or news accounts of big-city problems. Some community leaders also have preferred not to publicize the issues, said state Sen. Lena Taylor, who still lives on the same north side block where she grew up.
As the Journal-Sentinel writes:
[T]wo questions were repeated over and over.

The first question: Why did this happen?

And the second: Why didn't it happen sooner?
With that background, I want to look at three systemic causes of violence (and economic violence) in Milwaukee (and Ferguson. And Baltimore. And Chicago…):
Disinvestment
Segregated Housing
Law Enforcement for Profit
I'll caveat that this post is most definitely not an "explainer." For one thing, I left racism off the list above. Mostly, that's because I haven't figured out how to write about racism and economics (that is, class) together (and obviously I'm not the only one, though you can't go wrong starting with Adolph Reed)[3]. Partly, that's because, at least on the Twitter, the topic tends to elicit commentary of the form "Why don't they do like I did and _______?" or "I don't see _____ but ____," and I just don't think commentary like that is very constructive, absent a showing that life's great lottery gives everybody the same chances the tweeter had, or why everybody doesn't see what the tweeter doesn't see.
Disinvestment
We all know that private equity played a central role in gutting America's industrial heartland, and disinvestment happened in Milwaukee like everywhere else, and is still happening. From the Wall Street Journal:
As manufacturing jobs emptied out over the past two decades, [resident resident Michael Young] watched the neighborhood hollow out. An area that once had a measure of racial and socioeconomic diversity has grown poorer and largely African-American. Many of his neighbors are unemployed, he said.

"Those who can leave have left," said Mr. Young, who works as an Uber driver. "I don't blame them—I'd leave too if I could."

Residents say the neighborhood was dealt a blow by the 2006 closing of the former Tower Automotive factory that once employed thousands of workers. "The loss of the manufacturing base here has taken a big toll," said Fred Curzan, executive director of the Sherman Park Community Association.
Tower Automative? Cerberus.
About 40% of black men 25 to 44 aren't working, either because they are unemployed, out of the labor force, on disability or jailed, he said. Milwaukee has one of the highest black household poverty rates among large metro areas, he said.

"People in Milwaukee have argued conditions have been a tinderbox or powder keg for a long time," he said. "The conditions of inequality and disparity have existed for a very long time and have been intensifying for 30 or 35 years."

Edward Staples, owner of a home-repair business close to the epicenter of the demonstrations, said the recent closings of a Wal-Mart and a Lowe's home-improvement store were like nails in the coffin.
(The Wall Street Journal also has a discussion of gentrification, important, but not one of my bullet points.) It's not like people aren't trying to claw their way out of the coffin. The Journal-Sentinel:
Many of the routes to success in the city have been cut off through the loss of manufacturing jobs that paid a family-supporting wage and didn't require a high level of skill, said Julie Kerksick, senior policy advocate at the Community Advocates Public Policy Institute, in Milwaukee.

[One] effort [to rectify this], called the Joseph Project, has humble roots. Across the street stand five boarded-up storefronts and an abandoned gas station surrounded by a fence topped with barbed wire.

But the project, launched last fall on a shoestring budget dependent on donations, has 78 people currently placed in jobs that its director says pay $12.80 to $18.50 an hour.

On Monday, a handful of new job seekers sat in the windowless sanctuary of the church — the Greater Praise Church of God in Christ at 5422 W. Center St. — and listened to the testimony of three of the program's veterans.

"When I started out, I was like a lot of people in our community — kind of hopeless," said one of them, Willie McShan, a former temp worker now holding a permanent job with a base pay of $16 an hour and plenty of overtime. "…I don't feel hopeless no more, because I know all I've got to do is get up, go to work, stay committed, and things are going to work out."

McShan's attitude stands in stark contrast to the pockets of despair and anger, often born of high unemployment, that erupted into frightening rioting Saturday night after a police officer shot and killed a young man who police said refused to drop the stolen gun he was carrying.
Of course, 78 people isn't much. (This isn't a policy post, but from a systems perspective Jobs Guarantee could make the Joseph Project more than a band-aid.)
Segregated Housing
Milwaukee, like Baltimore and St Louis, is extremely segregated. Here are some handy maps:
Milwaukee, Baltimore & STL/Ferguson have all had uprisings.

Here's their 1937-8 Residential Security/redlining maps pic.twitter.com/s4s1z0vuy6

— KorrynGainesS.H.Name (@BmoreDoc) August 15, 2016
And one might almost think that rioting was the only way to draw attention to the problem:
Milwaukee is among the most segregated metropolitan areas in the nation. As in many other cities, racially discriminatory housing policies persisted for decades. Milwaukee's biased policies were not overturned until numerous nonviolent protests culminated in a riot in 1967.
And from Reuters:
For Randy Jones, a community activist in the Milwaukee district of Sherman Park, the rioting that took place in his neighborhood over the weekend was inevitable.

By some measures, Milwaukee is the most segregated city in America. The Brookings Institution think tank last December ranked the segregation of cities on a scale of zero to 100 using U.S. Census Bureau data. Milwaukee came in first with a score of 81.

Interstate highways create borders between impoverished neighborhoods and more affluent areas. Black Milwaukee districts are interspersed with vacant lots and abandoned, blighted houses. The typical hangout for young black men is outside small corner grocery stores where they socialize and become themselves targets of violent crimes.

Sherman Park, where the rioting took place, was once the home of Milwaukee's black middle class but today more than 30 percent of its people live in poverty, Levine said.

An internal report charting data from 2005 to 2014 showed police responded to life-threatening situations within 8.4 minutes in District 2 on the predominantly white south side but took 15 minutes to respond in District 7 on the largely black north side.

Reggie Jackson, chairman of America's Black Holocaust Museum in Milwaukee, said young blacks "feel like they are stuck in this bubble" without any escape, and that misguided investment has failed to provide needed jobs.

He cited the construction of a new basketball arena for the Milwaukee Bucks that has been partly funded with $250 million of taxpayer money.

"That money could have been used in these poor parts of Milwaukee to improve the conditions of the neighborhood," Jackson said. "People feel that it is a slap in the face."
They feel like that because that's what it was. I won't give a potted history of post-World War housing patterns (which would also include suburbanization, the dominance of the automobile, ugly legal regimens like neighborhood convenants, and redlining. Instead, I'll look at just one cog in the great machine: Blockbusting. See generally this tweetstorm by Clint Smith, and blockbusting as one of the tactics that produced the segregated maps above:
Generally, "blockbusting" denotes the real estate and building development business practices yielding double profits from U.S. anti-black racism. Real estate companies approached white home owners to aggravate their fear of mixed-race communities, to encourage them to quickly sell their houses at a loss, at below-market prices. The companies then sold that property to black Americans at higher-than-market prices. Given then-standard banking criteria for mortgage-lending, black people usually did not qualify for mortgages from banks and savings and loan associations. Instead, they resorted to land installment contracts at above market interest rates to buy a house; a discriminatory economic strategy eventually leading to foreclosure. With blockbusting, real estate companies legally profited from the arbitrage (the difference between the discounted price paid to frightened white sellers and the artificially high price paid by black buyers), secondly from the commissions resulting from increased real estate sales, and thirdly from their higher than market financing of said house sales to black Americans.
Sounds an awful lot like sub-prime, doesn't it? With the same effect of irradiating the neighborhoods, as soon as redlining, which meant no capital inflow, was applied to the "busted" blocks.
Law Enforcement for Profit
We saw a pattern of law enforcement for profit in Ferguson. The same pattern exists in Milwaukee (and at this point we remember that Smith was shot during a traffic stop). It looks to me like in some ways, the Milwaukee police have tried to do the right thing here, but the system of law enforcement for protit continues. From Urban Milwaukee:
[T]he Milwaukee Municipal Court, which has created a kind of debtor's prison that has imprisoned the mostly poor and minority offenders who owe various fines. But the court, you see, is a money maker for the city. So how will the Common Council and the mayor handle this ugly situation?

The story begins with the police, because many of those fines are owed for tickets issued by them. Yet the interesting thing is that the police are actually writing far fewer tickets than just five years ago. That's quite a surprise, because the police have actually greatly increased the number of traffic stops they make.

"We knew if we weren't careful," [Police Chief Ed] Flynn once told me, "that we would be imposing a poor people tax because a high-crime neighborhood is a poor neighborhood." So officers were urged early on in the process to avoid criminalizing minor offenses. "The preferred outcome of a traffic stop is a warning," Flynn noted. "80 percent of our stops are warnings."

As a result of that approach, something remarkable has happened. Despite the huge increase in people stopped by the police, tickets issued dropped from just under 110,000 in 2008 to 48,359 in 2014. The result, however, had an unexpected effect on the Milwaukee's Municipal Court: less tickets has meant less business for the court, as the number of cases dropped from around 158,000 to 79,000 during this period.

A recent study by the UW-Milwaukee Employment and Training Institute (ETI), and released by the Justice Initiatives Institute, provided a damning picture of a court that seems to have created a debtor's prison. The study found the court has imprisoned thousands of individuals, 78 percent of them African American, for a failure to pay municipal fines. Worse, the study found the court actually loses millions of dollars for taxpayers, because the cost of the imprisonment in county jail far outstrips the money gained from all the fines paid. I reported on the study back in April.

On Sunday the JS did another story, which focused on another question raised by ETI's research: why have driver's license suspensions "become one of Milwaukee's most widely used debt collection mechanisms for unpaid traffic fines, with municipal court issuing almost 48,000 suspensions for that reason in 2014 alone," as the story put it. The result is that many city residents, who are predominantly African American, lose their driver's license and the ability to get to any jobs located in suburban or exurban locations not served by the Milwaukee County bus system.

The huge importance of a driver's license for job seekers was demonstrated by an earlier ETI study which found that women who had not graduated from high school but had a valid driver's license were more likely to be employed than women who had graduated from high school but did not have a license.

But looming over all this is the issue of revenue. While it costs more to jail people than the fines that are collected from them, that includes the cost of imprisonment for the Milwaukee County Jail. But for the city, which isn't charged by the county jail, the municipal court has typically been a net revenue generator, gaining the city $2.9 million in 2010, a figure which dropped to $2.1 million in 2013, the most recent data from the city's Legislative Reference Bureau shows. That may have declined further as tickets issued by police have continued to decline, and certainly suggests reason to cut the court's staff. But as to the issue of judges requiring community service for those who can't pay fees, will the Common Council worry this might lower revenue generated by the court?
Ka-ching. So, everything works together, doesn't it? Segregated zip codes are targeted for revenue extraction, which makes it impossible for those targeted to find work…
Conclusion
Jesse Jackson — and if the goddamed Democrats had nominated him instead of bloodless technocrat Michael Dukakis, history might have been very different — has this to say about Milwaukee:
In 1963, Dr. Martin Luther King launched the modern civil rights movement in Birmingham, Ala., saying, "Birmingham is probably the most thoroughly segregated city in the United States. I am in Birmingham because injustice is here."

Well, the injustice is worse in modern Milwaukee than it was in segregated Birmingham. Black poverty, unemployment and impoverished neighborhoods are all worse. The percentage of blacks attending hyper-segregated schools in today's Milwaukee is far worse than the Jim Crow schools of Birmingham (71 percent to 56 percent).

This is … a powder keg. Police are tasked with "keeping order." That is like trying to stop a seething volcano from exploding by suppressing the gases coming out the top. Even doing that skillfully won't work.

Milwaukee is not the worst. Black income has plummeted more in Cleveland and Detroit. School segregation is worse in New York and Chicago. Violence stalks the mean streets of impoverished urban neighborhoods across the country.

And this obscene injustice gets worse with no action and little notice. The poor, the New York Times reports, are barely mentioned by either presidential candidate. And they are largely ignored by the media. On Saturday and Sunday, riots occurred in Milwaukee, a major American city. That didn't make front page of the Monday New York Times, which led with stories above the fold about a Trump adviser, liberal worries about Hillary Clinton and malaria in Venezuela.
So, I guess the Democrats think of black voters as a firewall, and that's about it. Good to know. I do think there's a common factor in all three of these systemic issues, and perhaps at the personal level it connects race and class. That factor is greed, of which SlayTheSmaugs wrote eloquently here:
Greed is evil, but it comes in different intensities. Petit greed is a corrosive illness that decays societies, but can be effectively ameliorated through norms and social capital. Smaug greed is so toxic, so potent, that the state is the only entity powerful enough to put it in check. Greed, particularly Smaug greed, must be put in check because the false scarcity it manufactures, and the unsafe workplaces it creates, maim and kill people. The stealth violence of Smaug greed justifies a tax to confiscate the hoards.
The destruction of America's — and Milwaukee's industrial base — was motivated by greed. The realtors who ran blockbusting scams were motivated by greed. And the people who turn law enforcement into profit-making opportunities are motivated by greed. All three of our systemic factors, then, have greed at the heart, if the heart is the organ I want.
Many discussions of race and class founder on the question of "Which came first?" Can't greed and racism be simultaneous? I imagine a slave trader working on his ledger, and counting up the profits from his purchase and sale of "human resources." "Why did these people deserve to be sold?" he asks himself. Hmm…
NOTES
[1] I'm not sure if Sherman Park was named after General William T. Sherman, as inventive in peace as in war.
[2] "Then you pull the trigger."
[3] One thing that really does give me hope is that there's been a lot of terrific new scholarship coming out on the history of these two intertwining topics; see here and here. I hope to get a chance to read, and perhaps review, new work in this area.