By Lambert Strether of Corrente.
TPP/TTIP/TISA
"A trade deal between the EU and Canada seems to be back on the rails after more than two-thirds of Germany's Social Democrats expressed support for the agreement at a party congress Monday… European Commission officials had awaited the vote with trepidation and said the bloc's entire trade policy would be paralyzed if a pact with Canada — a supposedly uncontroversial economic ally — failed to win political backing" [Politico].
"TPP International Agreement: With the US in Disarray, There's No Need to Rush" [Watching America]. A view from Japan.
2016
Corruption
"More than 50 former government officials published an open letter to Donald Trump demanding he fully disclose all of his foreign business entanglements. Among the signatories are former government officials backing Hillary Clinton — many of whom have not disclosed their own defense industry clients" [David Sirota, International Business Times]. "But even as [Andrew] Shapiro called on Trump to be more transparent, he neglected to mention his own opaque business endeavor. When he left the State Department in 2013, Shapiro founded Beacon Global Strategies…. It's impossible to know if Shapiro or his clients have a concrete financial stake in the election. That's because Beacon's principals do not register as lobbyists and the firm does not publicly disclose its clients."
Money
"Two billionaires are planning to open their pocketbooks for Republican nominee Donald Trump in the final six weeks of the election, as the businessman continues to lag behind Democrat Hillary Clinton in fundraising" [Wall Street Journal].
Policy
Oddly, or not, Sanders is the only one asking this question:

I have a very simple question for the regulators who fined Wells Fargo: pic.twitter.com/IQVCGGWxUp

— Bernie Sanders (@SenSanders) September 19, 2016
Downballot
"Republicans are now favored to hold the Senate in our inaugural 2016 Senate race ratings" [WaPo].
The Voters
"Here's What Millennials Have Taught Me" [Hillary Clinton, PolicyMic]. "Here's what I have learned: Your generation is the most open, diverse and entrepreneurial generation in our country's history. And if we work together to take on the barriers that are holding you back and unleash your full potential, that won't just improve your lives — it'll make our entire country stronger." Presumably the #BernieBros, however, are "irredeemable"?

"Exploiting the exogenous component of rising trade with China and classifying legislator ideologies by their congressional voting record, we find strong evidence that congressional districts exposed to larger increases in import competition disproportionately removed moderate representatives from office in the 2000s. Trade-exposed districts initially in Republican hands become substantially more likely to elect a conservative Republican, while trade-exposed districts initially in Democratic hands become more likely to elect either a liberal Democrat or a conservative Republican" [NBER].

"Women in upscale suburban areas are the offset to the working-class white males who are streaming into the Trump camp elsewhere" [Wall Street Journal, "Suburban Women May Be Hillary Clinton's Lifeline"]. "Mrs. Clinton has to hope that women in Montgomery County and similar areas of eastern Pennsylvania swallow their misgivings about her and provide support that balances out the vote in Trump country in the traditional coal and steel communities in western Pennsylvania. There, the Trump populist message has great resonance among workers who feel left behind by the current economy as well as the political system."

"Bernie Sanders just might be the most popular politician in America" [WaPo]. Well done, Democrats.

"A Democratic Congressional Campaign Committee poll shows Democrat Zephyr Teachout leading Republican John Faso by five points in the 19th Congressional District race" [Albany Times-Union].

"Rural working class whites are more likely to blame the federal government for their economic problems than their urban counterparts. Seven in ten say the federal government deserves all or most of the blame for the economic problems facing the working class, in the CNN Kaiser survey, compared with half of urban working class whites. That could explain the appeal of a candidate who is not only intent on upsetting the political system, but has at times seemed bent on breaking it down to start over again" [CNN].
Clnton Email Hairball
"Computer Specialist Who Deleted Clinton Emails May Have Asked Reddit for Tips " [US News].
Stats Watch
Housing Starts, August 2016: "Housing starts and permits did fall in August, down a sharp 5.4 percent for starts to a lower-than-expected 1.142 million annualized rate and down 0.4 percent for permits to 1.139 million which is also lower than expected" [Econoday]. Permits for single family homes are up, however.
Housing: "Because we started treating our houses as disposable during the mortgage booms of the 1980s, 90s and 2000s, we ended up with houses built to last not even 25 years. This leads us to our next point: McMansions are a seriously bad investment" [Worst of McMansions]. Spend a little time on this site the houses must be seen to be believed!
Shipping: "For now, [Hanjin] ships are calling one-by-one at ports to drop cargo, protected from seizure by court orders, and then steaming back to Asia while the rest of Hanjin's ships stand by in international waters, beyond the reach of creditors. The operation means the uncertainty is ending a few containers at a time for shippers with a combined $14 billion of goods on board Hanjin vessels, while the ordeal for the carrier and its creditors winds even more slowly to a close" [Wall Street Journal].
Shipping: "Welcome to the Hanjin California" [Splash247]. Hilarious description of the paperwork hoops you have to go through to get your container off a Hanjin ship (and presumably get your goods where they need to go). It's not a friction-free process at all!
Shipping: "The financial troubles in the global shipping industry have led to a mounting crisis far from the open seas. In a Guest Voices commentary, shipping finance expert Basil M. Karatzas writes the rapid descent in ship values in recent years has taken a heavy toll on shipping bank loan portfolios. The problems at shipping banks, Mr. Karatzas writes, threaten to undermine the financial support system for the maritime business in coming years if the downturn in trade demand continues and the access to capital for shipowners sinks. Having been lenient with their lending and now facing a market implosion, many shipping banks now are carrying big baskets of bad loans and pushed back a necessary day of reckoning" [Wall Street Journal]. Well, well. At least we don't have an shipping CDOs. Or do we? Readers?
Shipping: "Piraeus is set to have a new, large ship repair base, with local reports in Greece suggesting China Cosco Shipping, the new owners of the port, has started shipping a 300,000 dwt floating dock from Shanghai" [Splash247]. I would think that would make the Greeks happy?
The Bezzle: "The Obama administration released guidelines to certify driverless vehicles for U.S. roads, aiming to maximize safety without miring the auto industry in red tape" [Wall Street Journal]. " [!!], auto makers would submit a 15-point 'safety assessment' covering how driverless cars are tested, how they are programmed to obey traffic laws and safeguards against hacking. The assessment is an attempt by regulators to steer the industry toward universal safety standards without locking a still-developing technology into a set of hard rules. At the same time, states will retain control over other aspects of driving, including licenses, car registration and insurance."
The Bezzle: "We looked at 250 frequently purchased products over several weeks to see which ones were selected for the most prominent placement on Amazon's virtual shelves — the so-called "buy box" that pops up first as a suggested purchase. About three-quarters of the time, Amazon placed its own products and those of companies that pay for its services in that position even when there were substantially cheaper offers available from others" [Pro Publica]. "The average price difference between what the program recommended and the truly cheapest price was $7.88 for the 250 products we tested. An Amazon customer who bought all the products on our list from the buy box would have paid nearly 20 percent more — or about $1,400 extra — than if they had bought the cheapest items being offered by other vendors." So, Amazon's valuation?
The Bezzle: "Bitcoin qualifies as money, a federal judge ruled on Monday, in a decision linked to a criminal case over hacking attacks against JPMorgan Chase & Co and other companies" [Yahoo Tech]. "'Bitcoins are funds within the plain meaning of that term,' [U.S. District Judge Alison Nathan] wrote. 'Bitcoins can be accepted as a payment for goods and services or bought directly from an exchange with a bank account. They therefore function as pecuniary resources and are used as a medium of exchange and a means of payment.'"
The Bezzle: "How app-based ride sharing services overcome information asymmetries" [Institute of Economic Affairs]. "With a ride service like Uber, the scams all go away without needing regulation. The requested destination is recorded in advance. The route is tracked by GPS and may be verified later. The fare is calculated by a third party and paid via credit card, and a refund may be issued if there is any complaint later. The passenger does not pay in cash, so there are no scams concerning the handover of money. The passenger rates the driver, so the driver does care about his reputation. In terms of the safety of the passenger and the driver from each other, both parties are easily identifiable later, so a prosecution is much easier if a crime does occur. In my mind, a certainty that one will be caught and punished if one commits a crime is a greater deterrent than any number of background checks."
Supply Chain: "Symbotic's automation system includes autonomous robots that can travel untethered among storage racks in a distribution center. They can move up and down aisles to stack and retrieve cases. They coordinate with more-conventional robots that perform simpler tasks" [Wall Street Journal, "Fully Autonomous Robots: The Warehouse Workers of the Near Future"]. "That is in contrast to many other warehouse-automation systems, in which the robots tend to be bolted down or limited to fixed routes or tracks and are less flexible in what they can do."
Honey for the Bears: "Nearly half of the world's available floating rigs are out of work today, and most observers expect that number will climb further. Not only are the drillship operators' customers — the likes of ConocoPhillips and Total SA — slashing spending in high-cost offshore areas and canceling work contracts early, but new rigs that were ordered in recent years keep rolling out of shipyards. Bloomberg Intelligence estimates as much as $56 billion worth of offshore rigs, capable of drilling in everything from shallow water to oceans more than two miles deep, are still under construction" [Bloomberg].
The Fed: "Two of the Fed's 23 preferred bond-trading partners — Barclays Plc and BNP Paribas SA — are betting against their peers and the bond market by forecasting officials will raise rates Wednesday" [Bloomberg].
Political Risk: "There is booming demand for political-risk insurance that can protect companies against shocks, be they coups in Turkey, sanctions against Russia or a debt default by Venezuela" [The Economist]. "Now, however, firms need to pay the same attention to political risk in the developed world. Just consider the latest news from the American election trail. The woman who stands between the presidency and a hot-head who wants to tear up the world's trading system is losing her air of invincibility, due to an unguarded comment about a "basket of deplorables", a bout of pneumonia and a foolish decision to conceal the illness from voters." And then there's Brexit.
Political Risk: "An October surprise could be coming in the form of an explosive rebound for economic growth. The Commerce Department will release its initial estimate for third-quarter GDP on Oct. 28, just days before the presidential election" [Wall Street Journal]. "[A]s of Friday, forecasting firm Macroeconomic Advisers projected a 3.1% seasonally adjusted annual growth rate for GDP in the third quarter. The Federal Reserve Bank of Atlanta's GDPNow model on Thursday predicted a 3% growth rate. Oxford Economics on Friday also estimated the third quarter's growth rate at 3%." I suppose the question is whether voters can match the stats up with the concrete material realities of their own lives; I'm guessing no.
"Even though Wall Street tries to keep alive the debate about the merits of active versus passive investing, a clear trend has emerged over the last several decades in which investors are slowly but steadily abandoning the hope of outperformance that active management offers in favor of the certainty of earning market (not average) returns that passive management provides" [John Swedroe, ETF.com].
"What Have We Learned From The Crisis?" [Paul Krugman]. It's 26 pages long, so I searched on "fraud." Zero hits.
Today's Fear & Greed Index: 46 Fear (previous close: 44, Fear) [CNN]. One week ago: 36 (Neutral). (0 is Extreme Fear; 100 is Extreme Greed). Last updated Sep 20 at 12:02pm
Dear Old Blighty
"It's less than a week until the result of the most contentious leadership election in the party's history and on the same weekend that the new leader is announced, in the same city where the Labour party conference is being held – Liverpool – Momentum, the party-within-a-party set up to support Jeremy Corbyn after his successful leadership bid last year, has organised its own conference. It's called The World Transformed, Joe explains, because its main agenda is to change the world" [Guardian]. Interviews with Momentum people. ""You get people like the FT's Janan Ganesh who tweeted [and later deleted]: 'All this stuff about Corbyn and this so-called movement. The truth is they're just as thick as pig shit.' That's the level of serious attention that this movement is getting." So awesome.
"Two more Labour councillors and one prominent activist have been suspended by their party as concerns grow over the increasing influence of Momentum across Bristol" [Bristol 247]. "The suspensions, which have been called a "purge" by Jeremy Corbyn supporters, come as Channel 4's Dispatches were due to air footage on Monday showing a key member of Momentum claiming the organisation is 'taking over' the Labour Party in Bristol."
"The ground was laid for Labour's current civil war. Corbyn's supporters created a new organization, Momentum, to capitalize on his unexpected success and consolidate the Left's position within the party. The Right, meanwhile, decided to go underground. With characteristic modesty they compared their coming struggle against Corbyn with the French resistance during the World War II" [Jacobin] "Some of their faction would oppose Corbyn from the outside, which anonymous briefers to the right-wing Daily Telegraph called the "Free French" strategy. Others, following a 'Maquis' strategy, would accept jobs in Corbyn's ministerial team and wait for the right time to strike. Through this combination of pressure from within and without, the majority of Labour MPs hoped to undo the leadership election and take back 'their party' from its members."
Neoliberal U
"For the first time, students in the College's introductory economics class must purchase a $132 access code to an online textbook and set of online materials—a course requirement that many have criticized as making the class too expensive. But the course's professor and the textbook's author, N. Gregory Mankiw, said the new system is worth the pricetag" [Harvard Crimson]. Worse, there's no possibility of buying (or selling) used textbooks. Of course, the cream of the jest is that it's Mankiw, so the course is a steaming load of neoliberal crap anyhow.
Water
"For the past several years, Arati Kumar-Rao has been documenting riverine ecologies, making long trips to the Sunderbans, following the course of the Ganga, travelling down the Cauvery to the Bay of Bengal, and recording the stories of the people and landscape sustained by these rivers" [HuffPo]. Lovely, revealing photographs.
Black Injustice Tipping Point
"Black man fatally shot by Tulsa police was unarmed, chief says, as 'disturbing' video is released" [WaPo].
Economics:
George the barber. "You have 10 dogs and 3 bones, something gonna go wrong. And we only got 3 bones in this hood" pic.twitter.com/XGGIelvrHT

— Chris Arnade (@Chris_arnade) September 15, 2016
"Most of those polled [by YouGov] fell into the middle category, saying that disliking an entire race, religion, gender or other class of people was prejudiced, but didn't necessarily make someone a bad person" [HuffPo]. "Black Americans were consistently more likely than white Americans to say that biases made someone a bad person, although a majority still rejected that characterization. Twenty-six percent of black Americans, compared to just 10 percent of white Americans, say that holding negative views of black people makes someone a bad person."
Class Warfare
"Since the end of the past recession, labor productivity has risen, while labor compensation has declined.1 However, this seems to be a continuation of a long-term trend, rather than a response to the Great Recession" [Federal Reserve Bank of St Louis].
News of the Wired
"You are almost definitely not living in reality because your brain doesn't want you to" [Quartz]. A compendium of cognitive biases.
* * *
Readers, feel free to contact me with (a) links, and even better (b) sources I should curate regularly, and (c) to find out how to send me images of plants. Vegetables are fine! Fungi are deemed to be honorary plants! See the previous Water Cooler (with plant) here. And here's today's plant (CB):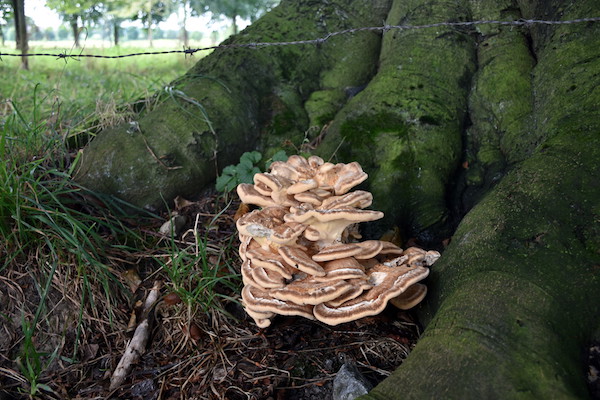 Fungi in the woods of South Limburg, the Netherlands.
Readers, if you can, please use the dropdown to choose your contribution, and then click the hat! Your tip will be welcome today, and indeed any day. Water Cooler will not exist without your continued help.