By Lambert Strether of Corrente.
TPP/TTIP/TISA
The Trade Debate in Two Quotes: "We have to renegotiate our trade deals and we have to stop these countries from stealing our companies and our jobs," Trump said, to which Clinton responded: "Well, I think trade is an important issue, of course. We are 5 percent of the world's population. We have to trade with the other 95 percent. And we need to have smart, fair trade deals" [Politico]. "Smart" is one of those 10%-er weasel words. Was NAFTA smart? Why or what not? Smart for whom?
"Vice President Joe Biden said that 'our only real shot' of Congress approving the Trans-Pacific Partnership is a vote during the upcoming lame duck session" [Truthout (J-LS)]. "Biden made the remarks on Wednesday at the Council of Foreign Relations in New York, while conceding the agreement has a 'less than even chance' of passage."
"TISA TALKS STILL PREPARING FOR TAKEOFF: The U.S. and European Union are still battling it out over a number of key provisions in negotiations for a Trade in Services Agreement. The latest round wraps up today with a view to concluding talks by the end of the year, but Brussels is still resisting a U.S. proposal that would require members to extend future market access concessions in bilateral deals to the entire group. A number of EU member states, including Germany and Austria, are taking red line positions on commitments to open to foreign competitors yet-to-be-conceived "new services," according to a source close to the talks" [Politico].
2016
Days until: 41.
Corruption
"Democratic Party used moments before debate to finally disclose convention sponsors" [The Intercept]. "Some of the largest donors include Comcast at $5.6 million in cash and in-kind donations, AT&T at $1.5 million, and Independence Blue Cross with $1,525,000. Other major donors include Google Inc., which gave $500,000; Microsoft at $650,000; and DuPont, the chemical company, which gave $100,000."
Debate Wrapup
Winning the debate doesn't necessarily translate into votes (1): "Indeed, while polls found that Clinton had won the first general-election debate with Donald Trump on Monday, she may not have won actual votes. And she may even have lost some, at least in the battleground state of North Carolina" [McClatchy]. "In a focus group of 21 voters from around Charlotte conducted by McClatchy and The Charlotte Observer, four who had been up for grabs before the debate had moved away from her by the end. … Many thought Clinton did better on style and debating points, but she didn't move them. 'Hillary was much cleaner in her evasions,' said [Hank] Federal [a Republican who was undecided], who called Trump 'bombastic.'" Sophisticated voters….

Winning the debate doesn't necessarily translate into votes (2): "Westmoreland [County, PA] is one of about 10 formerly or traditionally Democrat-blue counties across the state where Trump must drive up a higher-than-normal turnout, or even flip them to Republican red, in order to offset an anticipated high turnout for Clinton in Philadelphia" [New York Post]. "[Registered Democrat Ken] Reed said Clinton came across as either smug or as though she was reading her résumé, adding there was nothing on her résumé that touched on his life. ]I am a small businessman, a farmer, come from a long line of farmers and coal miners. The policies she talked about tonight ultimately either hurt me or ignore me,' he said."

Winning the debate doesn't necessarily translate into votes (3): "While 63 percent of young voters who participated in Harvard Institute of Politics 'virtual town meeting' of debate watchers said that Clinton 'won' the debate, it also found that most–65 percent–said the debate itself did not change who they planned to vote for in November" [Cook Report]. And: " If you were expecting the sky to fall or the race to be completed upended, you were sorely disappointed. If you went into the debate expecting or hoping see a more thoughtful, nuanced and disciplined Trump, you didn't get it. If you expected – or hoped – to hear Hillary Clinton's vision for the future or the ways in which her plans and policies would translate directly to you and your family, you didn't get that either. What you did get was a lot of rehashing of the weaknesses of both candidates – though much more of Trump's than Clinton's. Overall, it was a downer of a debate."

Winning the debate doesn't necessarily translate into votes (4):

How Clinton's 62-27% win compares to past instant debate polls: pic.twitter.com/1MrRAOkJHx

— Steve Kornacki (@SteveKornacki) September 27, 2016

Say hello to President Kerry…

"In our polarized country, both candidates probably solidified their bases. But for those still undecided or those leaning towards a third party candidate, it should be clear that Clinton is the one better prepared for this moment" [PoliticalWire]. "Should"…

Trump to his son after the debate:

"Yeah, she did a good job." pic.twitter.com/XZHN25I6Xo

— Jory Rand (@ABC7Jory) September 27, 2016

Right again…

"No one doubts Clinton will be a steady, experienced leader. But she did not rebut Trump's explicit charge that her experience is bad experience, or his stress on her responsibility for Iraq and Libya. His charge that 'yes, she's experienced but it is bad experience' could be a major theme in October" [RealClearPolitics]. "Still, Trump's whole approach to the debate raised questions about whether he can summon up a calm, prudent approach on major policy issues. Clinton raised the question herself in talking about NATO and nuclear weapons, but it was mostly Trump who hurt himself, another familiar theme in the campaign."

"After a shaky start, Clinton was mostly prepared, disciplined, and methodical in her attacks. By contrast, after landing some early blows on trade, Trump was mostly winging it" [NBC]. That's how it felt to me. Of course, 10%-ers like preparation. Preparation leads to passing your test! But in this case, they are right to do so.

"In the first half hour, Trump did have a very solid debate in which he was both aggressive and controlled. You can almost reconstruct some of Team Trump's debate prep from the 15 minutes or so when he seemed sharp and even prosecutorial. He criticized Clinton's one-time support of the Trans Pacific Partnership, and said she would revert back to supporting it as president. Clinton tried to explain her flip on the TPP as merely waiting to see the final details, which she ultimately rejected. Trump immediately interjected, "Is it President Obama's fault?" Thrust, parry, strike. It was a nice trap, and Trump nearly pushed Clinton into it" [The Week]. "If Trump wants to make a comeback he needs to study the first 30 minutes of last night's debate and see how effective he could be by controlling his aggression while prosecuting Hillary Clinton's record. This is exactly what Mitt Romney did for his most successful debate."

"Trump dismisses sniffling speculation as 'breathing'" [The Hill]. (Readers will recall I flagged this as a problem back in June.) Howard Dean takes the low road:

Notice Trump sniffing all the time. Coke user?

— Howard Dean (@GovHowardDean) September 27, 2016

"Here are two candidates whose oratorical strategies are so different that to see them engage directly was like watching someone trying to play tennis against someone playing baseball. It is hard to parse what is effective when the candidates are so often striving for quite different effects" [Financial Times]. Good discussion of Clinton's "Whoo. O-kay!" moment.

The morning after: "Mr. Trump insisted in the Fox News appearance that he had been right to disparage the beauty queen, Alicia Machado, for her physique" [New York Times]. This is the Khans all over again. Trump has 41 days. No time for self-indulgence! Or to be deked by the Clinton campaign.

"Full Transcript from the First Presidential Debate Between Trump, Clinton" [NBC].
The Voters
"As Hillary Clinton and Donald Trump spin out of their first debate and into the last six weeks of the presidential campaign, they are headed into what figures to be not only a tight stretch run but one that is exceptionally volatile and unpredictable" [Wall Street Journal, "Wandering Voters Key to Presidential Race"]. "But consolidating the base and winning the expected states aren't enough for either candidate. The big X Factor is the chunk of votes wandering around the election playing field, unattached to either candidate. That group comprises about 20% of the electorate in the latest Journal/NBC News poll: 9% supporting libertarian Gary Johnson, 3% backing Green Party candidate Jill Stein and 8% either not sure, not intending to vote or going for somebody even farther out of the mainstream."

"Still, neither Mr. Thacker—nor any of the other undecided voters who participated in a recent Wall Street Journal/NBC News poll interviewed—said the debate had persuaded them to back either candidate. It was unclear whether the much-anticipated debate would fundamentally alter the course of the tight race" [Wall Street Journal, "Undecided Voters React Coolly to Donald Trump During Debate "].
Clinton Email Hairball
"FBI appears to have undermined its own investigation with ill-considered witness agreements" [USA Today]. Odd!
The Hill
"The Supreme Court After Scalia" [Jeffrey Toobin, The New Yorker]. And deep, deep into the article we find this:
While Reid was Majority Leader, especially in the period before the 2014 midterm elections, he put judicial confirmations at the top of his agenda. Faced with Republican filibusters, he and his fellow-Democrats deployed the so-called "nuclear option," rewriting the Senate rules so that lower-court judges could be confirmed by a simple majority vote.
So Reid will use the "nuclear option" in 2014, when the Democrats are weak, for judicial nominations. But not for single payer, in 2009, when they are strong. Alrighty, then.
" Democrats dig in with shutdown days away" [Politico].
Stats Watch
State Street Investor Confidence Index, September 2016: Sharply up in Asia, somewhat up in America, down in Europe [Econoday]. "Globally, institutional investors remained tilted towards caution according to the index, which attempts to gauge their confidence by measuring the overall increase or decrease of exposure to equities in their portfolios."
Richmond Fed Manufacturing Index, September 2016: Soft, but "nudged slightly higher" [Econoday]. "Looking ahead, manufacturers retreated on all fronts from the strong optimism shown in August." And: "At this point it seems the surveys are forecasting flat growth for September" [Econintersect].
Purchasing Managers' Index Services Flash, September 2016: "Growth in the service sector is flat based on Markit's monthly sample" [Econoday]. "Employment is also slowing this month and prices are showing little pressure. No wonder 12-month confidence is back at survey lows."
Consumer Confidence, September 2016: "Consumer confidence is on the upswing, pointing perhaps to an upturn for consumer spending. The September index rose more than 3 points," beating expectations [Econoday]. "[T]he assessment of September's labor market is upbeat with more consumers saying jobs are plentiful and with fewer, in a closely watched reading, saying they're hard to get. … Negatives include an easing in income prospects and weakness in long-term buying plans." You can square that circle by assuming the jobs are ill-paid and crapified.
S&P Case-Shiller Home Price Index, July 2016: "Home prices have been moderating this year including Case-Shiller where the 20-city adjusted index, following three prior declines, came in unchanged in data for July" [Econoday]. "Except for the action out West, tightening supply of resales on the market has yet to boost prices. Still, 5 percent appreciation is more than respectable in a low inflation, low wage growth economy."
Trade: "The [WTO] cut its forecast for the growth of exports and imports this year and next, and now foresees an increase of just 1.7% in 2016 and as little as 1.8% in 2017, having projected rises of 2.8% and 3.6% respectively in April" [Wall Street Journal, "World Trade Set For Slowest Yearly Growth Since Global Financial Crisis"]. "[T]he WTO's projection for 2016 suggests it will be the first time in 15 years that trade will grow more slowly than total output."
Shipping: "All transportation modes except rail carried less cross-border freight by value in July compared with the same period last year, which resulted in a 10 percent decrease to $83.7 billion in the total current dollar value of freight moved, according to the U.S. Department of Transportation's Bureau of Transportation Statistics (BTS)" [Progressive Railroading].
Shipping: "Ryan Petersen, Flexport's founder and chief executive [says] he plans to use some of the $65 million in new backing to build out both new service capabilities and infrastructure to get a bigger share of the global shipping market. The new funding brings Flexport's total capital raised to $94 million and boosts the company's profile with support from investors that include Founders Fund, which was co-founded by Silicon Valley billionaire Peter Thiel. Founders Fund principal Trae Stephens will join Flexport's board. The money will help advance technology Mr. Petersen says will help more closely manage and even re-direct goods while they are in transit" [Wall Street Journal]. I'm glad Thiel's involved; the field needs new blood.
Shipping: "Bee colonies cover long distances in every direction to harvest nectar and pollen from multiple flower patches, then find the quickest route from flower to flower, the company says. Applied to last-mile parcel delivery, that approach can help carriers cut operating costs and reduce their carbon footprint" [DC Velocity].
"For manufacturers trying to scale back distance in their supply chains, it doesn't get any closer than making goods in New York City. A burgeoning set of manufacturers are finding homes in New York, defying long-term trends that have seen factories retreat from the city. The companies, from building-fixtures producers in Queens to bakers in Brooklyn, reason that at a certain, relatively small scale, producing goods within one of the world's most vibrant consumer markets makes economic sense, the WSJ's Keiko Morris reports. The city says the growth in smaller, niche businesses has helped halt a steep decline in the manufacturing jobs. Factory hiring even ticked up last year, and the companies that are hiring say proximity to a huge market is a major factor. Automation has also helped, allowing companies like Edison Price Lighting Inc. customize its fixtures for New York's real estate market and get goods delivered with speed that more distant manufacturers can't duplicate" [Wall Street Journal]. If this is the flip side of slowing global trade, I'm all for it.
Today's Fear & Greed Index: 44 Fear (previous close: 42, Fear) [CNN]. One week ago: 45 (Neutral). (0 is Extreme Fear; 100 is Extreme Greed). Last updated Sep 27 at 1:49pm. Sorry this is a bit late; I couldn't get it to load!
Dear Old Blighty
"Jeremy Corbyn has just been re-elected as leader of the Labour party, beating rival Owen Smith by 62% to 38%" [You.gov]. "Jeremy Corbyn wins among 17 of 20 demographic categories we measured against. He performed best among more recent members, where he held a lead over Smith of 68 points among those who have become a member since he was first elected leader, and 49 points among those who became a member during the last leadership election."
" Corbyn Victory Leaves Little Resolved for U.K. Labour Party" [Bloomberg]. Well, except for the 62/38 whipping of PLP.
"Our report found that 75% of press coverage misrepresents Jeremy Corbyn – we can't ignore media bias anymore" [Independent].
"Brexit: Areas that backed leaving EU starved of Government support, report reveals" [Independent].
"A new anti-Corbyn group is receiving funding from Tony Blair's former spin doctor – who now runs Peter Mandelson's consultancy firm, Electoral Commission filings show" [Independent].
Black Injustice Tipping Point
"Striking prisoners at Alabama's Holman prison say they have been joined by an unlikely ally: their own guards" [Buzzfeed]. "Guards at the facility did not show up for their shifts at 6pm on Saturday, according to organizers of the national prison strike and audio and video accounts from a contraband cellphone inside the facility" (confirmed). Remarkable refutation of the Stanford Prison Experiment. Gives me hope!
Gaia
"New NASA-funded research suggests that Mercury is contracting even today, joining Earth as a tectonically active planet" [NASA]. "This active faulting is consistent with the recent finding that Mercury's global magnetic field has existed for billions of years and with the slow cooling of Mercury's still hot outer core. It's likely that the smallest of the terrestrial planets also experiences Mercury-quakes—something that may one day be confirmed by seismometers."
"Water plumes spotted on Europa's surface may make hunt for life easier" [Wired].
Class Warfare
"It's too soon to say whether the recent progress on inequality represents a long-term shift or a temporary blip. And even if the gains are real, they have made at best a modest dent in the long-term rise in inequality" [FiveThirtyEight]. Nine paragraphs down and contradicts the CEA-driven, happy talk headline.
"[T]he word 'infrastructure' is actually pretty new. Infrastructure projects were called 'public works' up until about the 1980s [goddamned neoliberals]. But because people started [why?] to equate public works with dubious 'pork-barrel' projects, advocates began using the term infrastructure instead. [Podcaster Roman] Mars suggested that reclaiming the phrase 'public works' might help motivate the voting public to fund those programs. After all, the word "infrastructure" is pretty abstract and hard to get excited about. 'Public works.' on the other hand, emphasizes that we, the people, benefit from these projects" [DC Velocity]. Another nice thing about "public works" is that it reframes those noxious "public-private partnerships" out of existence.
"Marc Andreessen suddenly deletes all his tweets, goes on Twitter break" [TechCrunch]. I'm proudly blocked by Andreessen, so I can't show you his current tweet, but it contains: "You (bleating like a sheep) neoliberal neoliberal neoliberal."
News of the Wired
"iPhone Hackers Say Apple Weakened Backup Security With iOS 10" [Forbes].
"Snap(chat) Spectacles is a smart move, messaged perfectly. There's just one horrifying problem…" [Pando].
"Coins issued in ancient Rome have been excavated from the ruins of a castle in Okinawa Prefecture, the local board of education said, the first time such artifacts have been discovered in Japan" [Japan Times].
"Facebook couple commits $3 billion to cure disease" [Nature]. "Zuckerberg and Chan have set themselves an audacious goal: eliminating, curing or preventing disease by the end of the century. They intend to get there by coaxing teams with diverse expertise to collaborate on developing new tools and technologies — something that scientists say is sorely needed. The $3-billion commitment announced today will cover the project's first ten years." Well, I hope this does better than Gates, et al., did on charters.
* * *
Readers, feel free to contact me with (a) links, and even better (b) sources I should curate regularly, and (c) to find out how to send me images of plants. Vegetables are fine! Fungi are deemed to be honorary plants! See the previous Water Cooler (with plant) here. And here's today's plant: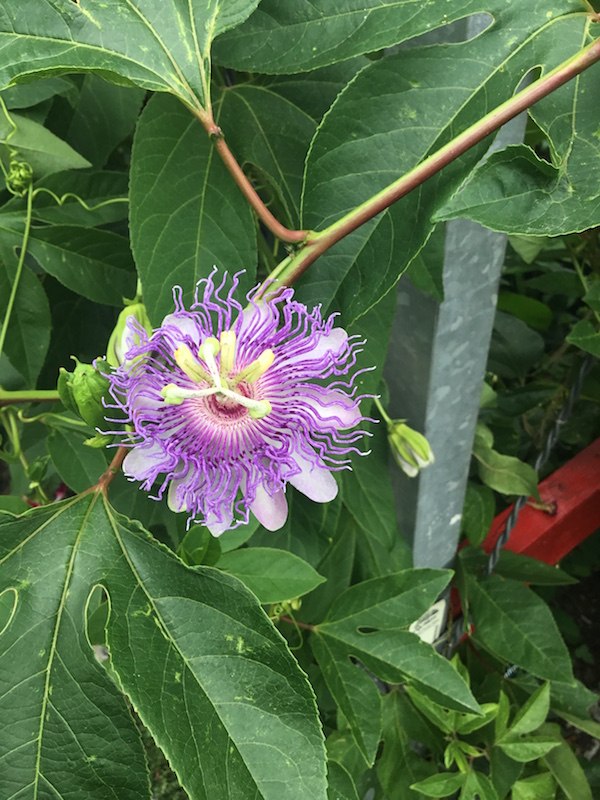 From the Coastal Maine Botanical Gardens. I don't know what it is, but it's gorgeous!
Readers, please use the dropdown to choose your contribution, and then click the hat! Your tip will be welcome today, and indeed any day. Water Cooler will not exist without your continued help.
Readers, I am behind in answering contact form mail. I will catch up soon, beginning now!