By Lambert Strether of Corrente.
TPP/TTIP/TISA
"Donald Trump has [WTO] officials in Geneva running scared. Faced with the prospect of a U.S. president who stands against the open-market philosophies they have spent their careers promoting, top trade officials are in various states of denial about the election" [Politico]. Their careers. Oh, the humanity!
"'I trust Hillary on this,' Sen. Sherrod Brown said Thursday. "She will oppose [TPP] just as strongly on Nov. 9 as she does today. I trust her because, one, she understands the agreement.' The Ohio lawmaker said Clinton crystallized her opposition by raising specific problems over what she views as overly permissive rules of origin for automobiles, non-binding currency provisions and the deal's investor-state dispute settlement mechanism" [Politico].
"'If we are going to have another discussion about trade, it would have to be led by whoever the next president is,' [Mitch McConnell] the Kentucky Republican said, adding that subject is currently 'politically toxic, and I don't think the Congress is ready to tackle it in any positive way.'"
2016
Days until: 38.
Debate Wrapup
Next debate: Sunday, October 9.

"Most of the major pollsters still haven't released post-debate polls. Although early evidence suggests a bounce for Clinton, upcoming polls might reveal that it was a mirage. If that ends up being the case, she will likely hold a small lead but that lead will not be safe. It's also important to note that this a volatile contest. Seemingly random events (e.g. Trump's controversial statements and Clinton's ongoing email and ethical issues) have moved public opinion, and a large number of voters are undecided or choosing third party candidates. That means the polls could move more quickly in this race than in recent races. Note that this volatility cuts both ways — it gives Trump a greater opportunity to catch up to Clinton, but it also gives Clinton the chance to turn a small or decent lead into a solid win or even a landslide" [RealClearPolitics]. "Finally, it's important to note one other feature of the historical data: Both candidates' ability to move the polls diminishes as October wears on."

"As to Monday's debate, Hillary Clinton won. The story leading up to it was that she was frail, her health bad. Instead she was vibrant, confident, smiling and present. Sometimes when Mrs. Clinton speaks you sense she's operating at a level of distraction, reviewing her performance in real time or thinking about dinner. Here her mind was on the mission. She did not fall into the hectoring cadence that is a harassment to the ear. She said nothing remotely interesting" Peggy Noonan, Wall Street Journal, "The Politics of 'The Shallows'"]. "Mr. Trump's job was to leave you able to imagine him as president. You could have, but it would be a grumpy, grouchy president with thin skin. … She'll probably overplay her hand. That's what she does. … [T]he next week or so she's on the upalator and he's on the downalator. After that, we'll see."

"Trump: 'Check out sex tape' of former Miss Universe" [The Hill]. Boy, did Clinton get inside Trump's head. Not a good look.
The Voters
"In the past 18 months I talked to three young presidential candidates—people running for president, real grown-ups—who, it was clear to me by the end of our conversations, had, in their understanding of modern American political history, seen the movie and not read the book. Two of them, I've come to know, can recite whole pages of dialogue from movies. (It is interesting to me that the movies our politicians have most memorized are "The Godfather" Parts I and II.)" I think Nooners has come up with the best factoid of the 2016 election, here.) [Peggy Noonan, Wall Street Journal, "The Politics of 'The Shallows'"].

"USA TODAY's Editorial Board: Trump is 'unfit for the presidency'" [USA Today]. But they don't endorse Clinton. Tomorrow?

"That Seventh-Grade Bully Is Running for President" [Nicholas Kristoff, New York Times]. Of course, the idea that the Beltway, very much including Kristof, is high school, is a well-worn trope. The thing is, I genuinely don't understand this Democrat mindset, this framing of everything as micro-aggression. Try it on any historical figure, and see if it works. "Mussolini was a bully." Is that really a useful way to look at Mussolini? "The Emperor Hirohito was a bully." Heck, forget utility, is it even sane? I'm tempted to regard the "bully" trope as a sop to the Democrat base of college administrators, who are greatly concerned with indoctrinating their frosh with the micro-aggression concept — not that there's anything wrong with that — but that idea seems overly simplistic; this bizarre ideation is too pervasive. Oh, and it goes without saying that no white bourgeois feminist can ever be a bully.

"A record 40 per cent of Americans may cast their votes ahead of the 8 November election and in many states they have already started either requesting ballots or returning them completed" [Independent]. I think this is madness. What do we have a campaign for? "With each election, the numbers taking advantage of either early or absentee voting provisions grow bigger, with significant consequences for the campaigns. The more votes each side can bank in advance, the less hard they have to work to drive turnout on election day." And: "The Hillary Clinton campaign is feeling buoyed by indications that Democrats are outpacing Republicans in early voting patterns in a few key swing states such as Florida and North Carolina."

"A further question is how much staying power the third-party candidates—Gary Johnson, of the Libertarian Party, and Jill Stein, of the Green Party—will have. While Stein is but a blip, scoring at most three points in important states, Johnson, with the more well-known Bill Weld as his running mate, is on the ballot in all fifty states and could make the difference in such states as Colorado, New Mexico, Nevada, and New Hampshire. Johnson is known as a bit of an odd duck. … When confronted on Meet the Press with the fact that he couldn't win but could affect the outcome, he replied with insouciance, "Some parties need wrecking" [Elizabeth Drew, New York Review of Books]. "The reckless egotism that leads some people to put themselves in a position to distort the outcome of a presidential race." I love that "distort the outcome." Drew's decline — and NYRB's decline — has become sadly evident. She can't even pose as a distinterested observer, and that used to be her schtick. And the NYRB didn't used to publish the openly hackish.
Swing States
"New polling indicates that Democratic nominee Hillary Clinton received a sizeable bump in key battleground states after the first presidential debate. The majority of likely voters in all five swing states said that Clinton won in her first face-off with Republican nominee Donald Trump" [Opposing Views]. "On Sept. 29, new Public Policy Polling survey results found that Clinton is leading in Colorado, Florida, North Carolina, Pennsylvania and Virginia. The surveys were conducted on behalf on the nonpartisan VoteVets Action Fund." PPP is a Democrat shop, however.

"Four polls released Friday show Clinton ahead in Florida, Michigan, Nevada, and New Hampshire in a race that includes Libertarian candidate Gary Johnson and Green Party candidate Jill Stein. The Nevada poll lists Independent candidate Darrell Castle and Rocky De La Fuente, who has no party affiliation, but not Stein" [Business Insider].
Realignment
"Americans will soon make their choice. It will be either Mr. Trump or Mrs. Clinton—experienced, forward-looking, indomitably determined and eminently sane. Her election alone is what stands between the American nation and the reign of the most unstable, proudly uninformed, psychologically unfit president ever to enter the White House" [Dorothy Rabinowitz, Wall Street Journal, "Hillary-Hatred Derangement Syndrome"]. Rabinowitz's endorsement should set those millenial hearts aflutter! So much irony here, given how the Wall Street Journal's nutball editorial page created hatred of the Clinton's as a virtual asset class, and Rabinowitz apparently believes that Trump is less psychologically fit than Alzheimer's victim Ronald Reagan.
Stats Watch
Personal Income and Outlays, August 2016: "August was a soft month for the consumer, both for income and especially for spending." [Econoday]. And: "The headline data this month showed NO consumer expenditure growth. This is a negative for 3Q2016 GDP. Income growth was also anemic" [Econintersect]. "With consumer spending the only real engine in GDP, look for another downgrade of 3Q2016 GDP forecasts."
Chicago Purchasing Managers Index, September 2016: "September has been a good month for the Chicago economy based on the PMI which rose 3.7 points to 54.2. Growth in new orders held steady at a moderate rate though backlog orders fell into contraction. Production, which had been soft, is very strong" [Econoday]. "[N]early 80 percent of the sample say the run-up to the presidential election is having no significant impact on business." And: "The surprise was that the Chicago PMI employment component came in weak after coming in strong last month. Still, employment survey results seem never to match the employment data" [Econintersect].
Consumer Sentiment, September 2016: "showing strength," above consensus [Econoday]. "The expectations component leads the report, up 4 points in the month to 82.7 and specifically reflecting confidence among higher income households." But: "Up slightly," no evidence of upward trend [Econintersect].
Rail: "It does appear that the downward slide in the one year rolling averages will pause shortly as the rate of increase in the rate of decline is becoming smaller" [Econintersect].
The Banks: "The countries where cash is on the verge of extinction" (Scandinavia and the Netherlands) [BBC]. "Swedish banks, he says, profit handsomely from charging transaction fees to retailers for card payments, amounting to millions of kronas annually for the banks, whereas there is no revenue generated on cash. This leaves banks little incentive to accept currency." So going without cash is "safer and cleaner" only if you believe that rental extraction by the banks is safe and clean.
Supply Chain: Edward Humes has four basic themes within his book, Door to Door [DC Velocity].
Our everyday products have gigantic transportation footprints;
As a result, every part of our transportation system is terribly congested;
Increasingly sophisticated application of information technology is our only path around this congestion; and
Failure to make significant investments in our transportation infrastructure could be perilous.
Shipping: "Air cargo demand improved again in August, which while 'failing to impress', is better than growth in the first part of the year" [Air Cargo News].
Shipping: "Rolls Royce along with the government of Finland has announced that they would have the technology available to operate autonomous ships by 2025. Although this is still nine years away, a shift like this can fundamentally change shipping as we know it today. With technology, this means that even the largest most complex cargo vessels could operate with much smaller crews (or no crew at all) within a decade" [DC Velocity]. "t is clear that new regulations must be developed and created and a flag state that swiftly moves can offer greater incentives to owners that embrace this technology."
Shipping: "Global shipping lines are under new scrutiny over price-fixing. South Africa's Competition Commission is investigating some of the world's biggest container shipping operators… and using information from raids on the carriers' local offices. The operators targeted are the South African units of Germany's Hamburg Sud, Denmark's Maersk Line, Geneva-based Mediterranean Shipping Company, France's CMA CGM Shipping and Safmarine, a Maersk subsidiary" [Wall Street Journal].
Shipping: "There are now 15 major global carriers, down from 20 five years ago. When this phase of container shipping is over, it's likely the number of global carriers will be in single figures" [Splash247].
Fodder for the Bulls: "The Merrill Lynch team feels a production cut in November could push OPEC market share to non-OPEC producers, especially those in the U.S. shales, and that in turn could be big for oilfield services" [247 Wall Street].
Honey for the Bears: "Weakening supply-demand dynamics have pushed down [Revenue Per Available Room] growth across all chain scales" [Hotel News Notes]. "Welcome to the future. The times of continued occupancy declines are here. This is what we have talked about, warned about and fretted about."
Crooks: "The U.S. Securities and Exchange Commission (SEC) recently announced that casino-gaming company International Game Technology PLC (NYSE: IGT) has agreed to pay a half-million dollar penalty for firing an employee with several years of positive performance reviews because he reported to senior management and the SEC that the company's financial statements might be distorted" [247 Wall Street]. "The SEC's second whistleblower retaliation case since the Dodd-Frank Act authorized it to bring such charges."
Crooks: "Shares of embattled German banking giant Deutsche Bank AG were up as much as 14% this morning, following reports that the company is close to a settlement with the U.S. Department of Justice" [ETF Daily News].
Crooks: "If you'd prefer not to repeat 2008, here's a suggestion. Write, email, call and – the next time he or she is in town – confront your representative in Congress and demand that Bill Black be appointed to make cases against corrupt bankers until enough of them go to prison to get the rest to act lawfully" [David Cay Johnston, Investopedia]. Nice shout-out!
Today's Fear & Greed Index: 45 Neutral (previous close: 38, Fear) [CNN]. One week ago: 55 (Neutral). (0 is Extreme Fear; 100 is Extreme Greed). Last updated Sep 30 at 11:38am.
Black Injustice Tipping Point
"Share of mortgages going to blacks has tumbled nearly 40% from the peak" [MarketWatch]. "African-Americans accounted for 8.7% of all home purchase loans in 2006, according to data out Thursday from the Federal Reserve. In 2015, they made up 5.5%. That's a 37% decline. What's more, African-Americans overwhelmingly rely on mortgages that are backed by the government, noted the Center for Responsible Lending in a statement Friday. Some 70.2% of African-American borrowers were government-backed, nearly double the share of such loans to white borrowers."
Class Warfare
"The decline of the middle class is causing even more economic damage than we realized" (from this IMF study) [Larry Summers, WaPo]. "[P]olarization has reduced consumer spending by more than 3 percent or about $400 billion annually. If these findings stand up to scrutiny, they deserve to have a policy impact. This level of reduction in spending is huge. For example, it exceeds by a significant margin the impact in any year of the Obama stimulus program. Principally, it is the macroeconomic importance of supporting middle class incomes." As if "middle class" were an analytical, as opposed to a political or even a marketing term.
"90 Cents of Every "Pay-for-Performance" Dollar are Paid for Luck" [The Harvard Law School Forum on Corporate Governance and Financial Regulation] (original). "Employee stock options may very well be a desirable component of executive compensation. This paper shows that the standard form of option compensation, with non-indexed at-the-money options, is very far from optimal, though, as its pay-for-luck component is in the ballpark of 90%, and its motivational power is rather low. Why are such options the standard practice? A possible answer is provided by the "skimming" view of Bebchuk and Fried (2009)." If "skimming" means what I think it means….
"[H]ome health aides have formed worker-owned cooperatives. Cooperative Home Care Associates (CHCA), based in the Bronx, and Home Care Associates (HCA) of Philadelphia are both affiliates of PHI, which advocates on behalf of the workforce more generally. Both provide training and support, as well as employment at decent wages" [Nonprofit Quarterly].
News of the Wired
"Microsoft says it has formed a new 5,000-person engineering and research team to focus on its artificial intelligence products — a major reshaping of the company's internal structure reminiscent of its massive pivot to pursue the opportunity of the Internet in the mid-1990s" [GeekWire].
* * *
Readers, feel free to contact me with (a) links, and even better (b) sources I should curate regularly, and (c) to find out how to send me images of plants. Vegetables are fine! Fungi are deemed to be honorary plants! See the previous Water Cooler (with plant) here. And here's today's plant: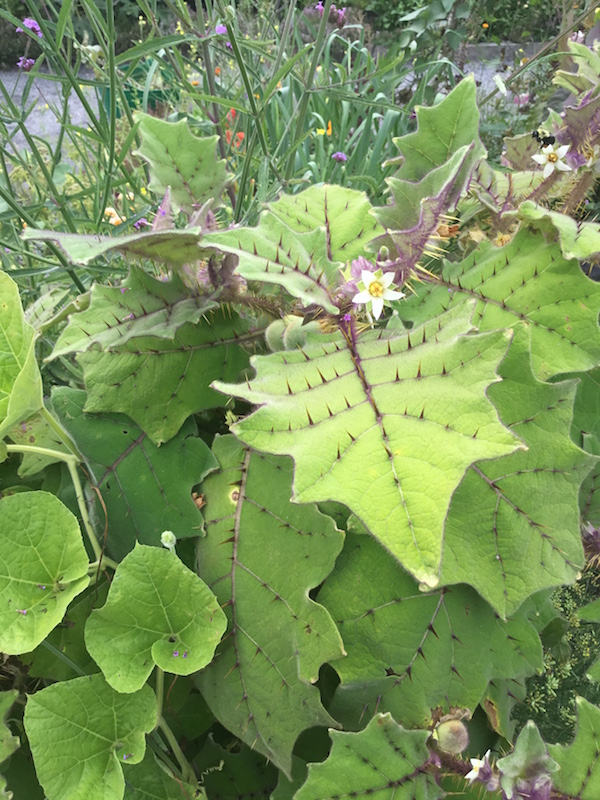 From the Coastal Maine Botanical Gardens. Oddly spiky for Maine!
Readers, yellow waders don't come cheap. Please use the dropdown to choose your contribution, and then click the hat! Your tip will be welcome today, and indeed any day. Water Cooler will not exist without your continued help.
Readers, I am behind in answering contact form mail. I will catch up soon, beginning now!