By Lambert Strether of Corrente.
Here's another vacation artifact from along the Maine Coast: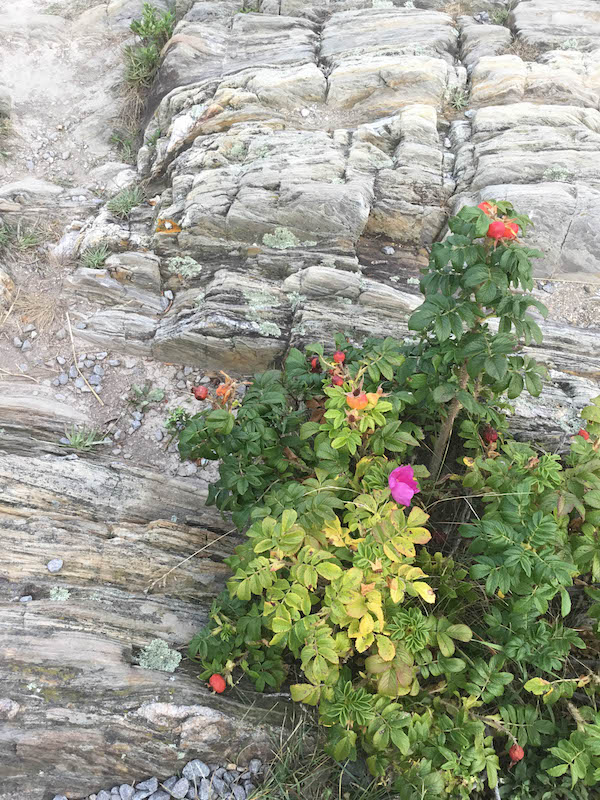 I like Rosa Rugosa. Some say "invasive" but I think "tenacious" would be a better word.
* * *
What fresh hell:
"Anxious Dems urge Clinton to open up" [The Hill].
Democratic senators, anxious over Hillary Clinton's inability to pull away from Donald Trump, have some advice for their nominee: Be more open, show your soul, focus on the economy and talk about blue-collar jobs.

Recent polls show Trump within striking distance of Clinton in the presidential election, defying predictions in Washington that he is doomed in November.
After all that money, the complete support of the Democrat establishment, and the virtually unanimous support of the political class, including the press, and eruption after eruption from the Trump campaign. Stupid voters? Or weak candidate? You decide.
These lawmakers, who served with Clinton in Congress and have known her for years, say her public persona is too guarded.

They struggle to reconcile the charismatic, warm and funny woman they know in private with Clinton's public persona, which can come across as stern, aloof or annoyed.
The sycophants in HillaryLand wish everybody could be like them!
"Her decades in this arena have taken their toll," said Sen. Dianne Feinstein (D-Calif.). "When you're hit a lot there's almost an unconscious shield that controls the answers to your questions. I think she's got to get rid of that and just let herself be."

"Everybody that knows her loves her. They know her heart is full," she added. "That's what she ought to do, just take the shield away from the heart."

Vice President Biden offered similar advice earlier in the week, calling on her to be "more open."

"Hillary knows it's a problem, and she's trying to figure out how to remedy it. And my advice to her, the best way to remedy it, is to talk about what you care about and talk about it with some passion," he told CNN.

He advised her to "open up" and let voters "see your heart a little more."

"It would be great if she showed her soul more, but she's got to be comfortable and it has to be authentic," said one senator, who requested anonymity to offer a frank assessment.
Is Clinton going to reintroduce herself again? Help me. Look, I don't care about what's in her heart, if any, and ditto Trump. How about Clinton comes out and says those Wells Fargo execs should be thrown in jail? That might get my attention, and m-i-i-i-i-ight make me put her in a different box. (And Manafort better hop to it and get Trump out in front on this. Eh? If he really wants Trump to be a populist.)
* * *
Readers, feel free to contact me with (a) links, and even better (b) sources I should curate regularly, and (c) to find out how to send me images of plants. Vegetables are fine! Fungi are deemed to be honorary plants! See the previous Water Cooler (with plant) here. And here's today's plant (ML):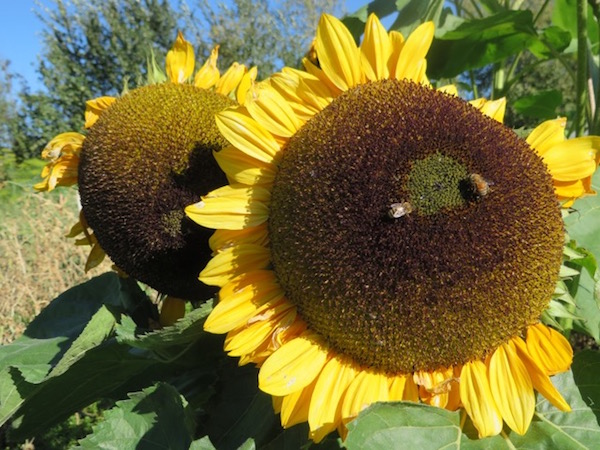 ML writes: "End of summer here in south central Alaska. Here are sunflowers and pollinators on Moonstone Farm in Palmer, AK (~ 3 blocks from Parks Highway!)"
I had very good luck this year with a patch of sunflowers self-seeded from last year. So I transplanted many of them elsewhere about the property, and expect even better luck next year!
* * *
Readers, if you can, please use the dropdown to choose your contribution, and then click the hat! Your tip will be welcome today, and indeed any day. Water Cooler will not exist without your continued help.