By Lambert Strether of Corrente.
Readers, I'm a bit light on election coverage. I'll add some updates shortly. –lambert
TTP, TTIP, TISA
"EU, US negotiators officially drop aim of concluding TTIP in 2016" [Euractiv]. That's nice!
2016
Days until: 27.
Policy
"A new era is beginning in American politics, not only one that will see nationalism and globalism contend for the soul of the next administration but one that will give rise to new permutations of conservatism, realism, and libertarian foreign-policy thought. Whether we are to have a world of sovereign nation-states or one in which a single imperial superpower contends with increasingly fragmentary post-national and sub-national threats around the globe will depend on the decisions that are made in the near future: in the next few years. There is peril in either direction, but self-government still depends on the nation-state" [The American Conservative]. See Rodrik's Trilemma.
The Voters
UPDATE "Powerful Evangelical Women Split From Male Church Leaders to Slam Trump" [Daily Beast]. Could be important.

"Hundreds of young people have been elected to local office under her leadership since 2011, and some of the FN's best-known faces have yet to turn 30. Le Pen's 26-year-old niece, Marion Maréchal-Le Pen, the blond bombshell of the far right, is France's youngest MP. And then there is David Rachline, a senator and the mayor of Fréjus, who at 28 has just been named Le Pen's presidential campaign chief" [Foreign Policy]. "At the conference, smartly dressed, articulate young activists were among those pushing Le Pen's message most fervently." It can't happen here…

"During the presidential caucuses earlier this year, Democrat Bernie Sanders' campaign fired up the youth bloc in Colorado. But his loss — and what Colorado State University political science professor Kyle Saunders characterizes as a less-than-full-throated endorsement of Clinton — leaves allegiances fragmented as the election nears" [USA Today]. "Saunders said high negatives for the two major-party candidates typically demobilizes younger voters more than those over 35." Interesting interviews, data.

"Early voting is closely tracked by the U.S. Election Project, directed by Michael McDonald, a University of Florida political scientist. He estimates that 34 percent of the electorate will vote before Nov. 8, up a little from four years ago" [Bloomberg]. "To date, there are three states where a preliminary reading is possible and can be compared to this period four years ago, McDonald says. Republicans are doing a little better in Iowa; the picture is mixed in Maine; and Democrats have reason to cheer about North Carolina, a critical battleground."

UPDATE The New Yorker visits "Trump Country" [The New Yorker]. These visits have now become a genre; an improvement, at least, on Friedman's lone cab driver. Nevertheless, this is the (sadly diminished) New Yorker, so, not to be snarky, but:

"When lose their ability to make sense of rapid global change and the old story collapses and leaves a void, need new ways of thinking, and need them fast. At present, though, are still in the nihilist moment of disillusionment and anger, in which lose faith in the old story but before have embraced a new one. This is the Trump moment" [The New Yorker]. Gramsci said it better (from memory): "The old is dying and the new is struggling to be born. In the interim, a great variety of morbid symptoms appear."
Downballot
UPDATE "Where Republicans in Competitive House and Senate Races Stand on Donald Trump" [New York Times]. Cutesy graphics with no overall table, but it looks like Republicans in safe districts are supporting Trump, and those in tight races are not. (And does anybody outside the Beltway think Paul Ryan is important?)

UPDATE "House Democrats believe Trump troubles give them real shot at retaking majority" [WaPo]. Then again, if you read the story, it's all Democrat pollsters, so the Rice-Davies Rule applies.
The Trail
UPDATE "'Bill Clinton had [Secretary of State] Madeleine Albright and [Secretary of Health and Human Services] Donna Shalala come out and say he was telling the truth on Monica,' [Maureen] Dowd said. 'And so all of these amazing, accomplished women that worked around him were kind of called to support him, and it's , because they would put these women down on class or, in Monica's case, they would say she's a delusional stalker" [Yahoo News]. Almost?

"The Case for a 'Two-Faced' Hillary Clinton" [The New Republic]. "In an election in which one of the nominees is promising he'll make great deals—that he'll deliver everything under the sun, without remotely explaining how any of it would be politically possible—there's something bold, even radical, in espousing such a practical philosophy for political deal-making. Maybe it's not a popular message in this populist moment, but it would have the virtue of being honest."

"Trump Savors 'Lock Her Up' Chants at Pa. Rallies" [RealClearPolitics].

"RNC goes dark as party members demand answers" [Politico]. You need to read the story for the detail; the headline is quite deceptive.

UPDATE "The truth is we won't know [the effect of Trump's Access Hollywood hot mike debacle] until the end of the week, when post-debate polls come in, what the full extent of the damage is (if there's much damage at all)" [Roll Call]. Breath of sanity. As USA Today commented in their mailer today: "The head-to-head results range from Donald Trump up by 3 to Hillary Clinton up by 14 … so the actual mood of the country is somewhere in that narrow 17-point window, right?"

UPDATE "Come January, Democrats will continue to be the dominant political faction in the U.S. — more so than ever — and the tactics they are now embracing will endure past the election, making them worthy of scrutiny. Those tactics now most prominently include dismissing away any facts or documents that reflect negatively on their leaders as fake, and strongly insinuating that anyone who questions or opposes those leaders is a stooge or agent of the Kremlin, tasked with a subversive and dangerously un-American mission on behalf of hostile actors in Moscow" [Glenn Greenwald, The Intercept]. Greenwald is too kind. He forgot "strongly insinuation" openly smearing "anyone who questions or opposes those leaders" as racist and/or sexist, "irredeemable," and basement-dwelling. The honeymoon will not be pretty, and then it will get ugly.
Podesta Wikileaks Release
Again, important because these releases give insight into how Clinton would govern.

UPDATE New release [Wikileaks].

UPDATE Here's one:

@rweingarten calling the National Nurses Union "sanctimonious" for endorsing Bernie. Plans to "go after them." #PodestaEmails #podesta2 pic.twitter.com/wG24dmcFxw

— D. D. Walker (@desmondalan) October 10, 2016

Because, ya know, "Love trumps hate."
Stats Watch
Yikes: "'In light of the consistent historical practice under which independent agencies have been headed by multiple commissioners or board members, and in light of the threat to individual liberty posed by a single-Director independent agency…We therefore hold that the CFPB is unconstitutionally structured,' the court said" [Wall Street Journal, "Federal Appeals Court Finds Structure of CFPB Unconstitutional"]. "The ruling, written by Judge Brett Kavanaugh, allowed the CFPB to continue operating as an agency, but ordered a restructuring of how it operates in the executive branch. 'The CFPB therefore will continue to operate and to perform its many duties, but will do so as an executive agency akin to other executive agencies headed by a single person, such as the Department of Justice and the Department of the Treasury,' the court said." And: "In addition to ruling on the structure of the agency, the court threw out a CFPB decision imposing a $109 million penalty on a New Jersey mortgage servicing company, PHH Corp." [Bloomberg]. "The agency had punished PHH Corp. for referring customers to insurers who then purchased reinsurance from a PHH subsidiary. CFPB determined those payments were part of an illegal kickback scheme. PHH said the law creating the CFPB gave an unaccountable director too much authority."
Labor Market Conditions Index, September 2016 : Down, "extending its soft trend" (experimental Fed index) [Econoday]. And: "The index has fallen in seven of the last eight months, which will maintain an underlying tone of doubt surrounding labour-market trends, although there are still important issues of demand and supply. There is an important risk that employment growth is being restricted by supply difficulties and, in this context, there is an important risk that underlying tightness is being under-reported" [Economic Calendar]. "The relatively subdued readings over the past few months have helped convince Fed Governors that there is still some underlying slack in labour markets and the latest data will maintain the overall tone of caution. The Fed will, therefore, remain committed to only a very slow pace of tightening."
NFIB Small Business Optimism Index, September 2016: "[P]osting the second consecutive monthly decline and disappointing expectations of an increase that would resume the weak rebound from the 2-year low at 92.9 set in March" [Econoday]. " Despite the decline in the overall optimism index, the sharpest move among the components was a very positive one, with the net percentage of business owners expecting better business conditions in the next six months rising sharply." But plans to increase inventories fell. And: "Fifty-eight percent reported hiring or trying to hire (up 2 points), but 48 percent reported few or no qualified applicants for the positions they were trying to fill. Seventeen percent of owners cited the difficulty of finding qualified workers as their single most important business problem" [Econintersect]. If only there were some mechanism… Like an invisible hand… to address this problem!
Whistleblowers: "The SEC last week brought its first enforcement action based solely on retaliation against a whistleblower" [The FCPA Blog]. "the SEC charged [Casino-gaming company International Gaming Technology (IGT)] exclusively with unlawful retaliation and not with violations of other securities laws. According to the SEC's complaint, the agency found that IGT fired an executive whistleblower because he reported to senior management and the SEC that the company's financial statements might be distorted. To resolve the claim, IGT agreed to pay a civil penalty of $500,000."
Housing: "In this blog we examine two new CoreLogic metrics for measuring speculative belief: the Flipping Index and the Fraud Index" [Econintersect]. "If we define the overvalued markets as the CBSAs with abnormal (i.e., higher-than-national-average) flipping percentages, we end up with 16 overvalued markets among the top 100 CBSAs, all in California, Texas and Florida…. the [Core Based Statistical Areas] in Texas have below-national-average fraud risk, while the other 13 markets in California and Florida are all above the national level."
Housing: "Foreclosure inventory continues to plunge across the nation, with the foreclosure inventory rate at 0.9% in August, down 29.6% compared to last year. However, the drop was much greater in four states that fell over 35% for the month: Michigan (37.2%), Washington (38.6%), Minnesota (36.4%) and Colorado (37.4%)" [247 Wall Street]. And: "The four states and the District of Columbia with the largest foreclosed inventory as a percentage of mortgaged properties are New Jersey (3.2%), New York (2.9%), Maine (1.8%), Hawaii (1.8%) and D.C. (1.8%). The five states with the lowest inventories of foreclosed properties are Colorado (0.3%), Minnesota (0.3%), Utah (0.3%), Arizona (0.3%) and Michigan (0.3%)" [247 Wall Street].
Consumer Credit: "Nice move up vs last month but doesn't move the year over year needle, and this series has a history of spikes up that are immediately reversed" [Mosler Economics].
Retail: "Amazon.com Inc. is pushing deeper into the grocery business with plans to introduce convenience stores as well as curbside pickup locations, say people familiar with the matter" [Wall Street Journal, "Amazon to Expand Grocery Business With New Convenience Stores"]. Throw Mom and Pop stores from the train…
Commodities: "The long slump in commodity prices is pushing commodity-exporting countries to reshape their economies. The new national strategies are part of a broad restructuring of distribution channels taking place around the world as prices for many staples sink, currency values decline and imports get more expensive" [Wall Street Journal]. "The changes to bedrock economic policies are so significant that the deeper changes to supply chains may outlast any recovery in commodity markets."
The Bezzle: "Did you know that one speeding ticket in Kansas could land you in jail? That's what happened to David Jackson in 2011 after he couldn't afford a $100 fine for speeding. Collection had been outsourced to a private contractor, and his bill quickly ballooned to $2,200 with court costs, jail fines and the contractor's extra fees. 'It's illegal to be poor,' Jackson said" [Capital and Main]. "All the while, the contractor, Linebarger Goggan Blair & Sampson, which does $1 billion in business every year, skimmed profits off the top.Jackson's story illustrates an alarming trend. Instead of raising taxes to pay for crucial public goods and services, state and municipal governments have increasingly outsourced services to corporations that then charge people directly. The corporations, which often don't charge the government for their services, profit by tacking on extra fees."
The Bezzle: "[A] total of 41 million Americans were victims of identity theft last year" [247 Wall Street].
Political Risk: "From U.S. elections to Britain's exit from the European Union to China's shaky overhaul, top economic officials around the world are growing increasingly anxious about politics maiming global growth by propelling antitrade sentiment, suppressing investment and fueling market volatility" [Wall Street Journal, "Global Political Uncertainty Weighs on Growth Outlook"]. "Market volatility is rising alongside the uncertainty, according to indexes measuring both. Policy uncertainty is hitting levels not seen since the global financial crisis and Europe's sovereign debt woes. Market volatility is mimicking its rise."
"Investors who got just one trade right this year would have done brilliantly: Sell everything that did well in the first half of the year and buy everything that did badly" ["Wall Street Journal, "The Great Market Switcheroo of 2016"]. "The reversal has been spread across almost all assets, with leaders becoming laggards and laggards leaders…. The signal is the switch from fear back toward greed. … The evaporation of fear propelled investors into riskier stocks they shunned earlier in the year."
Today's Fear & Greed Index: 46 Neutral (previous close: 55, Neutral) [CNN]. One week ago: 42 (Neutral). (0 is Extreme Fear; 100 is Extreme Greed). Last updated Oct 11 at 1:24pm.
Neoliberal U
"CUNY, All Too CUNY: Or, what happens when higher-ed hoodlums aren't brought to heel?" [Crooked Timber]. "From what I can tell (and in my experience, as I said, this is how CUNY often operates), the institution allowed [City College President Lisa Coico, this] higher-ed hoodlum to happily continue in her position, secure in the knowledge that if she ever did anything too egregious or got caught, that she'd get a mild entreaty to fix the error." Coico has now reisgned.
Guillotine Watch
"This stunning home concept is built into the side of a cliff" [Business Insider]. Block that metaphor!
Where are the gates and the guardhouse? Over the hill?
Class Warfare
"So go ahead and take that $5,000 signing bonus to drive a chemical truck, if you are so inclined. Just don't spend it — except maybe on classes to learn how to do something other than drive a chemical truck" [Bloomberg].
News of the Wired
On this day in math: "1949 Fan Rong K Chung Graham (October 9, 1949), known professionally as Fan Chung, is a mathematician who works mainly in the areas of spectral graph theory, extremal graph theory and random graphs, in particular in generalizing the Erdős-Rényi model for graphs with general degree distribution (including power-law graphs in the study of large information networks)…. After working at Bell Laboratories and Bellcore for nineteen years, she joined the faculty of the University of Pennsylvania​ as the first female tenured professor in mathematics. … Since 1983 she has been married to the mathematician Ronald Graham. They were close friends of Paul Erdős, and have both published papers with him; thus, [!!]" [Pat's Blog].
"The bicentenary of Augusta Ada King, Countess of Lovelace, heralds the critical reassessment of a remarkable figure in the history of Victorian science. Ada Lovelace (as she is now known) was 27 years old and married with 3 children when she published the first account of a prototype computer and its possible applications in 1843. Her 20,000-word paper was appended as seven Notes to a translation of a descriptive article, Sketch of the Analytical Engine Invented by Charles Babbage, Esq." [Nature]. She died at 36.
I love pre-60s art in this "modern" style. This site has lots of it! [From Deco to Atom].
"[Google has] just released a new open-source font called Noto, a single typeface family that "aims to support all languages with a harmonious look and feel." It supports more than 800 languages and 100 writing scripts" [Hot Hardware]. "Noto is a massive undertaking, but one deemed necessary by Google. It's been working on the project over the past five years in collaboration with Monotype in hopes of eradicating so-called "tofu"—the blank boxes you see when a PC or website can't display a particular text—from the web. Noto, or No more tofu, is Google's answer and it's available now to download."
"Carved into a 1.5 meter-long marble stele, the document goes into great detail about the property and its amenities. We learn that it's a tract of land that was given to the Neos, a group of men aged 20-30 associated with the city's gymnasium. In ancient Greece, a gymnasium wasn't just a place for exercise and public games—it was a combination of university and professional training school for well-off citizens. Neos were newbie citizens who often had internship-like jobs in city administration or politics" [Ars Technica]. "The land described in the lease was given to the Neos by a wealthy citizen of Teos, in a gift that was likely half-generosity, half-tax writeoff. Because the land contained a shrine, it was classified as a "holy" place that couldn't be taxed. Along with the land, the donor gave the Neos all the property on it, including several slaves."
"An annual pumpkin-weighing contest in Northern California has a new winner: a third-grade teacher from Washington state who raised a giant one weighing 1,910 pounds" [Los Angeles Times].
"Sure, You Can Borrow My Car!" [BK Magazine]. "Here's a rundown of some things you should know about the Volvo before heading out:…"
* * *
Readers, feel free to contact me with (a) links, and even better (b) sources I should curate regularly, and (c) to find out how to send me images of plants. Vegetables are fine! Fungi are deemed to be honorary plants! See the previous Water Cooler (with plant) here. And here's today's plant: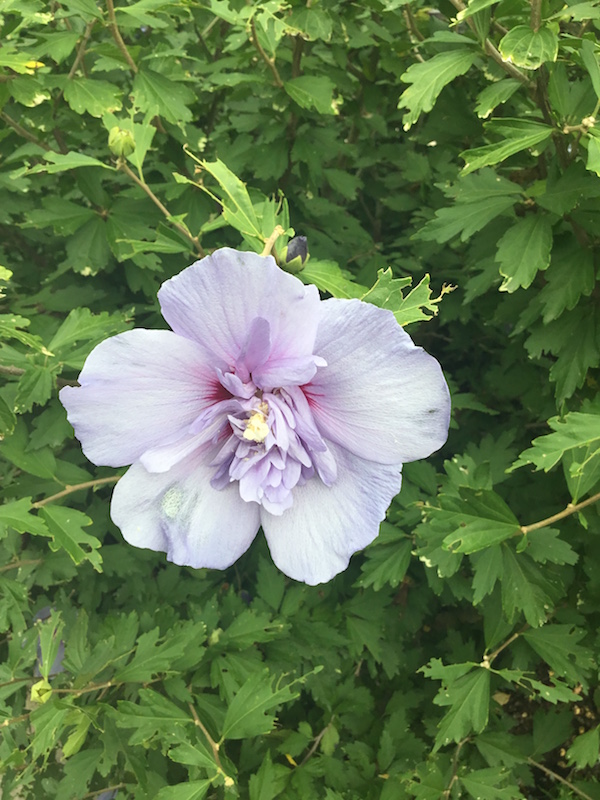 From the Coastal Maine Botanical Gardens.
Readers, yellow waders don't come cheap. Please use the dropdown to choose your contribution, and then click the hat! Your tip will be welcome today, and indeed any day. Water Cooler will not exist without your continued help.
Readers, I am behind in answering contact form mail. I will catch up soon, beginning now!