By Lambert Strether of Corrente.
Readers, since this is a holiday, I'm going to publish an abbreviated Water Cooler, updating the election polling, with a second look at paths to victory in the Electoral College. –lambert
2016
Days until: 29
Here are the RealClearPolitics polling averages from last week, compared to this week.
| | |
| --- | --- |
| This week: 10/10/2016 | Last week: 10/3/2016 |
| | |
As you can see, Clinton picked up a couple of points in the national polls, bringing her more in line with her "natural" four-point advantage. She also picked up points in the state polls, both no doubt based on Trump's Access Hollywood hot mike debacle. Whether Trump's strength will continue to erode, and the effects of the debate, are at this point unknown.
Now let's return to the fun Times interactive, "The 1,024 Ways Clinton or Trump Can Win the Election"; it shows the "paths to victory" in tree form. Try it yourself! [New York Times]. Here's some data I put together to play with in the form of a table of swing states:
| | | | | | |
| --- | --- | --- | --- | --- | --- |
| Swing State | Leader | Polling Margin | SoS Party | A.G. Party | Electoral Votes |
| OH | C | 0.5 | R | R | 18 |
| NV | T | 1.4 | R | R | 6 |
| FL | C | 2.4 | R | R | 29 |
| CO | C | 7.3 | R | R | 9 |
| NC | C | 2.6 | D | D | 15 |
| IA | T | 3.7 | R | D | 6 |
| NH | T | 6.0 | D | D | 4 |
| WI | C | 6.3 | D | R | 10 |
| VA | C | 7.0 | D | D | 13 |
| PA | C | 8.6 | D | D | 20 |
Legend: Leader and polling margin from RealClearPolitics. SoS's party from WikiPedia. A.G's party from Ballotpedia.
The table is sorted by SoS's party (Secretary of State), and then by margin within SoS. [I blundered and gave election enforcement to the AG, when in fact it's the SoS. So I added the SoS column (leaving the AG column in place, in case of litigation). Interestingly, despite my selection of bad data for input, the result is almost the same when the inputs are good: The only state that shifts position is WI, whose SoS is a Democrat. I'm still going to give WI to the Republicans, if only for the sake of the argument, on the assumption that Republican voter suppression efforts will be as effective as they have been in the past. Obviously, I shouldn't have tried to do serious work so soon after processing a Presidential debate. My bad. –lambert]
Using the Times interactive, if we simply plug in the values from Polling Margin column, Clinton wins decisively, after picking up OH, FL, and WI.
However, if we assume that the SoS's control of the electoral machinery could give Trump the win in low margin states*, then we initially give Trump OH, NV, and FL, after which the Times interactive shows that Clinton has only 17 paths to victory, and Trump 45. We give WI to Trump, despite the polls, because of Scott Walker, [the significant Republican voter suppression effort, and] the Republican A.G. At that point, Trump can win with PA. Na ga happen; we give PA to Clinton. NC becomes decisive. NC has a Democrat SoS, but there is also an active Republican voter suppression effort going on in that state. If Trump wins NC, he wins.
Of course, this is just light-hearted punditry, and not serious analysis. Nevertheless, it's still a horse-race. If Trump, against all the odds-making of the political class, eats into Clinton's lead in the coming weak, it's even more of a horse race. (I also don't mean to imply that Democrats wouldn't use their own institutional advantages, as the Clinton campaign/DNC did in the primaries, but from the margins in the states the Democrats are winning with Democrat SoS's, they won't need to, NC being the exception).
* A nice example of "the party decides." Also, I'm assuming that all the state SoS's play the same role and have the same powers. That might not be the case. [Not changing this. Ballot access is a thicket of state-by-state exceptions and general weirdness. That's one reason ballot access is hard! While at a high level SoS's run the election apparatus, details matter, and I don't have time to do exhaustive research.]
* * *
Readers, feel free to contact me with (a) links, and even better (b) sources I should curate regularly, and (c) to find out how to send me images of plants. Vegetables are fine! Fungi are deemed to be honorary plants! See the previous Water Cooler (with plant) here. And here's today's plant: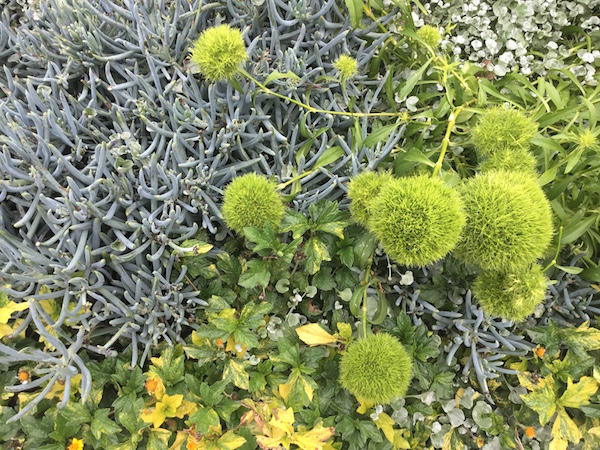 Masterful use of ground cover at the Coastal Maine Botanical Gardens!
Readers, yellow waders don't come cheap. Please use the dropdown to choose your contribution, and then click the hat! Your tip will be welcome today, and indeed any day. Water Cooler will not exist without your continued help.
Readers, I am behind in answering contact form mail. I will catch up soon, beginning now!