By Lambert Strether of Corrente.
This is Naked Capitalism fundraising week. 932 donors have already invested in our efforts to combat corruption and predatory conduct, particularly in financial realm. Please join us and participate via our Tip Jar, which shows how to give via check, credit card, debit card, or PayPal. Read about why we're doing this fundraiser, what we've accomplished in the last year, and our fourth goal, burnout prevention.
TTP, TTIP, TISA
CETA: "Defiant Wallonia rejects deadline to save EU-Canada deal" [Politico]. "Wallonia's Minister-President Paul Magnette has dealt a potentially fatal blow to EU trade policy by insisting that he will not support the EU's landmark trade deal with Canada by a Friday deadline." And: "Belgium can't sign the deal without consent from all five of its regional parliaments, and the EU can't ratify it without unanimous support from its members" [Politico]. This: ""For me, there's an open question whether Europe in its current political arrangement is able to ratify any agreement," [said Scott Miller, a trade analyst at the Center for Strategic and International Studies] said. '" [Politico]. Nobody, we hope!
TPP: "Australia's union movement has set itself on a collision course with the federal Labor party, calling for a rejection of the Trans-Pacific Partnership agreement which Labor supports in principle" [Guardian (DK)].
TPP: "Australia's biggest business organisation has distanced itself from claims the proposed Trans Pacific Partnership will create hundreds of thousands of jobs and be a 'gigantic foundation stone' for Australia's future" [Sidney Morning Herald].
TTIP: "talian Prime Minister Matteo Renzi stood in solidarity with President Barack Obama on Tuesday as both leaders reaffirmed "strong support" for the TTIP that has recently faced backlash elsewhere in the European Union" [Politico]. "Reps. Don Beyer and Gerry Connolly of Virginia, Suzan DelBene of Washington and Jim Himes of Connecticut were all slated to attend the glitzy" White House state dinner for Renzi.
"Tobacco Carve-Out From ISDS Starts To Spread: Another Nail In The Coffin Of Corporate Sovereignty" [TechDirt]. "[T]he appearance of this carve-out for tobacco raises a question Mike asked a year ago: if corporate sovereignty is such a bad idea for this industry, why not for others that can cause harm — like the extractive industries, for example? And once people start asking these kinds of questions, it's not long before they realize that putting companies above national laws, and letting them sue governments in supranational tribunals, makes no sense at all for any sector. Calls to drop the entire ISDS system have been growing for a while; the latest move by Australia and Singapore is likely to make them louder." So how about extractive industries like loan-sharking? Or private equity?
2016
Days until: 19.
Debate Wrapup
"On Tuesday, campaigning in Colorado, Mr. Trump promised an "interesting" debate as his team confirmed he had invited President Barack Obama's Kenyan-born half-brother, Malik, who has had a strained relationship with the president. Also invited is Pat Smith, the mother of a State Department computer consultant who was killed in the 2012 Benghazi terrorist attacks" [Wall Street Journal, "Debate Will Be Final Showdown Before Millions"]. "If there was a race-changing debate it probably was the first one, said James Stimson, a University of North Carolina political science professor who has studied presidential debates. After several weeks of disciplined campaigning, Mr. Trump had nearly closed the gap with Mrs. Clinton heading into the New York Sept. 22 event. But after his unfocused and uneven performance, Mrs. Clinton's lead grew." Sad.

"The job of putting Clinton on the spot falls not only to Trump but also moderator Chris Wallace. The Fox News host selected the six topics to be covered in the 90-minute debate: debt and entitlements; immigration; the economy; the Supreme Court; foreign hot spots; and 'fitness to be President'" [Time]. "Trump has certainly shown a capacity to surprise. But if the 2016 election has taught us anything, it's to prepare for more fear and loathing in Las Vegas."
Policy
"The Climate Movement Has to Elect Hillary Clinton—and Then Give Her Hell" [Bill McKibben, The Nation].
The Voters
"Overall, 72% of registered voters rate themselves highly interested in the election, down 4 percentage points from this point in 2012 and 15 points from 2008, the poll found" [Wall Street Journal, "As Voters Tune Out, Worries Grow About Turnout"]. "Only 54% of younger voters, those under age 35, say they have high interest in the election, down 6 points from the 2012 election and nearly 30 points from 2008." Great job, Obama, seriously. I mean, who wants voters involved?

"Clinton's up 49-28 percent [with younger voters]. But 76 percent of Trump supporters say they'll vote, compared to 68 percent of Clinton backers" [McClatchy].

"Mr. Trump and Mrs. Clinton are no more liked or disliked than when the year started, nor have more people come to view the prospect of their election with optimism, Wall Street Journal/NBC News polling finds. And in a head-to-head matchup, Mrs. Clinton's 10-point lead [on being viewed positively] of today is exactly where it stood in January" [Wall Street Journal, "Voter Support for Hillary Clinton and Donald Trump Reverts to January Levels"]. "The 2016 election might seem turbulent, with its battle of personalities, hacked emails and late-night tweets. But underneath, there has been more stability than volatility." After all that…

"The Republican candidate's misogyny has galvanized the feminist movement with more force and fury than any political issue in generations" [Foreign Policy]. "It seems as if the modern feminist movement — long defined by the divisive issue of abortion rights — is finally unifying against the everyday sexual harassment and even assault that most American women face in their lifetime." It's possible, I suppose. Given the way that the Clinton campaign smeared younger women Sanders voters, and given the general 10% focus of Clintonian feminism, I doubt it. After all, fast food workers have heavily women and people of color, and where is Clinton on a $15 minumum wage?
Downballot
"The battle for the Senate is going down to the wire. Here's where we stand." [WaPo]. "We still have Democrats favored to win two GOP seats — in Illinois and Wisconsin. And we still have six seats listed as toss-ups — Indiana, Missouri, Nevada, New Hampshire, North Carolina and Pennsylvania. Democrats still need to win three of the six to get an effective majority. And Republicans are still in the game largely despite their presidential nominee, Trump."

"Most analysts believe that even if Hillary Clinton wins in a landslide, Democrats are unlikely to pick up the net 30 seats they would need to regain the House majority they lost in the tea party-fueled wave of the 2010 election" [Wall Street Journal, "Democrats Eye Big Gain in House Seats"]. "The current two-point [Democrat] advantage is dwarfed by the margin in polls in years past when Democrats picked up large numbers of House seats. In 2006, voters wanted a Democratic-led Congress by 10 percentage points in Journal/NBC polling, and the party gained 30 seats. In 2008, voters favored a Democratic-led Congress by 11 percentage points, and the party gained more than 20 seats."
Wikileaks
More:

RELEASE: The Podesta Emails Part 12 https://t.co/wzxeh70oUm #HillaryClinton #imWithHer #PodestaEmails #PodestaEmails12 pic.twitter.com/druf7WQXD5

— WikiLeaks (@wikileaks) October 19, 2016

Readers, I'm getting a 403 error for the link. Is it just me?

Politico's Glenn Thrush, slave, checks with Podesta, Master: "Can I send u a couple of grafs, OTR, to make sure I'm not fucking anything up?" [Wikileaks]. As William Burroughs memorably suggested: "I'll polish your shoes with the oil on my nose…." Maybe Thrush could read Naked Lunch for tips?

"Seriously, those speeches are great! They show someone with a vision, a pragmatic approach to getting things done and a healthy instinct for balancing the need to strengthen our social safety nets with unleashing America's business class to create the growth required to sustain social programs. [Thomas Friedman, New York Times]. "So thank you, Vladimir Putin, for revealing how Hillary really hopes to govern. I just wish more of that Hillary were campaigning right now and building a mandate for what she really believes." Help me.

"Rubio rejects WikiLeaks: 'Today it is the Democrats. Tomorrow it could be us'" [CNN].
The Trail
"Policy wonk. Pragmatist. Truth-twister. There are many versions of Clinton—and we'll need them all to navigate the political chaos unleashed by Trump" [The New Republic]. What do you mean, "we"? Going on: "Given a presidential candidate who contains Whitmanesque multitudes…." I'm going to stop there. I can't bear to go on.

"Nearly naked Hillary Clinton statue sparks fury downtown" [New York Post]. But the naked Trump statue was jake with the angels.
Stats Watch
Atlanta Fed Business Inflation Expectations, October 2016: "Inflation expectations have been mixed to soft and the Atlanta Fed's September sample of expected business costs is among the softest" [Econoday].
Housing Starts, October 2016: "Starts are mixed but permits are up in what is a deceptively solid housing starts & permits report" [Econoday]. "Starts plunged what looks like a shocking 9.0 percent in September, to a 1.047 million annualized rate. But the drop is tied entirely to the volatile multi-family component where starts fell a massive 38 percent in the month." And: "The nature of this industry normally has large variations from month to month so the rolling averages are the best way to view this series – and it shows permits improving and housing starts / completions decelerating" [Econintersect]
Architectural Billings: "For the first time since the summer of 2012, the Architecture Billings Index (ABI) posted consecutive months of a decline in demand for design services. As a leading economic indicator of construction activity, the ABI reflects the approximate nine to twelve month lead time between architecture billings and construction spending" [American Institute of Architects]. And: "[I]f this drop-off continues, [Commercial Real Estate] investment could slow in the 2nd half of 2017" [Calculated Risk].
MBA Mortgage Applications, week of October 14, 2016: "Purchase applications for home mortgages erased the prior week's decline and rose a seasonally adjusted 3.0 percent in the October 14 week, but refinancing applications continued to slow down and were off 1.0 percent after an 8.0 percent decline in the previous week" [Econoday].
Housing: "Cash home sales reached a peak in January of 2011 when 46.6% of all home sales in the United States were sold for cash. That peak was nearly double the pre-housing crisis average of around 25%. If cash sales continue to fall at the December rate, the 25% rate should be achieved by mid-2018. July 2016 marked the second month since late 2007 that cash sales have fallen below 30% of all home sales" [247 Wall Street].
Employment Situation: "How they manage to hide a weak jobs market with numbers" [Caucus99percent]. Among other things, an all-out assault on the "Birth-Death Model." Readers?
Employment Situation: "Clearing the Fog: The Effects of Weather on Jobs" [Federal Reserve Bank of San Francisco]. "The estimates explored in this Letter suggest that weather can help explain recent fluctuations in employment, both at the local and national levels. This is not to say that weather is a dominant factor in monthly job fluctuations. Indeed, Wilson (2016) shows that weather explains only a small fraction of the variation in national monthly employment growth. The bulk of the variation is driven by the underlying strength of the labor market and unpredictable factors such as work stoppages in specific industries. Nonetheless, weather often does have important effects."
Retail: "[A] slew of recent sales reports from global consumer-product companies suggest many are grappling with an unusual confluence of big challenges, from choppy emerging markets and local competition to rising commodity prices and currency swings" [Wall Street Journal, "Shine Comes Off Big Consumer-Product Companies"]
Supply Chain: "This wasn't the start to the fall that U.S. freight carriers were hoping for. Major measures of shipping demand turned down sharply in September, WSJ Logistics Report's Robbie Whelan writes, suggesting that tepid manufacturing and excessive inventories are still weighing on supply chains heading deeper into the fourth quarter" [Wall Street Journal].
Shipping: "Here's Why Textainer Group Holdings Limited's Stock Sank Another 13% in September" [Motley Fool]. I don't much like stock picking sites, but this has some information on container leasing.
Shipping: "Overall shipments fell by 3.1% in September compared with the same month last year, while freight expenditures fell 3.8%… The decline in freight volume marked the 19th straight month of falling shipments." [Wall Street Journal].
Shipping: "Dutch dry bulk major Flinter Group has suspended payments to creditors, after ING Bank unexpectedly pulled the plug on nine ships, according to a statement on the group website" [Lloyd's List].
Shipping: "Hanjin's receivership represents the trough of the container shipping market, according to shipping consultants Drewry, and despite continuing concerns of weak trade growth and fleet oversupply a gradual market recovery is expected, according to the latest annual Container Forecaster and Review 2016/17 report published by the British company" [Splash 247].
Apparel: "The gap between suppliers and stores has grown across retailing as e-commerce grabs a bigger portion of sales, and the conflict is escalating in the apparel world as the lean supply chains that serve fast-fashion companies push consumers toward lower-cost goods" [Wall Street Journal]. More crapification.
The Bezzle: "Disney Dropped Twitter Pursuit Partly Over Image" [Bloomberg]. Yes, I can' see a Disneyfied Twitter. People aren't civil on Twitter. You know, like America. Twitter's really a commons. Too bad there's no way to run it like that. Also too unicorns.
The Bezzle: "With Revenue Flat, Zenefits Looks to Restart After Crisis" [Bloomberg]. The crisis: "The HR software maker saw its founding chief executive officer leave under pressure from the board, paid about $1 million in fines to state regulators for selling insurance without the proper licenses and renegotiated a lower valuation with investors to avoid a potential lawsuit." Grifters gotta grift!
The Firm: "Institutional Investor Cliques and Governance" [Harvard Law School Forum on Corporate Governance and Financial Regulation]. "n our paper, we examine the relationship between ownership structure and firm governance, taking into account investor interactions. We empirically identify groups of investors that are likely to be working together to influence the firms they own. We then examine how the presence of these coordinating owners relates to governance."
Rapture Index: Closes down 1 on earthquake lack of activity [Rapture Ready]. Current: 188. All-time high: 189 (10 Oct 2016).
Today's Fear & Greed Index: 35 Fear (previous close: 36, Fear) [CNN]. One week ago: 45 (Neutral). (0 is Extreme Fear; 100 is Extreme Greed). Last updated Oct 19 at 1:01pm. Good. More fear. Why not try for 20?
Black Injustice Tipping Point
"Newly Released Maps Show How Housing Discrimination Happened" [National Geographic]. Very sad. FDR's HOLC — which was a better solution to that era's housing crisis than Obama's HAMP ever was — also initiated redlining:
The HOLC was tasked with figuring out the investment risks in various cities so banks could determine where to give out loans. To do this, the organization often relied on local real estate agents and lenders, who, in many cases, judged neighborhoods based largely on their racial and socioeconomic makeup. Less affluent neighborhoods and those with significant minority and foreign-born populations got lower ratings and were colored red on the maps, a practice that came to be known as 'redlining.'
Gaia
"A newly discovered species of lichen from Ecuador that contains both tryptamine and psilocybin has recently been discovered, dispelling the belief that the infamous 'magic mushrooms' are the only plant species containing this hallucinogenic compound" [Collective Evolution]. It's always nice to have options.
"The community of bacteria that live in our intestines, also called the "gut microbiome," is important to normal intestinal function. Knowing that spinal cord injuries often negatively affect the gut's ability to do its job, researchers at The Ohio State University Wexner Medical Center showed that spinal cord injury causes profound changes in the gut microbiota. They also showed that feeding mice probiotics after a spinal cord injury confers neuroprotection and improves functional recovery" [Eurekalert].
Health Care
Kenneth J. Arrow, "Uncertainty and the Welfare Economics of Medical Care" (pdf) [The American Economic Review]. Via reader Plurius, who writes:
A basic summary of the paper is that market solutions will not work because of the nature of health care. Every economist working in the area of health care knows this work, and the fact that "progressive economists from the progressive wing of the Democratic Party" still champion market solutions for health care is very revealing about their true agendas and motivations.
Will Upton Sinclair please pick up the white courtesy phone?
"Minnesota's Democratic governor said Wednesday that the Affordable Care Act is 'no longer affordable' for many, a stinging critique from a state leader who strongly embraced the law and proudly proclaimed health reform was working in Minnesota just a few years ago" [Yahoo News]. Oopsie. Democrats starting to run from ObamaCare.
Class Warfare
"Would Progressive Economics Win Over Trump's White Working Class Voters?" [Mike Konczal, Medium]. Constant conflation of "progressive," "liberal," "left." Of course, since the liberal project is to keep the working class divided, and the left project is to unite them, you can see why Konczal would need to paper over that contradiction with admittedly vague verbiage.
Quoting "the great bearded one," who is not Upton Sinclair: "Each new class which puts itself in the place of one ruling before it, is compelled, merely in order to carry through its aim, to represent its interest as the common interest of all the members of society, that is, expressed in ideal form: it has to give its ideas the form of universality, and represent them as the only rational, universally valid ones" [James Kwak, Baseline Scenario]. Remind you of anything?
News of the Wired
"Why the IoT security nightmare could be a dream for Ubuntu" [Ars Technica]. "Ubuntu is already massively successful in the cloud. According to one of Shuttleworth's presentation slides, 70 percent of images on Amazon Web Services, 80 percent of Azure's GNU/Linux, 70 percent of Docker images, and 65 percent of large OpenStack systems are all running Ubuntu. He called it "the default platform for scale-out."
"CanberraUAV Outback Challenge 2016 Debrief" [ArduPilot]. Drone geekery.
"They've Got You, Wherever You Are" [New York Review of Books]. Overview of "the attention economy."
* * *
Readers, feel free to contact me with (a) links, and even better (b) sources I should curate regularly, and (c) to find out how to send me images of plants. Vegetables are fine! Fungi are deemed to be honorary plants! See the previous Water Cooler (with plant) here. And here's today's plant (CR):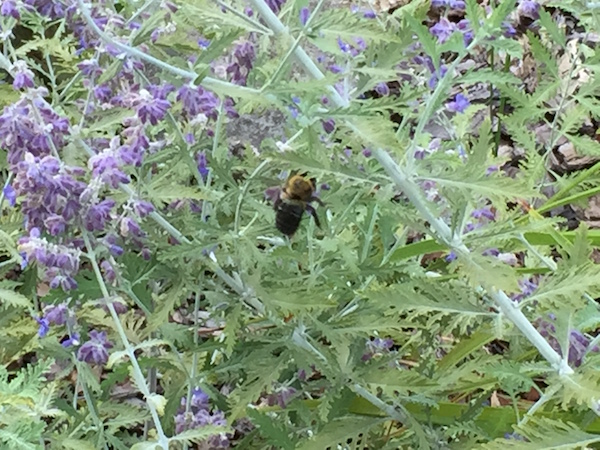 Bee toils in Russian sage.