This is Naked Capitalism fundraising week. 1055 donors have already invested in our efforts to combat corruption and predatory conduct, particularly in financial realm. Please join us and participate via our Tip Jar, which shows how to give via check, credit card, debit card, or PayPal. Read about why we're doing this fundraiser, what we've accomplished in the last year, and our fifth goal, more original reporting.
By Lambert Strether of Corrente.
TTP, TTIP, TISA
CETA: "Wallonia is adamantly blocking the EU's trade deal with Canada" [The Economist].
CETA "European Council president Donald Tusk warned that Ceta, the EU-Canada deal, 'could be our last free-trade deal' if the EU is 'not able to convince that free trade is in our interest.' He said that talks were still going to secure Belgian region Wallonia's backing for Ceta before Friday. 'I hope that Belgium will once again prove that it is a champion in compromise-making,' he said" [EU Observer]. I suppose "compromise" means "ka-ching," but I don't know enough about Belgian politics to venture a guess on whether that will work.
TPP: "CLINTON ADVISERS WALK THE KNIFE'S EDGE ON TPP: The hand wringing over Clinton's stance on the TPP was even more evident in another batch of hacked emails posted by WikiLeaks on Wednesday. The exchange from Oct. 6, like other emails allegedly* from the account of Clinton campaign chairman John Podesta, is focused on the Democratic candidate's statement following the conclusion of TPP negotiations last October and how to balance the former secretary of State's previous support for the deal with demands from her base. 'The goal here was to and not piss off the WH [White House] any more than necessary," wrote chief speechwriter Dan Schwerin when sending out a draft of the statement" [Politico]. The secret of success is sincerity. Once you can fake that, you've got it made. * Politico, can we can get an asterisk on that allegedly? Something like "* Bob from Legal made us put this 'allegedly' in, after he got a call from John." What say?
TPP: "El Salvador Ruling Offers a Reminder of Why the TPP Must Be Defeated" [The Nation (Re Silc)]. "Last week, the tribunal at the center of the proposed TPP ruled against a global mining firm that sued El Salvador, but only after seven years of deliberations and over $12 million spent by the government of El Salvador. Equally outrageous, legal shenanigans by the Australian-Canadian firm OceanaGold around corporate ownership will likely prevent El Salvador from ever recouping a cent…. [N]o one should be complacent about defeating the TPP. Despite Hillary Clinton's professed opposition to the agreement, she is not picking up the phone to convince members of Congress to vote no."
TPP: "The Case for the TPP: Responding to the Critics" [United States Chamber of Commerce]. These guys are rolling in dough. Is this really the best they can do? Claim: "The TPP Will Undermine Regulations Protecting Health, Safety and the Environment."The COC's answer: "ISDS has been included in approximately 3,000 investment treaties and trade agreements over the past five decades. These neutral arbitrators have no power to overturn laws or regulations; they can only order compensation." In the billions, right? No chilling effect there!
TISA: "Meanwhile, news out of Europe cast doubt on whether negotiators will actually finish TISA this year because the EU cannot agree on how to handle cross-border data flows. The European Commission's trade and justice departments have been squabbling for months over the issue, which Froman acknowledged is an important outstanding concern. EU trade officials want data flows included in the pact, opening up new markets for Europe's data economy to expand, while data protection officials are more concerned about strong safeguards for privacy" [Politico].
2016
Days until: 18.
Debate Wrapup
I can tell what how the press stories will read from the headlines and the writers, so I won't bother to link to them. See the NC debate live blog for a rice bowl-free discussion.

"Trump had done well, delivering his best prepared and most substantive performance, but it wasn't nearly good enough to reshape the race. He came into Las Vegas trailing big time, and surely leaves the same way" [New York Post]. "Absent an unforeseeable black swan event that tips the table in his favor, Hillary Clinton is headed to the White House." Although I'd bet the terrain is quite different today from the terrain Clinton imagined back when she was influence peddling at Goldman in 2015.

Billmon comments:

Clinton either narrowly won or it was a draw — against a guy who has gone as far off the grid as Col. Kurtz. Even I find that remarkable.

— Billmon (@billmon1) October 20, 2016

And then there's this, which does seem to under cut the bizarre "our electoral system is perfection itself" narrative that Democrat loyalists are pushing:

As U.S. Secretary of State, Hillary traveled overseas and suggested that Jeb stole the election for Bush in 2000. https://t.co/HHKSfT3hvE pic.twitter.com/IvcG3kdVHK

— Sean Davis (@seanmdav) October 20, 2016

UPDATE "But the negativity in this campaign has been something else, and the debates have been very heavy on character attacks. In terms of the overall impact on the health of American democracy, I think there's one thing that's particularly concerning: These two candidates, whose personal conduct and character have been impugned over and over, both went through competitive primaries. There were other candidates. Clinton and Trump both won their nominations, fairly and decisively. But for people who might tune in sporadically, the conclusion that this is the best we can do might produce real dismay." [FiveThirtyEight]. Yes, it's called a legitimacy crisis.

"The stream posted on his Facebook wasn't anything different than what people saw on CNN or Fox News or MSNBC, just a livestream of the debate, but more than 170,000 watched it at once. By the time the broadcast ended, more than 8.7 million had tuned in at some point. Compare that to the half a million views Time posted for its debate lifestream, or the nearly 900,000 who watched BuzzFeed News'" [Independent Journal Review]. "Welcome to the first broadcast of Trump TV."
War Drums
"Anyone who believes the United States is not fighting enough wars in the Middle East can be happy this week. We have just plunged into another one. Twice in recent days, cruise missiles fired from an American destroyer have rained down on Yemen. The Pentagon, a practiced master of Orwellian language, calls this bombing 'limited self-defense'" [Boston Globe]. "American forces were already involved in Yemen's civil war. Since 2002, our drone attacks have reportedly killed more than 500 Yemenis, including at least 65 civilians. We are also supplying weapons and intelligence to Saudi Arabia, which has killed thousands of Yemenis in bombing raids over the last year and a half — including last week's attack on a funeral in which more than 100 mourners were killed." But I'm sure none of the mourners were women or people of color. So that's alright, then.
Wikileaks
"Now we have the three [Goldman] transcripts. Everyone can read them, and everyone should. What they show is Clinton's extraordinary understanding of our world — its leaders and their politics, terrorist groups and their vulnerabilities, the interplay of global forces, and the economic well-being of Americans" [RealClearPolitics]. This is the line the Moustache of Understanding took. Which is all you need to know, really Although this writer is a little vague on just how they are "extraordinary."

"Walmart, Wendy Clark, Target and Apple: More WikiLeaked Clinton Campaign Messaging Secrets" [Advertising Age].
The Trail
"Trump Holds On To 1-Point Lead As Debate Sparks Fly — IBD/TIPP Poll" [Investors Business Daily]. Incidentally, IBD sounds like the sort of publication Trump would read.
Stats Watch
Leading Indicators, September 2016: "September was a respectable month for the economy based on the index of leading economic indicators," which rose within consensus [Econoday]. "September's gain aside, this report has been up and down all year pointing on net to slow growth for the economy." But: "The rate of growth is slowing on this index – similar to most other leading indices. I just cannot get over the Federal Reserve thinking the economy is accelerating – there is just no evidence" [Econintersect].
Jobless Claims, week of October 15, 2016: "Initial jobless claims moved higher in the October 15 week but the rise, up a tangible 13,000 to 260,000, is not due to the aftermath of Hurricane Matthew" [Econoday]. "Today's results will not raise expectations for strength in October employment but the sample-week gap is far from monstrous and levels for initial claims remain near historic lows." And: "[A]bove than the consensus forecast of 250,000. The low level of claims suggests relatively few layoffs" [Calculated Risk]. But: "The trend of the 4 week moving average is continuing to marginally worsened. The trend of year-over-year improvement of initial unemployment claims is moderating – and this trend historically indicates a weakening GDP" [Econintersect]. And: "Weekly jobless claims have not been market-moving for quite some time now. They have reached a low level and will probably only garner media attention if they continue to rise or if we start to get larger pops here and there that become harder to explain other than from seasonal issues" [247 Wall Street]. Mission accomplished!
Philadelphia Fed Business Outlook Survey, October 2016: "Solid strength finally appears in the details of the Philly Fed manufacturing report where new orders and shipments are both stand outs this month" [Econoday]. "[T]he strength in new orders points to wider strength ahead for the Mid-Atlantic manufacturing sector. These results, however, do contrast with weakness in the Empire State report earlier this week, setting up what should be an especially interesting run of anecdotal reports this month." And: "[S]ignificant strength in this survey from new orders – and stands in stark contrast to the New York Fed's survey which fell further into contraction. But the trend in both surveys was improvement" [Econintersect].
Existing Home Sales, September 2016: "[S]urged 3.2 percent" [Econoday]. "The key single-family component leads the report…. The new home market has been accelerating strongly and may now be lifting the resale market." And: "above consensus expectations" [Calculated Risk].
Housing Starts: "September housing starts were weak, continuing their trend. They are one facet of secular stagnation, best seen as annual housing starts per 1000 people. After 7 years of economic expansion, they remain less than half of the previous peak (Jan 2006), and two-thirds of the average during the previous two expansions. They rose to the 1963-2007 lows – and stalled" [Seeking Alpha]. And: "Starts very weak, but permits up. It's about permits, so we'll see if they level off or continue to rise" [Mosler Economics].
Bloomberg Consumer Comfort Index, week of October 16, 2016: Down [Econoday]. " [T]he weakness in October readings does hint at slowing in consumer spending as well perhaps as the jobs market."
Garbage Index: And then there's this [Mosler Economics].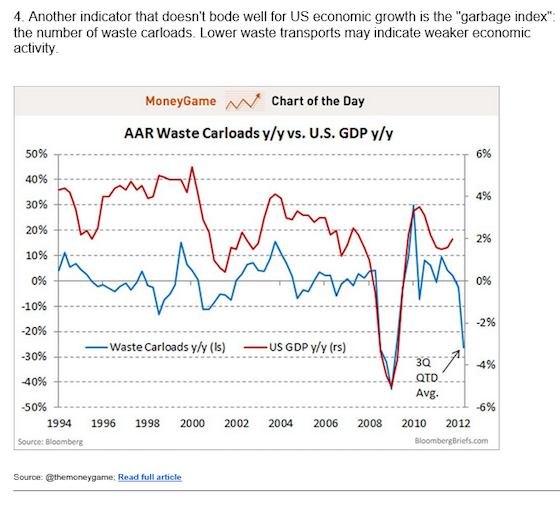 Rail: "Union Pacific's total freight volume declined 5.8%, led by a 14% drop in coal volume. Shipments in its intermodal business, which moves freight using a combination of trains and trucks, declined 6.7% and industrial products volume dropped 11%. Agricultural volume, which rose 11%, was the only exception" [Wall Street Journal, "Union Pacific Profit Falls 13% on Demand Woes"].
Rail: "Canadian Pacific Railway Ltd. reported another steep decline in revenue and lower-than-expected earnings on Wednesday as a delayed grain harvest and a slump in commodity prices hampered shipping volumes" [Wall Street Journal, "Canadian Pacific Railway Results Miss Expectations"]. "Unusually wet and cold weather conditions have affected crop harvesting in western Canada, which CP said caused delays in exporting Canada's grain harvest to the U.S. and coastal ports." And: " Railroads have also been hit hard by the lengthy slump in commodity prices, which have curbed shipments of bulk commodities such as grain and potash that figure heavily in CP's product mix" [Wall Street Journal].
Shipping: "As the economic downturn's impact on global shipping becomes increasingly severe, more shipping companies are getting into financial difficulties and more vessels and crews are being abandoned deliberately by owners" [Splash 247]. "Splash will continue to report on the plight of abandoned crews around the world and is in discussions to create a high profile campaign to shame owners who have a track record of neglecting their crews."
Shipping: "The International Labour Organisation has promised to look into the reasons why more than two dozen cases of vessel abandonment reported in the media worldwide have not been included on its database, after Lloyd's List highlighted the apparent discrepancy" [Lloyd's List].
Honey for the Bears: "The U.S. material handling sector could be impacted by a moderate economic recession in 2017, but firms can withstand the pressure if they focus on providing long-term solutions to warehouse automation challenges, according to an economist who specializes in the industry" [DC Velocity]. "[Jason Schenker, president and chief economist at Austin, Texas-based Prestige Economics LLC] maintains that the material handling sector is nearing the end of a six-year up-cycle, an unusually long period, and that the next 15 months will be tough sledding as the U.S. tries to dig out from a 14-month-long industrial recession and China transitions from an investment to a consumption economy…. Macroeconomic warning signs include lingering low oil prices; a stubbornly strong U.S. dollar, which has dampened demand for exports of material handling equipment; uncertainty about the presidential election; weakening new auto sales; and the rise of subprime auto loans, he told the group. 'Things are slowing up. [Capital expenditure] decisions will have to show a high [return on investment] to be justified. Industries are being very careful with their spend,' Schenker said."
Fodder for the Bulls: "A major player in the world commodities business says the worst in markets may be over—at least for producers. The chief executive of BHP Billiton Ltd. , the world's biggest miner by market value, says there are early indications the glut in some sectors is easing, the WSJ's Rhiannon Hoyle reports. The upbeat outlook from BHP's Andrew Mackenzie comes as production restraints are taking hold. The price of iron ore is up 35% this year, while metallurgical coal prices have tripled because of curbs to production in China and prices for oil and metals also have grown. Shipping providers have also regained some financial stability as they've pared back capacity: the Baltic Dry Index, which measures bulk shipping prices, has tripled since hitting a historic low in February" [Wall Street Journal].
The Bezzle: "It Pays to Set the Menu: Mutual Fund Investment Options in 401(k) Plans" [It Pays to Set the Menu: Mutual Fund Investment Options in 401(k) Plans]. "We focus on the conflicting incentives mutual fund families face as service providers of 401(k) plans. While these families work with plan sponsors to create menus that serve the interests of participants, they also have an interest in promoting their own proprietary funds…. We document significant favoritism in 401(k) menu decisions. We show that affiliated mutual funds are less likely to be removed from a 401(k) menu and that the sensitivity of fund deletions to prior performance is less pronounced for these proprietary funds."
The Bezzle: "Through the Kleptocracy Initiative, the U.S. also seizes the assets of corrupt officials and, where appropriate, repatriates these corrupt proceeds. In early 2016, for example, the DOJ filed civil complaints seeking close to a billion dollars in forfeitures related to assets alleged to be those of a corrupt official" [The FCPA Blog]. The Kleptocracy Initiative… Sounds like it only applies to other countries? Odd.
The Bezzle: "Tesla Motors Inc., preparing for a future of self-driving cars, has begun equipping all its new vehicles with the hardware required to make them entirely capable of driving themselves" [Wall Street Journal, "Tesla Expects to Demonstrate Self-Driven Cross-Country Trip Next Year"]. It's not the hardware that's the problem…
Today's Fear & Greed Index: 35 Fear (previous close: 38, Fear) [CNN]. One week ago: 36 (Fear). (0 is Extreme Fear; 100 is Extreme Greed). Last updated Oct 20 at 11:39am. Stop flirting. Try for 29, at least!
Black Injustice Tipping Point
"Watts, Lowndes County, Oakland: The Founding of the Black Panther Party for Self Defense" [Verso Books]. Excellent overview, lots of good detail.
"U.S. police chiefs group apologizes for 'historical mistreatment' of minorities" [WaPo]. "[Terrence M. Cunningham, the chief of police in Wellesley, Mass,] president of America's largest police management organization on Monday issued a formal apology to the nation's minority population 'for the actions of the past and the role that our profession has played in society's historical mistreatment of communities of color.'"
"In the recording, the teacher asks: "Am I racist? And I say yeah. I don't want to be. It's not like I choose to be racist, but do I do things because of the way I was raised. 'To be white is to be racist, period,' the teacher says" [WaPo]. Well, at least that's a more nuanced statement than "irredeemable."
"66-Year-Old Woman Shot, Killed by Police in Bronx Home: NYPD" [NBC New York].
Health Care
"Some names floated as likely contenders for HHS secretary [in a Clinton administration], CMS administrator and other posts include former Kentucky Gov. Steve Beshear, former Massachusetts Gov. Deval Patrick, Neera Tanden, Chris Jennings, Ann O'Leary, Dr. Atul Gawande and Dr. Risa Lavizzo-Mourey. While some hope Sylvia Mathews Burwell will continue on as HHS secretary, that's seen as unlikely" [Modern Health Care]. Neera Tanden?! I'm torn between dread at the outcomes and glee at the clusterf*cks to come…
Class Warfare
"In ['William Darity, Jr.'s] his view, the capacity of parents and grandparents to invest in their children is contingent on their wealth position" [iNet]. "The real driver of inequality, then, is not an individual's level of education and productivity, but the resources that parents and grandparents are able to transmit." Hence: "[S]tratification economics." Might go down easier than "class warfare," I dunno.
"What drives white-collar criminals? Often, these are successful people who possess great wealth, have impeccable education, and hold much influence within their respective industries, yet they risk it all by breaking the law" [ProMarket]. "Incentives specifically play a big role in fostering white-collar crime, according to Soltes, especially when financial managers are pressured to succeed and have to make rapid decisions one after the other, their potential victims far from view. 'I was doing exactly what I was incentivized to do. We wouldn't have gone through all this trouble if we just wanted to cheat,' says Enron CFO Andrew Fastow in the book.'"
"Mike Konczal has an interesting piece on how the progressives are unlikely to win over Trump's base of white, male, working class voters – even if they take their concerns to heart and propose policies that will help them… Konczal might well be right, but I want to entertain the possibility that he is wrong" [Dani Rodrik]. I will say that Konczal knows how to generate buzz. More:
"Konczal might well be right, but I want to entertain the possibility that he is wrong…. If left-liberals take for granted that the white middle class is essentially racist, hate the federal government, oppose progressive taxation, don't think big banks and dark money are a problem … and so on, then indeed many of the remedies that progressives have to offer will fail to resonate and there is little that can be done. But why should we assume that these are the givens of political life?

A large literature in social psychology and political economy suggests that identities are malleable as are voters' perceptions of how the world works and therefore which policies serve their interests. A large part of the right's success derives from their having convinced lower and middle class voters that the government is corrupt and inept. Can't progressives alter that perception?
Note that Rodrik has exactly the same conflation of "progressive," "left," and "liberal" that Konczal does. Je repete: Liberals (and conservatives) want to divide the working class, and they use their distinctive flavors of identity politics to do so. The left wishes to unite them. And both liberals and conservatives will deny that identity is malleable (Clinton's "irredeemables") not only because to admit that would smash any number of rice bowls, but because it would smash their social functions as factions. What should give the left hope in Rodrik's rejoinder — hope that Konczal is, quite naturally, attempting to strangle in its cradle — is the notion that identity is malleable; Occupy, with the 99% concept, proved that. Thomas Frank, with his 10%, takes the same approach. Of course, 99 and 10 don't add to 100, so there's some analytical work to be done, but the way forward beyond identity politics is clear.
News of the Wired
"Between 1959 and 1989, leading Soviet men of science and state repeatedly ventured to construct a national computer network for broadly prosocial purposes" [Aeon]. "Consonant with Glushkov's greater life-work commitments, the network plans reflected a deliberately decentralised design. This meant that, while Moscow could specify who received which authorisations, any authorised user could contact any other user across the pyramid network – without direct permission from the mother node." Well worth a read; reminds me of Project Cybersyn, Allende's project destroyed in the coup Henry Kissiner thought so much of.
"Your dynamic IP address is now protected personal data under EU law" [Ars Technica]. "Europe's top court has ruled that dynamic IP addresses can constitute 'personal data,' just like static IP addresses, affording them some protection under EU law against being collected and stored by websites."
"Iceland's Pirate Party ('Píratar') has issued an up-front refusal to work with either of the two current governing parties after the next elections – in a move unprecedented in Icelandic political history" [Iceland Monitor]. ""These early elections have come about as a result of the corruption revealed to the world by the Panama Papers," explains Pirate MP Birgitta Jónsdóttir. "Five ministers have been exposed as corrupt since the current government took power." And: "Iceland's Left-Greens in last-minute election surge" [Iceland Monitor]. "According to this new poll, if the Pirates and Left-Greens could reach an agreement they could together capture 39.9% of the vote – just 10% away from a parliamentary majority and significantly healthier than the current government score of 32.2%."
* * *
Readers, feel free to contact me with (a) links, and even better (b) sources I should curate regularly, and (c) to find out how to send me images of plants. Vegetables are fine! Fungi are deemed to be honorary plants! See the previous Water Cooler (with plant) here. And here's today's plant (PR):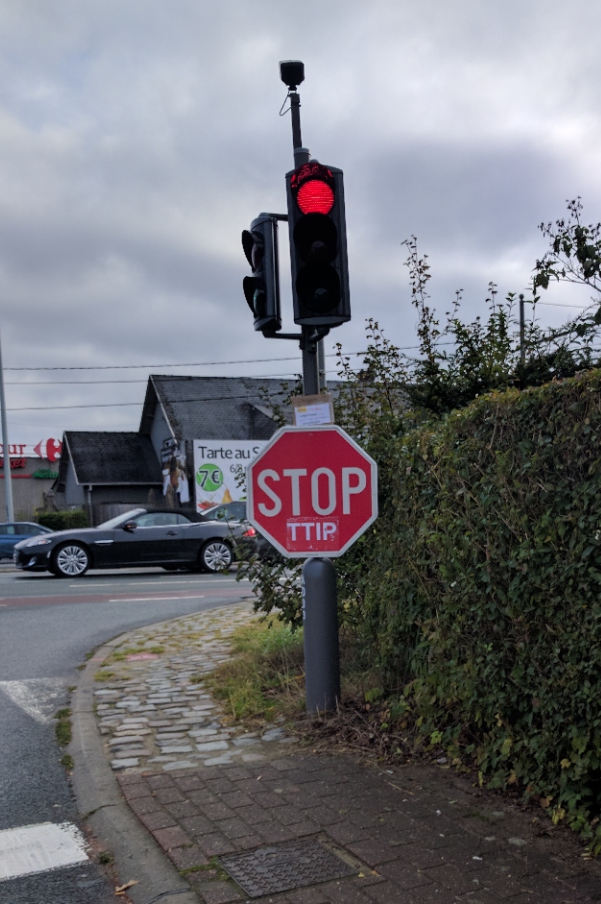 PR writes: "'STOP TTIP' modified roadsign spotted in Wallonia (part of Belgium, currenty blocking CETA). I have seen others of these in the last few days."
I guess I'll have to declare modified roadsigns honorary plants!