This is Naked Capitalism fundraising week. 1365 donors have already invested in our efforts to combat corruption and predatory conduct, particularly in financial realm. Please join us and participate via our Tip Jar, which shows how to give via check, credit card, debit card, or PayPal. Read about why we're doing this fundraiser, what we've accomplished in the last year, and our fifth goal, more original reporting.
By Lambert Strether of Corrente.
TTP, TTIP, TISA
"German lawmakers in the European Parliament are scrambling to find a way for Brussels to reassert its authority over trade policy. They argue that the Commission needs to roll out a new kind of two-track trade agreement that denies national and regional assemblies such as Wallonia the ability to veto the key elements of trade accords that fall under the remit of EU-wide law, such as tariffs and shared regulations" [Politico]. That should sharpen the contradictions!
"We are entering a post-Davos era in which neo-protectionism against open frontiers – which allow goods, capital, services and people to flow to where they can fructify best – is now fashionable. Brexit was the most important expression of this, as is the vote by a small regional parliament in Belgium against the Comprehensive Economic and Trade Agreement (Ceta) with Canada" [City AM]. "This should terrify Brexit negotiators. Any future trade deal between a Britain fully outside the EU and the rest of Europe will need ratification by 36 national and regional parliaments. The UK has said no to Europe. Now anyone in the EU can say non or nein to Britain." Hmm.
CETA: "The European Union and Canada tried to remain upbeat Monday about the prospects for their trans-Atlantic free trade pact despite a small Belgian region persisting in its refusal to back the deal under the current conditions" [AP]. "After the setback early Monday, EU President Donald Tusk and Canadian Prime Minister Justin Trudeau spoke by telephone and the EU leader said afterward 'there's yet time' to find a compromise solution… 'We think Thursday's summit still possible,' Tusk said in a Twitter message. 'We encourage all parties to find a solution.'" We've seen trade agreements rise from the dead before…
CETA: " Wallonia premier Paul Magnette said the Belgian region was not opposed to a planned EU-Canada free trade deal in itself but that an arbitration scheme [ISDS] needed to be dropped and public services protected" [Reuters]. "'Let's be clear, I'm not a herald of anti-globalization, I want a deal,' Magnette told French daily Liberation in an interview published on Tuesday. '[But] I would prefer that this entity [ISDS] disappears pure and simple and that we rely on our courts,' he said. 'Or at the very least, if we want an arbitration court, it must provide equivalent guarantees to domestic ones.'" That's a heavy lift.
TISA: "EU'S PRECAUTIONARY PRINCIPLE HAUNTS TISA TALKS" [Politico]. And a good thing, too. ""The U.S. is a bit more risk prone, but the EU is more precautionary principle driven," the source said. "Our attitude in TISA is just like the one we have for agriculture," referring to a regulatory practice where the EU puts in place rules before a product or service is widely available to the public. But U.S. officials have been clear that they won't accept the EU's new services exclusion — this may be driven by the fact that pressure from Capitol Hill, where the deal will eventually be approved, is intense on this issue."
TPP: "Rep. Denny Heck, a Washington Democrat, laid out a thoughtful explanation for why he would oppose TPP, dealing a blow to the administration's efforts to add to the 28 House Democrats who voted in favor of trade promotion authority" [Politico].
TPP: "The TPP is not about free trade. It does little to reduce tariffs and quotas for the simple reason that these barriers are already very low" [Dean Baker, Truthout]. "The potential gains from eliminating the barriers that prevent foreign doctors and other highly paid professionals from working in the United States are enormous. These barriers are not removed in trade deals because the people negotiating them all have parents, siblings and/or children in these professions. They want to protect their incomes; they don't care about the income of autoworkers and textile workers…. The real story here is that the TPP is a deal about redistributing more income upward. It's imposing more competition on those at the middle and the bottom while maintaining and increasing forms of protectionism that benefits those at the top. When reporters call the TPP a "free trade" deal, they are acting as advocates, not reporters. The TPP is a protectionist pact for those at the top who are worried that free trade will undermine their income — like it did for those at the middle and bottom."
2016
Days until: 13. That's less than two weeks!
Corruption
"If I told you that Democratic Party lobbyist Tony Podesta, whose brother John Podesta chairs Hillary Clinton's presidential campaign, is a registered foreign agent on the Saudi government's payroll, you'd probably think I was a Trump-thumping, conspiratorial nutcase. But it's true" [Medea Benjamin, HuffPo].
Policy
"Clinton Readies Post-Election Push on Highways, Corporate Taxes" [Bloomberg]. "Hillary Clinton's brightening White House prospects have cleared a path for her to pursue a $275 billion infrastructure plan that would be paid for by corporate tax-law changes, a central part of a broad agenda that has been overshadowed by her attacks on Republican rival Donald Trump."

"Clinton has made no secret of her intention to raise taxes on the rich. Understandably, she has spent little time laying out the details of the increases she is proposing. If she spelled out how much more money the wealthy would be paying to the U.S. Treasury under a Clinton Administration, some of her well-heeled donors might have second thoughts" [The New Yorker]. So the ultra-rich are stupid marks that Clinton conned? Possible, I suppose. Clinton: "We'll have what economists call middle-out growth." I remember "middle-out growth" from the debate, and I wondered which economists had deployed that phrase, because I didn't recall it, and I do try to keep track. It looks like "middle-out growth" became a thing at a symposium held by Democracy Journal (editor, Michael Tomasky) in 2013, as a replacement for "supply side economics," justly seen as bankrupt. Apparently, venture capitalist Nick Hanauer coined the term in 2011. From the symposium, Neera Tanden: "[H]istory would tell us that investing in the middle class and those who want to rise into it is the best long-term economic growth strategy." So, the middle means the 10%ers, and aspirational 10%ers? Because "middle class" is, fundamentally, a vacuous concept. That's why it's so useful!

"[T]he people who have to approve or reject the president's agenda don't give a damn about mandates one way or the other—they'll support what they want to support and oppose what they want to oppose, whether because of their sincere beliefs or the political demands of their districts and states" [The American Prospect]. "So when Republicans start complaining that Clinton has no mandate, remember that what really matters is power: If they have the power to stop her, that's what they'll do, and if she has the power to roll over them, that's what she'll do. "Mandates" have nothing to do with it."
War Drums
"Some 2,500 Americans Have Died in Afghanistan and Iraq Under Obama" [Rolling Stone]. "Under Obama, America has been at war for longer than under any other U.S. president." There hasn't been a single day we haven't been at war under Obama. The justification for that Nobel is looking a little thin, isn't it?

"Norway welcomes US Marines amid Russian tensions" [CNN]. "The statement noted that a Marine presence in Norway — which shares a 122-mile border with Russia — 'will increase NATO's ability to rapidly aggregate and employ forces in northern Europe.'"
The Voters
"Hillary Clinton and the Populist Revolt" [George Packer, The New Yorker]. Another genre piece, though Packer did secure face time with Clinton. "I asked Clinton if Obama had made a mistake in not prosecuting any Wall Street executives after the financial crisis. She replied, "I think the failure to be able to bring criminal cases, to hold people responsible, was one of the contributing factors to a lot of the real frustration and anger that a lot of voters feel. There is just nobody to blame." No. Read Bill Black. Criminality was obvious before and after the crash. Clinton is so full of shit on this it's amazing she doesn't slosh when she walks.
Downballot
Former Indiana senator and longtime Banking Committee member Evan Bayh held a series of private meetings with financial services industry executives and lobbyists throughout 2008 — just as Wall Street was collapsing and big banks were seeking a bailout from Washington, according to a newly obtained schedule for the ex-lawmaker now running to reclaim his seat" [Politico]. "One of the engagements — which included lunches, dinners and golf outings — happened the day of the Wall Street bailout vote." How cozy.
The Trail
"Florida is starting to slip away from Trump" [McClatchy]. But if you look at the sourcing on the Republican side, it's all establishment.

"Donald Trump Launches Nightly Facebook Live Show" [Hollywood Reporter]. "The first show, which drew more than 50,000 viewers, was hosted by campaign advisers Boris Epshteyn and Cliff Sims from the "war room" at Trump Tower, along with Trump's campaign manager KellyAnne Conway, adviser Jason Miller and Tomi Lahren, a conservative commentator for Glenn Beck's TheBlaze. The 30-minute analysis was later followed by a stream of Trump's rally held on Monday night in Tampa, Fla., where he continued to target the media." The shows will run nightly for two weeks.

"Time for Clinton supporters to be tolerant and believe in 'stronger together'" [Lanny Davis (ick), The Hill]. As if. This is, however, body language from the Democrat hive mind signaling victory. If a hive mind can be said to have body language.

"The media — and many Democrats — need to stop attacking Jill Stein unfairly" [Vox]. Same as above.
Realignment
"In an interview, Sanders said he and other senators have started plotting legislation that would achieve many of the proposals that fueled his insurgent run for president, including a $15 federal minimum wage, tuition-free public college, an end to 'mass incarceration' and aggressive steps to fight climate change" [WaPo]. "The senators, Sanders said, also plan to push for the breakup of 'too big to fail' banks and to pressure Clinton to appoint liberals to key Cabinet positions, including treasury secretary…. Sanders said that his office and others have started converting the party platform into draft legislation. He said the lawmakers "informally" working with him include Sens. Elizabeth Warren (D-Mass.) — who campaigned with Clinton on Monday in New Hampshire — Sherrod Brown (D-Ohio) and Jeff Merkley (D-Ore.)." WaPo keeps using the word liberal. Even Sanders' mild socialism puts him on the left. He's not a liberal, because he doesn't accept TINA, and doesn't make the market first in all things.
Democrat Email Hairball
The Podesta Emails, part 18 [Wikileaks].

"WikiLeaks reveals Clinton considered a Texas Republican for the Supreme Court " [McClatchy]. But ZOMG!!!! Teh Supreme Court!!!!!!!
Stats Watch
S&P Corelogic Case-Shiller Home Price Index, August 2016: "[F]irming but remain subdued" [Econoday]. "These results contrast sharply with today's FHFA house price report where strength is accelerating noticeably…. Case-Shiller data, unlike FHFA data, are averaged over three months and are also value-weighted which puts greater emphasis on higher priced homes." And: "Many pundits believe home prices are back in a bubble. Maybe, but the falling inventory of homes for sale keeps home prices relatively high. I continue to see this a situation of supply and demand. It is the affordability of the homes which is becoming an issue for the lower segments of consumers. It is my belief that IF the Fed begins to normalize the federal funds rate – it will slow the growth rate of home prices. But for now, the merry ride continues" [Econintersect]. And: "Compared with their peak in the summer of 2006, home prices on both 10-city and 20-city indexes remain down about 9.1% to 7.2%, respectively. Since the low of March 2012, home prices are up 40.5% and 43% on the 10-city and 20-city indexes, respectively" [24/7 Wall Street].
Federal Housing Finance Agency House Price Index, August 2016: "FHFA price data, in contrast to other home price readings including this morning's Case-Shiller data, are moving sharply higher" [Econoday] (FHFA is single-family homes only.)
Consumer Confidence, October 2016: "The Conference Board's measure had been alone among consumer confidence readings in signaling solid strength but less so now following a weaker-than-expected report for October" [Econoday]. "But a key strength this month is a continued decline among those who describe jobs as currently hard to get, down 2 tenths to 22.1 percent in what is a positive indication for the October employment report. Another positive is a widening in the spread between those who see their income prospects improving vs declining, to 7.7 percentage points from 7.1 points. " And: "Maybe people are weary about the election" [Econintersect]. It's not going to get easier. And but: "There were mixed notes that all translate to "falling" from the Conference Board on the three major areas this month. They said that the consumers' appraisal of current conditions softened (fell) in October. Consumers' assessment of the labor market was also less positive (fell) than last month. Consumer optimism regarding the short-term outlook was somewhat less favorable (fell) in October, and the consumer outlook for the labor market was also less optimistic (fell) than in September" [24/7 Wall Street].
Richmond Fed Manufacturing Index, October 2016: "[S]luggish in October but slightly firmer" [Econoday]. But and: "We have a mixed picture of manufacturing across the fed districts. This report shows extremely low employment – and new orders and backlog improved but are also in contraction. At this point it seems the surveys are forecasting flat growth for September" [Econintersect].
State Street Investor Confidence Index, October 2016: "Despite the increase, the sub-100 global index reading reflects continuing decreases in equity allocation amid jitters by institutional investors in Europe and North America regarding the upcoming US presidential election, but also concerns about market valuation levels" [Econoday]. "In contrast, Asian investor confidence stands at record levels, implying that investors have become more selective in allocating risk."
Retail: "Amazon Has More Than 200 Dash Buttons — and Counting" [24/7 Wall Street]. "Dash buttons need to be paired with the Amazon app on a smartphone using Bluetooth. Now, once you've selected what kind of Tide detergent you want to order, you can stick the button on or near your washing machine. When you want to reorder, just push the button. As a Prime member already, delivery of your new load of detergent will arrive in two days." I dunno…
Retail: "[R]etailers, along with warehouse and logistics firms, started their search for holiday-season labor unusually early this year, the WSJ's Eric Morath reports, showing how competition has intensified for temporary help in a tight labor market" [Wall Street Journal]. "Data from job-search site Indeed.com shows retailers started searching for temporary workers a month earlier than in recent years. It suggests companies expect stronger consumer demand and a tougher time finding workers, extending a trend that's seen the holiday sales season start earlier."
Fodder for the Bulls: "The Chemical Activity Barometer (CAB) notched another solid gain of 0.3 percent in October, following an upwardly revised gain of 0.4 percent in September" [Econintersect]. "As this is a relatively new leading index, our biggest concern is backward revision (which degrades real time accuracy). Thankfully (providently?) backward revisions have been relatively small to date."
Housing: "The rise of the out-of-state mom and pop investor: New companies seek high income coastal buyers for out-of-state investment properties" [Dr. Housing Bubble]. "Just like any apex in stocks, bonds, or housing the mom and pop investor is last to get in. Frothy signs are all over the place now. However, if you have the itch to buy it makes way more sense to buy a rental property that cash flows versus buying an overpriced crap shack that can run you $700,000 to $1.2 million. And guess what? Buying a rental property meets all the marketing points from the real estate industry. Clogged toilets in the middle of the night? Get a property manager. It seems like these companies are simply meeting a new market demand."
Today's Fear & Greed Index: 48 Neutral (previous close: 53, Neutral) [CNN]. One week ago: 39 (Fear). (0 is Extreme Fear; 100 is Extreme Greed). Last updated Oct 25 at 11:24am.
Our Famously Free Press
Interview with Tim Wu (see here) on advertising and the press [The Atlantic]. "Wu: The attention-merchant business model is in constant need of growth, and the way it has grown historically is either to find new times and space where we're not occupied or to more subtly exploit the time that is already there. That suggests that all the periods you now regard as refuges or escapes from your crazy life will inevitably become targeted, because that's where the growth activities are. For example, there has been a move to bring more ads to national parks, inside public schools, and into other sanctuaries that were previously walled off. As people are harder to reach, the efforts to advertise to them became more disguised, more intrusive, and more manipulative."
Black Injustice Tipping Point
John Wilkes Booth has a lot to answer for. Be sure to read the newspaper images:
Just hearing the name "Evan Bayh" reminds me that almost every politician in Indiana history was junk except for George Washington Julian pic.twitter.com/2p6kOUxCgl

— Matt Karp (@karpmj) October 24, 2016
"'The social engineering of apartheid came down to a very successful model of spatial engineering,' says Edgar Pieterse, director of the African Centre for Cities at the University of Cape Town. Tracing his fingers over a map of the city in his office, he explains how both natural landscape features and manmade infrastructure were employed as physical barriers to keep the different racial communities as isolated as possible" [Guardian]. "'Cape Town was conceived with a white-only centre, surrounded by contained settlements for the black and coloured labour forces to the east, each hemmed in by highways and rail lines, rivers and valleys, and separated from the affluent white suburbs by protective buffer zones of scrubland,' he says." Seems curiously familiar, especially the highways part.
"Society still largely operates under the misapprehension that race (largely defined by skin colour) has some basis in biology. There is a perpetuating idea that black-skinned or white-skinned people across the world share a similar set of genes that set the two races apart, even across continents. In short, it's what [Kwame Anthony Appiah] calls 'total twaddle'" [Guardian]. "'The way that we talk about race today is just incoherent,' he says. 'The thing about race is that it is a form of identity that is meant to apply across the world, everybody is supposed to have one – you're black or you're white or you're Asian – and it's supposed to be significant for you, whoever and wherever you are. But biologically that's nonsense.'"
Guillotine Watch
"Michelin: A Friendship That Went Sour" [Gastromondiale]. Worth a read, especially if you love food:
In the meantime Michelin is stronger than ever in the global age. As the guide covers an increasing number of countries and cities, there are more three-star chefs. They constitute a strong and well-entrenched lobby, dominate the world of gastronomy, and define the rules. The so-called "gastronomic" restaurants start becoming more like one another with the free flow of talented interns who move from one to another. Only a minority of the three-star restaurants choose to stay outside of the game and chart their own course. Many clients of three-star restaurants are more than happy to have dined in a temple of "fine dining," and at the same time Michelin is very responsive to modern taste and preferences. More alarmingly it is now the exigencies of the restaurant trade and the preferences of celebrity chefs in favor of using easily-standardized sous-vide preparations and multi-course tasting menus (quite a few three star restaurants do not even offer a la carte) that have become the reference point for "fine dining" and will continue to shape the aspirations of young chefs. Michelin simply endorses this trendy agenda, which has its merits, but rules out far too many cooking styles and taste sensations. The irony is that Michelin is no longer an "elite" institution, as the inspectors' palate gradually approximates those who seldom dine in three star restaurants and who want to be dazzled by colorful presentations so that they can capture the moment in cellphone photos. Today's Michelin is both populist and popular. It has found the "ideal" target consumer for which it is looking. It is still the emblem of France, but a France responsive to market signals, rather than a sensual, intellectual, introspective, and hedonistic France.
Class Warfare
"Sixty percent of jail inmates are there simply because they're too poor to afford bail" [The Marshall Project]. That makes sense. After all, it's a crime to be poor.
"The first thing to note [from the 2014 paper by Raj Chetty and his colleagues ] is the pervasiveness of intergenerational cycles of privilege and poverty. Virtually all Commuting Zones show a greater than one-in-five chance of staying in the top given top-earning parents. Basically, " [Miles Corak]. "This kind of intergenerational stickiness is mirrored at the other end of the income distribution: more than 90% of these communities have bottom-to-bottom probabilities greater than 0.2, with the chances of an intergenerational cycle of poverty being greater than one-third in over 40% of these more than 700 communities."
"Problems Using Aggregate Data to Infer Individual Behavior" [Harvard Law School Forum on Corporate Governance and Financial Regulation]. This paper discusses country level data vs. firm level data….
News of the Wired
"The Memory of Mankind project aims to save our most precious documents from an apocalypse – by burying microscopic engravings in an Austrian salt mine" [BBC]. This is really cool, but I hope there's really good signage at the salt mine.
"Google's Faulty Login Pages" [Aidan Wood]. I can't speak to the technical aspect of this post — readers? — but the combination of arrogance and informality of the Google engineer — "Hey -" is really not a salutation — makes my back teeth itch. No wonder Google doesn't do any customer service.
"More than 22% of Icelanders are ready to pick the anti-establishment Pirate Party, according to a recent poll by the Social Science Research Institute, conducted for the Morgunbladid newspaper. That puts the party just slightly head of its closest rival, the Independent Party, which currently governs in a coalition with the Progressive Party" [Quartz].
"[Schiaparelli's] sister craft — the Trace Gas Orbiter — successfully manoeuvred into Martian orbit. The orbiter is the more scientifically valuable of the two halves of the mission: from December 2017, it will study Mars's atmosphere, aiming to find evidence for possible biological or geological sources of methane gas. It will also be a communications relay for the 2020 rover" [Nature].
* * *
Readers, feel free to contact me with (a) links, and even better (b) sources I should curate regularly, and (c) to find out how to send me images of plants. Vegetables are fine! Fungi are deemed to be honorary plants! See the previous Water Cooler (with plant) here. And here's today's plant (Rainbow Girl):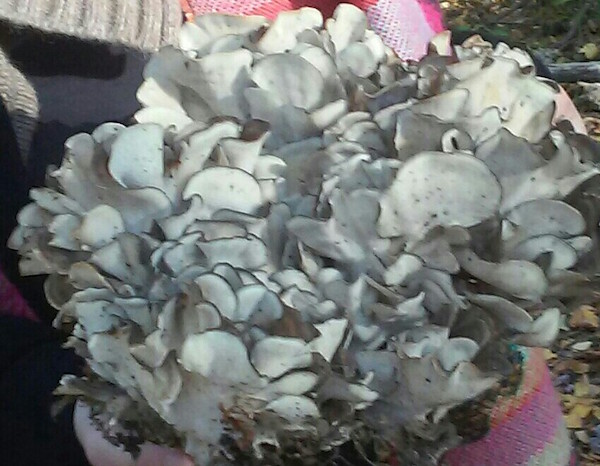 Of this "Hen in the Woods," Rainbow Girl writes: "At the foot of an old oak tree. Just perfect specimen. Quite a treat! The complex system of folds creating such beauty are a sight to behold. Sauteed with olive oil butter and a little beer or sherry …. Yummm to die for! Thank you Forest and great oak tree. And the elements and Gaia too."