By Lambert Strether of Corrente.
TPP/TTIP/TISA
"Morning Trade was let down — along with many on Twitter — that there was no mention of the TPP [in the Vice-Presidential Debate], a deal that both vice presidential candidates initially supported until they signed on as running-mates and flip-flopped" [Politico]. Especially given that in Trump's strong first half-hour, he hammered Clinton with it.
"In conference at Yale Law School, DeLauro pushes to stop controversial Trans Pacific Partnership" [New Haven Register]. Detailed report of speech. ".S. Rep. Rosa DeLauro, D-3, said the administration will be "relentless" in its pursuit of a positive vote on the Trans Pacific Partnership in the lame duck Congress, something she and a coalition in Congress are hoping to stop…. '(T)he agreement is undemocratic in its drafting, undemocratic in its contents and it cannot be passed during an unaccountable lame duck period,' she told Yale Law students and staff in attendance."
"Obama Hails Enforcement on Trade Deals to Win Support for T.P.P." [New York Times]. "Such actions against other countries' subsidies, dumping and market barriers, however, do not address two big concerns of trade skeptics: currency manipulation and workers' rights."
"The French decision follows Uruguay and Paraguay leaving the controversial US backed TISA negotiations last year and the recent humiliating back down of the EU on Investor State Dispute Resolution. With Germany and France so critical and Great Britain on the way out of the EU, it is hard to see how the European Commission can continue the negotiations" [Public Services International].
2016
Days until: 33.
Debate Wrapup
Next presidential debate: Sunday, October 9.

"Fact-checking the vice-presidential debate between Kaine and Pence" [WaPo]. On the "insult-driven campaign" back-and-forth, where WaPo proffers a lovingly compiled list of Trump's insults: If smearing an entire cohort of disfavored voters as racist and sexist #BernieBros isn't an insult, I don't know what is. And that approach isn't isolated: It's a pattern not just for the Clinton campaign, but liberals generally: the "irredeemable" "basket of deplorables"; the basement dwelling millenials. Worse, the Democrat approach is calculated: As Bernard Shaw says: "A blow in cold blood neither can nor should be forgiven." So miss me with the insult discussion.
The Voters
Excellent tweet storm by Chris Arnade. Start here and read on:

1. With this election, this country is feeling more like Mexico, or Brazil, or Venezuela. Like what used to be called a 3rd world country pic.twitter.com/90qQRTtq5d

— Chris Arnade (@Chris_arnade) October 4, 2016

"I Listened to a Trump Supporter" [Extra News Feed]. The foreclosure crisis destroyed her landscraping business. Then she lost her own house. "She told me that every week, it seemed there was another default letter, another foreclosure, another bank demanding more blood from her dry veins. To her, that pile of default notices and demands for payment looked suspiciously similar to Hillary Clinton's top donor list." And she's not wrong.

"The Trump candidacy succeeded because of a massive revolt among rank-and-file Republicans against their leaders. Should the Trump candidacy fail, as now seems likely, those leaders stand ready to deny that the revolt ever happened. Instead, they'll have a story of a more or less normal Republican undone only because (as Pence said last night) 'he's not a polished politician.' The solution for 2020? Bring back the professionals—and return to business as usual" [David Frum, The Atlantic]. "It's unlikely to work. But you can understand why it's an attractive message to a party elite that discovered to its horror that it had lost its base and lost its way."

"Trump faces new battleground threat from steelworkers: The United Steelworkers union is pledging to make sure every one of its workers in make-or-break states like Pennsylvania, Michigan and Ohio are well aware that the Republican presidential candidate may have circumvented U.S. laws to import Chinese steel" [Politico].

"Democrats are increasingly looking toward Sunbelt states rather than Rustbelt states for victory in 2016 and beyond. Not long ago that would have been unthinkable" [Ron Brownstein, The Atlantic]. "Craig Hughes, a leading Democratic strategist [ha] in Colorado, speaks for many in both parties when he says the two campaigns this year are pulling forward an electoral map that he didn't expect to see until 2020 or beyond. 'Trump has moved it up like eight years,' he said." So the Democrats followed the union busters South and West. Well played.

"Top Democratic strategists [ha] have concluded that at this point, there are very few undecided voters left, based on both public polls and on private polling that attempts to push undecided voters to make a choice. This is the prism through which they are viewing last night's performance" [Greg Sargent, WaPo].

"How to Build a Democratic Majority That Lasts" [Steve Phillips, New York Times]. Wait, I thought they already new how to do that? Ruy Teixeira? The Obama Coaltion? Anyhow… "The gross imbalance between investing in persuasion over mobilization could potentially be justified if there were evidence showing the efficacy of paid advertising, but there isn't. Studies looking at decades of election data offer the same conclusion: Paid ads do little to change voter behavior." Interestingly, the author, from the heart of the Democrat nomenklatura at the Center for American Progress, is making the same argument the non-Weaver Sanders staffers made. Perhaps it's a pitch to them, laying the groundwork for 2020.
Policy
"The [number of] apprehensions [at the border] series displays spikes that coincide with well-known episodes of increased illegal immigration into the United States, such as after the financial crisis in Mexico in 1995 or during the U.S. housing boom in the early 2000s. Importantly, the series also shows a sharp decline in the flows of illegal immigration at the U.S.-Mexico border during the last recession, and those flows have remained at historically low levels since then " [Federal Reserve Bank of New York].

" Al Gore to campaign for Clinton, hoping to galvanize young voters on climate change" [WaPo]. "The decision by Gore to plunge into the campaign during the final weeks shows the extent to which Democrats remain concerned that Clinton has yet to connect with many millennials, some of whom are backing third-party candidates this year. The former vice president, a climate activist, will speak about not just Clinton's plan to address global warming, but also the idea that voting for an independent presidential candidate could deliver the White House to Republicans in the same way that Ralph Nader's candidacy helped undermine his presidential bid in 2000." Nader Nader neener neener! The Democrat Party can never fail! It can only be failed!
Money
"'Get off your high horse about this tax thing': 'Morning Joe' host slams Clinton response to Trump tax records" [Yahoo Finance].
Stats Watch
ADP Employment Report, September 2016: "[L]ooking for significant slowing in employment growth" [Econoday]. But: "ADP is showing jobs growth equalling the rate of people entering the jobs market" [Econintersect].
Gallup U.S. Job Creation Index, September 2016: "[H]eld steady in September for the fifth month in a row" [Econoday]. "[T]he highest score recorded since Gallup began tracking this metric in January 2008."
International Trade, September 2016: "The nation's trade deficit widened by $1.2 billion in August to $40.7 but details are positive. Exports of capital goods, excluding aircraft, actually rose slightly to $37.6 billion while imports of capital goods were up $1.2 billion to $50.2 billion" [Econoday]. And: "There was insignificant backward revision. In any event, the trends are moving in the right direction to support an economic pickup" [Econintersect].
Factory Orders, August 2016: "Throw out the headline and look at capital goods. Factory orders in August edged only 0.2 percent higher but core capital good orders (nondefense ex-aircraft) jumped 0.9 percent following very impressive gains of 0.8 percent and 0.5 percent in the prior two months. These results point to a rebound for business investment which otherwise has been depressed this year" [Econoday].
Purchasing Managers' Index Services Index, September 2016: "The composite index for September is up slightly" [Econoday]. "[C]omposite hides what is disappointing slowing in new orders which are at their weakest growth rate since May. And in a negative indication for Friday's employment report, hiring slowed to a 3-1/2 low in the month. Reports from Markit, unlike other reports, continue to cite uncertainty over the presidential election as a negative factor." But: "The Markit and ISM surveys [below[ are surprisingly different. The ISM shows strength in its key elements that correlate to economic activity. Markit shows services growth remains weak" [Econintersect].
Institute For Supply Management Non-Manufacturing Index, September 2016: Above consensus [Econoday]. "[N]ew orders are especially strong, up nearly 9 points to 60.0 which points to brisk activity for other readings in the months ahead. Employment is also a very solid plus." Looks liike August was a blip.
MBA Mortgage Applications, week of September 30, 2016: "Purchase applications for home mortgages were down just 0.1 percent from the prior week in the September 30 week, but the comparison with the year ago week plunged sharply into deeply negative territory at minus 14 percent. Refinancing" [Econoday]. But: "Don't read too much into the year-over-year decline – remember last year there was a 27% jump in applications the week prior to the TILA-RESPA regulatory change. Next week applications will be up year-over-year" [Calculated Risk].
Retail: "The NRF expects holiday sales growth of 3.6%, while the ICSC forecasts a 3.3% spending increase at physical stores" [Wall Street Journal, "Retail Trade Groups Forecast Strong Holiday Spending"]. Hmm.
Shipping: "Orders for Class 8 trucks – the rigs crisscrossing the US highway system that keep the nation supplied – plunged 27% in September to 13,791, according to FTR Transportation Intelligence. It was the worst September since 2009" [Wolf Street].
Shipping: "Global air capacity expansion outpaces growing demand" [Journal of Commerce].
Shipping: "Shipping, across all major vessel types, is not showing as many health warnings as in 2009, but it could certainly be better, according to a diagnosis by industry economics guru Martin Stopford on Wednesday.All major shipping markets are now below the seven-year trend" [Lloyd's List]. "Not as bad as 2009" is a pretty low baseline…
Shipping: "US judge urged to pressure Hanjin to detail stranded cargo, equipment" [Journal of Commerce]. "A federal judge has agreed to hear on Friday the arguments of several chassis, container, and fuel providers demanding Hanjin Shipping reply more quickly to their "urgent" requests for information on where the container line's ships are, and the location of chassis and containers the ocean carrier leased from the creditors."
Shipping (for taxonomy geeks): "For the past 80 years, Incoterms® has been the cornerstone of global commercial trade, creating the basis for robust trade negotiations directly or indirectly involving sellers, buyers, shipping lines, truckers, forwarders, clearing agents, chambers of commerce, legal firms, courts, etc." [Shipping and Freight Resource]. Incoterms® are three letter acronyms created by the International Chamber of Commerce to standardize international trade terms. CIF, for example, stands for Cost Insurance & Freight. ("Mr. Eugenides, the Smyrna merchant / Unshaven, with a pocket full of currants / C.i.f. London…", in the notes to The Waste Land said by Eliot to mean "carriage and insurance free to London," wrongly, which is why we have standards!)
Supply Chain: "The Current Sourcing Model is Inherently Unsustainable" [Sourcing Journal]. "'The demand for organic cotton is in a huge lift, congratulations,' [NewForesight CEO Lucas Simons] said. 'But at the other side of this value chain, it is not going that well.' Organic cotton farmers hardly make any extra money for their sustainable farming. In India, the average organic cotton makes 70 cents a day, Simons explained, and it's the second poorest sector in the world. There is no motivation to farm organic cotton…. In short, the sustainability sector has a lot of growing up to do. 'The enemy of all this are projects, everybody doing their own little things on their own little islands,' Simons said." Hmm.
Supply Chain: "Friday was a red letter day in the global fight against modern slavery. It was the deadline for the first companies to report under the UK Modern Slavery Act. Over 700 of these statements are available in a central Registry maintained by Business & Human Rights Resource Centre. That number increases daily" [Reuters].
Concentration: "Verizon has told its field technicians in Pennsylvania that they can be fired if they try to fix broken copper phone lines. Instead, employees must try to replace copper lines with a device that connects to Verizon Wireless's cell phone network" [Ars Technica]. "The wireless home phone service, VoiceLink, is not a proper replacement for copper phone lines because it doesn't work with security alarms, fax machines, medical devices such as pacemakers that require telephone monitoring, and other services, the [Communications Workers of America] said."
Concentration: "[59%] of Americans surveyed by the International Council of Shopping Centers that say they will shop on Amazon.com Inc. this holiday season" [Wall Street Journal].
Real Estate: "As wealthy buyers rein in spending, and more high-end properties hit the market, many of Manhattan's most expensive new units will likely sit vacant for quite some time. 'The supply of new development is rising three times as fast as existing apartment inventory,' said [Miller Samuel, the appraisal firm]" [ETF Daily News]. Maybe we could store all our unused shipping containers in the empty units?
"How leading indicators can (and can't) predict RevPAR" (revenue per available room) [Hotel News Notes]. "It might sound logical that higher discretionary income would lead to more travel spend, but Hood said the bivariate relationship (the indicator's "r" value) for that, r=0.58 (where 100 would be an absolute correlation), was not such a strong correlation. Among the highest correlation, though, was the r=0.98 score of wages against hotel spend."
"Financial statements are outliving their usefulness for investors — and here's how to replace them" [MarketWatch (Jim Haygood)]. "Companies now rely more than ever on intangible assets like patents, brands, technology and business processes [bezzles] to create value…. [T]here's a new measure we propose for value creation, which we call residual cash flows."
"Not Keen on more Chaos in the Future of Macroeconomics" [Roger Farmer's Economic Window]. "In response to Olivier Blanchard's recent attempt to move towards a consensus in macroeconomics, Steve Keen has launched a blistering attack on the DSGE approach. His thesis is that the economy is best modeled as a complex adaptive system. I am, or at least was, very receptive to that idea. But in contrast to Steve, I believe that DSGE models are here to stay, just not New Keynesian DSGE models."
Today's Fear & Greed Index: 51 Neutral (previous close: 42, Fear) [CNN]. One week ago: 50 (Neutral). (0 is Extreme Fear; 100 is Extreme Greed). Last updated Oct 5 at 12:27pm. Big swingin' neutral!
Corruption
"Mexicans have 300 different ways of referring to corruption" [Quartz]. "Bisnero means someone 'who passes himself for a politician or businessperson, and who thinks being a man of 'the state' or 'of business' is enough to conduct bisnes through moches (i.e. cuts), palancas (i.e. levers or influence trafficking), and other corruption acts. They don't contribute anything to government, or the country's production chains, but yes, they wear their thick golden chains.'" Good to know.
"[David Wildstein, who pleaded guilty in the gridlock scheme and is cooperating with prosecutors, a onetime top ally of New Jersey Gov. Chris Christie[,] said the governor and New York Gov. Andrew Cuomo discussed releasing a false report to tamp down questions over the George Washington Bridge lane-closure scandal, the prosecution's key witness testified Tuesday" [Albany Times-Union]. Hmm.
"As co-founder of the Gap, San Francisco-based business leader and philanthropist Doris Fisher boasts a net worth of $2.6 billion, making her the country's third richest self-made woman, according to Forbes. And she's focused much of her wealth and resources on building charter schools" [Capital and Main].
Our Famously Free Press
"Reporting massive human rights abuses behind a façade" [Columbia Journalism Review]. You gotta know the territory and in this case the Bigfoot didn't. Must read on the Cambodian genocide.
Gaia
"The vast patch of garbage floating in the Pacific Ocean is far worse than previously thought, with an aerial survey finding a much larger mass of fishing nets, plastic containers and other discarded items than imagined" [Guardian]. "The density of rubbish was several times higher than the Ocean Cleanup, a foundation part-funded by the Dutch government to rid the oceans of plastics, expected to find even at the heart of the patch, where most of the waste is concentrated."
Guillotine Watch
"Does the one percent deserve what it gets?" [Washingon Center for Equitable Growth]. An academic's question. The right question: "Does the one percent deserve what it's going to get?" That said: "One difference between the rich and us is that they have more money. They also enjoy—both as cause and effect—a lot more power." Oddly, the author doesn't mention luck. Don't put me on a list, Brad!
Class Warfare
"How a $15 Minimum Wage Went From Fringe to Mainstream" [Bloomberg]. Fight for $15.
"Davide Furceri and I have revised our IMF Working Paper on the impacts of financial globalization—specifically, the elimination of restrictions on the capital account—on inequality. We find that episodes of capital account liberalization are followed by an increase in the share of income going to the top 1% (the chart below shows the impact). Our previous work had already shown that the Gini coefficient increases following capital account liberalization" [The Unassuming Economist].
"Why Americans Feel Poor, in One Chart" [Narayana Kocherlakota, Bloomberg].
News of the Wired
"As Google took great pains to communicate, the Pixel phone is "#MadeByGoogle"—and not another company. (When tech companies say 'made,' they mean 'designed' and not literally manufactured.) Not only does this mean that Google itself has control over the hardware design, but it also has complete control over the software. Pixel phones will run only the purest Android and will update straight from the mothership in Mountain View, just like the co-branded Nexus phones that came before it" [Yahoo Finance]. "This total control over the digital ecosystem and device design finally gives Google the table stakes required to compete with Apple, a company that arguably succeeded due to valuing design as much as tech."
* * *
Readers, feel free to contact me with (a) links, and even better (b) sources I should curate regularly, and (c) to find out how to send me images of plants. Vegetables are fine! Fungi are deemed to be honorary plants! See the previous Water Cooler (with plant) here. And here's today's plant: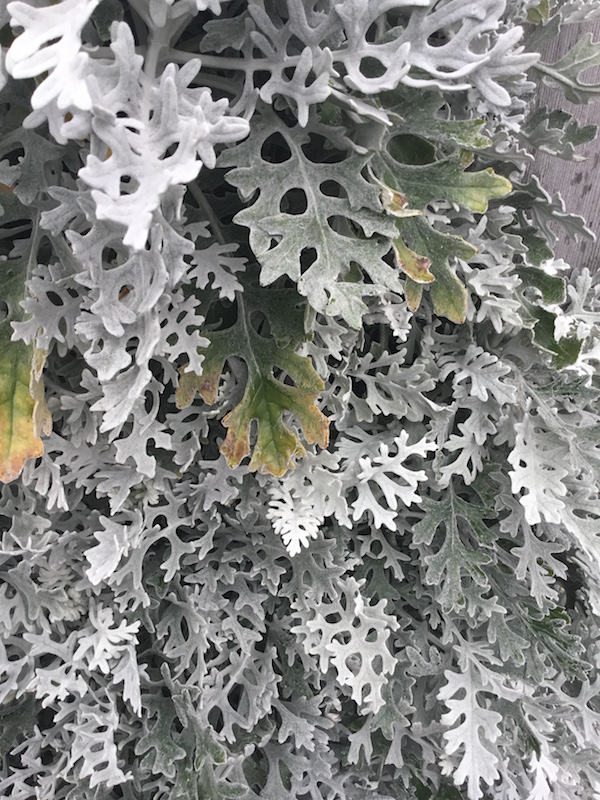 From the Coastal Maine Botanical Gardens.
Readers, yellow waders don't come cheap. Please use the dropdown to choose your contribution, and then click the hat! Your tip will be welcome today, and indeed any day. Water Cooler will not exist without your continued help.
Readers, I am behind in answering contact form mail. I will catch up soon, beginning now!