Climate change could flip Mediterranean lands to desert Nature
West Antarctica Begins to Destabilize With 'Intense Unbalanced Melting' Bloomberg
Security Firm Running Dakota Access Pipeline Intelligence Has Ties to U.S. Military Work in Iraq and Afghanistan DeSmogBlog
Why Dakota Is the New Keystone Bill McKibben, NYT
How a Pillar of German Banking Lost Its Way Der Spiegel (JO).
Evaluating Germany's Success in Regulating High-Frequency Trading RegBlog
Canada and EU reach finishing line over trade deal FT
Iceland Election Updates: Pirate Party Gains Seats But Not Enough To Form Government Reuters
It's Good to Be a Big Corporation Again Bloomberg. Let's play concentration!
Exclusive: EpiPen price hikes add millions to Pentagon costs Reuters (EM).
Even Math Teachers Are at a Loss to Understand Annuities NYT (Re Silc). Sounds like a phishing equilibrium.
ProtonMail strikes out at Google for crippling encrypted email service searches ZD Net
Is Foreign Direct Investment Mostly Portfolio Flows in Disguise? Conversable Economist
How will self-driving cars make life or death decisions? World Economic Forum. Davos Man weighs in.
Comma.ai drops self-driving device after warning from U.S. regulators Reuters. "Comma.ai is one of more than 50 startups working on automating such human driving tasks as steering and braking." Well, public relations does contribute to GDP…
Nice hazard detection sensors, nerd: Why humans should bully driverless cars ABC Australia
Syraqistan
Turkey sacks 10,000 more civil servants, shuts more media in post-coup crackdown Reuters

U.S. State orders family of employees in Istanbul to leave country Reuters
China?
China confers more power but not greatness on Xi Jinping FT

Can China Finally Solve Its Corruption Problem? The Diplomat

Rodrigo Duterte's China Overtures Appear to Bear Fruit in South China Sea WSJ
South Korean Protesters Call for President Park Geun-hye to Step Down WSJ
India offers to buy 200 foreign combat jets, if they're Made-in-India FInancial Express (J-LS).
War Drums
Trump's Foreign Policy Is Sane While Clinton's Is Belligerent Moon of Alabama
America's gift to the world: exports of the best armed drones Fabius Maximus
In Defense of Politics, Now More Than Ever NYT (DK).
2016
Democrats should ask Clinton to step aside Chicago Tribune. A bill of particulars, and not a bad one.

A Scandal Too Far? Huma Abedin, Hillary Clinton, and a Test of Loyalty NYT

Five takeaways from Hillary Clinton's bad Friday Politico

Democrats declare open season on Jim Comey Politico. Keeping the spotlight on Clinton…

Clinton campaign blames Putin. 10, 9, 8 counting, 7…

Ironically Comey put himself on the same side as Putin.

— Howard Dean (@GovHowardDean) October 29, 2016

Such a shame what happened to HoHo. What's he angling for? Secretary of Epistemic Closure?

Clinton's Attacking Strategy to Blunt Comey Damage Has Risks Bloomberg

Within 24 hours of being blindsided by Comey's revelation to Congress that the FBI had come across new e-mails he believed could be pertinent to the Clinton probe, Clinton's campaign sent a memo to dozens [!] of its surrogates. It detailed talking points and suggested wording for casting doubt on Comey's decision and Republicans' spin, and spreading the idea that the e-mails may simply be duplicates of those already reviewed or have nothing to do with the nominee.

Couldn't we just get a copy of the memo and a list of the surrogates? Then we could skip reading the surrogates.

James Comey's Letter and the Problem of Leaks The New Yorker. Staff insurrection, as Yves said.

Election Update: Four Ways Forward For Clinton After The FBI News FiveThirtyEight. "[0]ne way the campaign could end is with a whole crescendo of major stories dropping. That could make things complicated for pollsters and forecasters." Release the dumpsters!

Clinton enjoys solid lead in early voting: Reuters/Ipsos poll Reuters. And now you know why the Clinton campaign — and those portions of the press that are operationally integrated with it — are pushing early voting. Why, it's almost like they think there's a "surprise" out there that might change people's minds….

If Clinton Campaign Believes WikiLeaks Emails Are Forged, Why Don't They Prove It? The Intercept

Argument: The DNC Hack Attribution Was A Response to Brick and Mortar Events EmptyWheel. From earlier this month, but well worth a read.

Los Trumpistas: Trump's Latino Supporters Lens Culture (Isolato).

Trump boasts about his philanthropy. But his giving falls short of his words. WaPo

We Need to Talk about Donald Sherry Turkle, LRB

3 things Donald Trump gets very right WaPo

Final Days New York Magazine (DK). A rather sympathetic piece, believe it or not (as the Trump campaign enters the "operatives looking for work" stage).

Here's what I'll do the day after the election Bernie Sanders, Boston Globe
Change to Voting Rights Act makes it harder to monitor U.S. elections McClatchy
Black Injustice Tipping Point
Digital Redlining At Facebook Another Word for It
Class Warfare
Americans Are Dying Faster. Millennials, Too Bloomberg. For some reason, this is not mentioned in the headline: "According to research earlier this year in the Journal of the American Medical Association, a 40-year-old man in the top 1 percent can expect to live 14 years longer than his counterpart in the bottom 1 percent." Everything's going according to plan!

This Billionaire Governor Taxed the Rich and Increased the Minimum Wage — Now, His State's Economy Is One of the Best in the Country HuffPo

How the politics of debt explains everything The Week

It's About to Get Harder to Seek Student Debt Relief Bloomberg. Thanks, Obama!
Small Factories Emerge as a Weapon in the Fight Against Poverty NYT
Borrow a sewing machine? Sacramento Public Library to start loaning more than books Sacramento Bee
Beyond Revenge: Most Crime Victims Prefer Rehabilitation to Harsh Punishment Truthout
Antidote du jour (via):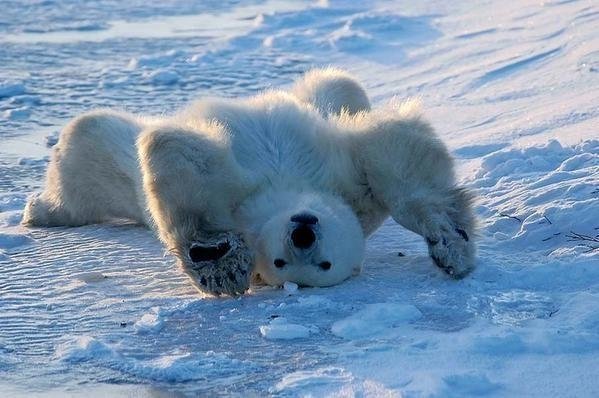 See yesterday's Links and Antidote du Jour here.