By Lambert Strether of Corrente.
This post is not an explainer about why and how Clinton lost (and Trump won). I think we're going to be sorting that out for awhile. Rather, it's a simple debunking of common talking points by Clinton loyalists and Democrat Establishment operatives; the sort of talking point you might hear on Twitter, entirely shorn of caveats and context. For each of the three talking points, I'll present an especially egregious version of the myth, followed by a rebuttals.
Realize that Trump's margin of victory was incredibly small. From the Washington Post:
How Trump won the presidency with razor-thin margins in swing states

Of the more than 120 million votes cast in the 2016 election, 107,000 votes in three states [Michigan, Wisconsin and Pennsylvania] effectively decided the election.
Of course, America's first-past-the-post system and the electoral college amplify small margins into decisive results. And it was the job of the Clinton campaign to find those 107,000 votes and win them; the Clinton operation turned out to be weaker than anyone would have imagined when it counted. However, because Trump has what might be called an institutional mandate — both the executive and legislative branches and soon, perhaps, the judicial — the narrowness of his margin means he doesn't have a popular mandate. Trump has captured the state, but by no means civil society; therefore, the opposition that seeks to delegitimize him is in a stronger position than it may realize. Hence the necessity for reflection; seeking truth from facts, as the saying goes. Because the following talking points prevent a (vulgar) identity politics-dominated Democrat Party from owning its loss, debunking them is then important beyond winning your Twitter wars. I'm trying to spike the Blame Cannons!
Talking Point: Clinton was Defeated by Racism
Here's a headline showing the talking point from a Vox explainer:
Trump's win is a reminder of the incredible, unbeatable power of racism
The subtext here is usually that if you don't chime in with vehement agreement, you're a racist yourself, and possibly a racist Trump supporter. There are two reasons this talking point is false.
First, voter caring levels dropped from 2012 to 2016, especially among black Democrats. Carl Beijer:
From 2012 to 2016, both men and women went from caring about the outcome to not caring. Among Democratic men and women, as well as Republican women, care levels dropped about 3-4 points; Republican men cared a little less too, but only by one point. Across the board, in any case, the plurality of voters simply didn't care.
Beijer includes the following chart (based on Edison exit polling cross-referenced with total population numbers from the US Census):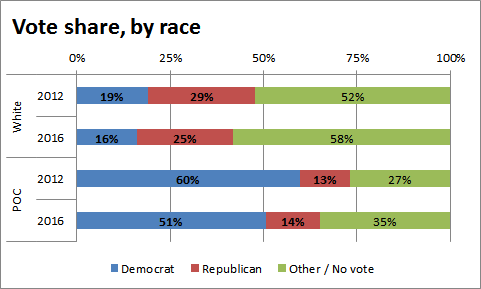 Beijer interprets:
White voters cared even less in 2016 then in 2012, when they also didn't care; most of that apathy came from white Republicans compared to white Democrats, who dropped off a little less. Voters of color, in contrast, continued to care – but their care levels dropped even more, by 8 points (compared to the 6 point drop-off among white voters). Incredibly, that drop was driven entirely by which left Democrats with only slim majority 51% support; Republicans, meanwhile, actually gained support among people of color.
Beijer's data is born out by anecdote from Milwaukee, Wisconsin:
Urban areas, where black and Hispanic voters are concentrated along with college-educated voters, already leaned toward the Democrats, but Clinton did not get the turnout from these groups that she needed. For instance, black voters did not show up in the same numbers they did for Barack Obama, the first black president, in 2008 and 2012.
Remember, Trump won Wisconsin by a whisker. So for this talking point to be true, we have to believe that black voters stayed home because they were racist, costing Clinton Wisconsin.
Second, counties that voted for Obama in 2012 voted for Trump in 2016. The Washington Post:
These former Obama strongholds sealed the election for Trump

Of the nearly 700 counties that twice sent Obama to the White House, .

The Obama-Trump counties were critical in delivering electoral victories for Trump. Many of them fall in states that supported Obama in 2012, but Trump in 2016. In all, these flipped states accounted for 83 electoral votes. (Michigan and New Hampshire could add to this total, but their results were not finalized as of 4 p.m. Wednesday.)
Here's the chart: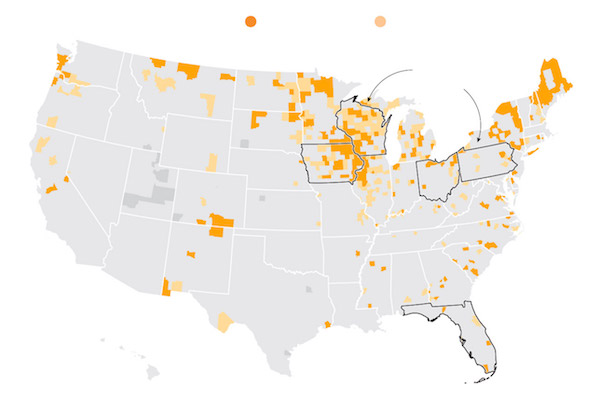 And so, for this talking point to be true, we have to believe that counties who voted for the black man in 2012 were racist because they didn't vote for the white women in 2016. Bringing me, I suppose, to sexism.
Talking Point: Clinton was Defeated by Sexism
Here's an article showing the talking point from Newsweek:
This often vitriolic campaign was a national referendum on women and power.
(The subtext here is usually that if you don't join the consensus cluster, you're a sexist yourself, and possibly a sexist Trump supporter). And if you only look at the averages this claim might seem true:
On Election Day, women responded accordingly, as Clinton beat Trump among women 54 percent to 42 percent. They were voting not so much for her as against him and what he brought to the surface during his campaign: quotidian misogyny.
There are two reasons this talking point is not true. First, averages conceal, and what they conceal is class. As you read further into the article, you can see it fall apart:
In fact, Trump beat Clinton among white women 53 percent to 43 percent, with .
So, taking lack of a college degree as a proxy for being working class, for Newsweek's claim to be true, you have to believe that working class women don't get a vote in their referendum, and for the talking point to be true, you have to believe that working class women are sexist. Which leads me to ask: Who died and left the bourgeois feminists in Clinton's base in charge of the definition of sexism, or feminism? Class traitor Tina Brown is worth repeating:
Here's my own beef. Liberal feminists, young and old, need to question the role they played in Hillary's demise. The two weeks of media hyperventilation over grab-her-by-the-pussygate, when the airwaves were saturated with aghast liberal women equating Trump's gross comments with sexual assault, had the opposite effect on multiple women voters in the Heartland.

These are resilient women, often working two or three jobs, for whom boorish men are an occasional occupational hazard, not an existential threat. They rolled their eyes over Trump's unmitigated coarseness, but still bought into his spiel that he'd be the greatest job producer who ever lived. Oh, and they wondered why his behaviour was any worse than Bill's.

Missing this pragmatic response by so many women was another mistake of Robbie Mook's campaign data nerds. They computed that America's women would all be as outraged as the ones they came home to at night. But pink slips have hit entire neighbourhoods, and towns. The angry white working class men who voted in such strength for Trump do not live in an emotional vacuum. They are loved by white working class women – their wives, daughters, sisters and mothers, who participate in their remaindered pain. I.
Second, Clinton in 2016 did no better than Obama in 2008 with women (although she did better than Obama in 2012). From the New York Times analysis of the exit polls, this chart:

So, for this talking point to be true, you have to believe that sexism simultaneously increased the male vote for Trump, yet did not increase the female vote for Clinton. Shouldn't they move in opposite directions?
Talking Point: Clinton was Defeated by Stupidity
Here's an example of this talking point from Foreign Policy, the heart of The Blob. The headline:
Trump Won Because Voters Are Ignorant, Literally
And the lead:
OK, so that just happened. Donald Trump always enjoyed massive support from uneducated, low-information white people. As Bloomberg Politics reported back in August, Hillary Clinton was enjoying a giant 25 percentage-point lead among college-educated voters going into the election. (Whether that trend held up remains to be seen.) In contrast, in the 2012 election, college-educated voters just barely favored Barack Obama over Mitt Romney. Last night we saw something historic: the dance of the dunces. Never have educated voters so uniformly rejected a candidate. But never before have the lesser-educated so uniformly supported a candidate.
The subtext here is usually that if you don't accept nod your head vigorously, you're stupid, and possibly a stupid Trump supporter. There are two reasons this talking point is not true.
First, even assuming that the author's happy but unconscious conflation of credentials with education is correct, it wasn't the "dunces" who lost two wars, butchered the health care system, caused the financial system to collapse through accounting control fraud, or invented the neoliberal ideology that was kept real wages flat for forty years and turned the industrial heartland into a wasteland. That is solely, solely down to — only some, to be fair — college-educated voters. It is totally and 100% not down to the "dunces"; they didn't have the political or financial power to achieve debacles on the grand scale.
Second, the "dunces" were an important part of Obama's victories. From The Week:
Not only has polling repeatedly underplayed the importance of white voters without college degrees, it's underplayed their importance to the Obama coalition: They were one-third of Obama votes in 2012. They filled the gap between upper-class whites and working-class nonwhites. Trump gained roughly 15 percentage points with them compared to Romney in 2012.
So, to believe this talking point, you have to believe that voters who were smart when they voted for Obama suddenly became stupid when it came time to vote for Clinton. You also have to believe that credentialed policy makers have an unblemished record of success, and that only they are worth paying attention to.
Conclusion
Of course, Clinton ran a miserable campaign, too, which didn't help. Carl Beijer has a bill of particulars:
By just about every metric imaginable, Hillary Clinton led one of the worst presidential campaigns in modern history. It was a profoundly reactionary campaign, built entirely on rolling back the horizons of the politically possible, fracturing left solidarity, undermining longstanding left priorities like universal healthcare, pandering to Wall Street oligarchs, fomenting nationalism against Denmark and Russia, and rehabilitating some of history's greatest monsters – from Bush I to Kissinger. It was a grossly unprincipled campaign that belligerently violated FEC Super PAC coordination rules and conspired with party officials on everything from political attacks to debate questions. It was an obscenely stupid campaign that all but ignored Wisconsin during the general election, that pitched Clinton to Latino voters as their abuela, that centered an entire high-profile speech over the national menace of a few thousand anime nazis on Twitter, and that repeatedly deployed Lena Dunham as a media surrogate.
Which is rather like running a David Letterman ad in a Pennsylvania steel town. It must have seemed like a good idea in Brooklyn. After all, they had so many celebrities to choose from.
* * *
All three talking points oversimplify. I'm not saying racism is not powerful; of course it is. I'm not saying that sexism is not powerful; of course it is. But monocausal explanations in an election this close — and in a country this vast — are foolish. And narratives that ignore economics and erase class are worse than foolish; buying into them will cause us to make the same mistakes over and over and over again.[1] The trick will be to integrate multiple causes, and that's down to the left; identity politics liberals don't merely not want to do this; they actively oppose it. Ditto their opposite numbers in America's neoliberal fun house mirror, the conservatives.
NOTES
[1] For some, that's not a bug. It's a feature.
NOTE
You will have noticed that I haven't covered economics (class), or election fraud at all. More myths are coming.