By Lambert Strether of Corrente.
TTP/TTIP/TISA
CETA: "In Wallonia (which with 3.5 million inhabitants is still larger than the seven smallest member states of the EU), civil society organisations first alerted politicians to the dangers of TTIP and Ceta at a very early stage. And they were listened to. The parliament of Wallonia, with the same constitutional international powers as a national parliament, decided to take up the issue, and the government that I lead committed itself to defending its resolutions" [Paul Magnette, Guardian].
TPP: "TIME SPENT NEGOTIATING TPP WASN'T WASTED: The immediate future of the TPP may look dim, at least in the United States, but U.S. Trade Representative Michael Froman and House Ways and Means Chairman Kevin Brady both maintain that aspects of it — if not the deal itself — can and should be preserved and revived later on down the road" [Politico]. It's a zombie! Kill it with fire!
Politics
Policy
UPDATE "Protesters occupy Sen. Schumer's D.C. office, rip him for ties to Wall Street" [New York Daily News].

Protesters from groups including Occupy Wall Street and Black Lives Matter, held 'Wall Street Democrats failed us' and 'Schumer, grow a spine, Democracy is on the line' banners. They argued Schumer comes from the same corporatist wing of the Democratic Party that Hillary Clinton hails from — and that is why she lost last week. They want someone besides Schumer, who they view as too willing to compromise, to head up Democrats' opposition to President-elect Donald Trump.

Excellent, that we see a convergence of #BlackLivesMatter and Occupy.

UPDATE "Anti-Trump Protests Spread to Democratic Leadership With Sit-In at Schumer's DC Office" [ABC]. Notice that the lazy, stupid, or bad faith headline conflates the Anti-Trump protests with this protest. Insofar as the existing anti-Trump protests were pro-Clinton, they're not the same, as the body of the story shows:

Meanwhile, in Washington, D.C., at least 40 protesters occupied Sen. Schumer's office, according to Waleed Shahid, a spokesperson for #AllofUs, the group that staged the sit-in.

Shahid said that #AllofUs is composed of young men and women who participated in the Occupy Wall Street protests in 2011, as well as Black Lives Matter, climate activists, and organizers from Sen. Bernie Sanders' campaign for president. He said the protesters were concerned about Democrats collaborating with Trump, citing Schumer's ties to Wall Street as evidence that he was part of the same party establishment that lost the election.

Not bad framing! (And #AllofUs must have taken some diplomacy, since #AllLivesMatter emerged only in reaction to #BlackLivesMatter, and was often used by defenders of the police.)

"The truth is that in [Trump's] first term he will likely have only one appointment (filling the vacancy left by Justice Scalia's death in February), because the three oldest justices are Ginsburg (83), Kennedy (80), and Breyer (78)—a group not likely to retire under a Trump Administration" [American Greatness]. "Despite a preoccupation with ethnic diversity, few seem to care that the court lacks any other form of diversity. As Scalia explained, the high court consists of nine elite lawyers who attended either Harvard or Yale Law; eight grew up on the two coasts; and four hail from New York City."

"A suggestion to Donald Trump: Listen to Ivanka" [Catherine Rampell, WaPo]. "With his daughter Ivanka's influence, Trump has pledged to finally remove the United States from the two-member club of countries that do not guarantee paid maternity leave. (Right now it's us and Papua New Guinea.) His plan would require six weeks of paid leave to new mothers."

"Trump's Proposals: Dangerous to our Climate's Future" [Weather Underground]. " In order to keep global warming below the dangerous threshold of 2°C above pre-industrial levels, we needed strong American leadership and a near-WWII-level effort to move the U.S. and global economy away from fossil fuels. Instead, Trump has promised to strongly oppose that transition. While Trump's actions cannot stop the ongoing shift of our energy economy away from fossil fuels, they could still do a tremendous amount of damage, because there remains far more fossil fuel on Earth than we can safely burn while still avoiding dangerous risks to our climate. … Indeed, any U.S. action to halt or slow down climate change mitigation and adaption will run up against powerful worldwide momentum, including the global recognition of climate change threats and the enormous growth of wind and solar energy."
The Voters
"So like we said, Bay Area ideology is weird—particularly the conservative variety. "Silicon Valley loves to think of itself as a pirate ship," says Margaret O'Mara, a historian at the University of Washington who studies Silicon Valley politics. "And that expresses itself politically in not easily categorizable ways." Two main strands: those who think government can improve itself by taking a few lessons from the Valley, and those who think government should just get the heck out of their way" [Wired].
Inside Baseball
"What Stephen Bannon wants to do in Trump's White House" [The Hill]. "The new Breitbart Paris website will campaign aggressively to help Le Pen get elected as the next president of France, according to a source familiar with the website's internal dynamics."

"Springtime For Breitbart" [Mark Ames and Max Blumenthal, NSFW]. "Breitbart, the adopted son of a wealthy West Los Angeles restauranteur, used his privilege to immiserate the most marginalized, impoverished, widely demonized groups of Americans. He was a faithful errand boy for rich, Scrooge McDuck tycoons like Peter Thiel, Foster Friess, and the Koch Brothers, wielding smear journalism against anyone or any interest that threatened their power — usually African-Americans or groups like ACORN, serving impoverished, neglected inner city communities." Fun stuff.
Legitimacy and Realignment
"[S]electing any sitting member of Congress [for example, Keith Eillison] to be the public face of the DNC is inconsistent with the history and purpose of the institution, the oldest continuing party committee in the world" [RealClearPolitics]. "[T]he constitutional reality [is] that we are not a parliamentary democracy in which the national leader emerges from the legislative caucus of his or her party. For most of its history, the DNC, as well as the RNC, has been led by operatives, who ran campaigns, served as state party chairmen, were major fundraisers, or who either retired or were defeated for public office before seeking the chairmanship."

"With Elizabeth Warren and Bernie Sanders holding the heart of the party, the room for the type of New Democrat rethink of the early 1990s seems small." [Wall Street Journal, "A Clinton-Free Democratic Party"]. 'Tis a consummation devoutly to be wished!
Email, email, email
"The [Indiana] administration is fighting to conceal the contents of an email sent to Gov. Mike Pence by a political ally. That email is being sought by a prominent Democratic labor lawyer who says he wants to expose waste in the Republican administration" [Indianapolis Star]. Bwa-ha-ha-ha-ha!
Stats Watch
Retail Sales, October 2016: "The consumer started the fourth-quarter better than expected and finished the third-quarter even stronger than that. Retail sales jumped 0.8 percent in October" [Econoday]. And: " The increase in October was above expectations and the previous two months were revised up; a very strong report" [Calculated Risk]. But: "The relationship between year-over-year growth in inflation adjusted retail sales and retail employment has inverted – and this is normally a recessionary sign" [Econintersect]. But: "Good report, driven by autos, which were up from last month though down from last year. However, on a year over year basis vehicles sales if anything seem to be moderately declining, and so won't be contributing to growth as they had in the past. So a glimmer of hope here, but guarded to say the least" [Mosler Economics].
Empire State Manufacturing Survey, November 2016: "Showing life" [Econoday]. "New orders are up a modest but still constructive 3.1 in November though unfilled orders remain deeply in the negative column at minus 12.7. Shipments are up, at plus 8.5 following two months of decline, but employment continues to contract." And but: "I am not a fan of surveys. However, it is a good sign that new orders improved – and a bad sign that unfilled orders declined" [Econintersect]. And: "Above consensus" [Calculated Risk].
Import and Export Prices, October 2016: "Import prices are on the rise but traction is isolated to petroleum products" [Econoday]. "But total year-on-year rates are showing improvement though they remain in the negative column, at minus 0.2 percent for imports and minus 1.1 percent for exports. Though improvement in this report is narrow, the headlines are moving in the right direction." And: "Both import and export price deflation is moderating when looking year-over-year. The month-over-month figures given in the headlines only confuse. At the current rate of moderation of deflation (trend line) – both imports and export prices should start inflating by the end of the year" [Econintersect]. But: "There is, however, also no evidence of any sustained upward pressure on import prices, which will also limit the potential for overseas price developments putting significant upward pressure on inflation, especially as the dollar has advanced strongly this month, which will curb November import price rises" [Economic Calendar].
Business Inventories, September 2016: "Inventories proved tame in September, rising only 0.1 percent against a sharp 0.7 percent gain in sales that pulls the inventory-to-sales ratio one notch leaner to 1.38 from 1.39" [Econoday].
The Fed: "December Fed rate hike odds are at 86% per the Fed Fund futures market. Today's data only helps firm bets the Fed will raise rates at next month's meeting" [Economic Calendar].
Today's Fear & Greed Index: 59 Greed (previous close: 53, Neutral) [CNN]. One week ago: 30 (Fear). (0 is Extreme Fear; 100 is Extreme Greed). Last updated Nov 15 at 1:08pm. Woo hoo!
Our Famously Free Press
"When Reportage Turns to Cynicism" [New York Times]. "A lot has gone wrong across the country, especially for Trump's core supporters, the white working class — who have suffered serious economic and social dislocation. Many feel powerless and resent elites and journalists, whom they find arrogant and condescending. Trump gave voice to their grievances and placed their personal struggles within a larger narrative of national decline — a decline that, he said, was so sharp and frightening that revolutionary change was needed, and only he knew how to deliver it…. The state of the union is mixed. So why did so many people accept Trump's dark vision? One answer is that it fits with what they feel from the news." Yeah, you know. Like the extensive coverage of the Case Deaton study, which showed an AIDS-level epidemic in those same white working class people. You'd think a writer so knowledgeable would mention this.
Gaia
"World Meteorological Organisation figures show global temperature is 1.2C above pre-industrial levels and will set a new high for the third year running" [Guardian].
"Third Warmest October in U.S. Weather Records" [Weather Underground].
Class Warfare
"Combine identity politics with political correctness, and the New Nobility/Oligarchy can laugh their way to the bank while their pawn-serfs fight over how many politically correct angels can dance on the head of a pin" [Of Two Minds]. I think "the Marxist analysis" uses the wrong article.
"The U.S. economy has been growing, but the pace of growth has slowed in the past year, and while many Americans are seeing the benefits of a rising economy, many more are not. In the past 12 months, average weekly earnings in the United States rose 2.5% to $891.65" [247 Wall Street]. "A recent survey by researchers at Bankrate revealed that Americans judge their incomes more on their feelings about what they earn than on the hard data. Respondents to the survey fielded early in November indicated that exactly half of employed respondents said they got a pay raise in the past 12 months. Essentially, when people are asked about their incomes, they respond to the unasked question, 'So, how are things going?' Their answers are often based on how they feel about their living standard compared with their neighbors and friends."
"Driven Into Poverty: A Comprehensive Study of the Chicago Taxicab Industry" [Austin Taxi Driver].
News of the Wired
"We give away private details for services that give the asymmetrical benefits in return. For example, by publishing this, I am making money that I will never see, for someone on the west coast. By opening up our homes to Airbnb we gain some short term value but do we really know how this will impact on our understanding of those intimate places we seek for ourselves. This morning (because I use a running monitor when I jog [which is itself an example of the bargain I am talking about]) I was identified as a potential consumer of an advert for a sleep monitor, which will measure the quantity of my slumber to ensure that I get enough sleep to work/exercise harder the next day" [Medium].
* * *
Readers, feel free to contact me with (a) links, and even better (b) sources I should curate regularly, and (c) to find out how to send me images of plants. Vegetables are fine! Fungi are deemed to be honorary plants! See the previous Water Cooler (with plant) here. And here's today's plant (AM):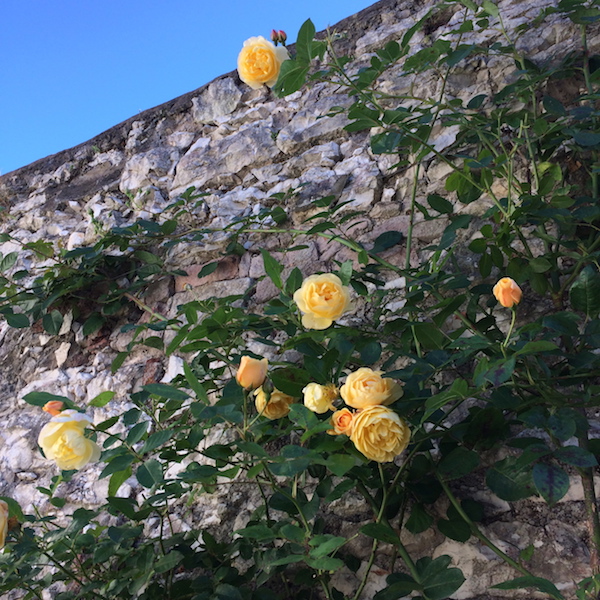 Readers, Water Cooler is a standalone entity, not supported by the very successful Naked Capitalism fundraiser just past. Now, I understand you may feel tapped out, but when and if you are able, please use the dropdown to choose your contribution, and then click the hat! Your tip will be welcome today, and indeed any day. Water Cooler will not exist without your continued help.