This is Naked Capitalism's special fundraiser, to fight a McCarthtyite attack against this site and 200 others by funding legal expenses and other site support. For more background on how the Washington Post smeared Naked Capitalism along with other established, well-regarded independent news sites, and why this is such a dangerous development, see this article by Ben Norton and Greenwald and this piece by Matt Taibbi. Our post gives more detail on how we plan to fight back. 34 donors have already supported this campaign. Please join us and participate via our Tip Jar, which shows how to give via check, credit card, debit card, or PayPal.
By Lambert Strether of Corrente.
Trade
"TPP: WILL TRUMP SLICE IT TO SAVE IT? Republicans are increasingly talking about the possibility of somehow salvaging the TPP, despite Trump's promise to walk away from the agreement. During a discussion hosted by The New York Times on Tuesday, former House Majority Leader Eric Cantor said he did not believe Trump's threats to tear up trade agreements should be taken at 'face value.' He also speculated that Trump may seek to negotiate bilateral deals with the other TPP countries" [New York Times]. Kill it with fire!
TPP: "So while the TPP is dead, a U.S.-Japan trade deal should be the first thing to take its place. Japan is a large, wealthy ally that's too important for the U.S. to write off. By integrating the U.S. and Japan's economies more closely, both countries can reap economic and strategic benefits" [Noah Smith, Bloomberg].
RCEP: "the Regional Comprehensive Economic Partnership (RCEP), which includes the 10 ASEAN Member States with China, Japan, South Korea, India, Australia and New Zealand. The current negotiations in RCEP are complicated by the fact that there are 6 countries which are part of the TPP and there have been many attempts to import TPP texts into RCEP and sometimes even an attempt to go beyond the TPP" [Bilaterals].
Politics
2016 Post Mortem
"They Had One Job" [Eschaton]. "But a bunch of people assumed the responsibility of protecting the nation from Donald Trump. This wasn't a game, a sportsball contest, this, you know, mattered. And they lost. Jeebus help us all because of it. Most of them aren't going to see their family members be deported or die of pregnancy complications. With great responsibility comes great responsibility. They took on a job, and they fucked it up. They lost the election to Donald Fucking Trump… I really don't want to hear much other than apologies from the people who were paid a lot of money to make sure President Trump didn't happen."

"It will take some time to understand everything that went into Tuesday's Hillary loss. But one of the most striking things we can see in actual results is that in the Midwest, Trump ran up the score in rural areas that Obama had won in 2008, counterbalancing Hillary's ability to win in key exurbs. Not incidentally, this is the same thing Bernie was able to do in the primaries: win big in places with small populations" [Empty Wheel].

"Democrats are lying to themselves about what this election meant" [Chris Cilizza, WaPo]. "The rise of President Obama obscured the fact that the Democratic Party he represented was struggling in virtually every other way in which a party's health is judged. Clinton's loss should make that fact plain to Democrats: The country, judging by down-ballot election results nationwide, is center-right — and holding." Which totally explains the Sanders phenomenon. Oh, wait…

"Prop. 61 would have mandated that California's Medicaid, and state agencies, along with the California Public Employees Retirement System (CalPERS), pay no more for prescription drugs than the lowest price paid by the federal government's Department of Veterans Affairs" [Capital and Main]. "But the No side's huge influx of money enabled it to flood the airwaves with a slew of commercials with the message that Prop. 61 was bad for veterans, bad for the poor and bad for almost all Californians."

"Despite being out of power in the House for all but four of the last 22 years, the Democrats have not kicked out any of their leaders. While Speaker Jim Wright resigned in 1989 due to scandal, no other Democratic speaker or leader (either majority or minority) has been removed by the party or left early.

After losing control in the House in 2010, Nancy Pelosi stayed atop the caucus as the Minority Leader. Her predecessor, Dick Gephardt, maintained his job despite continual failed elections. The same thing happened during Democratic losses of control in 1946 and 1952, with Sam Rayburn sliding from Speaker to Minority Leader" [CNN]. "Even challenges are rare. The Democratic leadership position is so set in stone that incumbent party bosses rarely ever face a challenge."

"The massive underwater crater left by the asteroid that exterminated the dinosaurs has provided new evidence that sea levels were much lower during the last Ice Age, researchers said" [Agence France Presse]. Oh, gosh, I've thrown this in the wrong bucket, haven't I? It was "the asteroid that exterminated the dinosaurs" that did it. Oopsie.
Trump Transition
"Trump announces he will leave business 'in total' — leaving open how he will avoid conflicts of interest" [WaPo]. ""I will be holding a major news conference in New York City with my children on December 15 to discuss the fact that I will be leaving my great business in total in order to fully focus on running the country in order to MAKE AMERICA GREAT AGAIN!" Trump tweeted."

"We can start taking Trump seriously about ditching his business interests when he does these five things" [Quartz] I dunno. This one: "Trump's children need to step back from the business, too." Seems unlikely. Anyhow, this liberal critique misses the point. Trump's conflicts are less important than his class interests — and the the class interests of the 1%ers in his Cabinet who will be running large parts of the government.

"Add [all Trump's cabinet picks up], and the president-elect is well on his way to building a conservative dream team that has Republicans cheering and liberals in despair" [Politico]. "'It's the most conservative [Cabinet] since Reagan,' said David McIntosh, president of the Club for Growth. 'But I don't think he's using an ideological lens to pick people. I think he's genuinely looking for people who share his priorities for these agencies.'"

"Taken together, Trump's choices [of Price and Verma] announced Tuesday morning demonstrate his seriousness about demolishing the Affordable Care Act and restructuring the two vast health-care entitlement programs [Medicare and Medicaid] that were pillars of the Great Society of the 1960s" [WaPo].

"After a decade in the wilderness, Wall Street's most powerful firm, Goldman Sachs, is dominating the early days of the incoming Trump administration. The newly picked Treasury Secretary, Steven Mnuchin, spent 17 years at Goldman. Trump's top incoming White House adviser, Steve Bannon, spent his early career at the bank. So did Anthony Scaramucci, one of Trump's top transition advisers" [Politico]. In the wilderness? Really?

"I have watched as tobacco, coal, oil, chemicals and biotech companies have poured billions of dollars into an international misinformation machine composed of thinktanks, bloggers and fake citizens' groups. Its purpose is to portray the interests of billionaires as the interests of the common people, to wage war against trade unions and beat down attempts to regulate business and tax the very rich. Now the people who helped run this machine are shaping the government" [George Monbiot, The Guardian]. We used to call this The Mighty Wurlitzer, back in the day.

"Patient advocacy and policy experts agree that [CMS nominee Seema Verma's] philosophy encourages people to take charge of their healthcare. Verma has supported charging premiums to individuals above and below the poverty line and freezing beneficiaries out of coverage if they don't pay. She is also in favor of mandating enrollees search for work while being covered and that they are timely when reapplying for Medicaid coverage or else face a lockout period that could last a year" [Modern Health Care]. However, "Her history with 1115 waivers show she crosses party lines to ensure coverage, said Trish Riley, executive director of the National Academy for State Health Policy. 'She helped forge a middle ground that enabled some more conservative states to cover more people—childless adults—through Medicaid expansion via private options." As every liberal sighs, "If only we had passed single payer in 2009 when we had the chance." Not.

"In May 1986, a 39-year-old Manhattan real estate developer named Donald Trump promised to get Wollman Rink in Central Park up and running — something the city government, despite spending $13 million, had failed to do for six years. Trump delivered, ahead of time and under a $3 million budget" [Michael Barone, RealClearPolitics]. New York readers: Fact, fiction, or both?
Realignment and Legitimacy
"What is RCV?" [Fair Vote]. :Ranked choice voting allows voters to rank candidates in order of preference (i.e. first, second, third, fourth and so on). Voters have the option to rank as many or as few candidates as they wish, but can vote without fear that ranking less favored candidates will harm the chances of their most preferred candidates. First choices are then tabulated. If more than two candidates receive votes, a series of runoffs are simulated, using voters' preferences as indicated on their ballot."

From the FAQ: "Are electronic voting machines needed for ranked choice elections?" [Ranked Choice Voting Maine]. "No. Ranked choice voting is designed to work with paper ballots. This initiative does not require, suggest or assume that Maine adopt the use of electronic voting machines. This is a separate issue entirely." Good. So we can have both ranked choice and hand-marked paper ballots, hand-counted in public.

"The nonprofit, nonpartisan group FairVote—chaired by former Nirvana bassist Krist Novoselic—says on its website that ranked-choice voting "has improved elections in cities and states across the United States" and "has majority support in every U.S. city that uses it." Those cities include Berkeley, California; Cambridge, Massachusetts; San Francisco; St. Paul, Minnesota; and Portland, Maine. In November, Maine voters will decide whether to adopt Question Five, which would establish ranked-choice voting for the state's 2018 primary and elections for governor, House, the Senate and the state Legislature" [Newsweek].

"Questioning Wisconsin's Very High Presidential Election 2016 Turnout Numbers" [BradBlog]. I recommend BradBlog for all your election integrity needs; he's been doing it for years, and he's great. This is a good post; see above from EmptyWheel on why disproportinately high rural votes were important to Trump's victory. However, AFAIK, the same pattern occurs everywhere across the Rust Belt, which to me is prima facie evidence that the rural vote is legit. Unfortunately, the post only considers Wisconsin.

UPDATE "Judge rejects Stein's request for hand recount" [Wisconsin Journal-Sentinel]. "Dane County Circuit Judge Valerie Bailey-Rihn said the effort to force the hand recount — which was backed by Democrat Hillary Clinton's campaign — meet the state's legal standard for prohibiting the use of machines in the recount, saying that the two campaigns did not show a hand recount, though more thorough, was necessary or ." But let's not call Stein's effort a stunt or a public relations gimmick; that would be unfair, since in fact it's a successful bait-and-switch operation that will fund GP party-building.

UPDATE "'It's politically smart for the Green Party to show they are an aggressive, progressive wing of the Democratic Party. The Democrats have largely ceded this progressive territory, so the Green Party can demonstrate that they are fighting for the spirit the progressive Democrats would embrace,' said Brandon Rottinghaus, a University of Houston political scientist" [The Hill]. I'll just leave that here.

UPDATE "Green Party candidate Jill Stein filed for a manual recount of Michigan's 4.8 million presidential votes Wednesday afternoon, setting off an unprecedented retabulation of the ballots" [Detroit News]. "Stein also claimed Michigan's voting machines could have been hacked, although she offered no evidence as to how that could have been achieved since the state's machines are not connected to the Internet."

"Anti-Trump forces are preparing an unprecedented assault on the Electoral College, marked by a wave of lawsuits and an intensive lobbying effort aimed at persuading 37 Republican electors to vote for a candidate other than Donald Trump" [Politico]. "Since Trump won the popular vote in states making up 306 electoral votes, he would be well over the 270-vote majority he needs to become president if all of those electors vote for him. That's why his detractors are seeking 37 Republican defections — just enough to keep Trump below the threshold, which would send the final decision to the House of Representatives." Where were all these people when Superdelegates were coronating Clinton?

"Twelve Ideas Post-Election from Front Line Organizers" [Black Agenda Report]. This seems very meta to me. Where's the program all these groups can join forces on, with at least some overlap?
Stats Watch
Personal Income and Outlays, October 2016: "A decline for services held down consumer spending in October, coming in at plus 0.3 percent vs Econoday's consensus for 0.5 percent" [Econoday]. "The income side is the best news in the October report, rising 0.6 percent to beat expectations by 2 tenths. An upward revision to September, now at plus 0.4 percent, is another positive. The wages & salaries component shows back-to-back gains of 0.5 percent which is very solid." And: " A solid increase in personal income" [Calculated Risk]. And: "Personal consumption has been the major driver of GDP since the end of the Great Recession. There was a significant jump in year-over-year income growth, little change in year-over-year consumption – but growth of savings" [Econintersect]. But watch for those backward revisions!
ADP Employment Report, November 2016: " ADP has had a good year forecasting private payroll growth and its November estimate is very strong, at 216,000 which is far above Econoday's consensus for 160,000. The 216,000 is nearly double ADP's revised estimate for October of 119,000. Econoday's consensus for Friday's private payrolls is 155,000 with total nonfarm payrolls expected at 170,000″ [Econoday]. And: "The largest segment of the U.S. economy, the services sector, accounted for all the job gains, with 228,000 new jobs reported, while the manufacturing sector shed 11,000 positions" [Economic Calendar]. However: "All in all, the sum of this report should be generally positive for Friday's Labor Department report on payrolls. That being said, the bias should be mildly more positive than massively higher due to the prior month's big revision lower" [247 Wall Street].
Chicago Purchasing Managers Index, November 2016: "The Chicago Fed's business barometer is showing its volatility once again, surging 6 points in November to 57.6 to signal the strongest rate of monthly growth in nearly two years" [Econoday]. "Up-and-down is the theme of the report and a negative is employment which is back in reverse. Volatility aside, the report's overall message is consistent with other advance data this month, that is a significant upturn in activity has followed the November 8 election." And but: "The three-month average increased to 54.1 from 52.1 previously which indicates some underlying momentum in the sector, although the data series is notoriously volatile on a monthly basis" [Economic Calendar]. And: "The results of this survey continue to be around the middle of the district Federal Reserve manufacturing surveys – and aligns with the overall trend of the ISM manufacturing survey" [Econintersect].
MBA Mortgage Applications, week of November 25, 2016: "Purchase applications for home mortgages fell just 0.2 percent on a seasonally adjusted basis in the November 25 week following the prior week's outsized 19-percent increase" [Econoday]. "But applications for refinancing were down 16 percent from the prior week, as the sharp post-election increase in interest rates continues to muffle mortgage activity among homeowners seeking to refinance at lower rates."
Pending Home Sales Index, October 2016: "Pending sales of existing homes rose only 0.1 percent in October, pointing to flat results for the rest of the year in final sales" [Econoday]. And: "Insignificantly Improves" [Econintersect]. And: "below expectations" [Calculated Risk].
Retail: "Half of American shoppers believe that the best deals of the year are available on Black Friday. How then to account for the fact that those shoppers turned out in larger numbers than last year but spent less?" [MarketWatch]. "Data released on Tuesday from retail analytics firm EDITED pointed to steep discounting as the culprit. The number of discounted items rose by 20% year over year, and the average price reduction was 44%, compared with 36% a year ago. The average discount on sold-out items reached a whopping 60%, and the biggest discounts were available on Saturday and Sunday, not Black Friday. The researchers found that 18% of the mass market was discounted 50% or more on Saturday and nearly 51% was discounted on Sunday."
Housing: "The rise of the wealthy renters – In San Francisco more households making over $150K/yr choose to rent than own" [Dr. Housing Bubble].
Commodities: Copper jumped in October (chart) [InfoMine]. And: "After hitting an 18-month high on an intraday basis on Monday, the copper price has come under pressure as the bullishness about the impact of Trump's $500 billion infrastructure plans on demand for the bellwether metal begins to cool" [InfoMine].
Commodities: "How Glencore chooses to dispose of its 500,000 metric tons of mothballed capacity — equivalent to about 3.7 percent of global zinc output last year — will be crucial in deciding whether the current run of high prices continues or sputters. If the company promises to continue its policy of watching and waiting in an investor update on Thursday, zinc bulls might do well to cut their positions" [Bloomberg].
Shipping: "A new world for ship finance" [Lloyd's List]. "[A]ll rumours of commercial banking being an endangered species are grossly exaggerated. It is true that banks have rationed available credit as a response to increased regulatory requirements and in an effort to de-risk their portfolios. They are, however, still in the lending business, albeit with a more diverse and more securitised array of lending products. The capital rationing has created a two-tiered market. Blue chip names enjoy access to ample bank credit, whereas small shipowners are being squeezed out. Although opportunistic lenders are there to fill the gap, they are offering terms that are hard to afford based on prevailing market conditions…. Another emerging area is the US private placement market. Privately issued debt bypasses many regulatory hurdles posed by the Securities and Exchange Commission and attracts the interest of insurance companies and pension funds, which are natural buyers of long-dated credit paper."
Shipping: "Logistics competence also plays a huge role in determining the cost of the freight. The trucking industry in Mexico does not have nearly as much regulation as the U.S. which complicates the process to select carriers. In order to comply with service requirements, a broker must do their due diligence in selecting a carrier that has the technology platform and business practices that allow them to serve customers with high standards. Contrary to the U.S., the prices offered by different carriers for the same route could vary greatly" [DC Velocity]. Less regulation, more brokers? Hmm.
Supply Chain: "3D printing is unlikely to completely render the factory manufacturing model obsolete, DHL said today" [The LoadStar]. "In its latest trend report, 3D Printing and the Future of Supply Chains, the logistics firm said the technology would complement – rather than replace – mass production by simplifying the production of complex and customisable parts…. There are been wildly contrasting reports on the size of the 3D printing industry. McKinsey claims the market could be worth as much as $490bn by 2024, while Markets & Markets estimates it will be worth just $30bn – with industrial 3D printing accounting for just $4.75bn of that – by 2022, with North America and Europe accounting for 35% and 40% of the total global market value respectively. DHL claims the growth of its use will be hampered by a lack of management knowledge, as well as economic issues – many printers are only able to use one material, which raises costs for industrial-grade 3D printing."
IT: "When a system upgrade gets you arrested" [BBC]. Programmers should be licensed. Like plumbers.
Net Neutrality: "AT&T Just Showed Us What The Death Of Net Neutrality Is Going To Look Like" [TechDirt]. "Owning the pipe and the content will protect AT&T from the full brunt of increased competition in the [live TV streaming] space. This is precisely the sort of 'new normal; AT&T has spent the last decade trying to build, and exactly the sort of future net neutrality rules were supposed to help us avoid.. .. And while the current Wheeler-led FCC recently finally acknowledged that it now understands this sort of behavior is anti-competitive, it's too little, too late. There's every indication that Trump's new FCC intends to not only gut net neutrality, but the FCC entirely. Trump's telecom transition team is filled to the brim with telecom-sector cronies who can't even admit telecom monopolies are real. Large ISP executives and investors are thrilled."
"To date, there are over 500,000 registered drones in the U.S., and there are over 20,000 registered commercial operators of drones. The FAA advises that over 3,300 people signed up to take the aeronautical knowledge test, which is one of the new requirements to operate a drone in the U.S. The FAA estimates that more than 600,000 commercial drones could be in operation by 2017" [DC Velocity].
Today's Fear & Greed Index: 75 Extreme Greed (previous close: 71, Greed) [CNN]. One week ago: 70 (Greed). (0 is Extreme Fear; 100 is Extreme Greed). Last updated Nov 30 at 1:22pm. Entering "extreme" territory!
#NoDAPL
"As the weather has turned colder, the number of protesters has dwindled, even as the tactics of the police have become more brutal. With the Morton County sheriff in the lead, police have used a water cannon, dogs, rubber bullets, sonic weapons, pepper spray and tear gas against protesters who have resisted efforts to move them out. The level of force and the militarized appearance of the police seems wildly out of proportion to the threat posed by the activists, and it is easy to suspect the response would be different if the rebels were not unarmed Indians" [Los Angeles Times]. "After all, the authorities went rather gently on the gun-toting cowboys who confronted federal agents on Cliven Bundy's Nevada ranch in 2014, and they showed great patience with the white-skinned occupiers of the Malheur National Wildlife Refuge in Oregon last winter until one of the law-breakers finally got himself killed by acting stupid."
"This Is What Life Inside the Standing Rock Camp Looks Like Right Now" (photo essay) [The Nation].
"Fundraiser nets $1,250 to help residents travel to Standing Rock protests" [Rockford Register]. Good for them (they bought a tent with the money).
Gaia
""It looks like, since the beginning of October, that for the first time we are seeing both the Arctic and Antarctic sea ice running at record low levels," said Walt Meier, a research scientist with the Cryospheric Sciences Laboratory at NASA's Goddard Space Flight Center, who has tracked sea ice data going back to 1979″ [CNN].
"'['Alfred,' the 25- million-year-old fossilised whale skull was unveiled at the Museum today,] shows how ancient baleen whales made the evolutionary switch from biting prey with teeth to filtering using baleen,' said Monash Science Senior Research Fellow, Dr Alistair Evans, one of the authors of the paper.' 'They first became suction feeders. Feeding in this way resulted in reduced need for teeth, so over time their teeth were lost before baleen appeared.'" [Monash University].
Class Warfare
"What You Need to Know First to Understand the Russian Revolution" [Smithsonian]. "In an 1895 speech to representatives of the nobility and municipal officials, [Czar Nicholas] declared 'there have arisen the voices of people carried away by senseless dreams of taking part in the business of government. Let everyone know that I will retain the principles of autocracy as firmly and unbendingly as my unforgettable late father.'"
"How to Hide $400 Million" [Nick Confessore, New York Times]. "But even as Pursglove was repacking her suitcase for the flight home, her family's fortune was vanishing into an almost impenetrable array of shell companies, bank accounts and trusts, part of a worldwide financial system catering exclusively to the very wealthy. In recent decades, this system has become astonishingly effective at "offshoring" wealth — detaching assets, through complex layers of ownership and legal planning, from their actual owners, often by hiding them in another country. Created by lawyers, accountants and private bankers and operating out of a global archipelago of European principalities, former British colonies and Asian city-states, the system has one main purpose: to make the richest people in the world appear to own as little as possible."
News of the Wired
"When is it appropriate to play Christmas music?" [Patheos]. On Christmas Eve and Christmas day. In your home.
* * *
Readers, feel free to contact me with (a) links, and even better (b) sources I should curate regularly, and (c) to find out how to send me images of plants. Vegetables are fine! Fungi are deemed to be honorary plants! See the previous Water Cooler (with plant) here. And here's today's plant: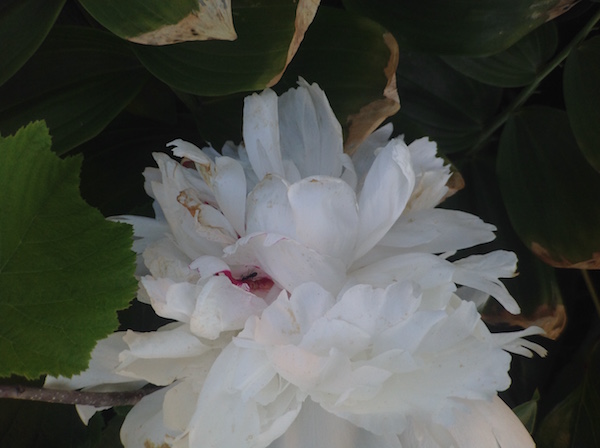 Readers, Water Cooler is a standalone entity, not supported by the very successful Naked Capitalism fundraiser just past. Now, I understand you may feel tapped out, but when and if you are able, please use the dropdown to choose your contribution, and then click the hat! Your tip will be welcome today, and indeed any day. Water Cooler will not exist without your continued help.