This is Naked Capitalism's special fundraiser, to fight a McCarthtyite attack against this site and 200 others by funding legal expenses and other site support. For more background on how the Washington Post smeared Naked Capitalism along with other established, well-regarded independent news sites, and why this is such a dangerous development, see this article by Ben Norton and Greenwald and this piece by Matt Taibbi. Our post gives more detail on how we plan to fight back. 372 donors have already supported this campaign. Please join us and participate via our Tip Jar, which shows how to give via check, credit card, debit card, or PayPal.
By Lambert Strether of Corrente.
Readers, I'll put in 2016 UPDATEs shortly. –lambert
Trade
NAFTA: "The impact of actually withdrawing from NAFTA would be so harmful to the state of Texas that Rep. Henry Cuellar said he can't believe Trump will actually follow through on that threat. 'The state that will be most impacted by stopping NAFTA would be the state of Texas. The city that would be the most impacted in the country would be the city of Laredo, my hometown,' Cuellar told Morning Trade" [Politico]. "Laredo… is the now United States' largest inland port. 'We get 14,000 trailers a day,' Cuellar said. 'It's an incredible amount of trade. … I just do not see it that they are going to cut off NAFTA and actually put up barriers to Mexico. No way.' The Democratic lawmaker said he expects the state's Republican delegation, including Sen. John Cornyn, to steer Trump in a different direction that could involve borrowing some provisions of the Trans-Pacific Partnership agreement to modernize the 23-year-old NAFTA pact. 'When [President Barack Obama] did the TPP, he really did a NAFTA 2.0. I think the [incoming] administration will look at a lot of things they did there,' Cuellar said."
And see the comments on incoming Commerce Secretary Wilbur Ross under "Trump Transition," below.
Politics
2016 Post Mortem
A useful clarification in chart form:

Relax, @peterdaou. I put together this scientific peer reviewed analysis of the root causes for Hillary's loss so you didn't have to. Yw. pic.twitter.com/4q0kzj71LF

— Very Serious People™ (@TheXclass) December 1, 2016

As Atrios put it yesterday, "You had one job." And when you frame your opponent as Baby Hitler, you'd better put him away.

UPDATE "Terry McAuliffe thinks the Clintons are done with politics" [CNN]. Clinton, yesterday: "We lost Atrios. I guess that's it."

UPDATE "Hitting the Reset Button" [Foreign Policy Podcast]. I can't seem to link to it directly, but this is currently #1 on the list at the link. Really essential to listen to this if you want to understand how The Blob views Trump (it's an article of faith among them, for example, that Trump is Putin's stooge). Smooth NPR voices, some classy Brits, lots of laughter, and an utter incomprehension that some might find two failed land wars, a Syrian policy whose refugee blowback has strained the EU to the breaking point, a metastatized national security apparatus might lead some to question to value of their expertise. The Bourbons have nothing on this crowd. Oh, and they all thought Clinton was great.

UPDATE And another chart:

Counties That Changed Party In The 2016 US Presidential Election VS 2012 – https://t.co/hpEegHqZou pic.twitter.com/pHCjhivtaE

— Brilliant Maps (@BrilliantMaps) November 30, 2016
Trump Transition
"Today Trump's pick for Treasury secretary (Steven Mnuchin) expressed a desire to end government ownership of Fannie and Freddie 'reasonably fast.' The FHFA landing team is headed by Timothy Bitsberger and the FTC/FSOC landing team is headed by Alex Pollock. Both have a GSE [Government-Sponsored Enterprise] background, hinting at increased focus on reform efforts. Nevertheless, the potential appointment of Congressman Jeb Hensarling to head FHFA could trigger investor nervousness as he has previously been a vocal opponent of the GSEs" [TD Securities, Across the Curve].

"First, Mnuchin made clear that the Trump Administration's top two priorities will be tax reform and regulatory relief. He gave a few key points on Trump's tax plan. It will include a "big" middle class tax cut, but high-income households would come out roughly neutral, trading lower marginal rates for fewer deductions. The broad concept is to simplify the code by collapsing from 7 brackets to 3 and broadening the tax base (i.e. fewer deductions). Mnuchin was actually more enthusiastic about reforming the corporate tax code. He was pretty firm on a 15% top marginal rate (down from 35% now), and insisted that corporate tax reform would lead to a significant boost to jobs and growth" [Amherst Pierpont Securities, Across the Curve]. There's a lot more in this review, which is well worth a read.

"On trade, Ross took the lead. He emphasized that the Administration is not going to be protectionist. He noted that there is "smart trade" and "stupid trade" and the U.S. has been doing too much of the latter. He noted that big regional trade deals are bad, because each counterparty "picks you apart" in turn and by the end of the process, you have given away too much. He and the Administration will instead try to rely more on bilateral trade deals. He also specifically mentioned, in the context of the Carrier announcement, that the most important reason that U.S. firms move production to Mexico is that it has better trade deals with many of our trading partners than we do and thus it is cheaper to ship goods into, say, Europe from Mexico than it is from the U.S. He aims to change this. More generally, a Trump Administration intends to use the immense leverage of the biggest economy in the world to pry open foreign markets" [Amherst Pierpont Securities, Across the Curve].

"The United Steelworkers union greeted the news of Wilbur Ross' nomination for Commerce secretary with a nod of approval. Ross restructured a number of ailing steel companies, including LTV and Bethlehem, to form the International Steel Group. The 79-year-old magnate sold the group for $4.5 billion in 2005 to form what is now ArcelorMittal, the largest steel company in the world" [Politico]. "USW President Leo Gerard said in a statement to POLITICO that the union was able to negotiate a benefit trust with Ross that allowed retirees from the bankrupt predecessor companies to retain health care and prescription drug benefits." That's the national. I wonder if the local thinks differently. Readers?

"How Donald Trump Sealed the Deal to Keep Carrier Jobs in the U.S." [Fortune].
Realignment and Legitimacy
UPDATE "Bernie Sanders: Carrier just showed corporations how to beat Donald Trump" [Bernie Sanders, WaPo]. Worth reading in full if you want an idea of what Democrats ought to sound like to be worthy of the name:

Today, about 1,000 Carrier workers and their families should be rejoicing. But the rest of our nation's workers should be very nervous…. Trump has endangered the jobs of workers who were previously safe in the United States. Why? Because he has signaled to every corporation in America that they can threaten to offshore jobs in exchange for business-friendly tax benefits and incentives. Even corporations that weren't thinking of offshoring jobs will most probably be reevaluating their stance this morning. And who would pay for the high cost for tax cuts that go to the richest businessmen in America? The working class of America.

I said I would work with Trump if he was serious about the promises he made to members of the working class. But after running a campaign pledging to be tough on corporate America, Trump has hypocritically decided to do the exact opposite. He wants to treat corporate irresponsibility with kid gloves. The problem with our rigged economy is not that our policies have been too tough on corporations; it's that we haven't been tough enough.

Priorities!

"On Krugman And The Working Class" [Tim Duy's Fedwatch]. What a year this has been. Tim Duy (!) gives Paul Krugman a thorough and very well-deserved ass-kicking:

I doubt very much that these voters are looking for the left's [sic] paternalistic attitude[. Quoting Krugman:]

One thing is clear, however: Democrats have to figure out why the white working class just voted overwhelmingly against its own economic interests, not pretend that a bit more populism would solve the problem.

That Krugman can wonder at the source of the disdain felt toward the liberal elite while lecturing Trump's voters on their own self-interest is really quite remarkable.

I don't know that the white working class voted against their economic interest. I don't pretend that I can define their preferences with such accuracy. Maybe they did. But the working class may reasonably believe that neither party offers them an economic solution. The Republicans are the party of the rich; the Democrats are the party of the rich and poor. Those in between have no place.

That sense of hopelessness would be justifiably acute in rural areas. Economic development is hard work in the best of circumstances; across the sparsely populated vastness of rural America, it is virtually impossible. The victories are – and will continue to be – few and far between.

The tough reality of economic development is that it will always be easier to move people to jobs than the jobs to people. Which is akin to telling many, many voters the only way possible way they can live an even modest lifestyle is to abandon their roots for the uniformity of urban life. They must sacrifice their identities to survive. You will be assimilated. Resistance is futile. Follow the Brooklyn hipsters to the Promised Land.

This is a bitter pill for many to swallow. To just sit back and accept the collapse of your communities. And I suspect the white working class resents being told to swallow that pill when the Democrats eagerly celebrate the identities of everyone else.

And it is an especially difficult pill given that the decline was forced upon the white working class; it was not a choice of their own making. The tsunami of globalization washed over them with nary a concern on the part of the political class.

Ouch. Somebody should tell the Democrat nomenklatura to try saying the unqualified "working class" instead of "white working class," which for whatever reason is the only working class identity they mention, as if the black, Hispanic, and female members of the working class were really aspirational artisanal pickle manufacturers who would move to Brooklyn if only they could.

"The Stein Campaign and the Fight for Green Party Independence" [CounterPunch]. Interesting; my experience in Maine led me to categorize the Green Party as a dysfunctional non-profit; clearly, I'm not the only one. If you want a sad portrait of an institution with serious organizational capacity problems, look no further.

"The No-BS Inside Guide to the Presidential Recount" [Greg Palast]. A good summation of the issues in play, because Palast is a good reporter and on the side of the angels, so this is worth a read. That said, there are a couple of — down, Dmitry! — red flags. The first is in the title: "Inside Guide" means… What? That Palast did a good deal of talking with one source, Robert Fitrakis. Fine, but if you read the story immediately above, you'd be rightly skeptical of how much one source could tell you about what the Greens, and Stein, are actually doing. Second, the "no Russian hacker hunt" is the subhead, but Palast doesn't get round to unburying that 'til the end, where he writes: "The possibility that a Putin pal hacked the machines was championed by University of Michigan computer sciences professor J. Alex Halderman who proposed, 'The attackers would probe election offices well in advance in order to find ways to break into their computers…and spread malware into voting machines.'" The problems here are that (a) Halderman is the expert quoted in the New York Magazine story that sparked the effort, (b) "The Russkis did it" is a demented conspiracy theory hatched in the fevered brains of irredentist and McCarthyite Clintonites there's never been any evidence for it, and (c) leading with Halderman's steaming load, as the initial stories did, followed by the Greens, left the impression, at least in my mind, that the Greens didn't have the organizational capacity to separate fact from theory fiction (or, which amounts to the same thing, from a Clintonite talking point). All in all, my take is that Palast hasn't really mapped what he thinks ought to happen to what is actually happening, and has succumbed to the very understandable temptation in this case to become an advocate, rather than a reporter.

UPDATE "A judge has shot down a motion from Green Party candidate Jill Stein requesting a recount of presidential election results in 78 voting districts in Montgomery County" [CBS Local]. "The Stein campaign was asking for a recount and a forensic analysis of voting machines. Attorney Ilann Mozell argued two points: . And he says, voting machines can be hacked and the results altered." So, I guess we've got to do some copy editing on Palast's article, because there is a "Russian hacker hunt" after all:

Professor Halderman Counselor Mozell, if you want to help the recount, put down the James Bond novels…

And did Fitrakis, Palast's source, know what Mozell's theory of the case was? If not, what does that say about the organizational capacity of the Greens? If so, what does that say about Palast's reporting on this story?

UPDATE "However, at least thus far it seems like most of the donations are considerably smaller. Stein campaign manager David Cobb told OpenSecrets that of the 140,000 donations that had come in by Wednesday, they averaged $46 — and that just 414 donors gave more than $1,000" [CBS]. Although it would be nice to know what "more than $1,000" meant. I mean, a squillion is more than a thousand, right?
Our Famously Free Press
"Under enormous pressure, Facebook and Google have now promised to do a better job of curating the content that populates their sites. Which is all very comforting, if you really want software engineers assuming the role of civic arbiter that has traditionally fallen to journalists. I don't" [Matt Bai, Yahoo News]. When the engineers figure out how they would have detected Judy Miller's fake WMD stories in the New York Times, which helped make the case for the Iraq War debacle, please get back to me. Could it be — could the bare possibility exist — that the real issue here isn't fake news, but news when the fakers "just aren't our sort of people?"
Stats Watch
Institute For Supply Management Manufacturing Index, November 2016: "Durable orders picked up in October and the momentum appears to have extended to November, based on the sum of advance indications on the month" [Econoday]. "This report is a little less hot than other November indications including from the Philly Fed, but the direction it points to is favorable." And: " Another solid economic report" [Calculated Risk]. But: "Overall, surveys do not have a high correlation to the movement of industrial production (manufacturing) since the Great Recession" [Econintersect]. And but: "Supplier deliveries also slowed, which suggests increased capacity constraints, and a further decline in inventories will maintain pressure for increased production levels, especially with the customer inventories reading also below 50.0. The order backlogs index did rise for the month, but remained below the 50.0 reading, which will be of some concern" [Economic Calendar]. And but: "Up, and last month revised higher as well. Year over year up 3.4%, remaining historically low" [Mosler Economics].
Purchasing Managers' Manufacturing Index, November 2016: "November's 54.1 and 7 tenths gain from October points to "sustained acceleration" for the nation's factory sector, according to Markit Economics' PMI manufacturing report" [Econoday]. "New orders as well as production both posted their strongest rates of monthly growth since March last year. Employment growth in Markit's sample is modest but improving." And: "The data will maintain underlying confidence in the manufacturing sector, although there will also be growing speculation that the strong dollar will undermine export activity and curb inflationary pressures" [Economic Calendar]. And but: "Manufacturing muddling through at current levels" [Mosler Economics].
Construction Spending, October 2016: "Construction spending rose a solid 0.5 percent in October with the prior two months both revised sharply higher" [Econoday]. "Residential is the strong suit in the October report with both single-family and multi-family homes up 2.8 percent in the month, gains offset in part by a contraction in home improvements." But: "Public construction remains in contraction, whilst private construction is in expansion. Overall, however – construction is now trending up. The rolling averages did improve. But the confusion is that construction spending does not correlate to construction employment – casting doubt on the validity of one or both data sets" [Econintersect]. But: " Anything under 5% annual growth has been associated with recession" (see the FRED chart) [Mosler Economics].
Jobless Claims, week of November 26, 2016: "The Labor Department says there are no special factors behind a steep 17,000 rise in initial jobless claims to a much higher-than-expected 268,000 but the November 26 week was holiday shortened which always makes adjustments difficult" [Econoday]. "Despite the gains in today's report, levels of claims remain extremely low and point to strong demand for labor and strength for tomorrow's employment report." And: "above the consensus" [Calculated Risk]. But: "The general trend of the 4 week rolling average is a slowing rate of improvement year-over-year which historically suggests a slowing economy" [Econintersect].
Challenger Job-Cut Report, November 2016: "very low" [Econoday]. "Today's results point to strength for tomorrow's employment report." And: "The pace of downsizing fell to the lowest level of the year in November, as U.S.-based employers announced plans to shed 26,936 workers from payrolls during the month" [Econintersect].
GDP: "The GDPNow model forecast for real GDP growth (seasonally adjusted annual rate) in the fourth quarter of 2016 is 2.4 percent on November 30, down from 3.6 percent on November 23" [Across the Curve].
Retail: "Amazon Destroys Competition, Taking 30% of Cyber Weekend Sales" [247 Wall Street].
Shipping: "But [Amazon] on Wednesday proposed a surprising way to move data from large corporate customers' data centers to its public cloud-computing operation: by truck" [Wall Street Journal, "Amazon Uses Trucks to Drive Data Faster"]. "Networks can move massive amounts of data only so fast. Trucks, it turns out, can move it faster."
Shipping: "It's not pretty, but there are some voices prepared to make the call on the start of the next upturn. You just need to strain to hear them" [Lloyd's List].
Commodities: "Study: Private capital investment in US coal is over" [Mining]. "According to a new study of private capital in the North American energy sector from industry tracker Preqin, investment in coal has now completely dried up…. The shift of focus from coal to solar, wind and other renewable projects is clear. According to Preqin data 21% of investment vehicles currently in the market include renewable energy investments alongside their oil & gas acquisitions." One wonders if the incoming administration will affect this.
Commodities: "Starting early this year, 500,000 metric tons of aluminum has been trucked out of the Mexican city of San José Iturbide and shipped to Vietnam, according to shipping records and people familiar with the matter. Much of it now sits under black tarps, guarded by baton-wielding men on motorcycles, at a factory and waterfront complex in this South China Sea port about a two-hour drive south of Ho Chi Minh City." [Wall Street Journal, "Giant Aluminum Stockpile Was Shipped From Mexico to Vietnam "]. "Unusual moves are connected to businesses associated with family of Chinese billionaire Liu Zhongtian."
Globalization: "Although at the time of this analysis not all major countries have yet released their latest trade performance, global trade (excluding intra-regional flows) could experience a decline of almost 1% during the third quarter, strengthening the perception of a disappointing peak season" [Lloyd's List].
The Bezzle: " Engineers in San Francisco have tunneled underground to try and understand the sinking of the 58-story Millennium Tower. Now comes an analysis from space" [Bloomberg]. "The European Space Agency has released detailed data from satellite imagery that shows the skyscraper in San Francisco's financial district is continuing to sink at a steady rate — and perhaps faster than previously known."
Honey for the Bears: "Just Released: Subprime Auto Debt Grows Despite Rising Delinquencies" [Liberty Street]. "The data suggest some notable deterioration in the performance of subprime auto loans. This translates into a large number of households, with roughly six million individuals at least ninety days late on their auto loan payments. Even though the balances of subprime loans are somewhat smaller on average, the increased level of distress associated with subprime loan delinquencies is of significant concern, and likely to have ongoing consequences for affected households." Best economy ever. What's wrong with these people?
Defunct Economists: "The argument about fiscal space is more plausible — deficit spending now will drive up the national debt, which will make it harder to spend money on stimulus if a recession hits. This probably happened in the 2000s: George W. Bush's administration drove up the debt with big tax cuts, making it more difficult for Barack Obama to spend money on stimulus when the Great Recession hit" [Noah Smith, Bloomberg]. [Stephanie Kelton banging her head on her desk.]
Today's Fear & Greed Index: 74 Greed (previous close: 73, Greed) [CNN]. One week ago: 70 (Greed). (0 is Extreme Fear; 100 is Extreme Greed). Last updated Dec 1 at 11:54am. Not taking greed to the extreme. Sad!
#NoDAPL
Gaia
Imperial Collapse Watch
"One Last Humiliation: The CIA Just Bungled An Attempt To Drop A Piano On Fidel Castro's Funeral Procession" [ClickHole].
Class Warfare
"Another headline capturing the attention of hotel managers that cuts both ways is the recent uptick in compensation levels. On the one hand, increasing levels of income has a positive impact on lodging demand. On the other hand, when salaries, wages and benefits are on the rise, it has a negative impact on the profitability of hotels" [Hotel News Notes].
"Rightly or wrongly (and I think the question is more complicated than many of us acknowledge), the United States' political system enfranchises geography as well population. (This is not unique to the United States and the compromises made over slavery in the drafting of our Constitution. In the EU, for example, many actions require unanimity among member states, giving citizens of tiny Malta rather disproportionate influence.) In the American system, piling people into a few, dense cities is a sure recipe for disenfranchising most of the humans. A nation of mid-sized cities distributed throughout the country would both spread the wealth geographically and yield a more balanced politics than the dream of hyperproductive megacities" [Interfluidity]. Fascinating, wide-ranging post with unexpected connections.
"A primary reason for thinking that assemblage theory is important is the fact that it offers new ways of thinking about social ontology. Instead of thinking of the social world as consisting of fixed entities and properties, we are invited to think of it as consisting of fluid agglomerations of diverse and heterogeneous processes" [Understanding Society].
News of the Wired
"How Cuba's Greatest Cartoonist Fled From Castro and Created 'Spy vs. Spy'" [Atlas Obscura].
Jane Jacobs centenary! [New York Magazine]. "n her view, planners who could read maps and balance sheets but not people would inevitably use blunt instruments to get their way, inflicting unintended misery on the very citizens they aspired to help. On the other hand, ordinary citizens left to their own devices would solve many local problems on their own and at the same time fortify their neighborhood's character, a quality as strong and fragile as a spider's web. Most of us now see the city the way she did, noting incremental changes that alter the topography of our lives: the hardware store that closes, the sandwich shop that opens, the tenement that makes way for a tower. Bike activists, community gardeners, and community organizers put her lessons into practice every day. So do the bureaucrats and planners she abhorred. Her influence is ubiquitous; her ideas have percolated from the radical to the self-evident."
"A Look Back At The Firebird II Self Driving Car Of 1956" [GAS2 (GF)]. "Similar to air traffic controllers, humans in towers built alongside the road every 20 miles or so would issue instructions about speed and direction to the cars using wires embedded in the roadway. Instructions from the control towers would eliminate congestion and keep us all safe on our journeys. The idyllic future was embodied in the Firebird II, a finned and frothy design that included such technological marvels as an onboard orange juice maker." Wow, a juicer. That's futuristic!
"The Internet Archive, which maintains copies of much of the internet, announced on Tuesday plans to create Internet Archive Canada, a northern backup copy of the internet that will be free of the whims of President Trump and the Republicans who control both houses of Congress." [Daily Dot].
* * *
Readers, feel free to contact me with (a) links, and even better (b) sources I should curate regularly, and (c) to find out how to send me images of plants. Vegetables are fine! Fungi are deemed to be honorary plants! See the previous Water Cooler (with plant) here. And here's today's plant (AM):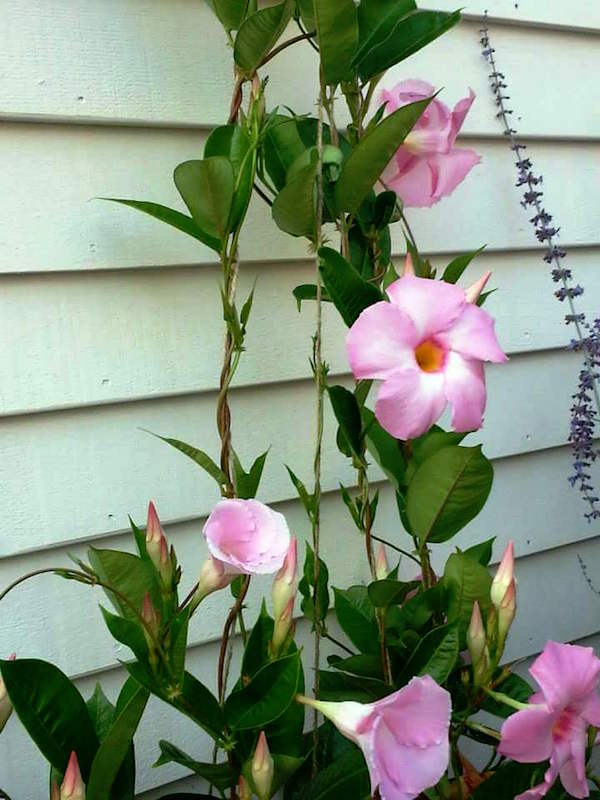 Readers, Water Cooler is a standalone entity, not supported by the very successful Naked Capitalism fundraiser just past. Now, I understand you may feel tapped out, but when and if you are able, please use the dropdown to choose your contribution, and then click the hat! Your tip will be welcome today, and indeed any day. Water Cooler will not exist without your continued help.