This is Naked Capitalism's special fundraiser, to fight a McCarthtyite attack against this site and 200 others by funding legal expenses and other site support. For more background on how the Washington Post smeared Naked Capitalism along with other established, well-regarded independent news sites, and why this is such a dangerous development, see this article by Ben Norton and Greenwald and this piece by Matt Taibbi. Our post gives more detail on how we plan to fight back. 396 donors have already supported this campaign. Please join us and participate via our Tip Jar, which shows how to give via check, credit card, debit card, or PayPal.
Readers, as usual there's just a bit too much. I'll add in some UPDATEs shortly. –lambert
Trade
Trump: "It used to be the cars were made in Flint and you couldn't drink the water in Mexico. Today the cars are made in Mexico and you can't drink the water in Flint, Mich" [Politico].
TTIP: "The United States and the European Union are working on a joint political statement to "capture the progress made" on their TTIP before President Barack Obama leaves office next month, sources in the European Commission told our POLITICO colleagues in Brussels. Such a public document, which lists in detail what has been achieved in three-and-a-half years of negotiations, was discussed by European Trade Commissioner Cecilia Malmström and U.S. Trade Representative Michael Froman during their meeting in Washington on Monday. Yet it is still unclear whether the declaration, which should also name areas where disagreement prevails, will actually be issued, one source added" [Politico]. Saving TTIP through the miracle of cryogenics. Kill it with fire!
Politics
2016 Post Mortem
"Relative to the 2012 election, Democratic support in the Rust Belt collapsed as a huge number of Democrats stayed home or (to a lesser extent) voted for a third party. Trump did not really flip white working-class voters in the Rust Belt. Mostly, Democrats lost them" [Slate]. Interesting analysis of exit poll data marred a focus on the Beltway debate about whether and how to appeal to "white working class" voters when, IMNSHO, the real question is how to appeal to working class voters period.

"Mike McCabe, founder and president of the working-class advocacy group Blue Jean Nation, described the results in Wisconsin as a basic reaction to what people are feeling. "If people from communities like that make a trip to Madison to go to a [University of Wisconsin] Badger game or they go to Milwaukee to take in a Brewers game, they see all these new traffic circles and cloverleafs and these massive highway expansions, and they can't fill their own potholes," he said in an interview on Wisconsin public radio" [RealClearPolitics]. That's the good anecdote, but the whole story on rural voters in Wisconsin and Pennsylvania is well worth a read.

"Too many are looking for outside reasons we lost. They blame the Russians, they blame the Electoral College, which is ridiculous. Hillary knows about the electoral college and that she had to win states to win the White House. You can't win them if you don't go there and become engaged in the local issues. We were out-campaigned. It's that simple. It's time for Democrats to move on. It's also time to go to the drawing board and see who is ready to run a real campaign addressing issues in places other than the major East and West Coast Cities in 2020" [Chicago Now]. Meanders a bit, so but and that's the last paragraph.

"Mr. Schumer is also regretting those dozen interviews before the election, the ones he gave as he measured his majority-leader office curtains. He explained to Politico that his party was on the verge of electoral dominance and that this meant it would have 'a mandate.' He elsewhere warned all those mulish Republicans that they'd have an obligation to work with his world-dominant party. 'If we're gridlocked for another four years, the anger and sourness in the land will make that of 2016 seem tame,' he lectured. Some might describe electoral dominance as owning the White House, and the Senate, and the House, and 33 governorships and 68 (of 98) state legislative chambers: [Wall Street Journal, "Democrats Send Their Regrets"]. I late to link to the Journal's Op-Ed page, but this really is a well-deserved beat-down.

Spare a thought for Republican strategists [Wall Street Journal, "GOP Rivals Relate When They Knew Trump Could Win"]. The first incident: "Chip Englander, of Sen. Rand Paul's campaign: June 2015 – Mr. Englander noticed that a few people in his office watched live TV coverage of Mr. Bush's campaign kick-off announcement. The following day, by contrast, everyone in his office came to the TV when Mr. Trump announced his candidacy." Interesting to see what signals the professionals are watching for.

UPDATE At a Harvard forum for campaign strategists: "Amid a rumble of protests from the Trump side, Conway told their side, 'OK, guys, we won; you don't have to respond.' She said to the Clinton side, 'You've learned nothing about this election'" [USA Today]. She's right. Like and unlike the Bourbons, the Democrats have learned nothing and forgotten a lot.
Trump Transition
UPDATE "Top Trump source on secretary of state says "Rudy's got it"" [City and State]. Not confirmed anywhere else, and single-sourced.

On Carrier: "'This is the way it's going to be,' Mr. Trump said in an interview with The New York Times. 'Corporate America is going to have to understand that we have to take care of our workers also" [New York Times]. Great PR, though I'd say "first," rather than "also." And if I were a Democrat, I'd take note that Trump said "workers." Period. Learn from the best, or at least from the better, say I.

On Carrier: "Matt Gardner of Tax Justice expresses the general frustration of progressives [sic] of how much in tax giveaways had to be shelled out to save just half of those 2000 Carrier jobs in Indiana" [Econospeak]. Mere pearl-clutching. Honestly, do they want to lose 2018, too? There are times when I think there's just one letter's difference between "wonk" and "wank" for a reason…

On Carrier: ""CEOs are trying to figure it out," said Hal Sirkin, a senior partner at Boston Consulting Group in Chicago. He said he had discussed the quandary with half a dozen executives" [Wall Street Journal, "Indiana's Carrier Deal Could Complicate Firms' Plans to Move Factories Overseas"]. When JFK the 60s version of what Trump is doing, they called it "jawboning."

UPDATE Mattis appointment: "The flip side of worrying about civilian control of the military is remembering that military officers tend to be less cavalier in their willingness to send American forces into harm's way than their civilian counterparts. We have had decades of civilians at the Pentagon that never saw a war they didn't want to fight, so maybe having a former general and veteran of some of our unending wars will help to correct that failing. That's as much of a silver lining as I can see" [The American Conservative].

UPDATE Mattis appointment: "Now that SecDef thinks Israeli Occupation is Apartheid, will the Lobby Blackballing Fail?" [Juan Cole]. Quoting Mattis: "if I'm Jerusalem and I put 500 Jewish settlers to the east and there's ten-thousand Arabs already there, and if we draw the border to include them, either [Israel] ceases to be a Jewish state or you say the Arabs don't get to vote — apartheid. That didn't work too well the last time I saw that practiced in a country."

UPDATE Mattis appointment: "[MATTIS:] Sincere, intellectually vigorous, honest, patriotic Americans say that was the dumbest thing we ever did, to go to Iraq. And I will not disagree one bit" [Scientific American]. Plenty to disagree with, here. But not insane.

"White House announces support for women in military draft" [AP]. That's nice.

"Barbara Ehrenreich: It's impossible to predict what Trump is going to do next. I mean that in a very serious way. It's outside of the realm of predictability" (interview) [Capital and Main]. Not to trash Ehrenreich, who's done great work, but is it so very far from the realm of possibility for the left to develop a reasonably simple platform that appeals to all working people. Maybe — follow me closely here, since Ehrenreich doesn't mention the name — the Sanders campaign shows the way forward here?

"Trump in the World" [Chris Lydon, Open Source (podcast)]. Sucky Apple doesn't provide a link to the individual podcast, but it's first on the list as of this writing. Lydon interviews Lawrence Wilkerson on Trump's foreign policy, starting with an eminently sane quote from Trump. Like Ehrenreich, Wilkerson concludes that "It's impossible to predict," but Trump's personnel choices are disquieting. Then again, The Blob is disquieting. Or should be.

"RYAN: "Yeah, we have. We're fine. We're not looking back. We're looking forward. We — we actually — we've had — we — like I said, we speak about every day. And it's not about looking for — back in the past. That's behind us. We're way beyond that." [CBS]. Looking forward and not back. Yeah, that's the ticket.

UPDATE "3 weeks, 3 lessons about Trump's emerging presidency" [Susan Page, USA Today]. (USA Today, along with McClatchy, stayed relatively sane in 2016, unlike the disgraceful behavior of the Times and WaPo.) "But the bank accounts of Trump's Cabinet appointees seem likely to overwhelm any previous administration….[I]f they take the government jobs, they will be subject to a federal law that says executive-branch employees can't participate in government matters in which they or their immediate families have a financial interest. That could force them to divest some assets or put them in a blind trust." It's odd that liberals are focusing on Trump's conflicts, as opposed to turning over large swathes of the government to the direct control of billionaires. Can't bite the hand that feeds them, I guess.

UPDATE "[A] recurring theme as Mr. Trump has assembled his cabinet [is that most] of his appointees have little in the way of directly relevant policy experience" [New York Times]. "But usually you expect an appointee in that outsider mold to then appoint a deputy who "knows the building," or has a clear understanding of how to exercise the levers of power in the aforementioned sclerotic bureaucracy. Which paper do you need to push in which direction to get your policy enacted? What are the likely downsides of those policies, and how can they be minimized? With the Commerce Department, the Trump team is going in the other direction, nominating Todd Ricketts to be deputy secretary of commerce. Mr. Ricketts's family owns the Chicago Cubs; the Trump transition's news release announcing the appointment cites the Ricketts' success in building the Cubs into a World Series winner. Public policy is really complicated. If this hiring pattern continues, more unconventional appointees may struggle, especially early on, to get up to speed on things like which assistant secretary handles what and the laborious process of developing regulations."

UPDATE "Former Massachusetts Sen. Scott Brown has an unlikely supporter in his quest to be the Secretary of Veterans Affairs in President-elect Donald Trump's cabinet — Elizabeth Warren" [USA Today]. Hmm. Sanders is on the Veterans Affairs Committee, or was…
Our Famously Free Press
"Tell the Washington Post: 'Smearing is not reporting'" [RootStrikers]. From the petition:

Smearing is not reporting. The Washington Post's recent descent into McCarthyism — promoting anonymous and shoddy claims that a vast range of some 200 websites are all accomplices or tools of the Russian government — violates basic journalistic standards and does real harm to democratic discourse in our country. We urge The Washington Post to prominently retract the article and apologize for publishing it.

As of this writing, only 500 to go for a goal of 10,000!

"As editor of Politico throughout this never-to-be-forgotten campaign, I've been obsessively looking back over our coverage, too, trying to figure out what we missed along the way to the upset of the century and what we could have done differently" [Susan B. Glasser, Brookings]. Just for grins, I searched Glasser's article for the word "Sanders." They're still suppressing him!
Realignment and Legitimacy
"Jill Stein: Recounts are Necessary Because Electronic Voting Invites Tampering, Hacking, Human Error" [Democracy Now]. Which would imply a do-over for the entire election….

"Evaluating Donald Trump's Allegations of Voter Fraud in the 2016 Presidential Election" [David Cottrell, Michael C. Herron, Sean J. Westwood (Dartmouth)] Voter fraud not being the same as election fraud.

"House Dems Lose Big, Change Nothing As Pelosi is Re-Elected" [The Daily Beast]. The Iron Law of Institutions. Speaking of which–

UPDATE "Privately, many in this bloc fear that Mr. Ellison's ascension to the chairmanship would amount to a takeover of the party by Mr. Sanders and his liberal allies" [New York Times]. Yeah. And? "On Friday, Mr. Ellison and three other candidates — Howard Dean, the former governor of Vermont; Ray Buckley, the party's New Hampshire chairman; and Jaime R. Harrison, the South Carolina chairman — will make their case before state party leaders." That's today!

UPDATE "In this post-election period, many DNC members are also demanding a return to a "50-state strategy," pioneered by former Chairman Howard Dean in 2005, to improve the party's odds of recovering in many statehouses and legislatures where it has lost ground" [Wall Street Journal, "Rep. Keith Ellison Faces Critics Hoping to Derail His Bid to Run the DNC"]. Which Obama [genuflects] deep-sixed!
Stats Watch
Employment Situation, November 2016: "Payroll growth is solid and the unemployment rate is down sharply, but not all the indications from the November report employment are favorable" [Econoday]. "But now the less positive news. The dip in the unemployment rate is tied, not to greater growth in employment, but to a dip in the participation rate, down 1 tenth to 62.7 percent. And a headline negative in the report is a surprise 0.1 percent decline in average hourly earnings, the first negative reading of the year and more than reversing October's very strong 0.4 percent gain and driving down the year-on-year rate from a cycle high of 2.8 percent back down to 2.5 percent where it last was in August. But payrolls are positive and led in November by another major gain for professional [heh] & services, up 63,000… For policy makers, the unemployment rate is now at their long-term target though participation is soft — and inflation is still lagging, factors that will give the doves some debate points at what is otherwise likely to be a rate-hike meeting the week after next" [Econoday]. But: "To sum this report up – employment is continuing to tread water – growing little better than the theoretical working population growth. However, note that the household survey removed 226,000 to the workforce (which is the reason the unemployment rate declined). There was really nothing good or nothing really terrible – although manufacturing declined. The year-over-year rate of growth insignificantly declined this month" [Econintersect]. And but: "The labor force declined by 226,000 sending the unemployment rate downward. Those 'not' in the labor force increased by 446,000 this month and 425,000 last month. " [MishTalk]. A good summary from Mish. This piece of unconventional wisdom is worth repeating:
The official unemployment rate is 4.6%. However, if you start counting all the people who want a job but gave up, all the people with part-time jobs that want a full-time job, all the people who dropped off the unemployment rolls because their unemployment benefits ran out, etc., you get a closer picture of what the unemployment rate is. That number is in the last row labeled U-6.

Some of those dropping out of the labor force retired because they wanted to retire. The rest is disability fraud, forced retirement, discouraged workers, and kids moving back home because they cannot find a job.
From the Department of Other than That, Mrs. Lincoln, How Was The Play: "Millions of working-age people, especially men, are neither working nor looking for work, which remains the lingering weak spot in the United States economy and is most likely a factor in Americans' continued dissatisfaction with the economy (and their votes for Donald J. Trump for president)" [The Upshot, New York Times]. Alternatively: "Another solid report" [Calculated Risk]. And all that is solid melts into air….
Rail: "[R]ail over the last 6 months been declining around 5% – but this week was -2.3 %. This contraction is still concerning me as it is saying the economy (although getting better) is still not producing goods" [Econintersect].
Retail: "More than 245 million Americans are planning to spend a cumulative total of $181.2 billion during the 2016 holiday season. But nearly two-thirds (64%, or over 157 million people) are planning to make purchases with at least some borrowed money, and 15% are planning to use credit cards to make all their gift purchases. Overall, Americans will add $103.3 billion to their debt on holiday spending this year" [247 Wall Street].
Retail: "French logistics giant Geodis Group shipped 2.5 million orders in the U.S. over the five-day shopping period from Thanksgiving Day through Cyber Monday, the company said Wednesday" [DC Velocity]. "That volume marked a 10-percent year-over-year increase in e-commerce orders across the company's 38 million square feet of U.S. warehouse space and forced it to implement increased collaboration between its warehouse operations and technology support teams, Geodis said." I hope whichever PR flak coined "Cyber Monday" suffers greatly in the next life.
Shipping: "Toys "R" Us is trying to avoid a repeat of last Christmas, when web orders outpaced the company's ability to deliver, forcing the company to pull goods from online shelves. The difficulty in managing brick-and-mortar stores while maximizing online sales is amplified during the holidays because online sales spike up to four times normal volume. Enlisting stores as fulfillment centers may complicate distribution channels, however, and overstocking can leave retailers with too much inventory in the wrong place when the seasonal dust clears" [Wall Street Journal].
Shipping: "Maersk Line's bid to buy German shipping line Hamburg Süd is one of the biggest acquisitions so far in an unprecedented era of consolidation in container shipping, but the Danish carrier says it is likely far from the last" [Wall Street Journal].
Supply Chain: "Global Logistic Properties Ltd. said Thursday it is undertaking a strategic review, a move that could lead to a sale of the $7 billion firm that is the second-biggest owner of warehouses in the U.S." [Wall Street Journal, "Singapore Fund Asks U.S. Warehouse Operator to Consider Strategic Review"]. "GIC, the biggest shareholder in the logistics company, is one of the world's biggest sovereign funds and has parked more than one-third of its investments in the U.S. " Hmm.
Supply Chain: "According to the All India Motor Transport Congress, which represents 9.3m truckers, 70% of its members' vehicles have been forced off the road as operators struggle to pay truck drivers their wages and find the petty cash needed to cover fuel and other costs" after Modi's demonetization [The Loadstar].
Travel: "A recent report from The Highland Group outlines the continuing success of extended-stay properties. Room supply in Q3 2016 for extended-stay hotels increased 5.7% year over year and demand increased 5.5% for the same period. Occupancy has remained above 80%. While ADR [Average Daily Rate] growth rates have declined for the fifth consecutive quarter, quarterly room revenue surpassed $3 billion for the first time" [Hotel News Notes]. "As the traveling public has become more aware of this segment, they are choosing to stay at extended-stay properties for an increasing number of reasons, said H. Mark Daley III, president and CEO of Generation Companies. They might be hosting family members for holidays, looking for greater control over their meals by having an in-room kitchen, or possibly displaced by events such as Hurricane Matthew, he said. "This is all in addition to the traditional use for extended-stay hotels by those on long-term project assignments or in between housing situations," he said via email. The tight correlation between extended-stay supply growth and extended-stay segment demand suggests that new supply is tapping into previously unmet demand for this product type, he said." I don't know what to make of this. Are family reunions, cooking for one's self, and natural disasters really enough to explain this? Readers?
The Bezzle: "Pacific Investment Management Company (PIMCO) will pay $20 million and retain an independent compliance consultant to settle charges that it misled investors about the performance of one its first actively managed exchange-traded funds (ETFs) and failed to accurately value certain fund securities" [Corporate Crime Reporter]. Man, those SEC enforcers: Ruthless!
The Bezzle: "When news originally broke earlier this year that PIMCO was being looked at for these pricing discrepancies, I brushed it off. The allegation was pretty simple: PIMCO, the best bond trading desk in the world for the past 20 years or so, was buying odd lots (less than $1 million) of nonagency mortgage-backed securities, and then using full-lot prices to calculate net asset value. On the surface, this should make any bond guy shrug. Bond pricing is notoriously awful" [ETF.com]. "The actual order from the SEC, however, points to a smoking gun none of us saw when the story broke: This was actually a deliberate plan to boost initial performance, not a matter of policy or industry practice. Just before BOND launched, PIMCO's own desk sent around a note to the BOND portfolio managers about how to use odd lots to goose returns."
Honey for the Bears: "Both ECRI's and RecessionAlerts indices are indicating moderate growth six months from today. This week, both indices improved. Still, they are indicating conditions 6 months from today might not be much better than today" [Econintersect]. That's going to disappoint some people…
The Fed: "There is no doubt that the Federal Reserve is planning to increase the Fed Funds rate at this month's meeting unless there is a seismic shift in markets or the economy ahead of the meeting. This data will not disrupt these expectations and as things stand, there is still a 100% chance that rates will be increased this month" [Economic Calendar].
Today's Fear & Greed Index: 68 Greed (previous close: 71, Greed) [CNN]. One week ago: 72 (Greed). (0 is Extreme Fear; 100 is Extreme Greed). Last updated Dec 2 at 12:17pm. Mr. Market's euphoria seems to be slowly ebbing.
Our Famously Free Press
"Twitter is the 'most important' social platform right now, analyst says" [MarketWatch]. "To combat its fake news problem, Facebook has suggested third-party verification and using artificial intelligence. But [James Cakmak, an analyst at Monness, Crespi, Hardt] says he's concerned that fake news will still get through and that this could lead to a suppression of news as users report content just because they don't like it. In comparison, Cakmak says Twitter is a more democratic platform, which gives all users and news sources a kind of microphone to the public. Additionally, it stands out because of the extent to which Trump used it during the campaign and after the election. 'Twitter is probably the most important social platform in the world right now from a societal perspective as the fake news debate lingers on," Cakmak wrote." Twitter is pretty brutal, but if you properly curate your list, you'll see people on it call fake news out.
#NoDAPL
"Voices from Standing Rock" [WaPo]. "Since early 2016, protesters have occupied a federally owned site near the pipeline's proposed crossing under the Missouri River. Now, nearly 2,000 are living in tents, tepees, yurts, RVs and cars. They are native and non-native, elderly and newborns. The camp has become so large and permanent that it has a book-swap library and a medical center."
Gaia
"Rift in Antarctica's Larsen C Ice Shelf" [NASA]. "The IceBridge scientists measured the Larsen C fracture to be about 70 miles long, more than 300 feet wide and about a third of a mile deep. The crack completely cuts through the ice shelf but it does not go all the way across it – once it does, it will produce an iceberg roughly the size of the state of Delaware."
"Climate change is set to cause a refugee crisis of 'unimaginable scale', according to [international] senior military figures, who warn that global warming is the greatest security threat of the 21st century and that mass migration will become the 'new normal'" [d]. "The generals said the impacts of climate change were already factors in the conflicts driving a current crisis of migration into Europe, having been linked to the Arab Spring, the war in Syria and the Boko Haram terrorist insurgency."
" New York City Mapped All of its Trees and Calculated the Economic Benefits of Every Single One" [Architecture Daily]. "This means that when choosing a tree on the map you can see the amount of rainwater it retains each year (expressed in gallons) and the money each individual specimen saves each year. The amount of electricity conserved is also estimated, calculated in kilowatts per hour (kWh), as well as the reduction of air pollution." I'm not sure this is a good idea or not. What's not being counted? For example, soil?
"I shall argue that the fundamental, discrete units of the nervous system are its mitochondria. The feature that we expect of an irreducible neural component is excitability. Mitochondria take excitability to an extreme" [Inference Review]. This is fun. Do we have any neuroscientists in the commentariat?
"Scientists in California say they have transformed understanding of Parkinson's disease. Their animal experiments, published in the journal Cell, suggest the brain disorder may be caused by bacteria living in the gut" [BBC].
Class Warfare
"What could replace the current iteration of global state-capitalism? If we assemble these three potentially transformative dynamics–Degrowth, the recoupling of risk and loss and entrepreneurial mobile capital–we discern a new and potentially productive teleological arc to global capitalism, one that moves from a capitalism based on hyper-centralization and obsession with rising consumption to a new capitalism focused on more efficient use of resources and capital via decentralization and localized innovation" [Of Two Minds].
"One reason why I favour worker democracy more than plebiscites is that the former is a way of gathering dispersed information – of aggregating marginal gains about corporate performance – whereas the latter are not" [Stumbling and Mumbling].
News of the Wired
"We just got the first real evidence of a strange quantum distortion in empty space" [Science Alert]. "Called vacuum birefringence, this bizarre phenomenon was first predicted back in the 1930s, but had only ever been observed on the atomic scale. Now scientists have finally seen it occur in nature, and it goes against everything that Newton and Einstein had mapped out. 'This is a macroscopic manifestation of quantum field,' Jeremy Heyl from the University of British Columbia in Canada, who was not involved in the research, told Science. 'It's manifest on the scale of a neutron star.'"
* * *
Readers, feel free to contact me with (a) links, and even better (b) sources I should curate regularly, and (c) to find out how to send me images of plants. Vegetables are fine! Fungi are deemed to be honorary plants! See the previous Water Cooler (with plant) here. And here's today's plant (SD):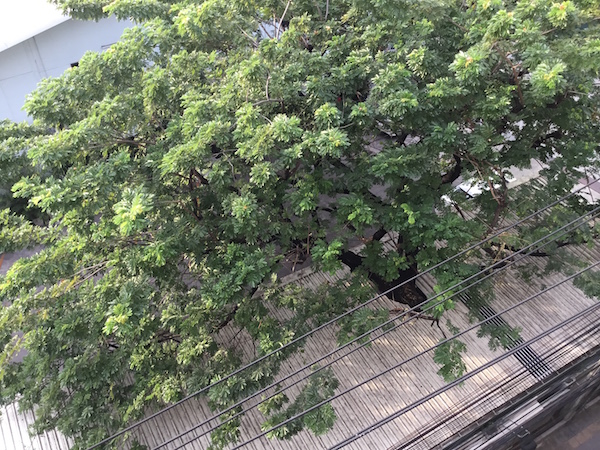 My home town in Maine cut down a tree, rather than come up with a solution like this. Priorities!
Readers, Water Cooler is a standalone entity, not supported by the very successful Naked Capitalism fundraiser just past. Now, I understand you may feel tapped out, but when and if you are able, please use the dropdown to choose your contribution, and then click the hat! Your tip will be welcome today, and indeed any day. Water Cooler will not exist without your continued help.