By Lambert Strether of Corrente.
Politics
Trump Transition
"Just watched Steve Moore, chief Trump transition team economic advisor, on Fox, talking about 'trillion dollar deficits as far as the eye can see' etc. and the need for fiscal responsibility, as he then tied it into supporting the new cabinet as people who knew how to cut waste and fraud and able to run things on paygo, etc. And last week he was talking about how the $trillion of infrastructure spending would be large private infrastructure like pipelines and refineries, etc. to be encouraged by govt. policy, rather than govt. spending per se" [Mosler Economics]. "Yes, private sector deficit spending for said capex 'counts' just as much as govt. deficit spending, but this kind of effort to create incentives won't happen overnight, and won't kick in overnight, and in any case $1 trillion over 10 years is only $100 billion per year or about .5% of GDP per year. Also, their spending cuts 'to pay for it all' will be a force in the other direction. And their proposed tax cuts have far lower multiples than their proposed spending cuts."

"Trump's Transition Team Is Stacked With Privatization Enthusiasts" [David Dayen, The Nation]. " In the Public Interest, a research organization monitoring privatization, has compiled a list of 32 different members of the Trump transition team or formal nominees for top agencies who have either close ties to privatization groups, or demonstrated support for the philosophy. If these officials get their way—and there's no reason to think they won't—America's schools, roads, air traffic control systems, corrections facilities, immigrant detention centers, and critical social insurance programs will soon fall into private hands."
Realignment and Legitimacy
"Our country is bitterly divided. How 'bout a little small talk?" [Garrison Keillor, WaPo]. Here's a conversation starter: "The Trumpers had a whale of a good time, waving their signs, jeering at the media, beating up protesters, chanting 'Lock her up' — we elitists just stood and clapped. Nobody chanted 'Stronger Together.' It just doesn't chant."

"Heitkamp is one of 25 Democrats defending U.S. Senate seats in a post-Trump world. A few weeks ago she had a dinner of Chinese takeout for colleagues from four other states that went overwhelmingly for Trump: West Virginia's Joe Manchin, Missouri's Claire McCaskill, Indiana's Joe Donnelly and Montana's Jon Tester. The consensus was that that there's a fierce hunger for change that favored Trump and that Democratic candidates must find a way to satisfy it. No one was sure how" [Bloomberg]. How about a simple platform that would bring concrete material benefits to all working people? Start with Medicare for All.

"Don't Let Trump Speak for Workers" [Richard Trumka, New York Times]. " In industrialized countries all over the world, working people have come to believe that the institutions of liberal democracy have failed to protect them against the ravages of globalization." Because it's true!

"First, our elec­tions are get­ting in­creas­ingly more par­lia­ment­ary in nature. Tick­et split­ting is get­ting rarer, with straight-party vot­ing be­com­ing the norm. Every Sen­ate race this year was won by the same party that car­ried that state in the pres­id­en­tial race. Ac­cord­ing to fig­ures com­piled by Cook Polit­ic­al Re­port House Ed­it­or Dav­id Wasser­man, the House had a pat­tern that was fairly sim­il­ar. Only about 24 Re­pub­lic­ans will be sit­ting in dis­tricts car­ried by Hil­lary Clin­ton, only about 12 Demo­crats will be in Don­ald Trump dis­tricts, and only about 32 (7 per­cent) of House mem­bers won elec­tion by less than 10 per­cent" [Cook Political Report].

"One unfortunate result of this belief in the innate benevolence of the federal government was to turn the Democrats into a kind of "court party" that disdained the states as benighted appendages of an enlightened federal government. They became politically blind to the importance of state legislatures and ceded control of them to the Republicans, who gladly took on the role of congressional redistricting that gave the GOP a virtual easement on the House of Representatives. Topeka, Harrisburg, and Augusta might not be as interesting or as grand as Washington, D.C., but it is there that the Democrats need to plant their flag" [USA Today].

* * *

Harry Reid on 2020: "It appears we're going to have an old-folks' home. We've got [Elizabeth] Warren; she'll be 71. Biden will be 78. Bernie [Sanders] will be 79." [New York Magazine]. One funeral at a time…

"Warren stirs talk of 2020 White House run" [The Hill]. "'We've already been worried about Donald Trump's ties to the Russians,' she told WCVB, a local TV station." Unlike Sanders, Warren didn't have the stones to challenge Clinton in 2016. This, of course, qualifies her in the eyes of the Democrat establishment. I'm resisting the temptation to make a 2020 section. It does seem a little premature…

"Joe Biden on a 2020 Presidential Run: "Never Say Never'" [Vanity]. The young people who that loveable goof Biden immiserated with college debt not dischargeable in bankruptcy should go for him in a big way.
Democrat Email Hairballs
"Appeals court revives suits over Hillary Clinton emails" [Politico]. Let me pull out two sentences: "Clinton turned over about 54,000 pages of messages at State's request in December 2014. She also instructed her aides to her lawyers determined were entirely personal." Move along people, move along. There's no story here.
Stats Watch
Pending Home Sales Index, November 2016: "The spike in mortgage rates is making for another setback in the housing sector. This is the indication from the pending home sales index which, instead of posting a healthy rise as was expected, fell very sharply" [Econoday]. But: " One should expect a significant decline in home sales in December as many home sales were expedited to close in November to beat the interest rate rise" [Econintersect]. But: "The out-performance in the Northeast suggests that affordability was a key issue given that national valuations are at the lowest in the Northeast" [Economic Calendar].
Shipping: "The World Economic Forum in 2013 rated the Dutch infrastructure among the best in the world: first in the world for maritime, fourth for air, and 11th for rail. That kind of infrastructure is key to reaching large population centers quickly (500 million people live within a 24-hour drive of Rotterdam, the country's main logistics entry point). It's no surprise that half of Europe's distribution center operations are located in Holland" [DC Velocity]. Lots of true facts about the Netherlands and logistics. Worth a read, if that's the sort of thing you like!
Shipping: "Chinese port figures hint at global demand recovery" [Journal of Commerce]. "China's top ports continued a relatively strong second-half throughput performance in November, supporting other trade data that indicates some recovery in domestic and global demand. November volumes at the top eight ports of the world's second-largest economy expanded 3.9 percent year-over-year to just over 13 million twenty-foot-equivalent units…. China imported the largest volume of coal in 18 months and nearly 92 million tonnes of iron ore, the third-highest monthly volume on record. Copper imports also grew by nearly one-third. Despite strong November port, trade, and industrial production numbers, the outlook for weaker trade growth over the medium to long term persists in line with the general trend of decline in the contribution of the industrial sector to GDP growth."
The Bezzle: "Redflex Gets Non Prosecution Agreement in Traffic Camera Bribery Case" [Corporate Crime Reporter]. Rahm. Of course. "Its former CEO was convicted as part of the probes into bribes paid to elected officials to procure or expand Redflex's contracts with Chicago and Columbus. The investigations also resulted in the convictions of a Chicago official and a Columbus lobbyist. John Bills, a former Chicago assistant transportation commissioner, was convicted of accepting cash and benefits from Redflex in exchange for expanding the company's business with Chicago." Weird. The perps got convicted and the company gets a pass. Generally, it's the other way round.
Capex: "All in all, Wednesday is not shaping up as a good day for the world's two largest aircraft makers. Late Tuesday, Delta Air Lines Inc. said in a statement that it has cancelled an order for 18 Boeing Co." [247 Wall Street]. "On Tuesday, Airbus announced a delay in delivering 12 superjumbo A380s to Emirates airlines, the latest in a string of cancellations and delays for the plane."
Capex: "A recovery in U.S. productivity growth in the 1990s and early 2000s didn't reverse the trend of declining investment. Second, a raft of policies designed to increase investment by pushing down the cost of capital — cuts in the capital gains and dividend tax rates, for example — failed to move the needle. A recent paper by economist Danny Yagan estimates that the 2003 dividend tax cut had no effect whatsoever on business investment" [Noah Smith, Bloomberg]. "So what's going on? … It's possible that business investment, in the U.S. and in other rich countries, is now mostly rationed rather than priced. A select set of companies — Apple Inc., or General Electric Co., or whoever — can borrow to their heart's content at very low rates. Any business opportunity they see will get funded. But for hordes of smaller companies out there — including small businesses as well as up-and-coming ventures that could become the giants of tomorrow — it might be hard to borrow at any price. These unlucky companies could be shut out of the gated community of cheap capital, gazing sorrowfully in." Interesting thesis.
The Fed: "Is The Fed About To Experience A Repeat of 2016?" [Tim Duy's Fed Watch]. "the US economy settled into a nice little equilibrium in 2016 that obviated the need for additional rate hikes. To expect a repeat scenario in 2017, one would need to assume that the US economy does not pick up speed and threaten that equilibrium by pushing past full employment. Evidence, however, piles up suggesting that the slowdown of the past year is drawing to a close. ISM manufacturing and nonmanufacturing surveys are stronger, temporary help employment is heading up again, new manufacturing orders for nondefence, nonair capital goods have flattened out, and the broader inventory overhang is easing…. ll of this occurs in the context of an unemployment rate that suddenly dipped toward the lower end of the Fed's estimates of the natural rate of unemployment."
"The first of Halliburton's [Christmas Eve] announcements focused on the proposed acquisition of Novomet Oil Services Holding Ltd., a drilling-equipment company based in Perm, Russia. The company announced that it had petitioned the Federal Antimonopoly Service of Russia to find out if the acquisition, which has not been officially completed, would face resistance from Russian regulators" [MarketWatch]. Hmm.
Today's Fear & Greed Index: 69 Greed (previous close: 70, Greed) [CNN]. One week ago: 74 (Greed). (0 is Extreme Fear; 100 is Extreme Greed). Last updated Dec 28 at 11:48am. Still subdued…
Gaia
"'Jet stream' of molten iron discovered in Earth's core by geoscientists" [Independent] (original in Nature Geoscience). It moves 50km a year, which is pretty fast for a geological process!
" Gift of the fungi: Mushrooms — yes, mushrooms — could help save the world" [Salon]. "As lead cultivation advisor on a mycoremediation project to clean up oil spills in Ecuador, the most biodiverse country in the world, [Peter] McCoy [founder of Radical Mycology] has seen firsthand fungi's ability to break down pollutants, too. Using digestive enzymes to break down complex hydrocarbons into simple carbohydrates for food, fungi can degrade dioxin, DDT, TNT, PCBs, PAHs and chemical dyes, and can trap and digest harmful microorganisms like E. coli."
Will We Miss Our Last Chance to Save the World From Climate Change?" [Rolling Stone]. Interview with James Hansen: "[Hansen] is also deeply involved in a lawsuit against the federal government, brought by 21 kids under the age of 21 (including Hansen's granddaughter), which argues that politicians knowingly allowed big polluters to wreck the Earth's atmosphere and imperil the future well-being of young people in America. A few weeks ago, a federal district judge in Oregon delivered an opinion that found a stable climate is indeed a fundamental right, clearing the way for the case to go to trial in 2017. Hansen, who believes that the American political system is too corrupt to deal with climate change through traditional legislation, was hopeful. "It could be as important for climate as the Civil Rights Act was for discrimination," he told me."
Neoliberal U
"For the period between 1996 and 2012, we estimate that a 10% reduction in state appropriations is associated with an increase in foreign enrollment of 12% at public research universities and about 17% at the most resource-intensive public universities" [Working Paper 22981, NBER].
Black Injustice Tipping Point
"Black Lives Matter is making it easier than ever to find and support black-owned businesses" [HuffPo]. "In partnership with ad agency J. Walter Thompson New York, the organization launched a beta version of BackingBlackBusiness.com, a website that allows people to discover black-owned businesses throughout the country." On the one hand, this looks a lot like The Green Book to me, so why not? On the other, it does seem a little… bourgeois. As for example:
We're #withher. https://t.co/MaeV79cEhz pic.twitter.com/wsWRxIAdxq

— Vogue Magazine (@voguemagazine) November 8, 2016
"Walmart to stop selling 'Bulletproof: Black Lives Matter' shirts after police protest" [WaPo]. Oh, sheesh. Suck it up and grow a pair, the both of you.
"The Perilous Lure of the Underground Railroad" [The New Yorker]. "In reality, and notwithstanding the viciousness of its many enforcers, slavery was institutional. The Underground Railroad, by contrast, was personal: a scattering of private citizens, acting on conscience, and connected for the most part only as the constellations are—from a great distance, by their light." Hmm. I'm not so sure about that constellation simile.
Big Brother Is Watching You Watch
"Help keep an eye on police social media monitoring" [Muckrock]. "Join us by submitting your town or county to our list of places to survey, and check out what materials we've already gathered by consulting the map above." With submission form.
Class Warfare
"America owes its working class, yes. But the working class has duties, too." [WaPo]. I believe Algernon covered this, in The Importance of Being Earnest: "Really, if the lower orders don't set us a good example, what on earth is the use of them? They seem, as a class, to have absolutely no sense of moral responsibility."
"Economists who specialize in antitrust – affiliated with Chicago, Harvard, Princeton, the University of California, Berkeley, and other prestigious universities – reshaped their field through scholarly work showing that mergers create efficiencies of scale that benefit consumers. But they reap their most lucrative paydays by lending their academic authority to mergers their corporate clients propose" [Pro Publica, via Econintersect]. "Some of the professors earn more than top partners at major law firms. Dennis Carlton, a self-effacing economist at the University of Chicago's Booth School of Business and one of Compass Lexecon's experts on the AT&T-Time Warner merger, charges at least $1,350 an hour. In his career, he has made about $100 million, including equity stakes and non-compete payments, ProPublica estimates. Carlton has written reports or testified in favor of dozens of mergers, including those between AT&T-SBC Communications and Comcast-Time Warner, and three airline deals: United-Continental, Southwest-Airtran, and American-US Airways." Credentialism and corruption….
"Inequality and Skin in the Game" [Nassim Nicholas Taleb, Medium]. "In this chapter I will propose that effectively what people resent –or should resent –is the person at the top who has no skin in the game, that is, because he doesn't bear his allotted risk, is immune to the possibility of falling from his pedestal, exiting the income or wealth bracket, and getting to the soup kitchen. Again, on that account, the detractors of Donald Trump, when he was a candidate, failed to realize that, by advertising his episode of bankruptcy and his personal losses of close to a billion dollars, they removed the resentment (the second type of inequality) one may have towards him. There is something respectable in losing a billion dollars, provided it is your own money. In addition, someone without skin in the game –say a corporate executive with upside and no financial downside (the type to speak clearly in meetings) –is paid according to some metrics that do not necessarily reflect the health of the company; these (as we saw in Chapter x) he can manipulate, hide risks, get the bonus, then retire (or go to another company) and blame his successor for the subsequent results.
"Whistleblowers Don't Need Elite Credentials To Help Protect Us from Government Overreach" [EFF]. Although Malcolm Gladwell (unsurprisingly) disagrees.
News of the Wired
"This is a post about how to build a hackable cat feeder for $20." [peter weissbrod]. "The basic goal is to spread small bits of cat food randomly across the kitchen floor during early time windows of the morning. This of course dominates tigers' attention thus letting you sleep in."
"On the existence of two states in liquid water: impact on biological and nanoscopic systems" [International Journal of Nanotechnology]. This seems to me extraordinary. Can readers comment?
"Q: What is the ideal New Year's resolution for losing weight?" [Harvard School of Public Health]. "A: Forget calories, focus on food quality, and let your body do the rest."
* * *
Readers, feel free to contact me with (a) links, and even better (b) sources I should curate regularly, and (c) to find out how to send me images of plants. Vegetables are fine! Fungi are deemed to be honorary plants! See the previous Water Cooler (with plant) here. And here's today's plant (B1whois):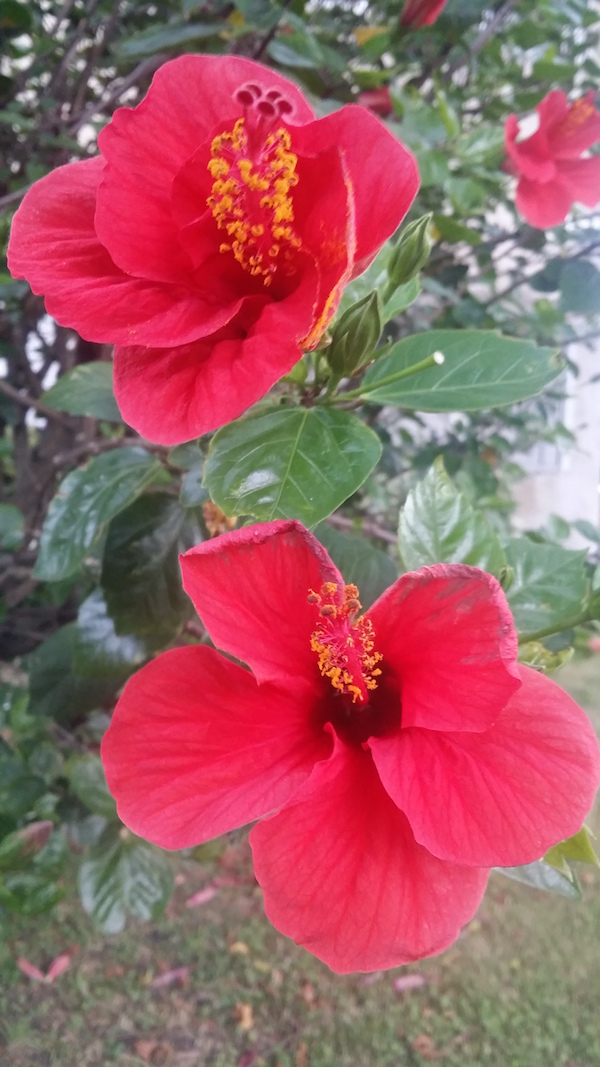 B1whois writes: "More pics from Montevideo, Uruguay. Even though hot humid weather makes it hard to believe it is Christmas time, these Hibiscus are perfectly colored for the season."
Readers, I've gotten many more plant images, but I can always use just a few more; having enough Plantidotes is a great angst deflator. Plants with snow and/or ice are fine!
Readers, Water Cooler is a standalone entity, not supported by the very successful Naked Capitalism fundraiser just past. Now, I understand you may feel tapped out, but when and if you are able, please use the dropdown to choose your contribution, and then click the hat! Your tip will be welcome today, and indeed any day. Water Cooler will not exist without your continued help.