By Lambert Strether of Corrente.
Readers, because pugilistic endeavors, and no stats, this will be a very abbreviated Water Cooler. Holiday time! Talk amongst yourselves… –lambert
Politics
Obama throws Clinton under the bus: "Barack Obama Says He Could Have 'Mobilized A Majority' If He'd Been Able To Run Again" [HuffPo]. But Putin! But Comey! But racism!
After Obama's eight years in the White House, a majority of Americans do believe in an America that's "tolerant and diverse and open," the president told Axelrod.

"You know, I am confident in this vision because I'm confident that if I ― if I had run again and articulated it, I think I could've mobilized a majority of the American people to rally behind it," Obama said.

The president put a lot of that faith in the generation of incoming leaders, 20- and 30-year-olds who capture that "spirit of America" through their words and deeds.

"It manifests itself in communities all across the country. We see it in this younger generation that is er, more tolerant, more , more creative, more , would not even think about, you know, discriminating against somebody, for example, because of their sexual orientation," Obama said.
(I've helpfully underlined the New Democrat neoliberal bullshit tells.) And Obama's probably right, in that it took a catastrophically bad candidate running a terrible campaign to lose against the opponent they preferred, while spending a billion dollars (though I'm not clear how Obama, as party leader, manages to escape responsibility for the candidate the party forced down our throats picked). But to me, the real lesson is that if the Obama coalition were a thing, even a bad candidate would be able to leverage it. It's not. By contrast, the FDR coalition lasted for a generation, at least.
Stats Watch
It's a holiday! So there are no stats today.
Retail: "Boxing Day sales 'ruined' as a fifth of bargains still stuck in warehouses" [Telegraph]. Returns are hard to manage.
The Bezzle: "Sex robots will 'come a lot sooner than you think', scientist claims" [Independent]. Sweetheart, get me rewrite!
The Bezzle:
MY HERO pic.twitter.com/Oh8CD0cMT8

— Keough Novak (@KeoNovak) December 24, 2016
Rapture Index: Closes down 1 on plagues (ebola) [Rapture Ready]. Record high: 189, October 10, 2016. Current: 183.
Police State
"NYPD cop suspended after posting humiliating Christmas photo of Brooklyn family cuffed on Snapchat" [New York Daily News].
Gaia
"What the Trees Say" [New York Review of Books].
What both teams [in Vancouver and Aachen] discovered was nothing less than a vast underground network, called a mycorrhiza, in which fungi connect trees of different species by passing chemical and electrical signals among the trees' roots. It was an arboreal Internet—christened the "wood wide web." Trees could actually communicate by exchanging carbon through their roots. The exchange offered mutual support. Carbon is the food of trees, created by photosynthesis, using the leaves as solar panels. Sometimes one tree would act as mother to its neighbors, giving them more carbon than it received in return. Later the debt would be repaid as the roles were reversed.

As the subtleties of this underground network were explored, it became clear to scientists that trees not only benefited by mutual exchange of food. They exchanged vital information, warning their neighbors (and children) of threats and advising them of opportunities to seize. For example, if a tree's leaves are bitten by a caterpillar, it will send a message though the mycorrhiza, prompting other trees in the network to release chemicals that repel caterpillars.

For Wohlleben [the author] these discoveries confirmed what he had come to recognize himself: that, in their own way, trees had feelings, that they knew how to communicate with one another, and that the strong were able to assist the weak.
Hoom!
News of the Wired
A Christmas Twitter collection I was too polite to show around on the day itself. The nativity scene:
?Who made the nativity scene out of bacon and hotdogs ??!!?? pic.twitter.com/GUGUW0I3xf

— ㅤ (@Uknomee) December 25, 2016
The tree:
I would just like to remind everyone how bizarre my family are #Portalmas pic.twitter.com/fs5bz7cBy4

— George (@GeorgeYonge) December 23, 2016
The carols:
A Christmas Carol service in Sri Lanka has accidentally printed the lyrics of Tupac's Hail Mary, instead of the prayer.#SriLanka #lka pic.twitter.com/djhJPAWhcj

— Ravindu Thimantha G. (@IamRavindu) December 25, 2016
Feats of strength:
Merry Christmas, Twitter! pic.twitter.com/bBA3OHmWiY

— Danny (@recordsANDradio) December 25, 2015
* * *
Readers, feel free to contact me with (a) links, and even better (b) sources I should curate regularly, and (c) to find out how to send me images of plants. Vegetables are fine! Fungi are deemed to be honorary plants! See the previous Water Cooler (with plant) here. And here's today's plant (MG):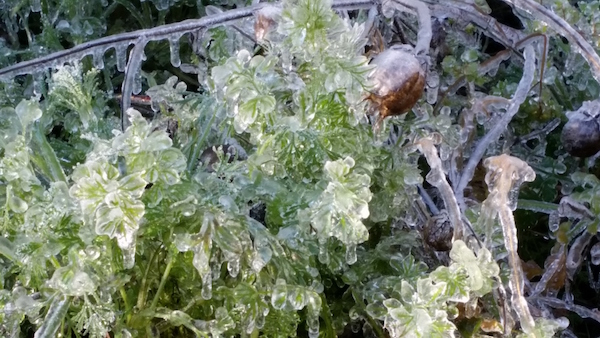 MG: "We just had a dirty great ice storm here. Today a big yellow shiny thing showed up in the sky and made the whole ordeal almost worthwhile."
Readers, I've gotten many more plant images, but I can always use just a few more; having enough Plantidotes is a great angst deflator. Plants with snow and/or ice are fine!
Readers, Water Cooler is a standalone entity, not supported by the very successful Naked Capitalism fundraiser just past. Now, I understand you may feel tapped out, but when and if you are able, please use the dropdown to choose your contribution, and then click the hat! Your tip will be welcome today, and indeed any day. Water Cooler will not exist without your continued help.