By Lambert Strether of Corrente.
Trade
"There will not be a deal on environmental goods this year after the 17 World Trade Organization members involved in the Environmental Goods Agreement failed to wrap up talks at what was supposed to be a concluding ministerial in Geneva this weekend" [Politico]. "Officials involved say responsibility for the failure rests almost entirely with China, which stood at odds with nearly every other delegation on issues ranging from which products should be covered under the agreement to how long countries should have to eliminate tariffs."
"Trump would also need a significant amount of political capital to negotiate and push through Congress a dozen individual trade deals with TPP nations, for example, when he could get the Asia-Pacific pact done with a single vote, one seasoned trade negotiator observed" [Politico]. Thing is, the "seasoned trade negotiators" haven't done so well, have they?
"New EU Data Regulations Will 'Rip Global Digital Ecosystem Apart" [ Advertising Age]. "Europe's new privacy regime is likely to disrupt global digital advertising by preventing companies from using an individual's data unless they have direct consent from the consumer" What a shame (and note the bullshit tell "ecosystem"). And people who wish to use my data shouldn't merely have to ask my consent; they should pay me for it.
Politics
2016 Post Mortem
UPDATE "Bernie Sanders in San Rafael: Democratic elite to blame for Trump victory" [Marin Independent Journal]. ""I look at this election not as a victory for Mr. Trump, who wins the election as the most unpopular candidate in perhaps the history of our country," Sanders said. "But as a loss for the Democratic Party."" And:

Bernie Sanders speaks at Dominican University in San Rafael
‹
›

By Richard Halstead, Marin Independent Journal

Posted: 12/02/16, 11:09 PM PST | Updated: 1 min ago
193 Comments
Sen. Bernie Sanders speaks Friday at Dominican University in San Rafael.
Sen. Bernie Sanders speaks Friday at Dominican University in San Rafael. Sherry LaVars — Special to Marin Independent Journal

Speaking in San Rafael on Friday night, Bernie Sanders told a crowd of more than 850 people that they shouldn't blame many of the people who voted for Donald Trump for his presidential victory.

The Vermont senator said they should blame instead the elite leadership of the Democratic Party, which for years did too little to address the economic pain of an increasingly large segment of the nation.

"I look at this election not as a victory for Mr. Trump, who wins the election as the most unpopular candidate in perhaps the history of our country," Sanders said. "But as a loss for the Democratic Party."

The event, held in Dominican University's Angelico Hall in conjunction with Corte Madera's Book Passage, was designed to promote Sanders' new book, "Our Revolution: A Future to Believe In." Sanders barely mentioned the book, however. As he did during his bid for the Democratic presidential nomination, Sanders concentrated instead on the issue that has energized him throughout his political career: economic inequality. He said he doesn't believe that all of the people who voted for Trump are racists or sexists or homophobes.

"I don't believe that at all," Sanders said. "I think a lot of people ended up holding their noses and voting for Trump because they are in pain."

He provided a few choice examples of that pain. For example, he noted the fact that millions of Americans still lack health insurance and that many people with insurance have high deductibles that discourage them from seeing a doctor and can't afford the medicine they're prescribed if they do consult a physician.

Sanders said that half of people age 55 have no money saved for retirement, that on average men in Virginia's affluent Fairfax County live 18 years longer than men in the state's economically disadvantaged McDowell County, and that tens of thousands of people living in Baltimore, Maryland, are addicted to heroin.

"There are a lot of people in our country who are hurting and they are hurting very, very badly," Sanders said." The political establishment is not hearing their pain; the financial and economic establishment could care less about their lives; and the media establishment is not dealing with the reality of their lives; and along comes Mr. Trump."

Wait, wait. America is already great, right?

"Top advisor says Hillary Clinton needed no prodding to concede to Donald Trump" [Los Angeles Times]. So if that's true, that would mean that Trump's not a fascist, right?

"he Democratic National Committee leadership and the party's operatives gambled with the lives of working-class people when they went all in for Hillary Clinton, a wildly unpopular candidate with an out-of-touch strategy. They lost that bet. Donald Trump won the election, and now we'll be paying for their mistakes for the next four — or, god forbid, eight — years" [Jacobin]. "You might think these elites would be chastened into reflection. " No, the thought never crossed my mind.

This:

Denial: It was rigged!
Anger: IT WASN'T HRCs FAULT!
Bargaining: #Recount2016
–>Depression: It won't work ?
Acceptance: it was hrc's fault

— Very Savvy People™ (@TheXclass) December 3, 2016

And then there's this:

As a general rule, you probably shouldn't campaign in states that would be your 340th or 350th electoral vote.

— Patrick Ruffini (@PatrickRuffini) December 2, 2016
Trump Transition
"Everything Donald Trump Tweeted Today" [247 Wall Street]. That headline. It's a whole new world…

"Trump's tax plans favour the rich and will hamper economic growth" [Larry Summers]. "Steven Mnuchin, Treasury secretary-designate, asserts there will be no absolute tax cut for the upper class because deductions would be scaled back. The rub is that totally eliminating all deductions for those with incomes over $1m would not even raise enough revenue to cover reducing their marginal tax rates from 39 to 33 per cent, let alone offset their benefit from huge rate reductions on business and corporate income, and the elimination of estate and gift taxes." Silly boy. Larry thinks that Federal taxes fund Federal spending. No wonder he set a squillion dollars of Harvard's money on fire and threw it up in the air.

"'Each critique of the Carrier deal requires the listener to hold in his or her head several levels of abstraction: ideas about how systems and incentives work, ideas about cause and effect, ideas about how corruption can unfurl or how policy can affect millions of people. And so each critique has less impact than the sturdy story: Last week in Indiana, Donald Trump saved a thousand jobs" [Slate]. Title: "The Stunt Presidency." Hey, I've got an idea for a stunt: When Wells Fargo creates two million phony accounts and moves customer money into them so they can extract more fees, Obama has Loretta "Tarmac" Lynch bring criminal charges against the Wells Fargo CEO. I bet if Obama'd done that, Clinton would have won, bad as she was. Stunts, forsooth.

Or as Stoller says:

Oh my God Trump doesn't care about the rule of law say people who haven't noticed no one from Wells Fargo was prosecuted for mass fraud.

— Matt Stoller (@matthewstoller) December 5, 2016

"Hysterically Over-Reacting To Trump Ultimately Helps Trump" [Michael Tracey]. "If you fight a fictive enemy rather than the real enemy, your tactics are not going to be effective."
Policy
"How to Help Working People" [Editorial Board, New York Times]. [Lambert puts down his coffee…]. "Worker pay has lagged for a very long time. The Obama-era reforms help to make up lost ground. If Mr. Trump wishes to act in the interest of all working people, he will preserve those reforms." I like "helped to make up lost ground" very much, not least because it doesn't say that any ground has actually been made up. And if we ever get level again, then we can talk about make-goods, which will be extensive.
Our Famously Free Press
"The post-truth world of the Trump administration is scarier than you think" [Margaret Sullivan, WaPo]. But now it's time to cross another bridge — into a world without facts. Or, more precisely, where facts do not matter a whit. On live radio Wednesday morning, Scottie Nell Hughes sounded breezy as she drove a stake into the heart of knowable reality: ',' she declared on 'The Diane Rehm Show.'" … It's time to dust off your old copy of "1984 " by George Orwell and recall this passage: 'The Ministry of Peace concerns itself with war, the Ministry of Truth with lies, the Ministry of Love with torture and the Ministry of Plenty with starvation. These contradictions are not accidental, nor do they result from ordinary hypocrisy: they are deliberate exercises in doublethink.'" I've always liked Sullivan's work, but surely she cannot have forgotten this famous statement from the Rove during the administration of Bush the Younger: ". And while you're studying that reality—judiciously, as you will—we'll act again, creating other new realities, which you can study too, and that's how things will sort out. We're history's actors … and you, all of you, will be left to just study what we do." This is not #NotNormal. It is #Normal. And Democrats have their own flavors of it.

"At this time, in early 2014, a young assistant professor named Aleksandr Kogan joined Kosinski. He had a question from a company interested in Kosinskis method. The Facebook profiles of ten million US users should be measured psychometrically. For what purpose, he could not say that there were strict secrecy requirements. Kosinski wants to say first, it is about a lot of money for his institute, but then hesitates. Finally, Kogan emerges with the name of the company: SCL – Strategic Communications Laboratories. Kosinski goes to the company: "We are a globally operating choice management agency," he reads on the company website. SCL offer marketing based on a psychological model. Focus: Choice of influence. Election control? Disturbed to Kosinski click through the pages. What kind of company is it? And what do they have in the US?" [Das Magazine (Google Translation)]. " What Kosinski does not know at this time: Behind SCL is a complex corporate design with taxpayers – as the Panama Papers and Wikileaks revelations show. Some have contributed to the turmoil in developing countries, while others have developed methods for the psychological manipulation of the population in Afghanistan. And now, SCL is also the parent company of Cambridge Analytica, the ominous big-data booth that organized the online election campaign for Trump and Brexit. " Damn. What's that warbling sound?

"The #Election2016 Micro-Propaganda Machine" [Jonathon Albright, Medium] and "#Election2016: Propaganda-lytics & Weaponized Shadow Tracking" [Jonathan Albright, Medium]. These are interesting visualizations using a big data approach. Intuitively — by which I mean I don't have time to figure this out right now — I feel that Albright and Das Magazin (link above) are looking at the same phenomenon: Albright from the outside, Das Magazin from the inside. Readers?

"Figuring out Donald Trump's media diet by mining his tweets" [Boing Boing]. A similar approach.

"This "marketplace of ideas" theory has influenced political thought for decades. But it rests upon certain assumptions, all of which turned out to be wrong in 2016." [Detroit News]. "One of those assumptions is that people will receive information in quantities they can manage. But this election cycle we have all been awash in more information and misinformation than a human being can process. Psychologists tell us that under these circumstances we do the easy thing: we focus on "information" that confirms what we already think. The marketplace of ideas theory also assumes that we will be able to sort reliable information from unreliable. But 2016 revealed that this also no longer holds true." I was expecting this to end up with a plea for philosopher kings to guide us rightly. But it calls for critical thinking!

"As the full meaning of a Donald Trump presidency preoccupies American minds, The New York Times has seen a more-than-tenfold increase in daily subscription sign-ups, far surpassing any other news medium" [New York Times]. So, openly shilling for Clinton and suppressing Sanders made The Times a great deal of money. How do they live with themselves?
Realignment and Legitimacy
"Advocates of the long-shot bid to turn the Electoral College against Donald Trump have been in contact with close allies of Hillary Clinton, according to multiple sources familiar with the discussions, but the Clinton camp — and Clinton herself — have declined to weigh in on the merits of the plan" [Politico]. Clinton does seem to be awfully good as getting people to act as her catspaws, doesn't she?

"Gov. Pat McCrory concedes defeat to Roy Cooper as Durham recount wraps up" [News and Observer].
Stats Watch
GDP: "This line shows total GDP growth over the prior 10 years. It makes the point as to just how sudden the latest drop off was and how severe it continues to be. It's just screaming 'lack of aggregate demand' begging a fiscal relaxation of maybe 5% of GDP annually for a while" [Mosler Economics].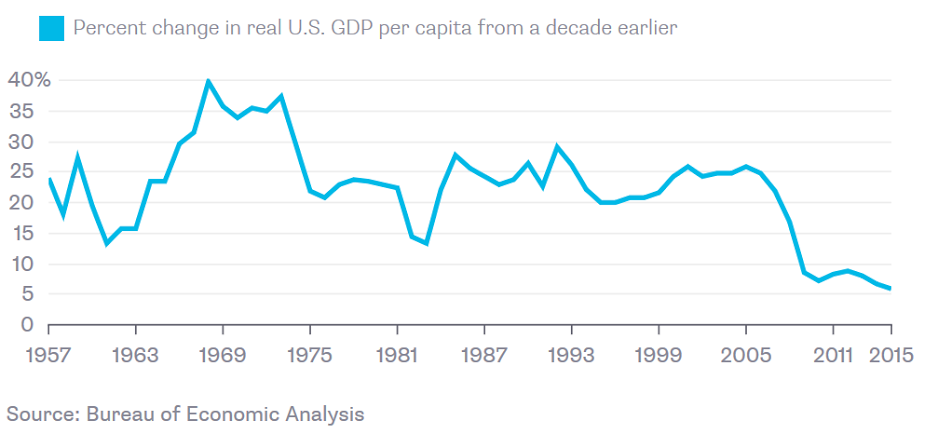 More: "The Fed, however, believes the spark has been ignited and will likely move to 'remove accommodation' with a another small rate hike, even as all the indicators I can see continue to decelerate as previously posted and discussed."
Institute For Supply Management Non-Manufacturing Index, November 2016: Employment shoots up, new orders very strong [Econoday]. "Based on this report as well as the services PMI released earlier this morning, the great bulk of the economy has posted strong numbers through the first two thirds of the fourth-quarter, indications that support a rate hike at next week's FOMC meeting." The patient's eyes have fluttered open, so it's time to yank out the IV. Dear Lord. And but: "This was above the consensus forecast of 55.5, and suggests faster expansion in November than in October. A strong report" [Calculated Risk]. And: "Overall supplier deliveries slowed for the month, which suggests underlying capacity constraints are increasing slightly, while the pace of inventory growth slowed" [Economic Calendar]. And: "The 14 non-manufacturing industries that reported growth in November were: Agriculture, Forestry, Fishing & Hunting; Retail Trade; Arts, Entertainment & Recreation; Transportation & Warehousing; Other Services; Management of Companies & Support Services; Construction; Finance & Insurance; Professional, Scientific & Technical Services; Accommodation & Food Services; Information; Health Care & Social Assistance; Wholesale Trade; and Mining: [247 Wall Street]. "The two industries reporting contraction in November were Real Estate, Rental & Leasing and then Public Administration."
Purchasing Managers' Services Index, November 2016: "New orders are coming in at the best rate this year which the sample attributes to the end of the election cycle and an improved economic outlook" [Econoday]. "But the sample's hiring is still no better than moderate and price readings point to a margin squeeze." And: "The data overall will have no impact on short-term Fed rate expectations and an increase will be sanctioned next week. The release suggests relatively firm growth will continue, but there is no red flag at this stage, which would require the Fed to increase interest rates at a faster pace" [Economic Calendar].
Labor Market Conditions Index, November 2016: "Slightly in the positive zone" [Econoday]. "Levels are subdued but this is still the best two-month run of the year." (This is the Fed's experimental index.)
Conference Board Employment Trends Index, November 2016: Increases in October and November. "The change represents a 2.7% gain from a year ago" [247 Wall Street]. "November's improvement in the Employment Trends Index was fueled by positive contributions from six of the eight components. These were shown as follows (strongest first): Ratio of Involuntarily Part-Time to All Part-Time Workers, Percentage of Firms With Positions Not Able to Fill Right Now, Initial Claims for Unemployment Insurance, Real Manufacturing and Trade Sales, Number of Employees Hired by the Temporary-Help Industry, and Industrial Production."
Employment Situation (Friday): "[P]articipation rates further evidence a massive shortage of aggregate demand" [Mosler Economics].
Gallup US Consumer Spending Measure, November 2016: "Americans' daily self-reports of spending averaged $98 in November, up from $93 in October. The latest figure exceeds the $92 average recorded in the same month a year ago and is the highest for any November since Gallup began tracking consumer spending in 2008" [Econoday]. "Spending among lower- and middle-income families is up relatively sharply on both a monthly (up $7) and year-over-year (up $5) basis. Americans with an annual household income of less than $90,000 spent an average of $82 per day in November, the highest for this group in nearly two years. By contrast, spending among upper-income Americans — those with an annual household income of $90,000 or more — averaged $146 in November, similar to October's $143 but higher than the average for November of last year ($137)."
Retail: "Transportation and warehouse companies added about 8,900 jobs in November, extending a strong fall season for hiring in the sector as companies put more workers in place to cope with e-commerce fulfillment. Courier and messenger companies increased their payrolls by 5,700 jobs last month, and warehouse operators added 3,100 jobs from October to November" [Wall Street Journal]. "The gains in the midst of the biggest season for shopping and goods distribution part of the year leaves warehouse payrolls up by 47,400 jobs over the past year. Growth in other areas, including trucking and other industrial operations, has been more tepid. That jobs trend may be an entrenched part of the transportation employment scene, as online sales grow and logistics operators put in place the workers needed to handle the special characteristics of e-commerce."
Housing: "Frothy rental prices across the nation are showing signs of cooling, recent real estate data show, with the white hot markets of New York City and Washington D.C. offering modest relief to sticker-shocked renters" [CNBC].
Housing: "The share of homes selling at or above list price has recovered to early 2006 levels. In August 2016 that share was more than one-third of total sales (33.7 percent), up from 31.2 percent in August 2015 and twice the level at the January 2008 trough (14.4 percent)" [Econintersect].
Rail: "In October, crosstie production dropped 6.3 percent to 2.2 million units and purchases plummeted 33.7 percent to 1.1 million units from September levels, according to the Railway Tie Association (RTA)" [Progressive Railroading]. Postponing maintenance. Always a good sign. But: "[P]roduction is still up 5.6 percent from the year-ago level, RTA officials said."
Rail: "A fifth of the continent's 1.6 million railcars are parked in storage yards or along lonesome stretches of rural track" [Wall Street Journal, "Too Many Railcars, Too Little Freight"] A fifth? That seems like rather a lot, particularly with the economy booming the way Democrats say it is.
Shipping: "Italian shipowners will come under increasing financial pressure after the 'no' vote in Sunday night's constitutional referendum, which is threatening to rock the domestic banking sector, local ship finance experts have warned" [Lloyd's List].
Commodities: "The rains arrived too late in Brazil this season for a troubled global coffee market" [Wall Street Journal]. "That could leave the global coffee market with demand outstripping supply for at least another two years, pushing prices up still more and forcing roasters to find alternative sources of beans."
Commodities: "Gold has become an accepted investment in the Islamic world for the first time as it can now be used as a commodity to back Sharia-based financial products, thanks to new standards announced Monday" [Mining.com]. "The fresh rules, said the Accounting and Auditing Organisation for Islamic Financial Institutions (AAOIFI) and the World Gold Council (WGC), pave the way for Islamic institutions to trade not just gold but also silver in a much more actively fashion."
Commodities: "All base metals, with the exception of zinc, remains oversupplied and global inventories have also remained stubbornly elevated (again zinc is the exception) according to [a Moody's] report" [Mining.com]. "While increased infrastructure spending should benefit the sector, particularly inside the US, the impact of the presidential election for the base-metal industry remains unclear:"
The Bezzle: "A whistleblower has been awarded approximately $3.5 million for coming forward with information that led to a Securities and Exchange Commission (SEC) enforcement action" [Corporate Crime Reporter].
The Bezzle: "The Financial Industry Regulatory Authority said Monday it fined Credit Suisse Securities (USA) LLC $16.5 million for anti-money laundering and supervision violations" [FCPA Blog].
The Bezzle: "[Apple] shipped just 1.1 million Apple Watches in the third quarter, according to estimates from research firm IDC, which is a 71% drop from the 3.9 million shipped in the year-ago period" [ETF Daily News]. "In contrast, the other top 5 wearable companies, which include Fitbit, Xiaomi, Garmin, and Samsung, all saw annual gains for their devices in the third quarter." I've got iOS 10 on one iPad, iOS 9 on the other. iOS 10 includes noticeable usability regressions, just like all the other Apple "upgrades" on any platform for the last two or three years. What the heck are they doing with all the money in Cupertino? Because hiring engineering talent isn't one of them.
Rapture Index: Down 2 on Unemployment and Israel [Rapture Ready]. Record High: 189, October 10, 2016; Current: 185.
Today's Fear & Greed Index: 76 Extreme Greed (previous close: 71, Greed) [CNN]. One week ago: 70 (Greed). (0 is Extreme Fear; 100 is Extreme Greed).Last updated Dec 5 at 11:32am.
The 420
"IIPR is a real-estate investment trust (REIT) that plans to acquire and manage specialized industrial properties leased to experienced, state-licensed operators for their regulated medical-use cannabis facilities. The company owns no properties yet, but is reported to be about to acquire a $30 million facility in New York" [247 Wall Street]. However, the IPO was "lackluster." Gotta do something with all the dead malls?
#NoDAPL
Veterans at Standing Rock (MR):
Where is the main stream media capturing this epic day when US Veterans stand for Standing Rock!? #NoDAPL #WaterisLife @CNN @ABC @latimes pic.twitter.com/XLHdp5Q84T

— Tsa Si Michael (@UsdiYona) December 4, 2016
I wish I knew a lot more about how this was organized; doesn't exactly fit any conventional narratives, does it? Reader?
"The Lesson from Standing Rock: Organizing and Resistance Can Win" [Naomi Klein, The Nation]. " Everyone here is aware that the fight is not over. The company will challenge the decision. Trump will try to reverse it. "The legal path is not yet clear, and the need to put financial pressure on the banks invested in the pipeline is more crucial than ever," says Chase Iron Eyes, Standing Rock Sioux Tribe attorney and member (and a recent congressional candidate)."
Gaia
"Pork giant Smithfield Foods Inc. is making a big move to cut carbon emissions that could echo across meat supply chains" [Wall Street Journal]. "Smithfield will also redraw truck routes to reduce driving distances, extending the carbon effort throughout its distribution channels. Because of Smithfield's big scale, the effort could echo across a $198 billion meatpacking industry that environmental groups say makes an outsize contribution to climate change. Smithfield alone emits about 17 million metric tons of carbon dioxide annually, nearly as much as five coal-fired power plants."
"Lucy, the ancient ancestor of modern humans, probably spent at least a third of her day nesting in trees, according to new research unveiled Wednesday" [Japan Times]. "The study finds that Lucy had strong upper arms, suggesting she regularly climbed trees. She also had relatively week legs that were not used for climbing and were inefficient for walking. The combination of the two discoveries led researchers to conclude that Lucy probably nested in tree branches at night in order to avoid predators, used her arms to travel between trees and may have even foraged for food among branches."
Black Injustice Tipping Point
"A Man Like Him: To My Godfather" [VSB]. Very moving.
Dear Old Blighty
"Mhairi Black MP appalled at public purse paying for palaces over pensions" [BBC]. Fun stuff!
Imperial Collapse Watch
"A former high-level civilian employee for the U.S. Navy was sentenced to 72 months in prison Friday for taking bribes from a defense contractor based in Singapore" [FCPA]. The inside man for "Fat Leonard" — really!
Class Warfare
"How would you describe the social mood of the nation and world? Would anti-Establishment, anti-status quo, and anti-globalization be a good start? How about choking on fast-rising debt? Would stagnant growth, stagnant wages be a fair description? Or how about rising wealth/income inequality? Wouldn't rising disunity and political polarization be accurate?" [Of Two Minds]. " These are all characteristics of the long-wave social-economic cycle that is entering the disintegrative (winter) phase. Souring social mood, loss of purchasing power, stagnating wages, rising inequality, devaluing currencies, rising debt, political polarization and elite disunity are all manifestations of this phase." Winter is coming…
"And in the twentieth century the pace of economic change has been so great as to shake the rest of history to its foundation. From 1870 to today the size of the world's economy is up by a factor of 100, according to standard statistics; the world's population is up by a factor of more than six; average living standards up by a factor of sixteen; and globally inequality has exploded by an equal amount: today's poorest are less than twice as rich as their predecessors in 1870; while the technological, physical, and human skill powers at the command of today's richest make them men like gods from a pre-industrial perspective" [Brad DeLong]. DeLong's historiography. Even though IdPol says economics has nothing to do with anything.
"In 2011, the wealthiest Americans—those with earnings in the top 20 percent—contributed on average 1.3 percent of their income to charity. By comparison, Americans at the base of the income pyramid—those in the bottom 20 percent—donated 3.2 percent of their income. The relative generosity of lower-income Americans is accentuated by the fact that, unlike middle-class and wealthy donors, most of them cannot take advantage of the charitable tax deduction, because they do not itemize deductions on their income-tax returns" [The Atlantic].
News of the Wired
"Size isn't everything: Tiny animals sex tape shows tardigrade couple's mating marathon (VIDEO)" [Russia Today]. Meets my daily quota for Dmitry!
* * *
Readers, feel free to contact me with (a) links, and even better (b) sources I should curate regularly, and (c) to find out how to send me images of plants. Vegetables are fine! Fungi are deemed to be honorary plants! See the previous Water Cooler (with plant) here. And here's today's plant: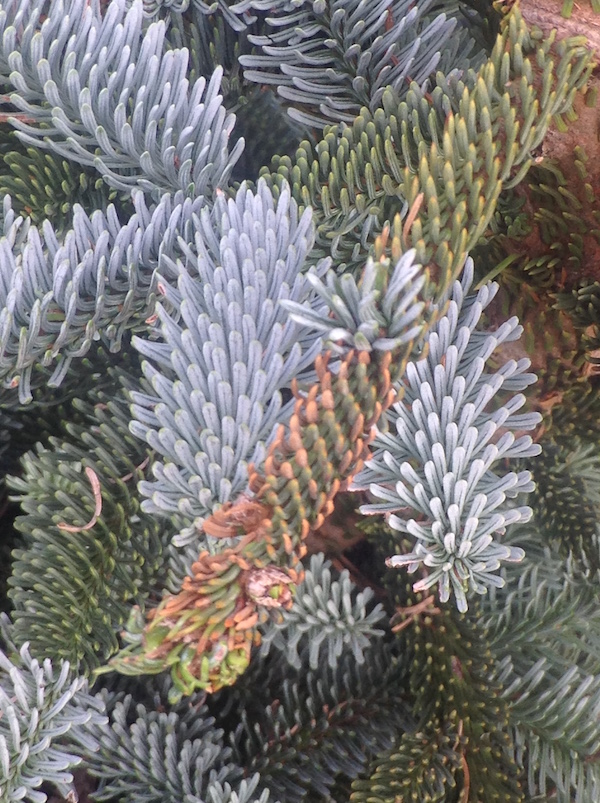 Readers, Water Cooler is a standalone entity, not supported by the very successful Naked Capitalism fundraiser just past. Now, I understand you may feel tapped out, but when and if you are able, please use the dropdown to choose your contribution, and then click the hat! Your tip will be welcome today, and indeed any day. Water Cooler will not exist without your continued help.